All NEWS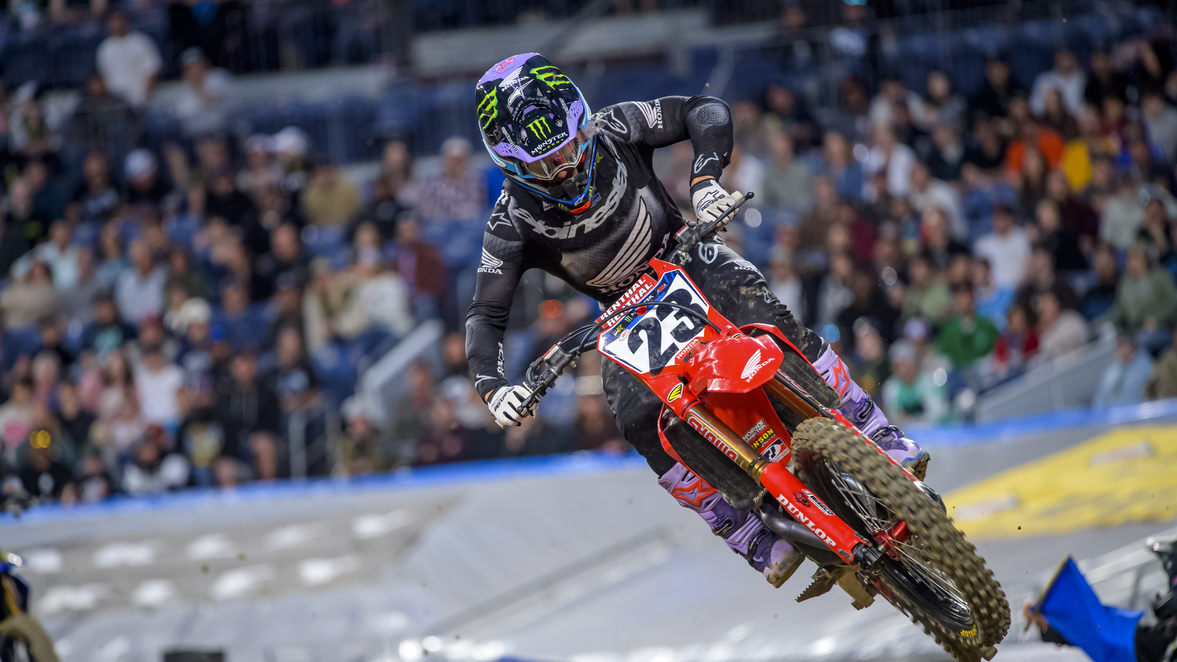 Sexton Victorious at SX Denver 2023
Tomac did not finish in Denver due to injury, and Sexton took over the 450 class point lead. Should Tomac not be able to answer the bell for the SLC final this Saturday, Sexton becomes the 2023 Monster Energy AMA Supercross premier class champion.
Triumph and tragedy for the top two Monster Energy-backed Monster Energy AMA Supercross series racers at Denver this past Saturday. Chase Sexton (Honda) came away with the victory, his second in a row, but at the cost of fellow Monster Energy-backed racer Eli Tomac (Star Racing/Yamaha), who, entering the race with a commanding 450 class championship points lead, was injured (Achilles tendon) and unable to finish the race.

With the victory, Sexton takes over the series points lead from Tomac, and will carry a seven point lead (346-339) over Tomac into the final Monster Energy AMA Supercross round at Salt Lake City this Saturday. According to team officials with Monster Energy/Star Racing/Yamaha, Tomac's ruptured Achilles tendon will keep him out for the rest of the supercross season (and beyond), which, at this point, awards the championship to Sexton – the first 450 class title of his young career.

The next closest racers in the title chase, KTM's Cooper Webb (304 points), who's out with an injury (head) and Suzuki's Ken Roczen (303 points), are both mathematically eliminated from catching Sexton.

"It's definitely tough. Not to swallow, but to comprehend," said Sexton regarding the '23 Monster Energy AMA Supercross overall championship. "I honestly didn't know what was going on (with Tomac), if his bike was broke, (or) broke a wheel or something. Obviously, that's not the way you want to see somebody go out, especially somebody like Eli, who's so gnarly. He's a great competitor and I love racing him. Tough way to see him go out, and I definitely wish him the best.

"For me, my game plan stays the same," he added.

Joining Sexton on the 450 class podium at Denver, with his first podium finish of the season, was Monster Energy/Kawasaki's Adam Cianciarulo in 3rd place. Right behind Cianciarulo was Monster Energy's Justin Hill (Team Tedder) in 4th place, his best finish of the season, with his brother, Josh Hill (Team Tedder), coming in a solid 7th.

And in 250 WSX action, Monster Energy's Levi Kitchen (Star Racing/Yamaha) put in a great ride, leading much of the contest before placing 2nd, a mere 1.3 seconds back of race winner RJ Hampshire (Husqvarna). Pro Circuit/Kawasaki's Carson Mumford rounded out the top ten 250 WSX scorers for Monster Energy with a strong run for 8th place.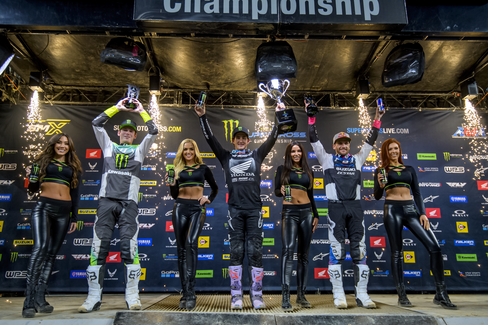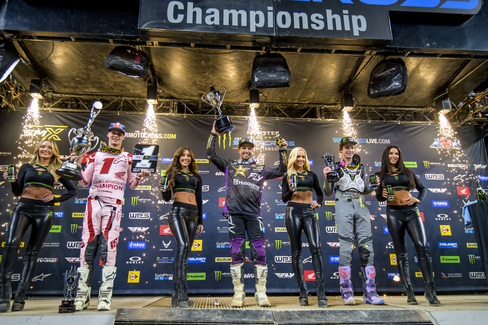 Denver SX
450 class results 250 WSX class results
1st – Sexton (Monster/Honda) 2nd – Kitchen (Monster/Star/Yamaha)
3rd – Cianciarulo (Monster/Kawasaki) 8th – Mumford (Monster/PC/Kawasaki)
4th – Justin Hill (Monster/Tedder)
Overall Standings (16 of 17 rounds)
450 class 250 WSX class (Final)
1st – Sexton, 346 points 4th – Kitchen, 135 points
2nd – Tomac, 339 points 7th – Cameron McAdoo (Monster/PC/Kawi), 101 points
6th – Anderson, 242 points 12th – Mumford, 59 points
450
Top time in qualifying went to Sexton, with Tomac in 3rd and Cianciarulo in 4th, and both Hill Brothers in the top ten (Justin 6th and Josh 9th). In the main, it'd be Tomac up front early, then leading the entire field by the close of Lap 1. Three laps into the main the unthinkable would happen as Tomac, who's ridden somewhat injury-free the entire season (making all 16 of 17 main events), appeared to have injured himself loading up the suspension on the take-off of a jump leading into the rhythm section. He came up lame, looking down at his left foot/ankle, and was unable to continue the race. Season over, championship lost – all within the blink of an eye. With everyone in Coloradoan Tomac's home stadium – Mile High – literally stunned, Cianciarulo inherited the lead, with Sexton in hot pursuit. On Lap 6 (of 28) Sexton blitzed past Cianciarulo and took over the lead, a lead that wouldn't be challenged through the checkers as Sexton won (over Roczen) by 8.4 seconds. Cianciarulo would bring home his first podium (3rd) in more than two years, with Justin Hill about 20 seconds back in 4th.
250 ESX
Qualifying in 6th & 7th places, respectively, Kitchen and Mumford would carry the Monster Energy torch into the Denver 250 main. Starting out of the middle gates, Kitchen yanked the field into the first turn, then came out in 2nd place behind Max Vohland (KTM). The second year pro Kitchen would get past Vohland on Lap 3 (of 19) and worked on building a lead through the next 15 laps. Lurking behind was the veteran Hampshire, who would catch Kitchen late in the race, get past for the lead for a brief bit, then hand the lead back over to Kitchen. On the final lap, Hampshire would again catch and pass Kitchen in what turned out to be a thriller of a 250 main event, this time making the pass stick and winning by 1.3 seconds. Kitchen would make the podium in 2nd place, which moved him into 4th place in the overall 250 WSX standings on the season. Mumford would keep his Monster Energy/Pro Circuit/Kawasaki in the top ten, coming around in 8th place on the evening.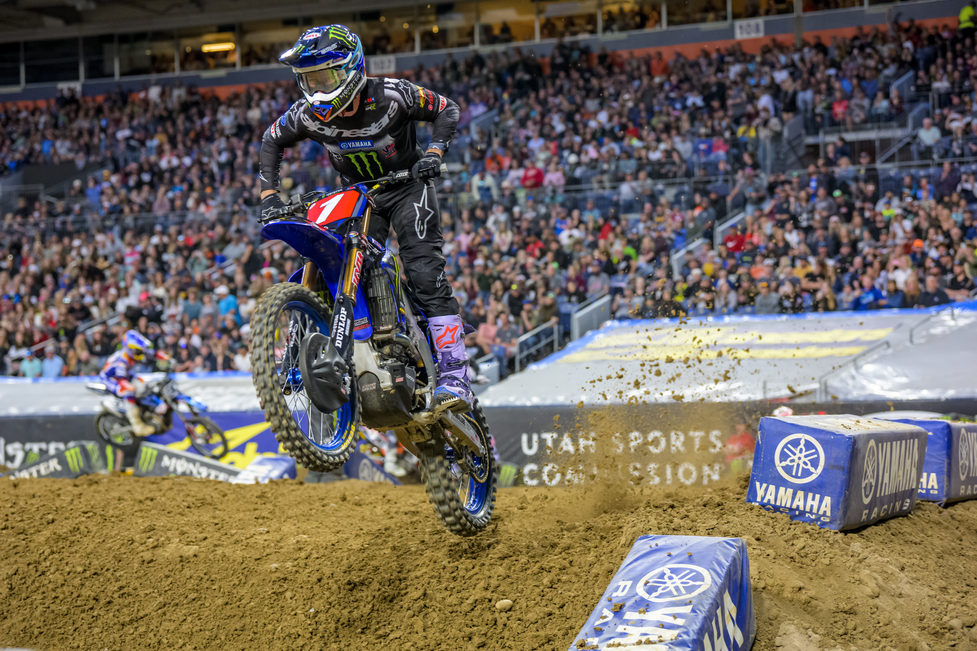 Notes & Quotes
"Unfortunately he (Tomac) ruptured his Achilles tendon and it's going to put us out for the rest of the season," confirmed Monster Energy/Star Racing/Yamaha team manager Jeremy Coker

Sexton on heat race with Tomac: "The heat race with Eli was fun. Him (Tomac) being out front gave me the opportunity to look at lines. Once I got into a flow I caught him and got by him, then he just kind of stuck with me, followed my lines. Interesting race. Super clean."

Added Sexton on the Denver win: "For me, the race was okay. I've been struggling all day with the altitude, and I was happy with the way I was riding in the middle of the race."

First time in more than two years that Cianciarulo was on the 450 class podium. "It's been a wild, wild couple years for me," he said. "Just battling a lot of health stuff and, just really, I had to dig so deep. There was so many times I almost quit, or thought I was done."

The emotional Cianciarulo continued: "I know it's the end of the season and there's a lot of guys hurt. I do not care, man. For me to be up here (on the podium) is a big testament to everyone around me."

Coming back from injury, and getting injured during the '23 Monster Energy AMA Supercross season (missed three rounds), Cianciarulo was still able to make ten (10) top ten finishes in the 12 races he contested.

Jason Anderson's (Monster Energy/Kawasaki) heat race crash in Nashville the previous week (along with a practice crash earlier that week) left him with a little surprise he didn't find until he returned home after his gutty 6th place finish in the Nashville main. "I felt like something was wrong." Turns out he'd suffered a non-displaced fracture of the C5/C6 vertebrae in his neck, but is expected to make a complete recovery, and return to racing fairly soon.

Justin Hill's career-best finish at Nashville last week would get bettered at Denver with his new best-ever 4th place run. Great work for the Tedder/KTM racer out of the Pacific Northwest.

"I hit my marks well for the first half of the race… but I probably looked over my shoulder too many times," said Kitchen on losing the 250 race lead, late, to Hampshire. "I haven't been in that position too many times and I kind of froze up. But overall, I have to take the positives."