/ /

Motor

All NEWS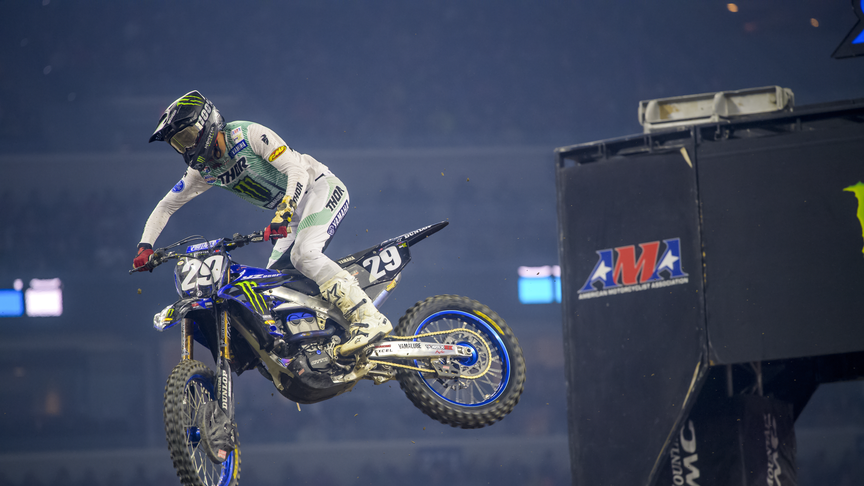 Thrasher and Smith Podium in Indy
Monster Energy/Star Racing/Yamaha's Nate Thrasher's comes in 2nd and teammate Jordon Smith ended in 3rd.
Soft and rutted Midwest winter conditions added a challenging twist to the Monster Energy AMA Supercross Championship tour stop at Indianapolis' RCA Dome this past weekend, and it'd be Monster Energy's 250 Eastern SX racers that'd handle it best, with podium efforts coming from Star Racing/Yamaha's Nate Thrasher and Jordan Smith, who finished in 2nd and 3rd place at Indy, respectively. With the effort Thrasher moved past Monster Energy/Star Racing/Yamaha's Haiden Deegan, who placed 7th at Indy, and into 3rd place podium position in the overall 250 ESX division.
In the 450 class, Monster Energy racers were shut out of podium finishes for the first time this season with Jason Anderson and Adam Cianciarulo, both with the Monster Energy/Kawasaki factory team, leading the way in 5th and 6th positions. Monster Energy AMA Supercross Championship 450 class series points leader heading into Indy, defending 2022 Indy SX round winner Eli Tomac (Monster Energy/Star Racing/Yamaha), would bring 'er home an uncharacteristic 8th place, which allowed Cooper Webb (KTM) to sneak by him in the overall point standings by a single point (202-201). Third place is the standings remains Monster Energy's Chase Sexton (Honda), who had a rough go of it as well at Indy with a 10th place finish (189 points).
Rounding out the top ten in 450 class scoring for Monster Energy, with his best finish of the season after nine (of 17) rounds of Monster Energy AMA Supercross Championship racing, was Justin Hill (Monster Energy/Team Tedder), who placed 9th. And on the 250s Monster Energy's additional top ten placer was Chris Blose (Pro Circuit/Kawasaki), who ran to a solid 6th place.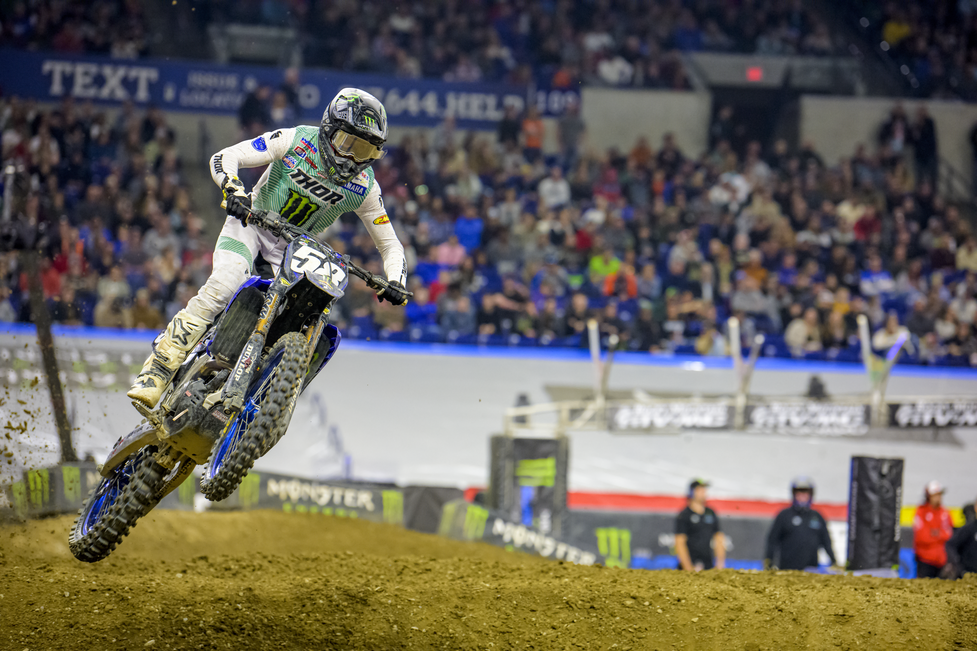 Indy 450 class results 250 ESX class results
5th - Anderson (Monster/Kawasaki) 2nd - Thrasher (Monster/Star/Yamaha)
6th - Cianciarulo (Monster/Kawasaki) 3rd - Smith (Monster/Star/Yamaha)
8th - Tomac (Monster/Star/Yamaha) 6th - Blose (Monster/Pro Circuit/Kawasaki)
Overall Standings (9 of 17 rounds)
450 class 250 ESX class
2nd - Tomac, 201 points 3rd - Thrasher, 93 points
3rd - Sexton, 189 points 4th - Smith, 92 points
4th - Anderson, 166 points 5th - Deegan, 90 points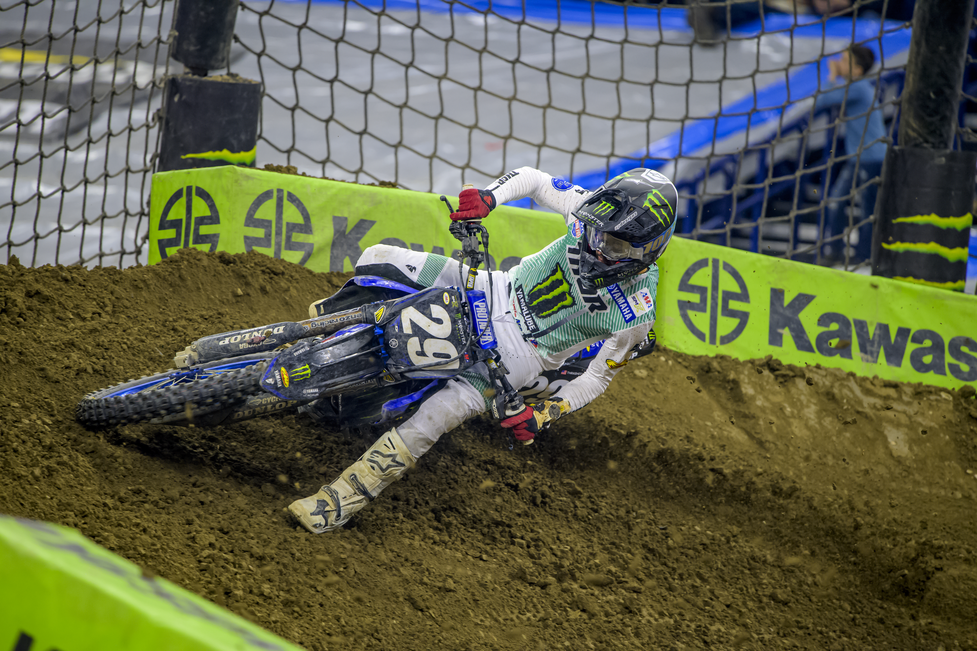 250 ESX
Blose pulled his best start of the season in the Indy 250 main, coming out in 2nd place behind leader Hunter Lawrence (Honda), and ahead of all three of the Monster Energy/Star Racing/Yamaha riders (Deegan, Thrasher and Smith). With Blose breaking away in 2nd early in the contest, Thrasher gave Smith a gentle reminder in the corner that racing's a serious business, bumping his teammate and grabbing the third spot behind Blose. Thrasher's early race efforts would pay off, including his pass on Blose on Lap 2, as he set sail for Lawrence. Smith would also get past Blose on the second lap, and continued with podium pace in 3rd throughout the 21-lap 250 main event. Running in 4th position for half the race was Deegan, until a miscalculation in the whoop section sent him tumbling – and out of podium contention. At the checkers it'd be Lawrence, followed by Thrasher – about eight seconds back – with Smith around seven seconds back of Thrasher. Blose would finish strong in 6th place, followed by Deegan, who rallied back to 7th.
450
Sexton, from nearby Illinois and at his adopted home SX track in Indiana, would dominate qualifying, bringing his Honda home in 1st place leading into the 450 main with a day's best 45.215 lap. Cianciarulo got off to a hot start in the man, 2nd place behind race leader Ken Roczen (Suzuki), with Sexton moving up to 3rd place (ahead of Webb) early in the contest. Class points leader Tomac would have a rough start, coming out of the first lap in a mid-pack 11th position. Sexton would suffer a big get-off (Lap 7), dragging a foot peg in one of the deep corner ruts and plowing into the face of a jump, falling out of podium contention. Sexton's mistake would allow Cianciarulo to take 3rd place, though he would soon lose control just for a moment in the whoops, which allowed Roczen to break free, and Justin Barcia (Gas Gas) to get by for 3rd – with Justin Hill right there in the mix. Anderson, who'd started in 6th position, and had moved into the top five early in the race, settled in to 6th position for a portion of the contest before taking 5th place from teammate Cianciarulo. Sexton, who'd dropped back to 12th position following his Lap 7 crash, soldiered on and would eventually make it into the top ten, salvaging some valuable championship points. Roczen, Barcia and Webb would make up the podium, with Anderson putting his KX250F in the top five (5th).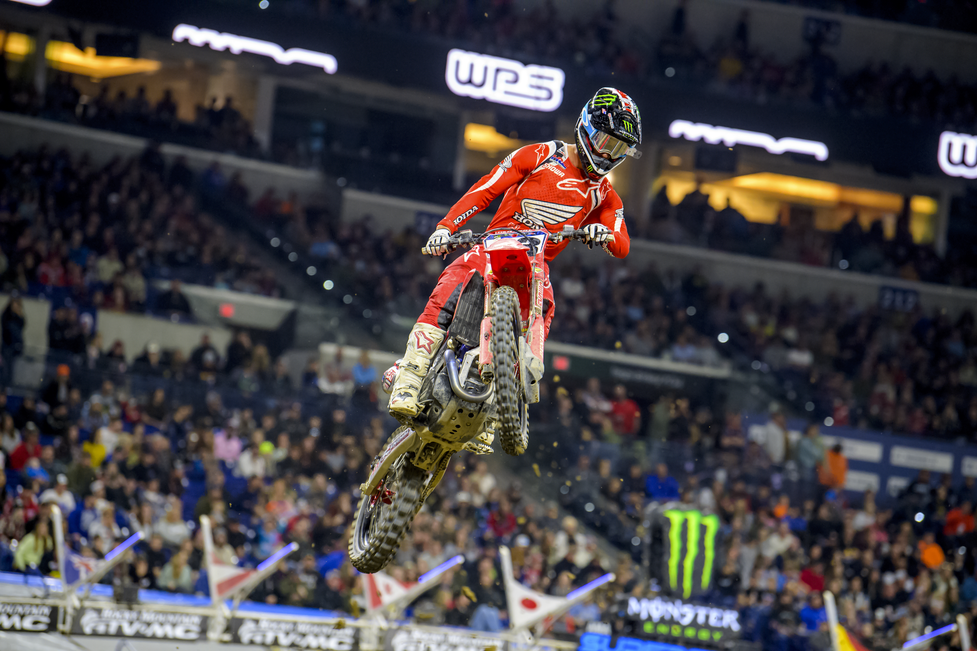 Notes & Quotes
- "He was fast all day long," said NBC TV announcer Ricky Carmichael of Monster Energy/Pro Circuit/Kawasaki's Chris Blose. Blose pulled the holeshot in Heat 1 and ended up placing 2nd to Monster Energy/Star Racing/Yamaha's Jordan Smith.
- Indianapolis marked the return of Monster Energy/Kawasaki's Adam Cianciarulo, who was on the sidelines for the last two weeks with an injured wrist. AC rode well in the main, placing 6th.
- "It sucks to miss a couple races, but it's better than missing the rest of the season," said Cianciarulo. AC would podium (3rd) in his heat race.
- Besides Tomac's rough start in the 450 main, he got trapped behind Dean Wilson (Honda), who'd crashed. Then, on the last lap, Tomac was passed by former teammate Christian Craig, which allowed Webb to take over the points lead.
- Good news for Tomac, as pointed out by NBC Sports' Dan Beaver, is: "The first rider to reach four wins in a season won the championship 78-percent of the time." Tomac already has five wins this season.
- Sexton was on fire early, winning the second 450 heat race by 4.4 seconds over Aaron Plessinger (KTM).
- "The rookie. The whoops bit him. He'll learn." – RC on Haiden Deegan's (Monster Energy/Star Racing/Yamaha) crash that took him out of podium contention. Deegan was in 5th when he wadded up.
- "Hunter (Lawrence) was a just a little bit better tonight. I've got to be a little bit better," said Thrasher.
"I felt good all day and felt like I had the speed to win," added Smith.