/ /

Motor

All NEWS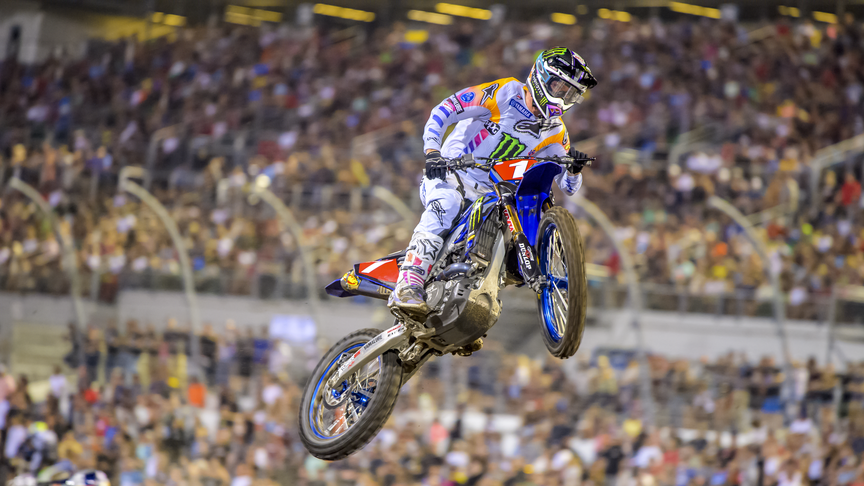 Tomac Wins Daytona Supercross 2023
The birthplace of eastern U.S. supercross, the hallowed grounds of Daytona International Speedway in Daytona Beach, Fla., was all about Monster Energy's Eli Tomac (Star Racing/Yamaha) on Saturday as the unprecedented "King of Daytona Supercross" raced to his 7th career victory (5th consecutive) at the venue in the premier 450 class, and extended his overall Monster Energy AMA Supercross Championship lead to five points ahead of KTM's Cooper Webb. Also on the 450 podium at Daytona for Monster Energy was Chase Sexton (Honda), who placed 3rd, staying within striking distance of Tomac and Webb in the overall point chase.
Tomac, having trailed Webb for the first portion of the contest on the unique, hybrid SX/MX track, would take full advantage of a Webb mistake on Lap 7 following Daytona's finish line feature, passing the KTM rider, riding strong and taking measure of a charging Webb with a 1.7 advantage at the checkers. Sexton would overcome a couple mistakes, along with a couple run-ins with rival Justin Barcia (Gas Gas), and raced to a podium 3rd place, around 12 seconds back of Webb and Tomac.
Monster Energy/Kawasaki's Jason Anderson would put in solid work for 5th place on the 450s, while class rookie Justin Cooper (Monster Energy/Star Racing/Yamaha) clocked in just behind Anderson in 6th place.
Highlighting the support 250 class racing at Daytona was Monster Energy's Haiden Deegan (Star Racing/Yamaha), who, in just his fourth professional race, scored a podium finish with a hard fought 3rd place run at the famed NASCAR superspeedway. Deegan's Monster Energy/Star Racing/Yamaha teammate, Jordon Smith, would finish right behind Deegan in 4th, and remains in 4th place in the overall 250 ESX standings, three points back of 3rd place overall Deegan. Last week's 250 ESX winner, Monster Energy's Nate Thrasher (Star Racing/Yamaha), would pull a great start and ran up front into the first corner, only to get passed by Hunter Lawrence (Honda). Thrasher would pass Lawrence back, then got cleaned out with an aggressive move in a sand berm (by Lawrence) soon after. Thrasher would make another charge towards the lead, but wadded up in the rhythm section, eliminating himself from podium contention.
Monster Energy's Chance Hymas (Honda) would score a season-best 6th place finish in the 250 ESX main at Daytona, with Monster Energy/Pro Circuit/Kawasaki's Chris Blose placing 7th and Thrasher rallying back for 10th to complete the Monster Energy scoring in the 250 class.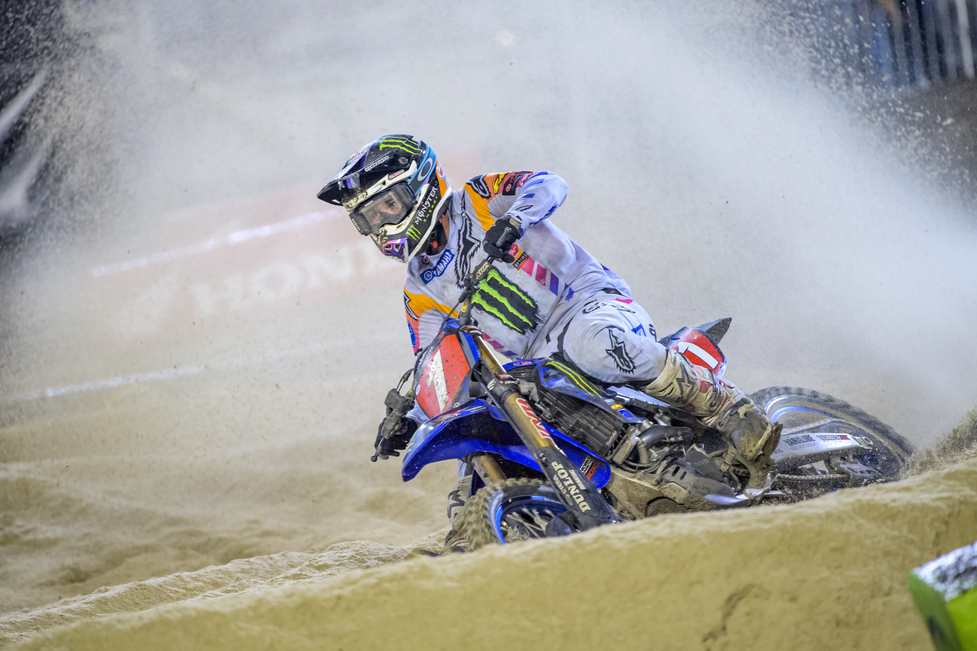 Daytona 450 class results 250 ESX class results
1st - Tomac (Monster/Star/Yamaha) 3rd - Deegan (Monster/Star/Yamaha)
3rd - Sexton (Monster/Honda) 6th - Hymas (Monster/Honda)
5th - Anderson (Monster/Kawasaki) 7th - Blose (Monster/Pro Circuit/Kawasaki)
Overall Standings
450 class 250 ESX class
1st - Tomac, 186 points 3rd - Deegan, 74 points
3rd - Sexton, 176 points 4th - Smith, 41 points
4th - Anderson, 148 points 6th - Thrasher, 70 points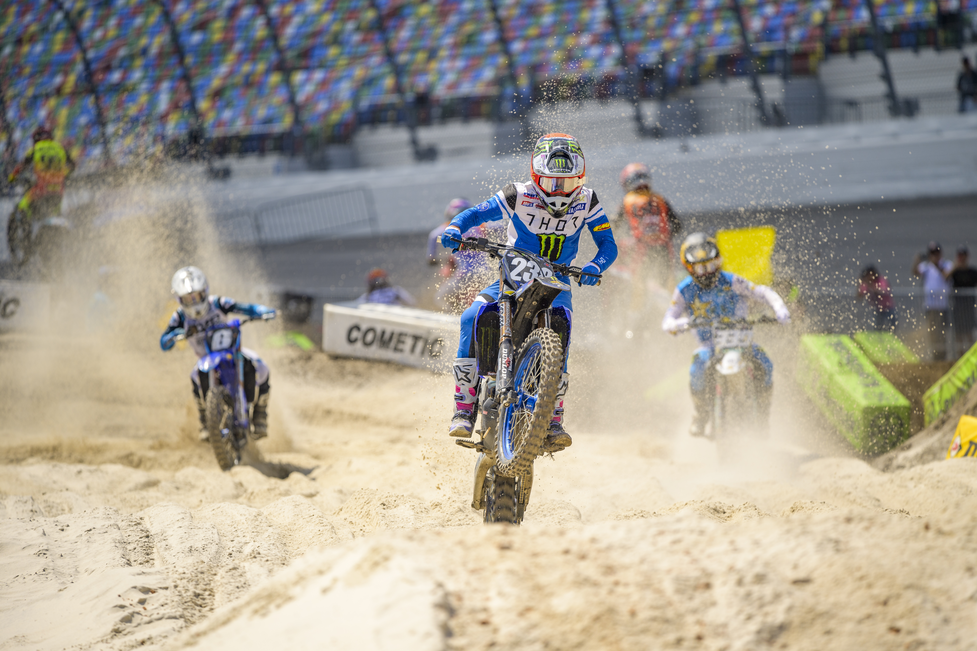 450
Tomac grabbed the holeshot, but Webb would lead coming out of the first turn. The two would swap the lead, before getting together – and Tomac almost going down. The two former champions would continue to dice back and forth before Webb blinked, apparently hitting neutral in the section following the finish line, slowing, and seeing Tomac go railing past. Running fast laps in his pursuit of Tomac and Webb, the day's fastest qualifier, Sexton, would end up colliding with Barcia on two occasions, and fortunately stayed upright in both. Anderson, who started in 5th place following the opening lap, literally held that position for the entire race, with Cooper being able to move up from a 9th place start to his eventual final finish position in 6th. The Tomac vs. Webb battle would keep the Daytona faithful on the edge of their seats as Webb continued to charge – with Tomac able to answer every time – all the way through the checkers.
250 ESX
Thrasher, the No. 2 fastest qualifier at Daytona, ripped an excellent start and was 2nd to the holeshot line (behind KTM's Tom Vialle) – then quickly took the lead heading into the first corner. Lawrence would get by Thrasher, pushing him high into the first turn, and into the lead. A few corners later, Thrasher came blitzing back through the sand, past Lawrence, only to be cleaned out in the ensuing corner with an aggressive, but legal, move by Lawrence that sent Thrasher to the ground. Blose, who had pulled a solid start, was running in 4th place when he was caught and passed by Deegan (on Lap 4). Thrasher, who had dropped from 1st to 20th, began to methodically pick off the world's top 250 class racers, steadily moving up the lap chart, when an unforced error on Lap 10 knocked him out of contention. As the 13-lap contest ground down, and the track rutted up further and became more difficult, Deegan held strong in 3rd place, and topped Smith at the finish by just under five seconds. Hymas, who rode both smart and strong, would bring home 6th place, while veteran Blose held on for 7th.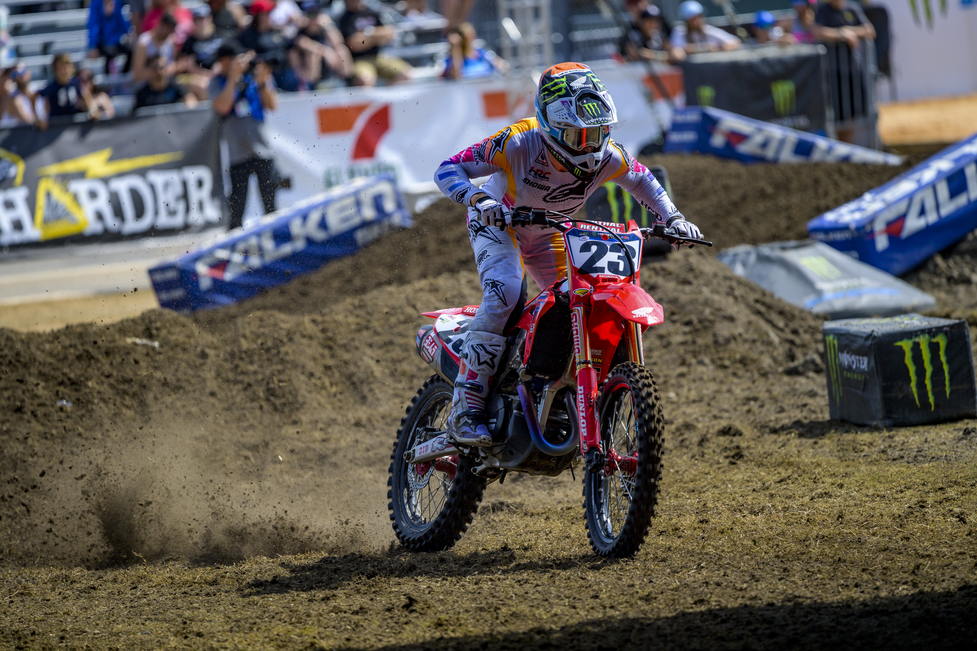 Notes & Quotes
- Tomac's 7th win at Daytona tied him with NASCAR's Richard Petty for the most race wins at the legendary facility. And Tomac's 5th consecutive win ties him with Ricky Carmichael for the most consecutive SX victories at Daytona.
- "All the way from the start, me and Cooper (Webb) just locked up into two the whole time. I think he hit neutral at the finish line on the triple, and after that you had to be on your lines." — said Tomac.
- "All I can say is 'I love you, Daytona,'" added Tomac.
- It was the third consecutive week (and fourth time this year) that the top three in the 450 class point standings (Tomac, Webb and Sexton) were on the podium together.
- Said Deegan of his first ever pro SX podium finish: "I'm through the roof! This is a sick moment for me right now. I've been working my butt off and a lot of people doubted me, but I ended up getting 3rd place. I am so excited to be up here (on the podium) in my fourth race."
- Anderson wasn't taking many chances with his pedestrian-like (for him) 5th place finish at Daytona. AMA race officials placed Anderson on probation through Round 9 (next week at Indianapolis) for a racing incident at Houston with Barcia.
- "It's on me for getting caught up in a lot of the B.S. I get caught up in. That's something I have to take responsibility for," added Anderson.
- "I hated to see that. I thought he was in a position to continue to build on his confidence," said Monster Energy's Ricky Carmichael, color commentator for NBC, on Thrasher's second crash in the 250 main.
- Tomac's win at Daytona put him in sole possession of 3rd place in the all-time supercross wins list (now ahead of Carmichael). Next up is 2nd place James Stewart's 50-win mark (Tomac sits at 49 wins).
- "I think the speedway tracks (Daytona, Atlanta) are very cool. You have to be very precise, but you can also gain a lot of speed and push through the rhythms if you're comfortable. So yeah, I like the speedways, and I am looking forward to more of them." — Sexton on racing speedways (vs. NFL/MLB stadiums).