All News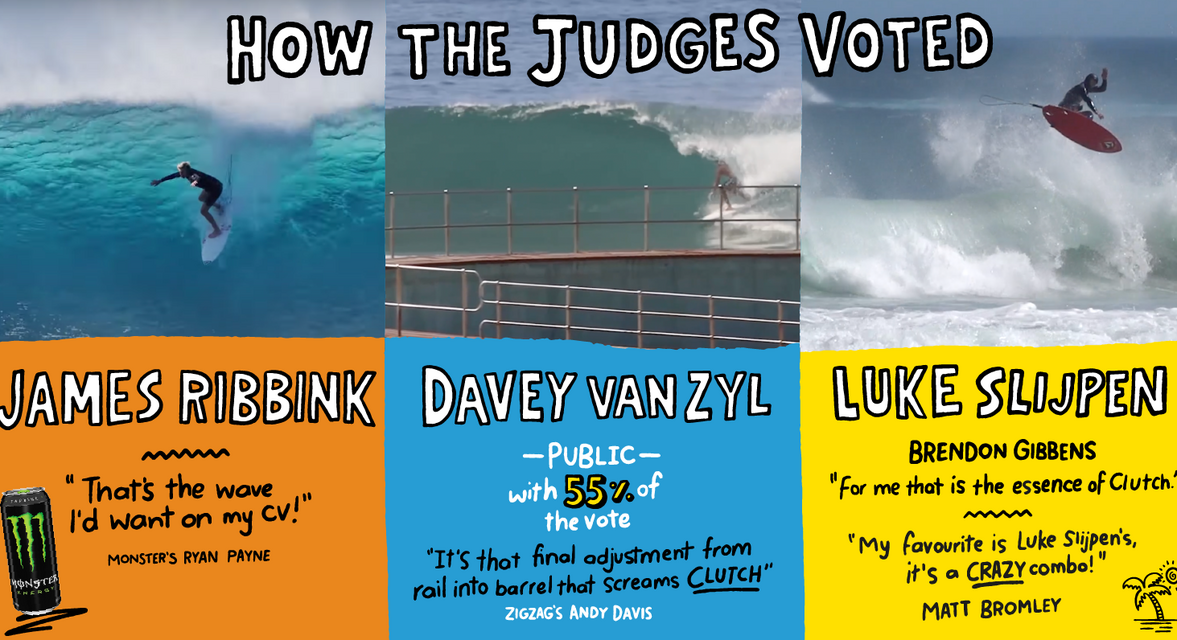 Luke Slijpen is the Clutch! Presented by Monster Energy 2023 winner!
Luke Slijpen WINS Clutch!
That's that for Clutch! 2023. The finalists left the judges sweating for weeks trying to decide on who they think takes the dub. That is no doubt the closest final we've had in all the years of Monster x Zigzag competition. There was plenty of back and forth between judges as they dissected each and every frame of the four waves, but in the end there can be only one winner…
Over four months we received nearly 100 entries from surf spots across the world. Thousands of surf fans voted for their favourite waves and four finalists were decided. To freshen your memory, the criteria for Clutch! Was simple, whatever makes the audience stand up and salute! And so with that in mind the judges cast their votes.
The original judging panel was made up of Ryan Payne from Monster Energy, Andy Davis from Zigzag, pro surfers Matt Bromley and Brendon Gibbens and you, the Public!
The Public vote came down to a split between Davey Van Zyl and Luke Slijpen. It was then decided on our Instagram stories, where Davey took the win with 55% of the votes.
Monster Energy's head of Communications, Ryan Payne, saw things differently. "James Ribbink's wave at Backdoor is the epitome of clutch. That's the wave I'd want on my CV!"
The Zigzag team deliberated amongst ourselves and finally came to a decision. Zag Publisher, Andy Davis said this: "Davey Van Zyl's wave is a South Coast bomb, and he surfs it ridiculously well. Besides all the surfing that has already happened (barrel and turn), it's that final adjustment from rail into barrel that screams Clutch! "
It was then down to two of the Monster team riders, Matt Bromley and Brendon Gibbens to cast their votes.
"For me the winner is Luke Slijpen." Said Matt Bromley. "The barrel was deep and he came straight out and into a full rotation without any hesitation. It's really hard to link those two manoeuvres together and for me that is the essence of clutch."
"My favourite entry is Luke Slijpen's, it's a crazy combo." Opined Brendon Gibbens. "I love the fact that Luke Thompson filmed it, I think that's a cool collaboration and pretty rare in surfing considering that they're both sponsored surfers."
This left us with a flat tie… two votes for DVZ, two votes Luke Slijpen and one vote James Ribbink. All the votes were cast and we still didn't have a winner and so we decided to call in some heavy weights to make the final call. Our three previous winners, Matt McGillivray, Eli Beukes and Jordy Smith.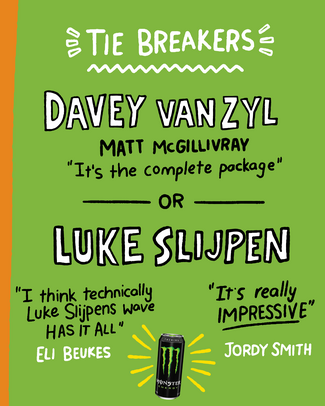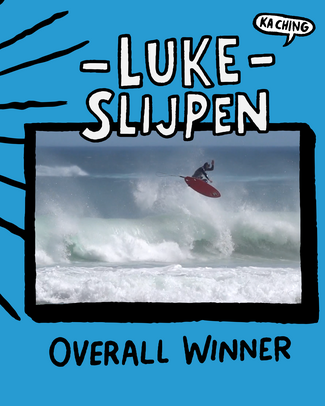 Here's what Matt had to say:
"I was trying to decide which wave I liked the most, as they are all impressive. Luke Thompson's is the best quality wave in the entries, but with the worst quality footage. Obviously Skeleton Bay is a hard place to shoot, but it's just not possible to tell how deep or critical his barrel riding was, even though the wave is critical and so dreamy to watch. Did his nose get sunburnt on that ride, or was he fully covered the whole way? I guess we'll never know. Jame's Ribbink's entry is impressive because of how hard it is to catch a wave at backdoor, so if you factor in the crowd with the crazy late drop under the lip, you realise how much harder it is to do what he did. It's just a pity the wave didn't blow him out with a fat spit, because that would have sealed the deal in my book. Luke Slijpen's wave is really well put together, but I think it lacks the wave size to win the Clutch up. Davey van Zyl's ride is my favourite because it's a complete package. Beautiful wave, good barrel with spit, power surfing and 'wow factor' of coming out the second pit. So in my opinion he deserves it!"
3 votes DVZ, 2 votes Luke Slijpen…
Then Eli pulled in with his take:
"It's really impressive to get such a deep barrel and then go straight into a full rotation and land it cleanly with the offshore wind. For that reason I think Luke Slijpen is the winner."
3-3. And it all came down to Jordy Smith's vote.
Jordy took his time. He played each video several times, slept on it and then finally had this to say:
"All the waves are good. It's about how rare the clip is and how hard it is to do that.
Luke Thompson's wave is a common thing we see in Nam. Davey's wave is good but if I think about it, there was nothing really major. The first tube was his strongest point on the wave. James' wave was a good Backdoor wave and as we know it's one of the harder spots to catch a wave. So there is something to that. But I think getting clips on African shores has to take priority.
Technically Luke Slijpen's wave has it all. He comes over a small foam ball and then lands his air super clean. Both moves were executed perfectly and so he gets my vote."
And there you have it folks, Luke Slijpen is the Clutch! Presented by Monster Energy 2023 winner! He earns himself a trip to Sozhinos Lodge in ASU, Indonesia as well as a cash prize of R20 000! And Luke Thompson wins the videographer prize of R10 000! What a year of competition it was. We will be back in 2024 with another cracker offering of Clutch!