All News
Medal Recap | Summer X Games 2022
The Monster Athletes Swept 18 Medals During The 5 Day Event.
X Games 2022 is officially a wrap! During five action-packed days of competition, riders claimed a total of 18 X Games Medals, including 5 gold, 9 silver and 4 bronze. The 65th edition of X Games showcased history-making performances at three athlete training facilities across Southern California from July 20–24, 2022. Monster Energy congratulates its team of BMX, FMX, and Skateboard athletes on a strong performance at X Games 2022.
X Games 2022 featured more than 110 athletes from 14 countries competing for a total of 57 medals across 19 medal disciplines. Aside from 18 live events streamed across the globe, X Games 2022 also crowned 3 medalists in the Skateboard Real Street Best Trick contest.
X Games 2022 was contested as a closed-to-the-public event at three locations: Skateboard athlete Elliot Sloan hosted the first MegaPark ramp at X Games for Skateboard and BMX competitions in his "Sloanyard" in Vista on July 20. Similar to previous year, Axell Hodges' legendary Slayground compound in Ramona welcomed the world elite of Moto X as well as BMX Dirt competitors on July 21. And from Friday to Sunday, the California Training Facility (CA|TF) featured Skateboard and BMX contests in Street and Park.
In another historic showcase of medal records and never-been-done tricks, here's how the Monster Energy team performed at X Games 2022:
SLOANYARD: SKATE AND BMX
ELLIOT SLOAN TAKES GOLD IN SKATEBOARD VERT BEST TRICK. After missing the Skateboard Vert podium, Sloan finally had his taste of gold. In the progression session on the 100-foot-wide halfpipe, Sloan landed a frontside Caballerial heelflip varial melon over the channel to clinch the win. Earlier in the session, he also put down his signature fakie heelflip 720 Indy.
PAT CASEY TAKES SILVER IN BMX MEGAPARK. The team's medal run continued in the BMX MegaPark event, contested at X Games for the very first time. From a 30-foot roll-in, riders hit a 35-foot right-side gap jump, into a 20-foot-tall quarterpipe, 27-foot roller jump and into an 18-foot-tall quarterpipe. When all was said and done, 28-year-old Pat Casey from Riverside, California, earned the silver medal by throwing a tailwhip Cash Roll over the big gap, barspin to tuck no-hander on the quarterpipe, 360 double tailwhip over the gap, and barspin to tailwhip on the final quarterpipe.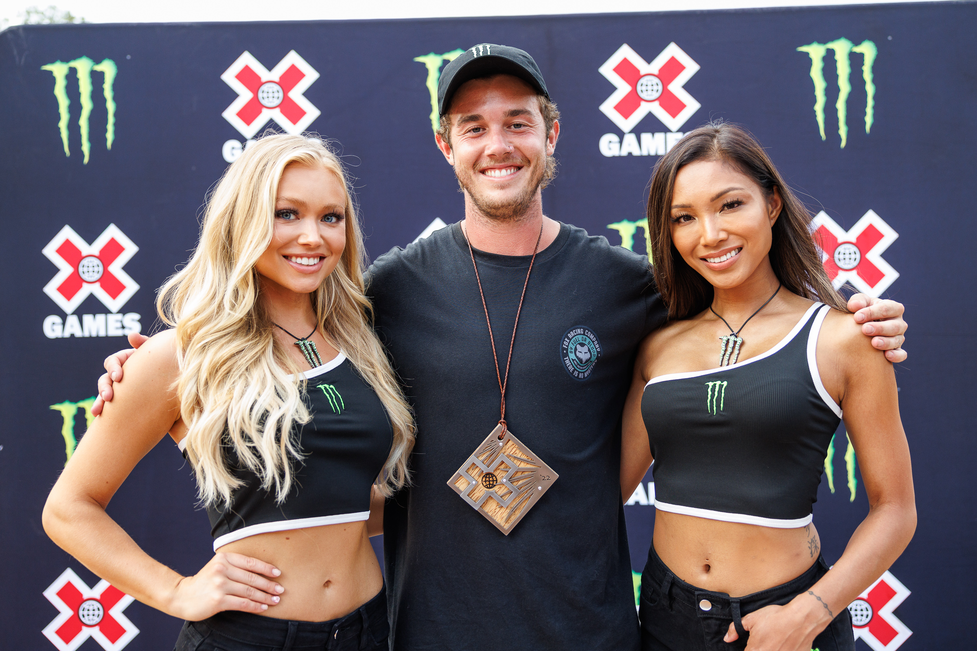 ELLIOT SLOAN TAKES SILVER IN SKATEBOARD MEGAPARK. Again, the 'host with the most' Sloan found himself challenged by a field of A-listers but found a perfect run when he needed it: backside tailgrab 720 over the gap, huge tailgrab 540 on the quarterpipe, tailgrab 540 over the second gap and a Caballerial 720 Indy on the final wall earned Sloan the silver medal in a dramatic final. Sloan now owns 15 X Games Medals: 6 gold, 7 silver, 2 bronze.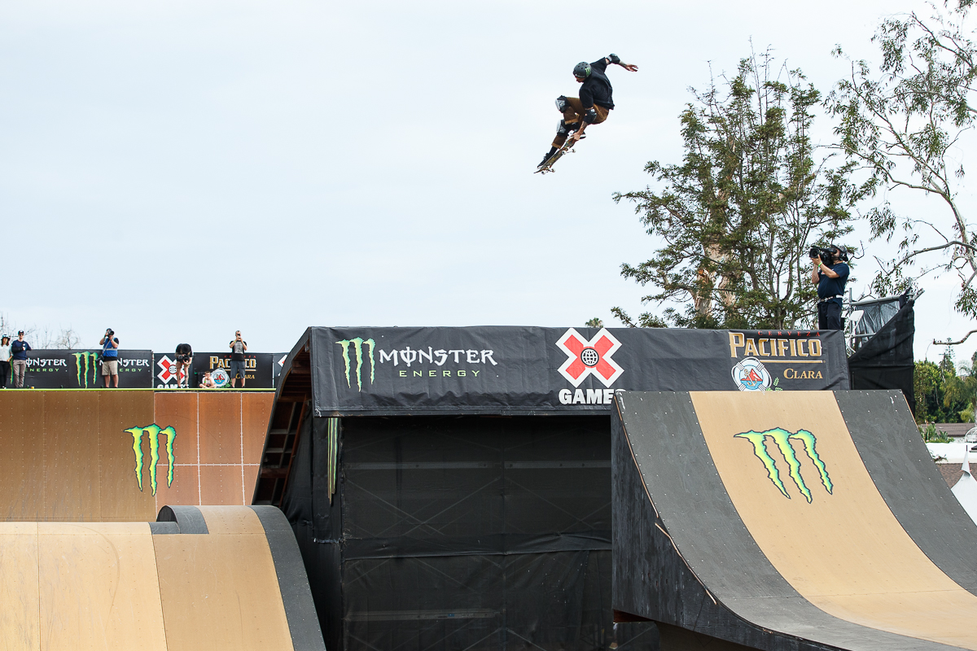 SLAYGROUND: MOTO X AND BMX DIRT
JOSH SHEEHAN TAKES BRONZE IN MOTO X FREESTYLE. The action commenced in the morning with Moto X Freestyle on the updated course at Slayground that now measures 80,000 square feet and features 13 top-notch obstacles. When it came to bringing the right bag of tricks to the battle, 36-year-old Australian team rider Josh Sheehan earned X Games bronze with a perfect run: heart attack, seat grab Indy flip, flair off the quarterpipe to bank, 360 over the centerpiece, ruler backflip, huge no-hander double backflip, massive turndown whip, and a double grab netted 88.33 points and third place.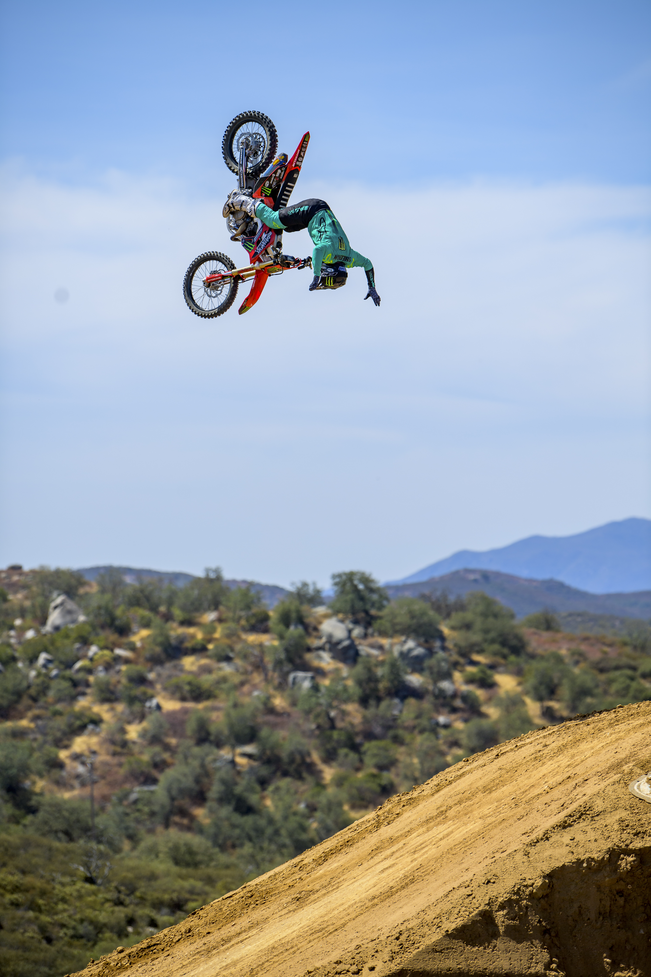 JULIEN VANSTIPPEN STEALS GOLD, AXELL HODGES GRABS SILVER IN MOTO X BEST WHIP. Slayground host Axell Hodges seemed like the fail-proof pick for the win in the Moto X Best Whip event, geared around stylishly contorted aerials known as 'whips'. For the first time at X Games, riders were hitting a 75-foot jump followed by a 110-foot jump in their runs. And as the session got underway, nobody was sending it bigger than Hodges.
Until the final attempt of the day, when 25-year-old Monster Energy rider Julien Vanstippen from Ophain, Belgium, suddenly stole the show: A massive turn down whip, practically flying backwards while turned 180 degrees in the air, was single-handedly the biggest air of the day. Accordingly, Vanstippen collected the gold medal as the first by a Belgian athlete in X Games history – on Belgian National Day! Hodges walked away with Best Whip silver but soon would find his spot at the very top.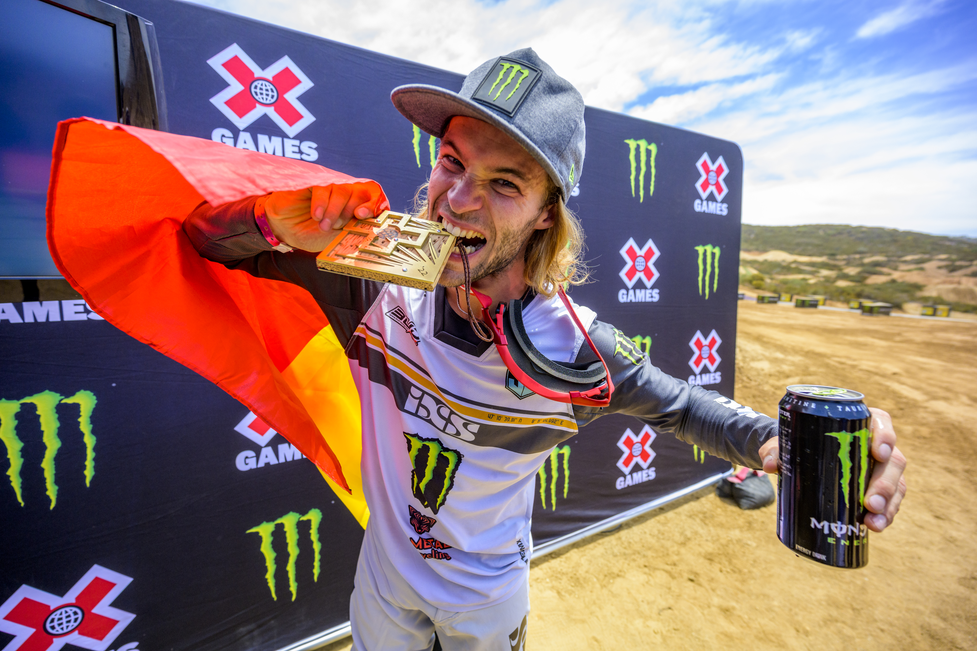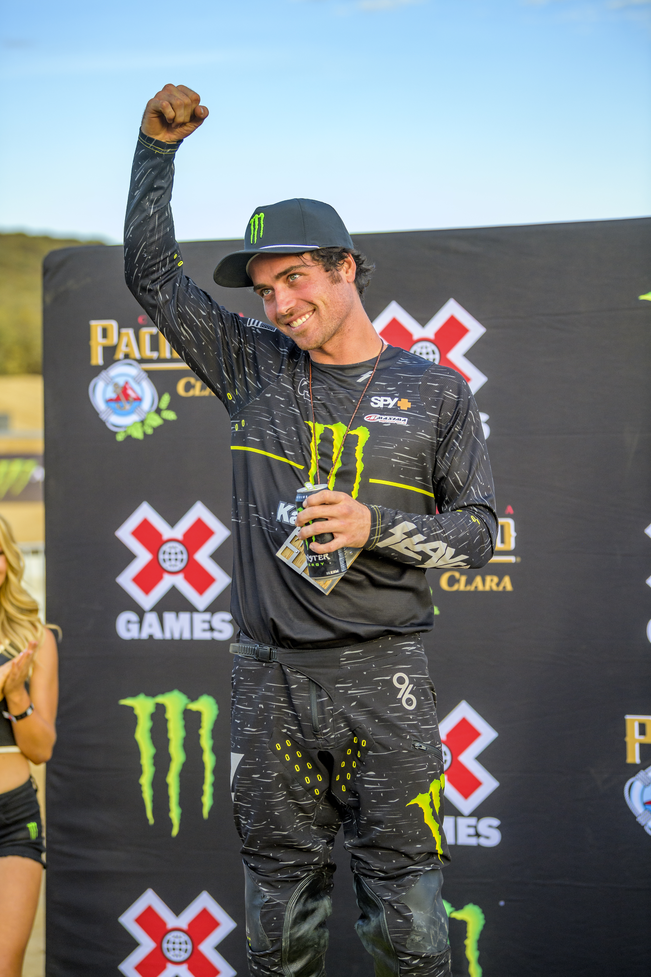 AXELL HODGES CLAIMS GOLD FOR MOTO X 110. For a change of pace, the Moto X 110's discipline revolves around riders taking on a smaller-scale dirt track peppered with jumps and obstacles on pit bikes. Much like the Knuckle Huck discipline in snow sports, the contest is all about fun and creativity. At the event's premiere in 2021, Hodges had earned the gold medal and on Thursday once again showcased his idea of 'fun' on a pit bike: With a footplant seat bounce, backflip no-footer over the centerpiece, superman, massive 360 aerial over the dirt gap, huge can-can off the quarterpipe and manual seat stand across the rainbow box, Hodges defended his gold medal in Moto X 110's.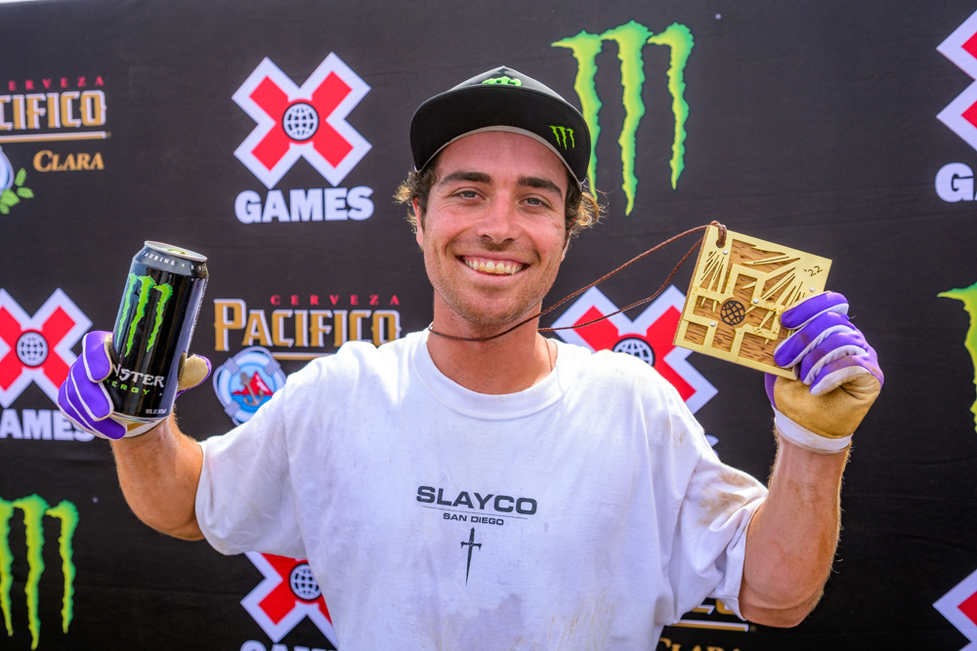 JOSH SHEEHAN TAKES SILVER MOTO X BEST TRICK. The medal run continued in the Moto X Best Trick final, where riders had a chance to send their most innovative tricks on any of the 13 obstacles on the Slayground. When the epic session concluded, Monster Energy's Josh Sheehan took home the silver medal for a fully extended no-hander double backflip. The Australian Moto X icon now owns 14 X Games medals (1 gold, 7 silver, 6 bronze).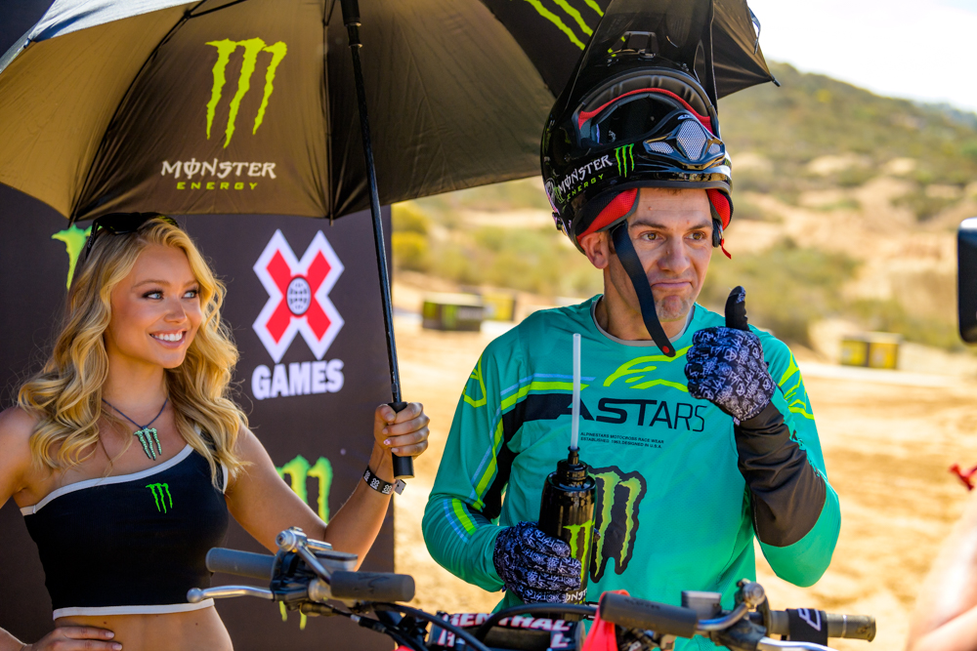 AXELL HODGES GRABS SILVER IN MOTO X QUARTERPIPE HIGH AIR. As the final motocross event at X Games 2022, the Moto X QuarterPipe High Air final ended with a new world record. As riders were gunning for maximum airtime on Slayground's 18-feet tall quarterpipe as the takeoff, Hodges raised the previous record of 40-feet, 9-inches all the way to a whopping new high of 48 feet. But in another upset, Colby Raha fired back by setting a new height record in his final attempt of the day by soaring all the way to 49 feet. This left Hodges taking silver as his third medal from X Games 2022, bringing his count to 12 X Games medals (4 gold, 6 silver, 2 bronze).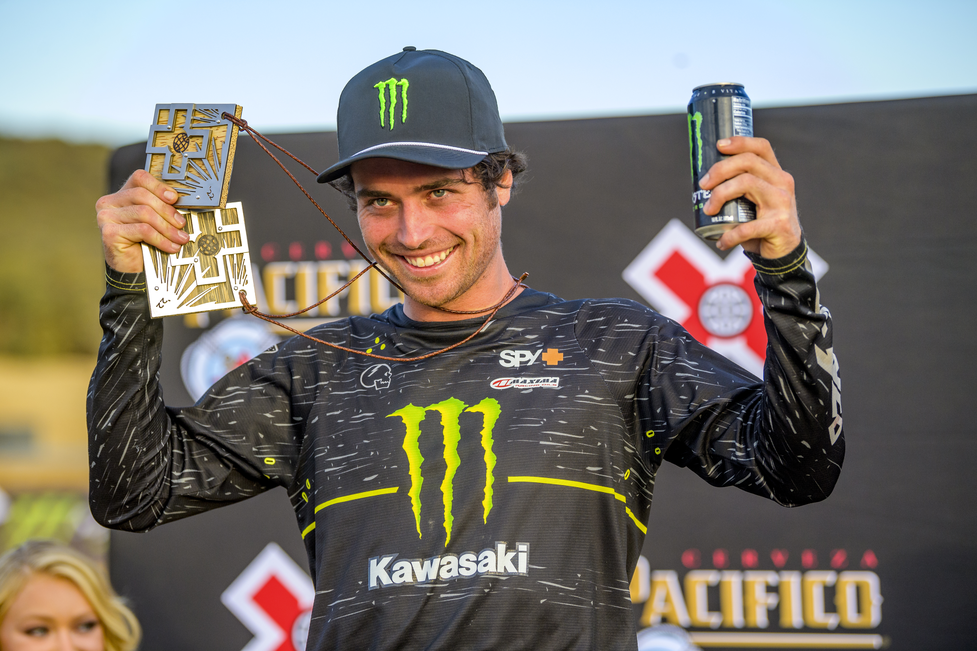 CA | TF: SKATE AND BMX
FELIX PRANGENBERG TAKES SILVER IN BMX STREET. The day's only competition, BMX Street saw the return to the podium of BMX innovator Felix Prangenberg from Germany. On the highly technical street course, the 24-year-old from Cologne, Germany, took silver. Highlights of his run included peg grind to hard 360 tailwhip, 360 to fakie got on front tire, "Unluc-e" grind to hard 180, 180 look back over the rail, crooked grind to 180 over pegs to 180, toothhanger, opposite 360, regular 360 to fakie on the bank to ½ Cab turndown. Prangenberg now owns four X Games medals (1 gold, 3 silver).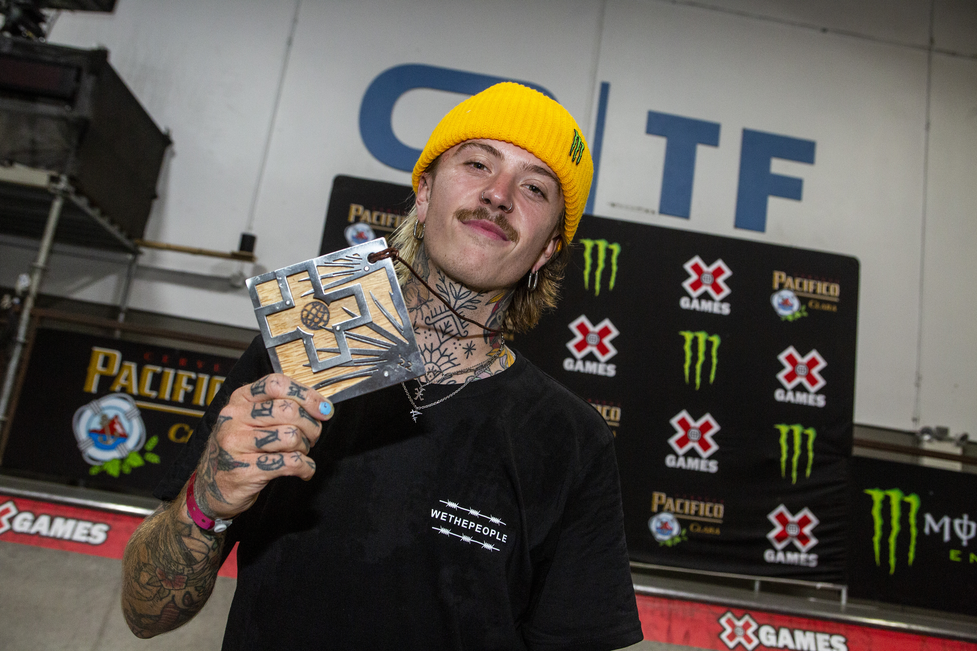 JUSTIN DOWELL CLAIMS SILVER IN BMX PARK. The Monster Energy team's medal haul continued in the BMX Park final, where 22-year-old Monster Energy team rider Justin Dowell from Virginia Beach claimed the silver medal. A perfect run including no-handed 360 over the centerpiece, 540 barspin-catch-barspin over the hip, triple truck driver over the center, tailwhip 360, massive lookback flair into the wallride, and tailwhip barspin earned Dowell second place as his second X Games podium.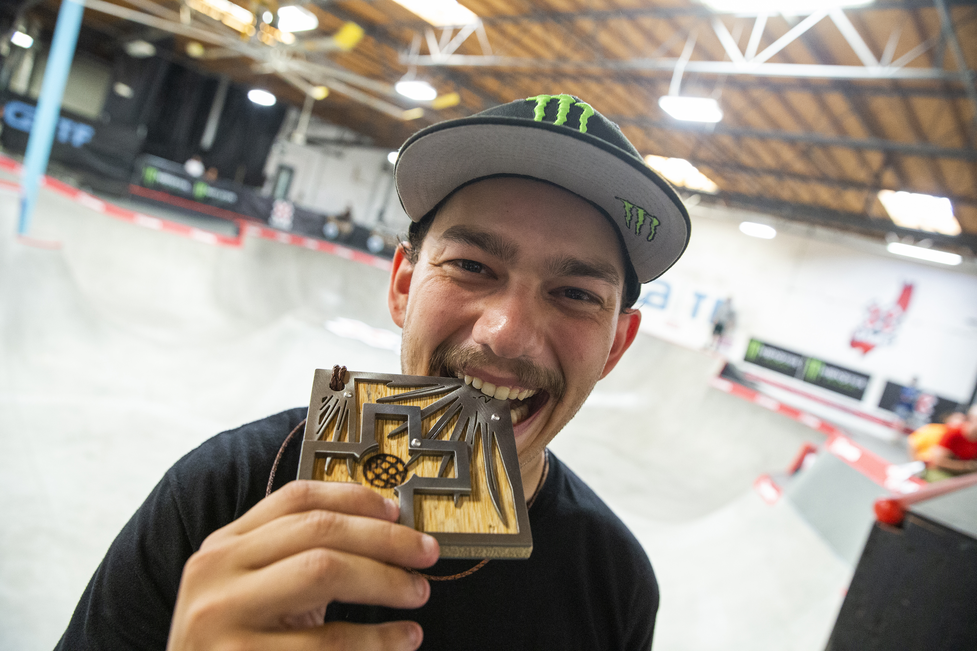 NYJAH HUSTON SWIPES SILVER IN SKATEBOARD STREET BEST TRICK. Next up, progressive street skating was the focus in Saturday's Skateboard Street Best Trick final. The 20-minute jam session challenged riders to send their most advanced tricks on the course. And 'advanced' tricks are exactly what the world's most winning street skater, Nyjah Huston is known for. Finding a big trick when he needed one, the 27-year-old from Laguna Beach, California, posted a Caballerial kickflip backside lipslide fakie to earn the silver medal. Huston now owns 13 gold, 5 silver, and 2 bronze medals and has medaled in 17 straight X Games starts ever since earning his first medal with silver at X Games 2009.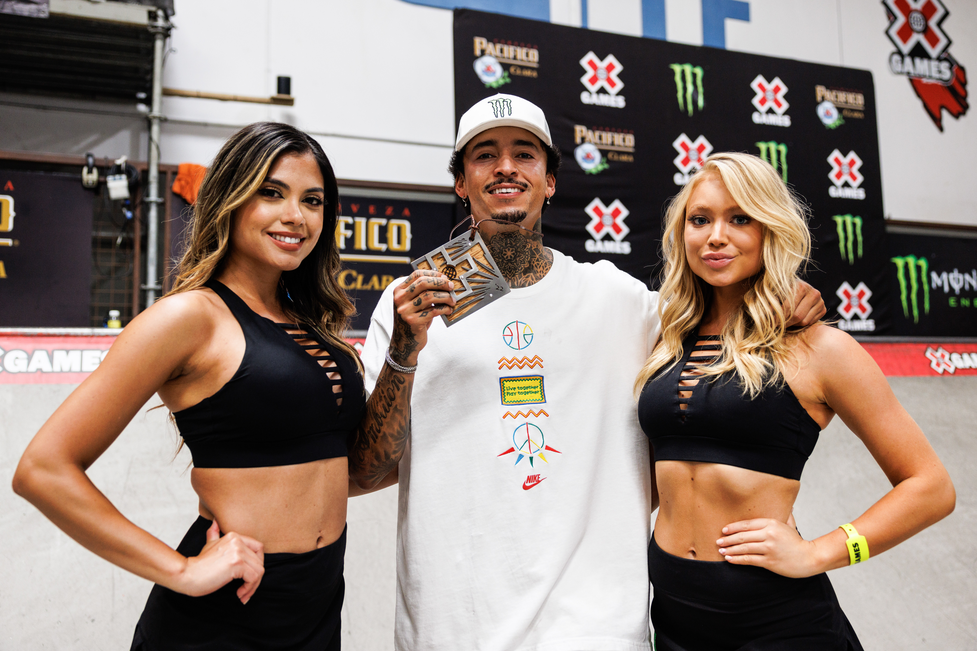 PODIUM SWEEP FOR DAVE MIRRA'S BMX PARK BEST TRICK. Rising all the way to the top, 25-year-old Mike Varga from Oshawa, Canada, suffered a heavy slam and bent his bike's frame out of shape before sending the day's winning trick on the final attempt: a huge 900 barspin-catch-barspin earned the gold medal for Varga, who made history as the first rider to claim three consecutive gold medals in BMX Park Best Trick. For the silver medal, 27-year-old Kevin Peraza from Tucson, California, landed a huge backflip 180 tailwhip over the spine for a strong second place finish and his fifth X Games medal. And rounding out the podium sweep, 25-year-old Jeremy Malott from Lake Havasu, Arizona, unveiled a rare deck trick, a technical 180 backflip onto the deck to backflip back into the bowl for bronze. So much win, so many medals!
KIERAN WOOLLEY CLAIMS HIS FIRST GOLD AND LUIZ FRANCISCO TAKES BRONZE IN MEN'S SKATEBOARD PARK. The final day of X Games was dedicated to all skateboarding, all day. And one rider took the spotlight with a surprise victory: 18-year-old Kieran Woolley from Minnamurra, Australia, posted the biggest airs and high-speed transfers for the gold medal in his second X Games performance. Highlights included a massive kickflip varial Indy air over the massive gap from the deep end all the way into the vert extension, backside 5-0 transfer over the spine, backside 540 nosegrab in the deep end, kickflip Indy into the wall ride, and Miller Flip. This marks Woolley's first X Games gold medal after earning silver at X Games Chiba 2022. Woolley was joined on the podium by Brazilian team rider Luiz Francisco taking home the bronze medal on his 22nd birthday by going big and technical at the CA|TF.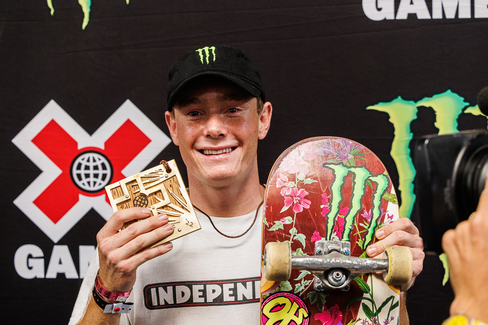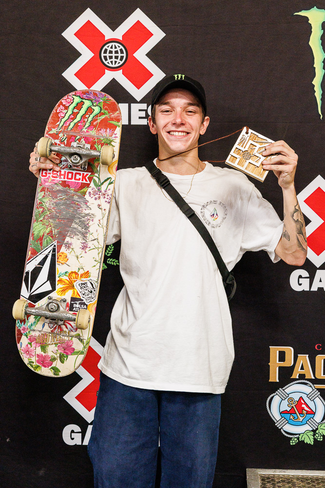 MATT BERGER TAKES SILVER IN SKATEBOARD REAL STREET BEST TRICK. As a new contest format, Sunday night's 'Best of X Games 2022' broadcast on ABC announced the winners of the first-ever Skateboard Real Street Best Trick contest. The competition was contested as a 30-minute jam session taking place at a legendary street skate spot in Southern California: The legendary "Brooklyn" ten-stair rail in San Diego, California. When the dust settled, the judges awarded 28-year-old Monster Energy team rider Matt Berger from Kamloops, Canada, the bronze medal for a video part-worthy banger: frontside bluntslide kickflip fakie. This marks Berger's second X Games medal after taking silver in the Real Street video competition at X Games 2021.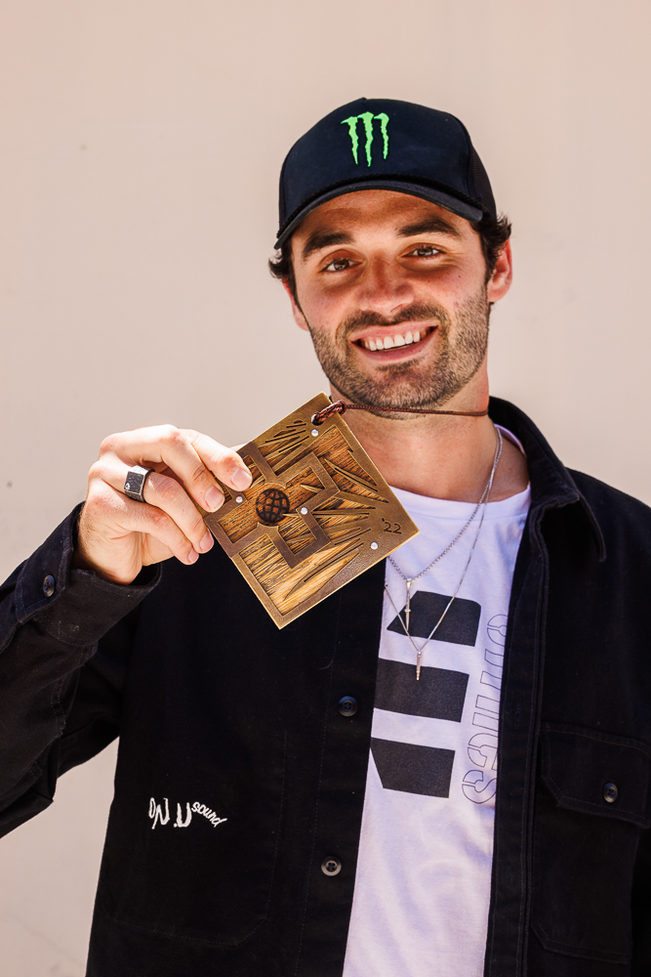 And that's a wrap! Monster Energy athletes claimed a total 18 X Games medals (5 gold, 9 silver and 4 bronze) at X Games 2022. Congratulations to all Monster Energy athletes on a strong performance in the world's premier showcase for action sports. And special thanks to the entire team at ESPN for once again making X Games history.