Alle eventer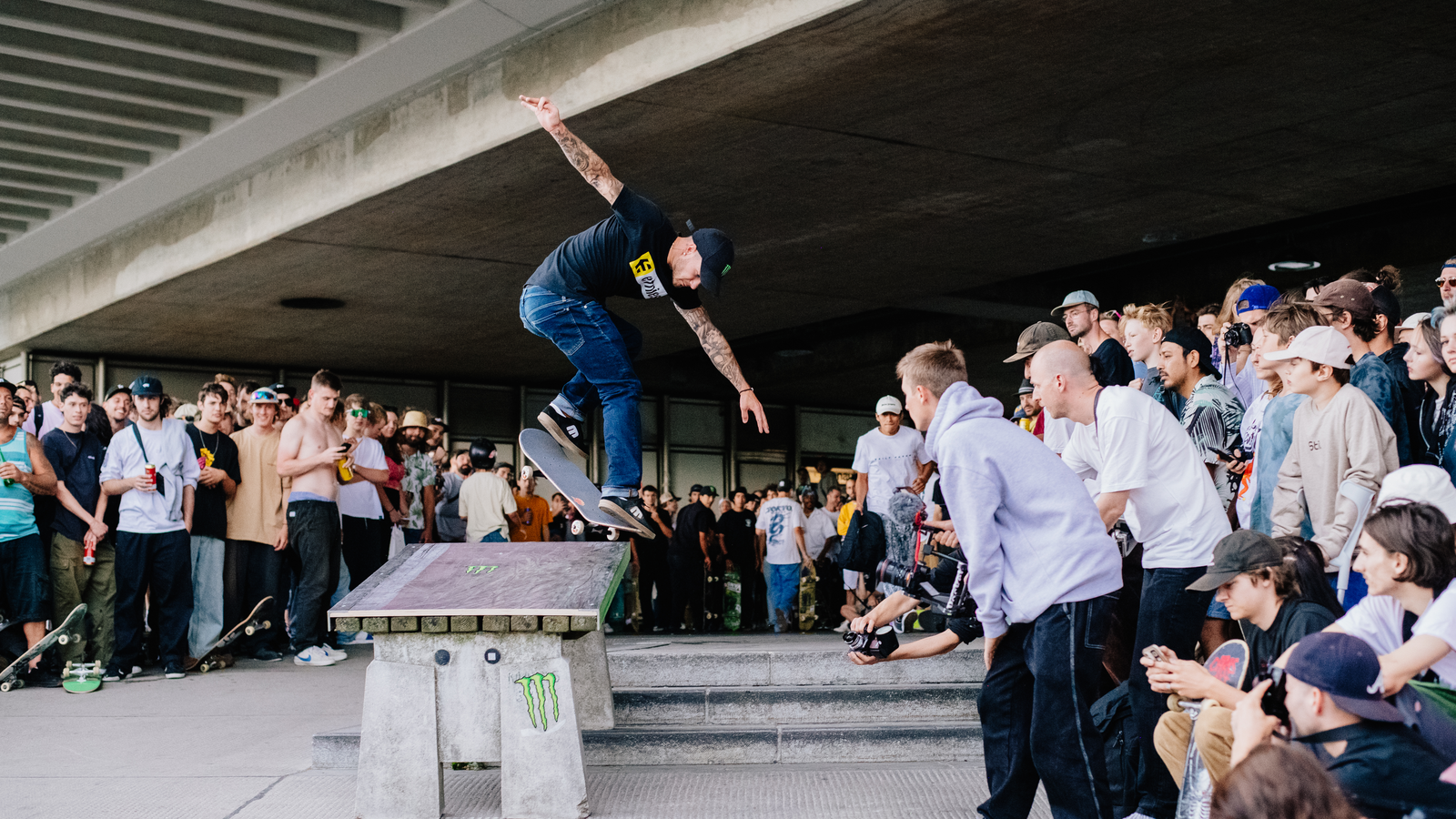 Monster Super Tour kommer til alle hjørner av verden som en hylende hund rett ut av helvete. Rabiat etter rails og sulten etter de mest utfordrende stedene kjent for menneskeheten. Større og bedre enn i fjor - dette er ikke lenger bare en Euro-tour. Vi går mot hete sesjoner i the land down under, videre mot sørspissen av Afrika, besøke hjemmet til The Big Poppers i Latin-Amerika og til østblokkens grå og sprukne slabs.
«Cash for Tricks» for hjembyens helter, gratis pizza og kalde bokser for alle kompisene der ute som trenger litt pause fra de økte levekostnadene. Ta en fridag, ta et år ute, sov under stjernene på Milano Centrale hvis det er det som skal til for å kunne se disse legendene dine lokale steder.
Du kan forvente økter med Ishod og årets hotteste big rail-duo, Nyjah og Gabriel. Se når Lizzie bringer kreativiteten sin til DIY-overganger og Rune finner nøklene til å låse opp hver hindring. Tel Aviv MVP Yam Behar kommer til å kjøre hardt sammen med erfarne Justin og Dlamini som skaper de gode stemningene. Kevin Bækkel er for øyeblikket strandet et sted og vil forhåpentligvis lande akkurat i tide til Torshov Open.
Å jobbe i samarbeid med lokale skate-butikker har vært avgjørende for denne tureen fra dag én. De er øynene og ørene på bakken. Stor hyllest til dem for å være the "hosts with the most".

HVOR OG NÅR:
CAPE TOWN - 31. MARS - BASELINE SKATESHOP
MILAN - 6. MAI - RUFUS, PLEASURES MILANO & FRISCO
BUDAPEST - 13. MAI - MEDIUM SKATESHO
STOCKHOLM - 27. MAI - JUNKYARD
VILNIUS - 2. JUNI - SKATE HUB
OSLO - 5. AUGUST - TORSHOV OPEN
HOSSEGOR - 19. AUGUST - BUZZZ & COLLAPSE
SYDNEY – 14. OKTOBER – FAST TIMES
MELBOURNE - 21. OKTOBER - FAST TIMES
SAO PAULO - 3. DESEMBER 3 - MAZE
RIO DE JANEIRO - 9. DESEMBER - MUACBA
Hvis cash, pizza, polyuretan, søvnmangel og tanken om flyvende brett gjør deg gira, må Monsters Super Tour komme øverst på agendaen i år. Glem alt av ditt voksne ansvar! De har satt hele crewet på et fly og sendt dem til alle jordens ender. Opptak vil bli logget og vanvittige videoer vil bli sluppet. Vær der for å se det med egne øyne!