Alle nyheter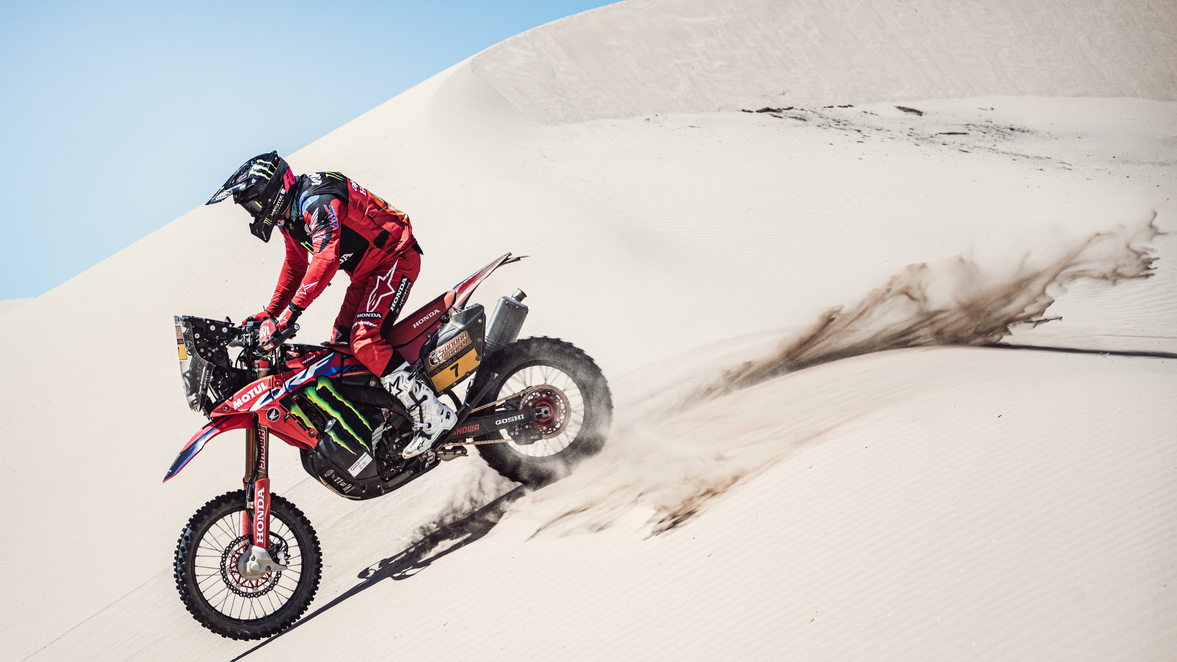 Rallye du Maroc 2023
Monster Energy/Honda HRC returns to the fabled desert of Morocco for the Rallye du Maroc, from Oct. 12-18.
From the exotic northern Africa locales of Agadir, Zagora and Merzouga, the Monster Energy-backed Honda HRC team, featuring Adrien Van Beveren, Ricky Brabec, Tosha Schareina (Team Honda), Pablo Quintanilla, Jose Ignacio Cornejo, along with the newly-signed Skyler Howes, will descend upon Morocco for this year's running of the Rallye du Maroc, the fifth and final round of the 2023 FIM World Rally Raid Championship.
First run in 1982, and known as the Paris to Agadir Rally (Morocco's first-ever major rally competition), what's now the Rallye du Maroc began as the "Atlas Rally" – one of the cornerstone events of the original Rally Raid competition calendar.
For 2023, the Monster Energy factory Honda off-road program, plus Honda-backed Schareina , who won the last WRRC in Spain (Desafio Ruta 40), will have the strongest team numbers-wise, and will definitely look to shake things up at the top of the series as Luciano Benavides (Husqvarna) and Toby Price (KTM) are the two racers favored to earn this 2023 WRRC title. Coming into the '23 edition of the Rallye du Maroc, Howes is the defending champ (his first FIM WRRC victory), while Quintanilla won the event in 2019. So the M-claw logo has a real good shot at earning the top podium spot in Morocco. In addition, making the M-claw presence in Morocco even more apparent, Monster Energy checks in to Rallye du Maroc with Hero Motorsports' Ross Branch.
In terms of Monster Energy/Honda HRC's position in the standings heading into the series' final round, 1st place in the FIM Manufacturers Championship looks to be a two-way battle – on paper. But you've gotta race the race, and for the individuals, Van Beveren leads the team in the overall points standings (3rd @ 66 points), followed by Branch in 4th with 45 points. Cornejo (6th), Quintanilla (8th), Brabec (9th) and Howes (10th) slot in to round out the top ten overall.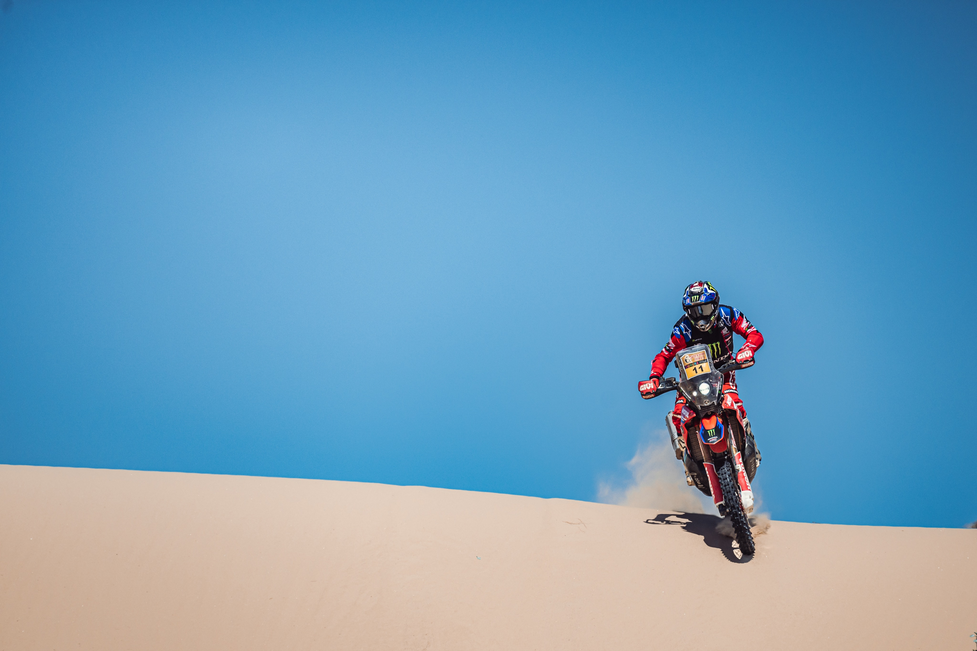 Quotes
Defending Rallye du Maroc champion Skyler Howes: "Coming into the Morocco Rally – Rallye du Maroc… I'm super excited for this. It's a new challenge for me, and definitely an exciting moment for me to join the Monster Energy/Honda team. Last year I was able to pull off the win, which was the highlight of my career – and one of my greatest accomplishments. My first World Rally win, so this place kind of holds a special place with me now. I'm excited to be back here. I'd been a little bit out of it for a while, was injured at the Sonora Rally earlier in the year. Was off the bike for quite a few months, then directly onto a new bike – the Honda. We did some riding, some training, which was really nice. I started to feel out the bike and get comfortable on it. Already feeling really good. Obviously, whenever I throw the leg over the bike, I want to win. But in this case, I'm just going to go out and do the best that I can. We'll feel it out for the first couple of days, with the sites set on Dakar in January. Definitely give it everything I've got, but at the end of the day that's what we're going to come home with. We'll push for the win and, hopefully, at the end we'll get another one."
Top Monster Energy/Honda WRRC points leader Adrien Van Beveren: "I'm feeling really good to be back here with the team. You know, also, it's been a strong year of racing. I've been fighting for the championship the whole year, and winning Abu Dhabi was nice for me. And I feel that I want to do it again. We've arriving to the final round, and it's still open points-wise – still possible to be the world champion. I'm dreaming about it. I want to go for it. I want to push as much as I can. For sure, I have to be really focused, because we know Morocco is a really crazy good desert. Lot of possibilities. Lot of different terrains. And this makes the riding more exciting. But at the same time, when it bites you, it is not nice. So I have to be really focused, go as fast as I can, stay on my course. This will also prepare us for Dakar. Dakar is our main goal and my main big dream, my main big achievement, would be to win Dakar. But at the same time, Morocco is an opportunity to maybe be world champion. There is a difference in points, and we've been looking at that, but I don't want to be focused on it. I can't ride my bike and be thinking of how many points I need to get back. I just want to go fast and navigate good and make the best of it. The whole race. Trying to be consistent and strong the whole race. This will be my goal for the Morocco Rally and, for sure, we will give it all until the finish line."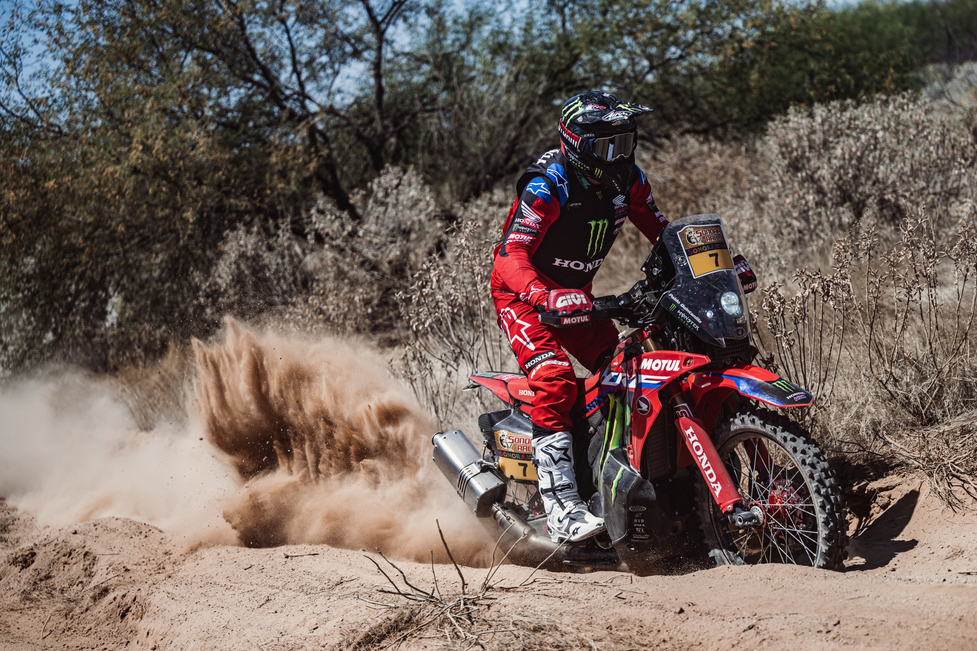 Monster Energy riders @ Rallye du Maroc
Monster Energy/Honda – Adrien Van Beveren, Skyler Howes, Pablo Quintanilla, Jose Ignacio Cornejo, Ricky Brabec, Tosha Schareina
Hero Motorsports/Monster Energy – Ross Branch
Rallye du Maroc Schedule
October 13: Prologue — Agadir (total: 119 km)
October 14: Stage 1 — Agadir–Zagora (road section: 397 km / special: 324 km / total: 721 km)
October 15: Stage 2 — Zagora–Zagora (road section: 100 km / special: 288 km / total: 388 km)
October 16: Stage 3 — Zagora–Zagora (road section: 108 km / special: 336 km / total: 444 km)
October 17: Stage 4 — Zagora–Merzouga (road section: 75 km / special: 351 km / total: 426 km)
October 18: Stage 5 — Zagora–Merzouga (road section: 0 km / special: 152 km / total: 152 km)
Up next…
The final stage – Stage 5 – of the 2023 FIM World Rally Raid Championship – Rallye du Maroc – opens on Friday, Oct. 13, with the 119 km Prologue around Agadir.
I denne artikkelen: