Alle nyheder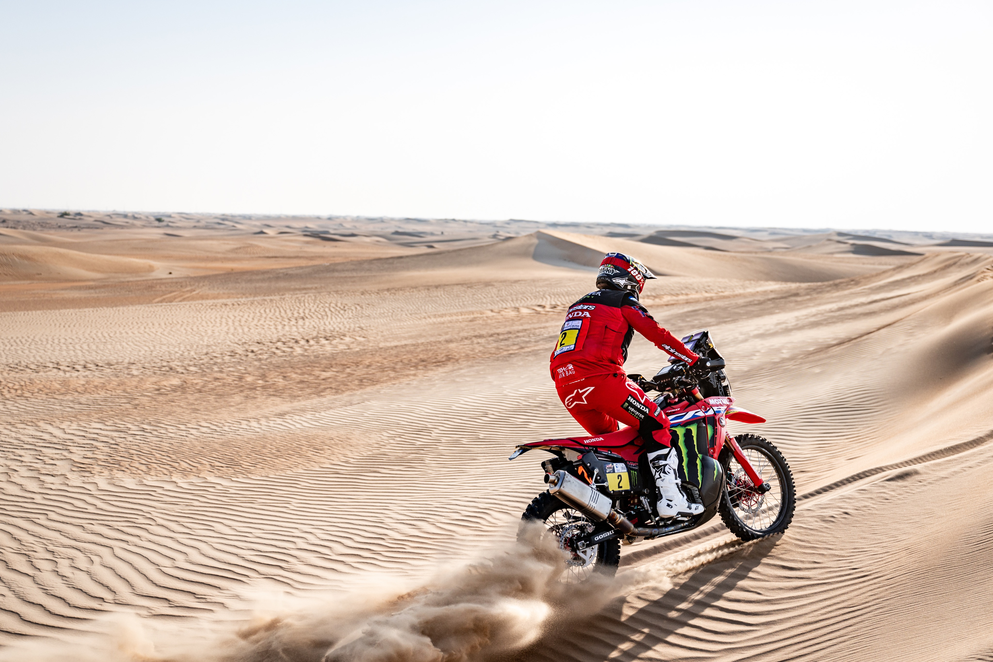 Monster Energy/Honda HRC off-road team set for World Rally Raid stop in Sonora, Mexico
Top off-road racers, including Van Beveren, Cornejo, Quintanilla & American Brabec will boot up and rally across northern Mexico
Monster Energy/Honda HRC is bringing its international team of off-road motorcycle racing stars to challenge for the top spots in the FIA/FIM World Rally Raid Championship's Sonora Rally in Mexico, April 22-28 - the first ever stop for the popular global motorcycle & automobile off-road series in North America.

Leading the Monster Energy-backed assault on various points throughout Mexico's second-largest state (Sonora) aboard the tricked out CRF450 Rally bikes for Honda HRC will be the previous World Rally Raid round (Abu Dhabi) champion, Adrien Van Beveren (France), American great Ricky Brabec (the first American to win the famed Dakar Rally) and Chileans Jose Ignacio Cornejo and Pablo Quintanilla. Monster Energy will also back Hero Motorsports' Ross Branch, the fast South African who won a stage (10) at World Rally Raid's Dakar Rally earlier this year.

On U.S. soil this week and camped out at a Holiday Inn, the Monster Energy/Honda HRC team took over the hotel's parking lot and, over three days, did a complete shakedown on the bikes prior to heading down to Mexico.

According to Monster Energy's Joe Parsons (Director of Special Marketing Projects, Europe/Middle East/Africa), the team's pumped and ready-to-race. "We've got a full squad here and everybody's healthy, including Ricky," said Parsons of Brabec, who was injured in the Dakar Rally and had to retire from the contest, but made a remarkable comeback to place 7th overall at Abu Dhabi.

"And Ricky's especially pumped given this (northern Mexico) is a battle in his own backyard," added Parsons on the California native. "Adrien, Pablo and "Nacho" (Cornejo) are all sand surfers. So they're looking forward to getting after it in some of the largest sand dunes in North America."

Three days of testing, according to Parsons, featured a 280 kilometer loop on Tuesday, and will culminate with final testing on Wednesday, before the team packs up and heads to Mexico on Thursday morning for the Saturday, April 22nd tech inspection in Hermosillo.

Assisting with the Monster Energy/Honda HRC effort has been Baja racing great Johnny Campbell, who's facilitated all the local support with Honda's North American HQ in Torrance, California.

"Johnny's playing a key role in logistics and planning with Honda HRC," noted Parsons. "In addition we've had two local Showa (suspension) techs with us helping out this week. So everything's coming together nicely."

Overall the Sonora Rally will cover some 1,249 kilometers over five stages (+ a prologue), which include rocky tracks, dunes, dust and hot temperatures – testing man and machine to the fullest in this North American rally with global implications.

The FIA/FIM World Rally Raid Championship schedule is the Sonora Rally in Mexico, April 22-28.