All News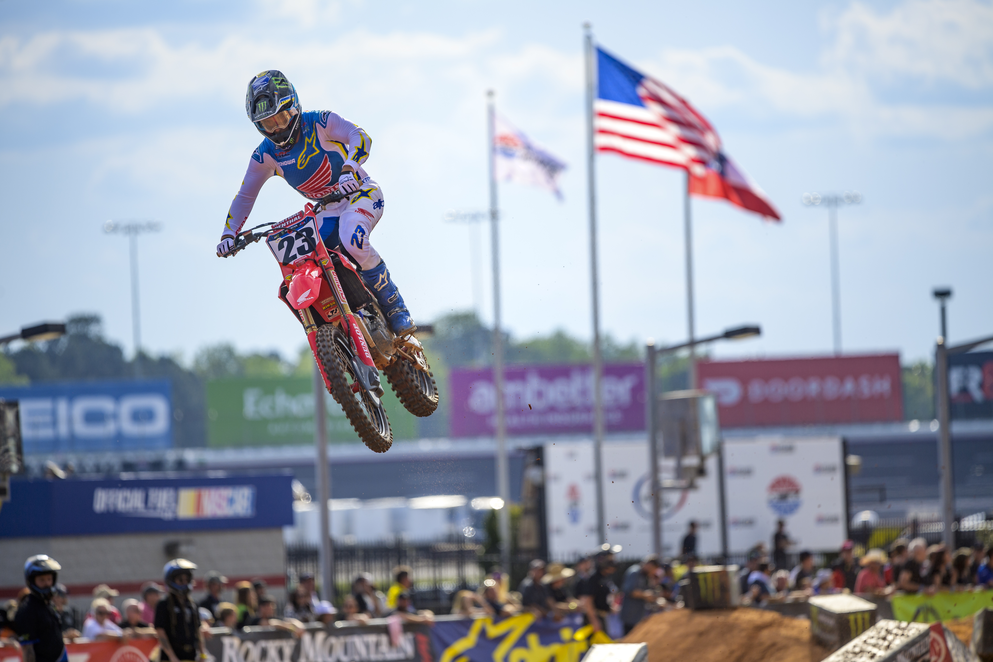 Sexton Dominates Atlanta Motor Speedway SX
Sexton takes charge at Round 13 of Monster Energy AMA Supercross, leads wire-to-wire in 450 main event; Monster's Tomac, 5th, still leads 450 title chase by 6 pts
It was only a matter of time before Monster Energy's Chase Sexton (Honda) exorcised the crash demons that have plagued him throughout the '23 Monster Energy AMA Supercross season, and put together a race in which none of the top supercross racers on the planet were able to touch him.
Atlanta Motor Speedway, a venue providing a worthy test that combined the precision timing and high wire bravery of supercross with the breakaway speed sections of outdoor motocross, creating a hybrid track that was perfect for Sexton who, when he keeps 'er on the rails, is as fast as they come.
Winning by more than seven seconds over 2nd place Justin Barcia (Gas Gas), Sexton took a chunk out of Eli Tomac's (Monster Energy/Star Racing/Yamaha) stronghold on the 450 class's top spot, pulling to within 17 points, 292-275, with four races remaining on the 2023 Monster Energy AMA Supercross schedule.
Rounding out the top ten 450 class placers for Monster Energy at Atlanta Motor Speedway were Tomac in 5th, one spot behind Cooper Webb (KTM), who Tomac still leads by six points in the title chase. In 7th place, with a strong ride, was Monster Energy/Kawasaki's Adam Cianciarulo, followed in 10th by Justin Hill (Monster Energy/Team Tedder).
In 250 class action, Monster Energy AMA Supercross returned to the eastern U.S. for 250 ESX racing. And with that the rivalry between Monster Energy/Star Racing/Yamaha teammates Jordon Smith and Haiden Deegan wicked back up, with Smith this time getting the better finish, nailing a 2nd place podium finish at Atlanta Motor Speedway to Deegan's solid 3rd place podium run.
And on a high note for Monster Energy, Atlanta Motor Speedway marked the return of Jo Shimoda (Pro Circuit/Kawasaki), who'd missed the entire season up to this point with a shoulder injury. Shimoda, the '22 AMA Pro Motocross Championship runner-up, placed a very strong 4th on Saturday, rounding out the Monster Energy top ten 250 ESX placers.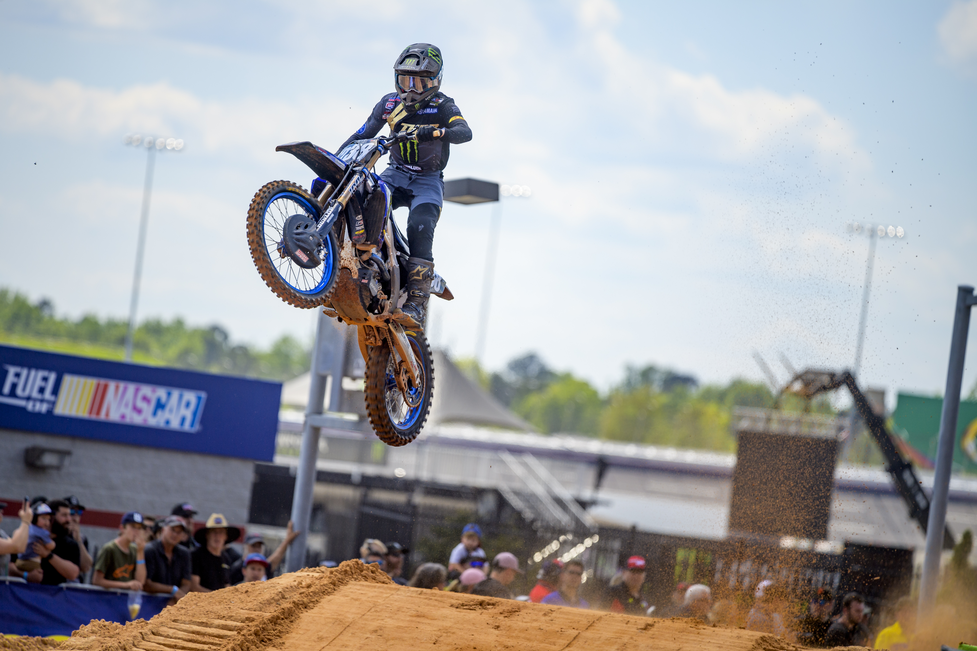 Atlanta Motor Speedway
450 class results 250 ESX class results
1st - Sexton (Monster/Honda) 2nd - Smith (Monster/Star/Yamaha)
5th - Tomac (Monster/Star/Yamaha) 3rd - Deegan (Monster/Star/Yamaha)
7th - Cianciarulo (Monster/Kawasaki) 4th - Shimoda (Monster/PC/Kawasaki)
Overall Standings (13 of 17 rounds)
450 class 250 ESX class
1st - Tomac, 292 points 2nd - Deegan, 132 points
3rd - Sexton, 275 points 4th - Thrasher, 120 points
6th - Anderson, 214 points 5th - Smith, 115 points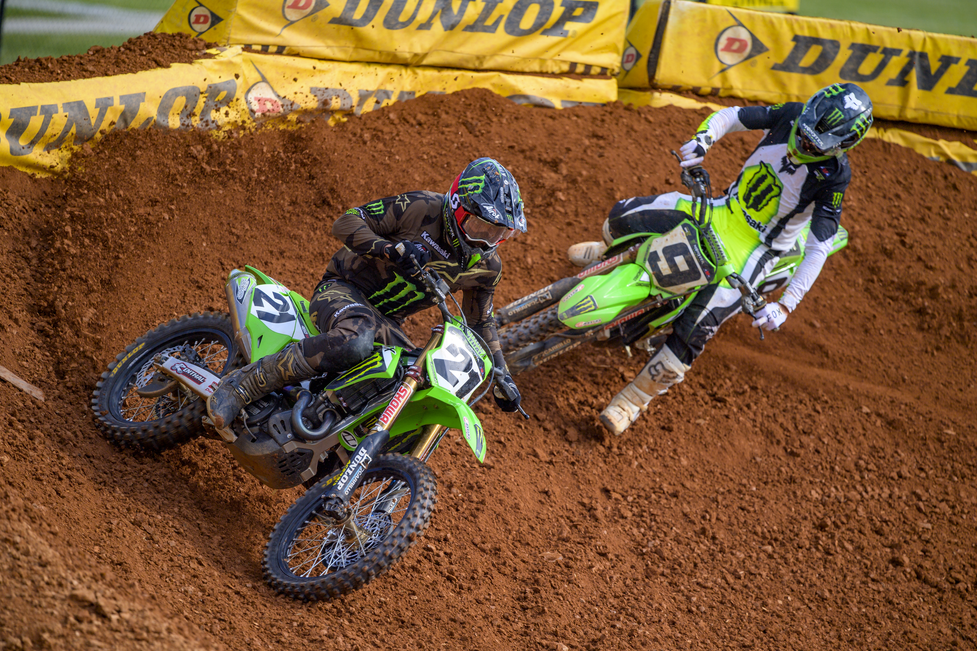 450
Sexton, the day's fastest qualifier (ahead of Monster Energy/Kawasaki's Cianciarulo, 2nd, and Jason Anderson, 3rd), would get edged by Ken Roczen (Suzuki) at the holeshot chalk line, then would grab the lead at the end of the first straight/rhythm section. Tomac, who's usually at the front or within the top three off the start, appeared to play it a bit more conservative, rolling out in 8th place. Midway through the contest (Lap 9 of 15), Anderson would pull out of the race. Sexton continued to rage through the Atlanta Motor Speedway course, carrying – at least – a three-second lead over 2nd place for most of the contest. Cianciarulo, who opened in 6th place at the end of the first lap, kept consistent pace with the leaders, running in 7th place throughout the contest. Tomac would make time on 4th place Webb during the main event, but didn't over-pursue, and only ended up losing one championship point to Webb on the day. … In the end none of the world's best supercross racers had anything for Sexton, who flat out dominated the Atlanta Motor Speedway contest, winning by more than seven seconds.
250 ESX
Rookie supercross racer Deegan followed up the holeshot in his heat race to pulling a Monster start in the main, beating the entire field around the first turn and into the early lead, and holding off a charge from Hunter Lawrence (Honda). Lawrence would eventually grab the lead from Deegan, then turned around and lost it back to Deegan when he (Lawrence) nearly threw it away through the whoop section. After Lawrence got the lead back, all eyes in the venue were on Deegan and Smith, who continued their rivalry by battling bar-to-bar in tremendous fashion, with Smith getting the better of Deegan on Lap 4, though Deegan would hang in there – winning the battle for 3rd with another Monster Energy/Star Racing/Yamaha teammate, Nate Thrasher. Unfortunately for Thrasher, in pursuit of Deegan he'd wad up his YZ250 on Lap 8 (of 11), and have to leave the race on a stretcher. Not to be lost in the podium shuffle for Monster Energy was the effort of Shimoda, racing from a 7th place start all the way up to 4th, and featuring some of the night's best lap times late in the race (1:33.78 on Lap 11).