All News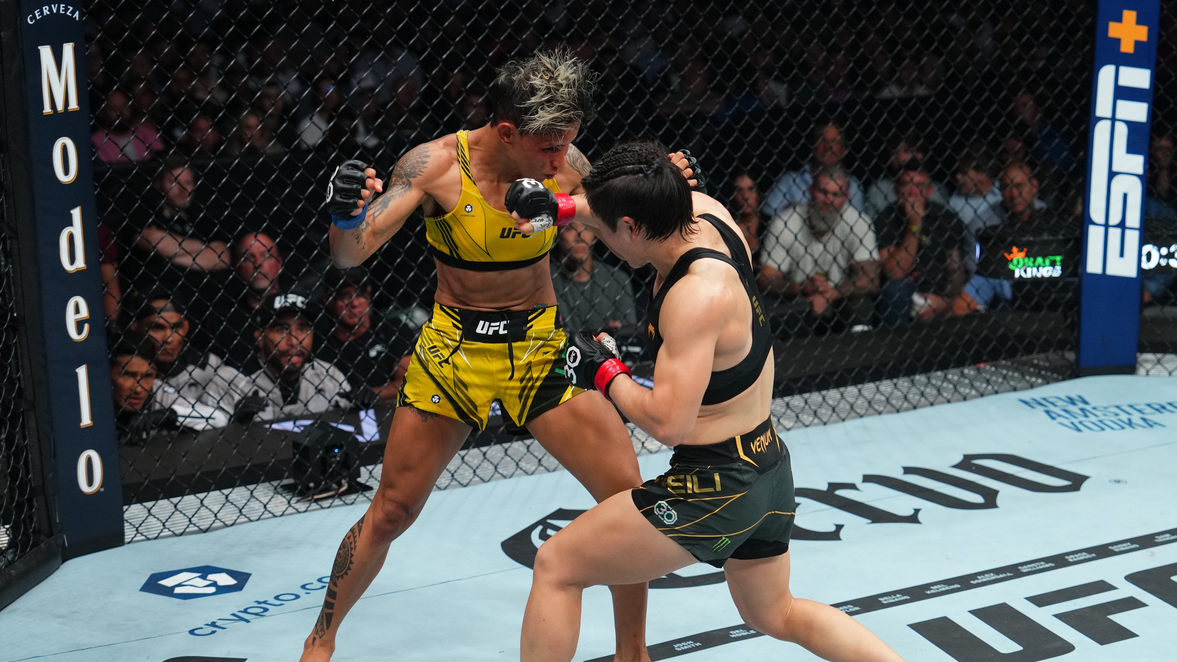 Zhang Weili Defends Women's Strawweight World Championship | UFC 292
Zhang Weili Beat Amanda Lemos by Unanimous Decision and Earned UFC's $50,000 Performance of the Night Bonus. Marlon Vera also came out victorious against Pedro Munhoz in the Bantamweight Fight
And still the undisputed champ! Monster Energy congratulates Zhang Weili on defeating Amanda Lemos and defending her UFC Women's Strawweight World Championship title at UFC 292 in Boston on Saturday. In the night's Co-Main Event fight, the 34-year-old from Handan, China, earned a unanimous decision victory after dominating her opponent for five rounds and received the UFC's $50,000 Performance of the Night Bonus.
Earlier on Saturday night's Main Card, 30-year-old Marlon Vera from Chone, Ecuador went the distance against Pedro Munhoz to earn a victory by unanimous decision in their Bantamweight division fight.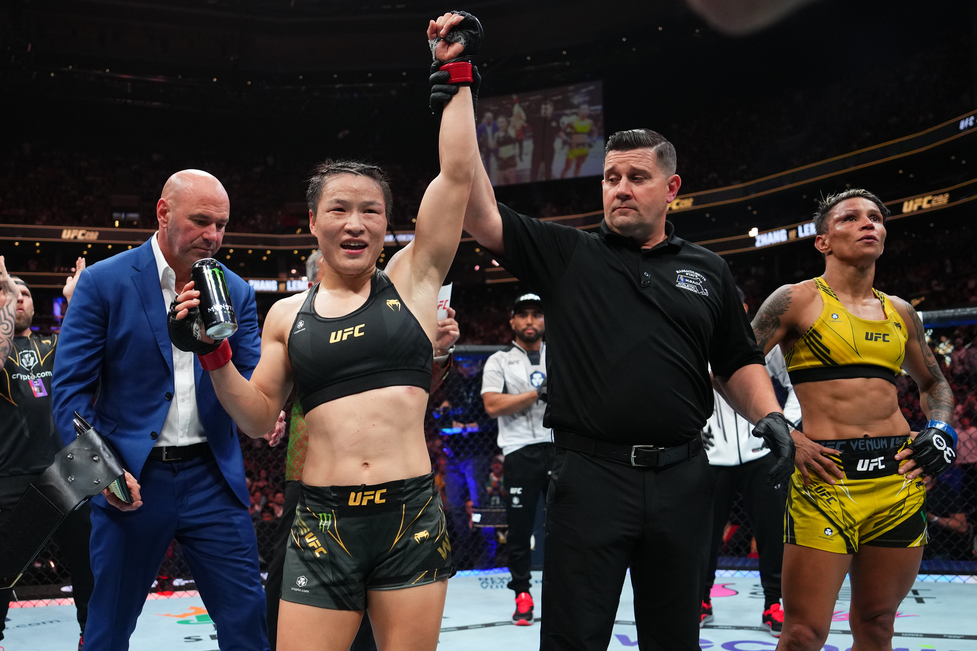 Right from the start, Zhang brought the pressure by scoring an early takedown and pummeling her opponent from above while working for a submission via guillotine choke. Her opponent absorbed massive damage, and in a dramatic scene late in Round 1, Lemos almost ended the fight by D'Arce choke, but Zhang regained control.
Over the next rounds, Zhang expanded her control while displaying the full force of her MMA repertoire. On the feet, Zhang connected heavy kicks and punch combos, supplemented by a superior ground game featuring side mounts, chokeholds, and brutal elbows.
In the last round, Zhang dropped Lemos with a powerful right hand that almost scored a knockout. Moving into a modified crucifix position, she commenced to rain ground-and-pound damage and controlled the fight until the final bell.
When all was said and done, Zhang proved the dominant force in the fight by landing 296 versus 26 significant strikes and clocking a total of 14:52 minutes, nearly three full rounds, of control time. The judges pronounced Zhang the winner by unanimous decision with scores of 50-43, 50-44, and 49-45.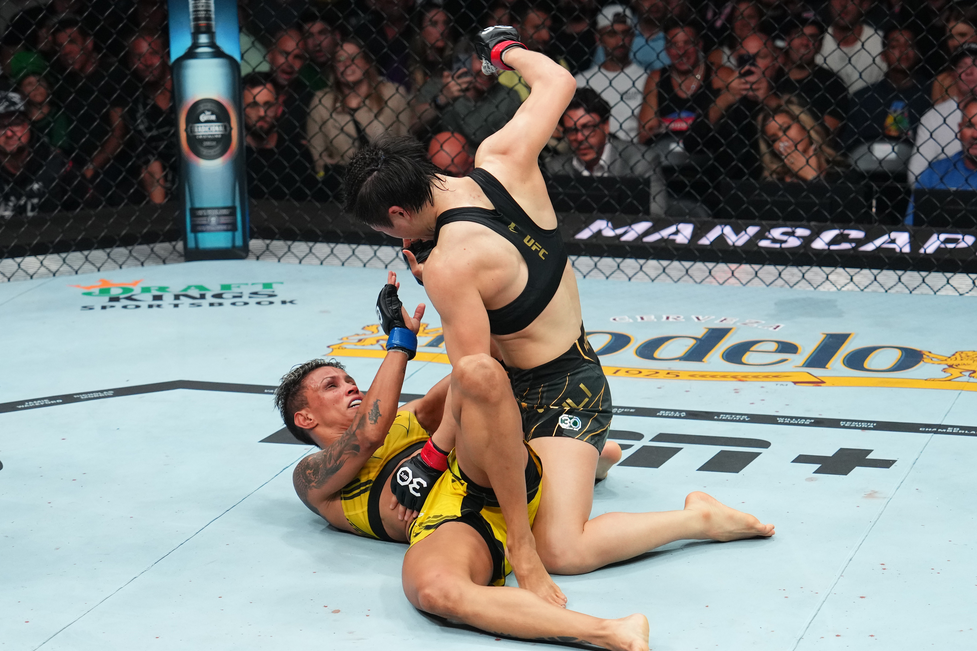 "I'm not surprised because I have a great team. All the coaches give me the technique to make the fight happen like this," said Monster Energy's Zhang upon defending her 115-pound World Championship belt in Boston.
Saturday's victory marks the second current UFC Women's Strawweight World Championship title defense for Zhang. The dominant five-round performance also earned her the UFC's Performance of the Night bonus with a $50,000 payout. Zhang previously held the UFC Women's Strawweight Championship from August 2019, making history as the first UFC Champion from China until April 2021.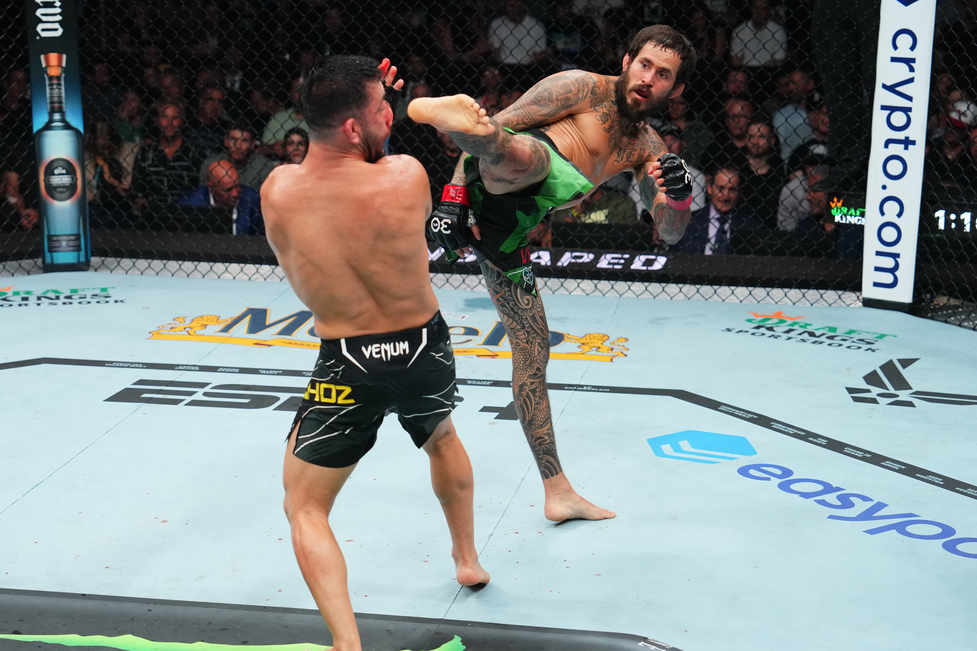 Also, on the Main Card on Saturday night, Monster Energy's Vera (21-8) was looking to return to the winner's circle after losing to Cory Sandhagen by a split decision in March 2023. Vera faced Brazil's Pedro Munhoz (20-8), fresh off a victory against Chris Gutierrez in April 2023. Munhoz was a last-minute replacement for former UFC Flyweight and Bantamweight Champion Henry Cejudo, who withdrew from the fight against Vera because of an injury.
When Vera and Munhoz collided in the Octagon, the Bantamweight division fight soon settled into a technical striking match. The first round saw Munhoz attacking with aggressive punches, while Vera evaded damage and let the fight unfold at his own pace.
In the second round, Munhoz opened with quick combinations that were countered by fast strikes from Vera. The Brazilian later resorted to attacking from a distance with calf kicks as Vera fought back with punishing jabs.
Vera's left jabs finally took their toll on Munhoz in the third and final round, leaving the Brazilian's face visibly bloodied and exposed to follow-up combinations that caused more damage. With the final round as his strongest, Vera made a clear statement in Boston. When the judges went to their scorecards after Round 3, they unanimously issued scores of 30-27, 30-27, and 29-28 in Vera's favor.
Addressing his next opponent, Vera took aim at newly minted UFC Bantamweight Champion Sean O'Malley on Twitter, stating: "Fighting for a world title very soon." The rematch between the two adversaries could happen as soon as December 2023. Stay tuned for more from Marlon "Chito" Vera!