/ /

Motor

All NEWS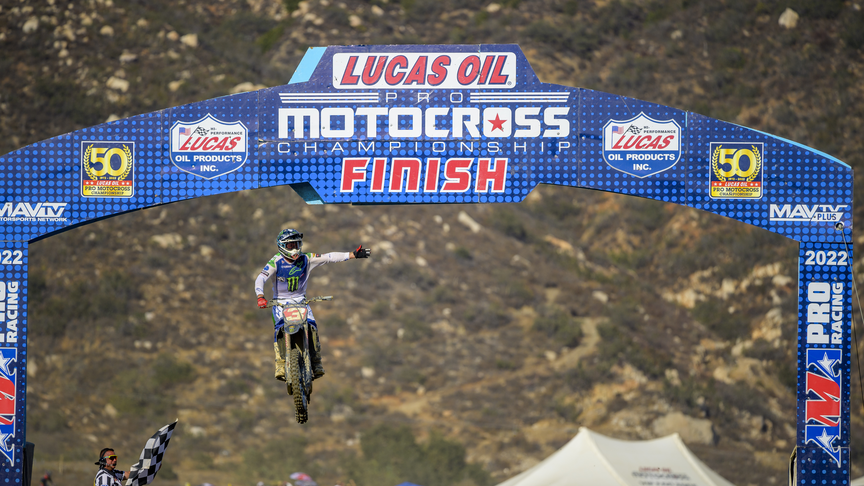 Eli Tomac Wins the 2022 Lucas Oil AMA Pro Motocross Championship
When the pressure was on, so was Eli Tomac. The veteran four-time outdoor Motocross champion joined an elite class of FIVE-TIME Lucas Oil AMA Pro Motocross Championships winners, taking a one-point premier 450 class lead into the final round over Chase Sexton (Honda) and making an absolute statement as to who's the best with a bold, 1-1 two-moto finish at Fox Raceway in Pala, California, on Saturday.
Tomac's performance in the arid (temperatures teetering at or above triple digits) region near Carlsbad, California, the birthplace of American motocross racing, was nothing short of superhuman – as was Sexton's as well. In the opening moto the two distanced themselves from the rest of the field and went 1-2 – with the next-closest competitor (3rd place Christian Craig) being an unheard of one minute and 17 seconds behind. Tomac and Sexton, in their feverous pursuit of the championship, lapped the field all the way up to 11th place (out of 40 racers that started).
The second and deciding moto would see Tomac overcome a poor start and take advantage of an unbelievable three (3) unforced errors that led to crashes by Sexton which, ultimately, handed the championship over to Tomac as the veteran rode pretty much error-free in both motos.
"This has been the most enjoyable year of my career," said Tomac from the podium following his second moto victory and 91st career MX Nationals moto win. "Starting with supercross (Tomac won the 450 class in 2022 Monster Energy AMA Supercross) and now motocross. The competition was just unbelievable with Chase (Sexton). He's (Sexton) the next 450 guy, hands down."
Added Sexton: "Man, Eli's (Tomac) so tough. He, obviously, got the upper hand on me. I made some big strides this summer and feel like a different person than I was when I started. We'll keep going and get better for next year."
Noteworthy here is that Tomac and Sexton will lead Team USA, along with Justin Cooper in the upcoming, Sept. 24-25, Motocross Des Nations at RedBud MX in Buchanan, Mich.
In 250 class racing at Fox Raceway, Jo Shimoda overcame a questionable/aggressive pass from Honda's Hunter Lawrence, which caused Shimoda to crash in the opening moto, to win the second moto, and with it, secure 2nd place overall in the standings – 12 points ahead of Hunter Lawrence. Cooper would join Shimoda on the 250 podium at Fox Raceway in 3rd place.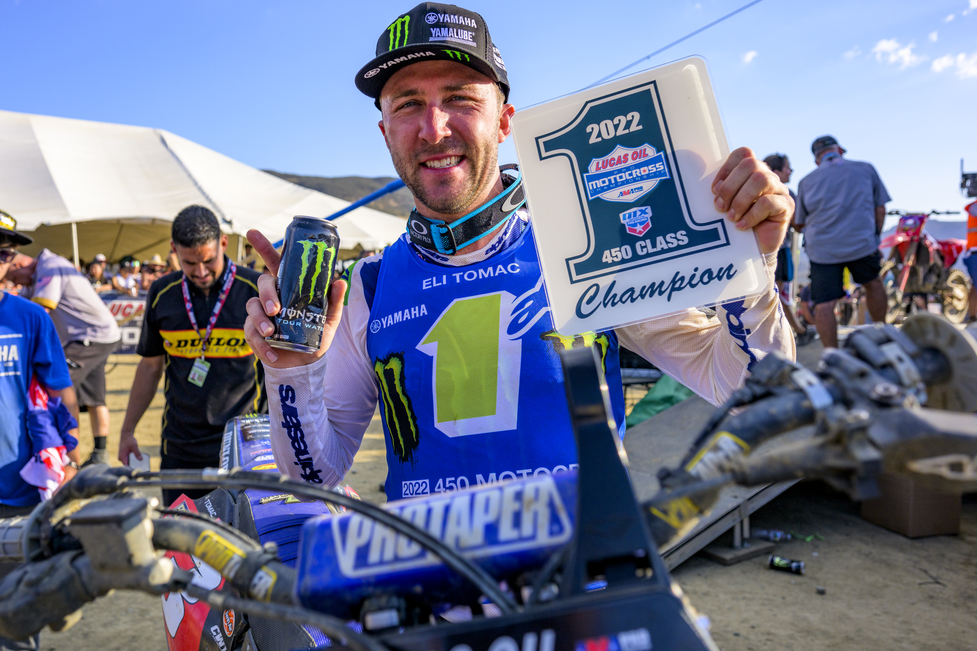 450 Moto 1
"My mindset is it's all or nothing." – Tomac
"My goal is to come out here and just be on offense." – Sexton
Best-case-scenario out of the start of the opening 450 moto as Sexton grabs the holeshot leads going into the first corner, with Tomac right behind in 2nd place and Christian Craig in 4th. Bunched up at the start due to a Ryan Dungey (KTM) crash, Jason Anderson rolls around in 16th place after the opening lap. The two title combatants, Sexton and Tomac, would immediately separate themselves from the rest of the field, with Sexton opening up an early 2.282 second lead at the 20:42 mark of the temperature-shortened moto (shortened from 30 minutes + two laps to 25 min/+2). At the end of Lap 4 Craig, enjoying a home track advantage, took measure of 3rd place Justin Barcia and passed the Gas Gas rider with relative ease on an inside line. With Tomac tracking Sexton's lines, announcer James Stewart referenced Muhammad Ali's classic boxing trick in commenting: "That's a little Rope-A-Dope," with how Tomac was following closely, but not attempting to pass Sexton. "It's chess, not checkers, out there." At the 11:00 mark, Sexton had made a couple minor mistakes, which allowed Tomac to close the gap further. Then, at the 9:40 mark, both racers began to hit some lapped traffic. With Sexton slowed considerably in one section by the lapped traffic, Tomac chose this time to pounce – and passed Sexton for the lead at the 4:41 mark with a move to the inside. Following his pass, Tomac would reel off a hyper-fast 2:25 lap, while Sexton responded with his slowest lap of the moto – a 2:29. And this, coupled with a late moto mistake that saw Sexton's bike slow to a near stall coming out of a corner, would be the differences in leading to Tomac's Moto 1 victory over Sexton. Craig would podium in 3rd place in the opening moto, while Anderson fought back valiantly for 4th place (from 16th).
Said Tomac: "I kind of had to manage the moto there, following Chase (Sexton) for quite a while. Then, actually in a section where I made the pass, I was struggling earlier. I fixed my line and got the better of it and made the pass. Tough track today. That was a key moto win for us."
Added Sexton: "Man, I felt good. Way better than I did in practice. I just struggled getting by the lappers, and Eli (Tomac) caught me. He was able to get through (the lappers) better than I was. Nobody's fault, I just have to do better at that. He got the lead and I reeled him in, then made a few mistakes and he, obviously, won. I gave it my best and that's all I can do."
Said Craig: "I had (Justin) Barcia right in front of me, and you know you have to be patient around him and pick your pass. Once I got around him, I just did my laps, focused on my breathing, and man it was tough."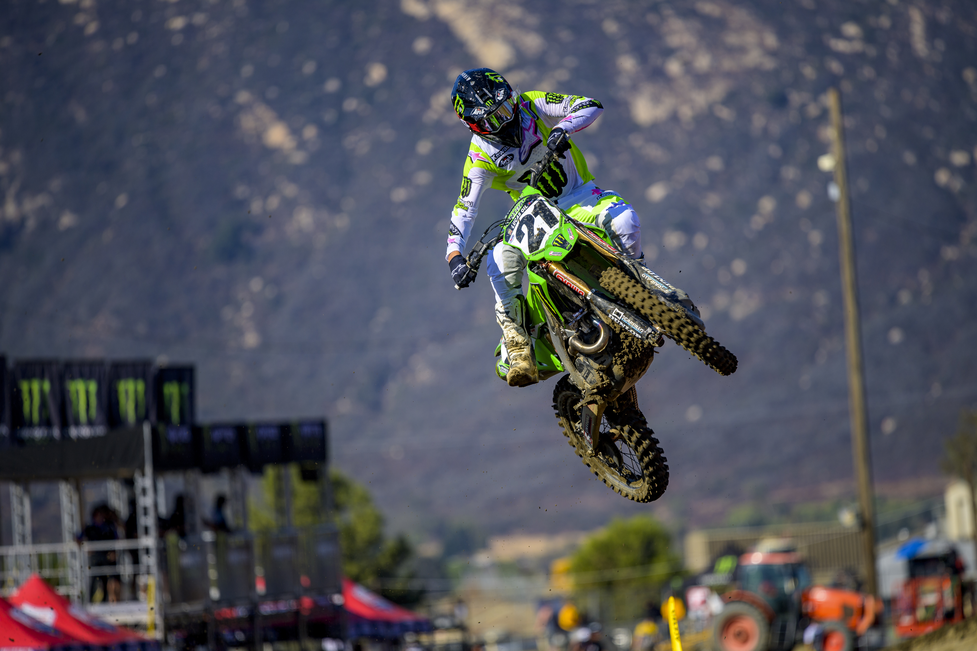 450 Moto 2
The formula for Sexton to catch Tomac in Moto 2 in order to win the title was simple: Sexton had to win and have someone finish between him and Tomac. And from the opening gate drop things were looking good for Sexton as a 4th place start and quick move up to 2nd place for Sexton was met by a poor start (outside the top ten) by Tomac. With Monster Energy guys (Sexton, Anderson, and Craig) all up front and running fast, Tomac had no sooner moved up into the top ten (8th) when Sexton hit the dirt – the first of three crashes in the moto by Sexton. Sexton would pick his bike up and watch Tomac go by, getting going again in 8th place (while Tomac quickly moved up to 5th) as Lap 2 came to a close. Sexton would then crash a second time – two crashes in a half lap, while Anderson passed Craig on a downhill section for the race lead. Sexton would buckle down and put up some of the day's fastest laps, getting by Dungey for 5th while running two seconds faster (per lap) than race leaders Anderson and Craig. At the 14:10 mark Sexton had gotten by Barcia for 4th place and was about six seconds back of Tomac in 3rd. Craig would reward his teammate Tomac with an easy pass into 2nd place, then it was 'on' between Tomac and Anderson for the Moto 2 race lead. No sooner did Sexton get by Craig for 3rd, running a blistering 2:24 lap (to Tomac's 2:26 and Anderson's 2:28), did Sexton go down again, the third time in the moto, losing the front end in a corner at the base of a downhill section. Anderson, who'd run in 3rd place behind Tomac and Sexton for much of the season, wasn't giving in to Tomac's pursuit of the lead, holding off the eventual champion for a number of laps in some great racing. At the 8:49 mark, coming over the crest of a hill and into a deep-rutted turn, the persistent Tomac moved to the inside while, at the same time, Anderson caught neutral with his shift and slowed, allowing Tomac to get by unchallenged. Despite his bad luck, Sexton continued to charge back towards the front, moving into 3rd and pulling to within six seconds of Anderson in 2nd place with 5:32 plus two laps remaining. Sexton would move into 2nd place at the 3:10 mark, past Anderson and about three seconds behind Tomac. At this point in the race, Tomac would have to make a massive mistake in order for Sexton (and Anderson) to get by, but the veteran finished out strong – and mistake-free – in going 1-1 to secure the 2022 MX Nationals title. Also, noteworthy was that Tomac became the first pro racer to win his very first MX Nationals race (2010, Hangtown) and what's said to be his very last outdoor motocross race (2022, Fox Raceway).
Said Tomac: "We (he and Sexton) pushed ourselves to the limit, and I felt like we raised the bar this year. Thank you to my team, Yamaha, Monster Energy… this is a very enjoyable moment and this (holding up the No. 1 plate) is just the cherry on top."
Added Sexton: "That second moto was frustrating. I had to go for it. I had to pass Eli (Tomac) and, trying to get to the front, I fell three times. So those mistakes… we've got to stop with those."
Added Anderson: "That first moto was tough. I was behind (Ryan) Dungey at the start – and he went down. So I spent a lot of energy getting back up to the front. Then that second moto I just couldn't hang. All-in-all, it's been a great season. Amazing for me, but I still want more."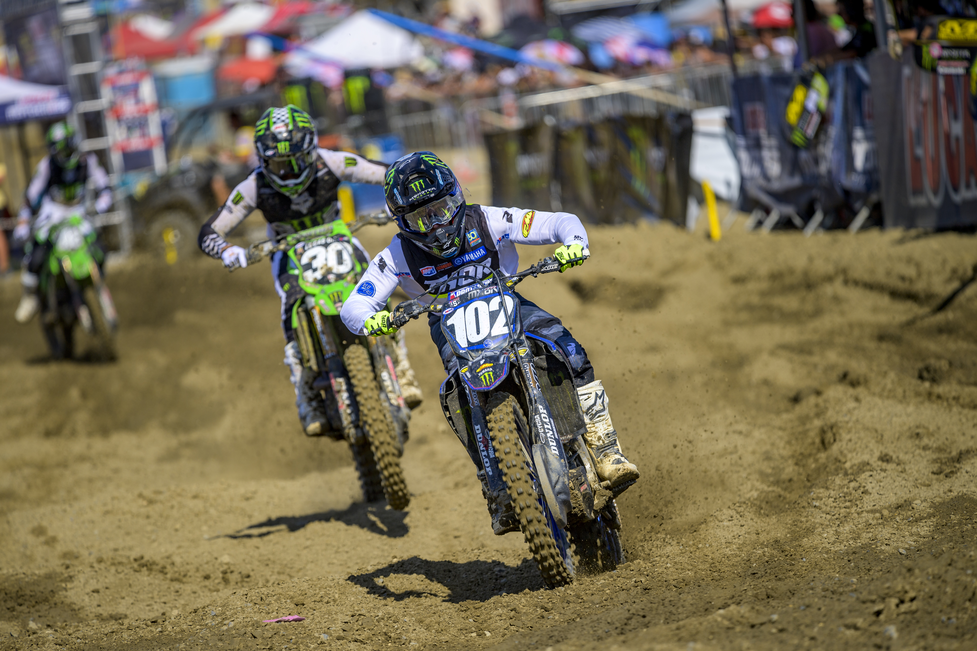 250 Moto 1
The battle for 2nd place overall in the 250 class championship was coming down to the wire between Shimoda and Hunter Lawrence. And Cooper would stick his nose between the two to start the opening 250 moto at Fox Raceway, pulling a 2nd place start (behind Jett Lawrence), with Shimoda in 3rd. Shimoda would get past Cooper on the opening lap, setting up another Shimoda/Jett Lawrence battle up front. On to Jett Lawrence's rear fender early, Shimoda still had a mathematical, albeit slim, chance at the overall title. Seth Hammaker would also run in the top five early (5th), with Matt Leblanc in 7th, and all chasing Jett Lawrence, Shimoda and Cooper in 3rd. At the 21:16 mark Shimoda was only one second back of Jett Lawrence, with Marvin Musquin (KTM) making a surprise appearance at Fox Raceway, to get dialed in on the 250 for Team France for the upcoming Motocross Des Nations, getting by Cooper for 3rd place. At the 16:45 mark, Cameron McAdoo had raced his way into the top ten (8th), as Shimoda stayed inside two seconds behind Jett Lawrence at the Moto 1's midway point. Shimoda would make a charge at 1st place, cutting Jett Lawrence's lead down to .06 seconds with 7:36 plus two laps remaining. Lurking back behind the leaders, and quietly moving towards the front was Hunter Lawrence, who trailed Shimoda by seven points for 2nd place overall in the championship standings. With the race winding down, Hunter Lawrence thought he saw an opportunity and sent it off a downhill jump, careening into Shimoda – who had already entered deep into a rut in a left-handed turn. The resulting impact blew Shimoda out of the rut, off his bike and off the track. Hunter Lawrence managed to stay upright and took over 2nd place, with Cooper passing the fallen Shimoda and taking 3rd. Shimoda held on for 4th, with Hammaker (6th) and McAdoo (8th) both finishing out the opening 250 moto in the top ten.
Said Cooper: "Cool to battle a guy like that (of his pass on former European MX2 champ Musquin). Ended up 3rd with Jo's mistake (Cooper was unaware, from the podium, of the situation involving Hunter Lawrence)."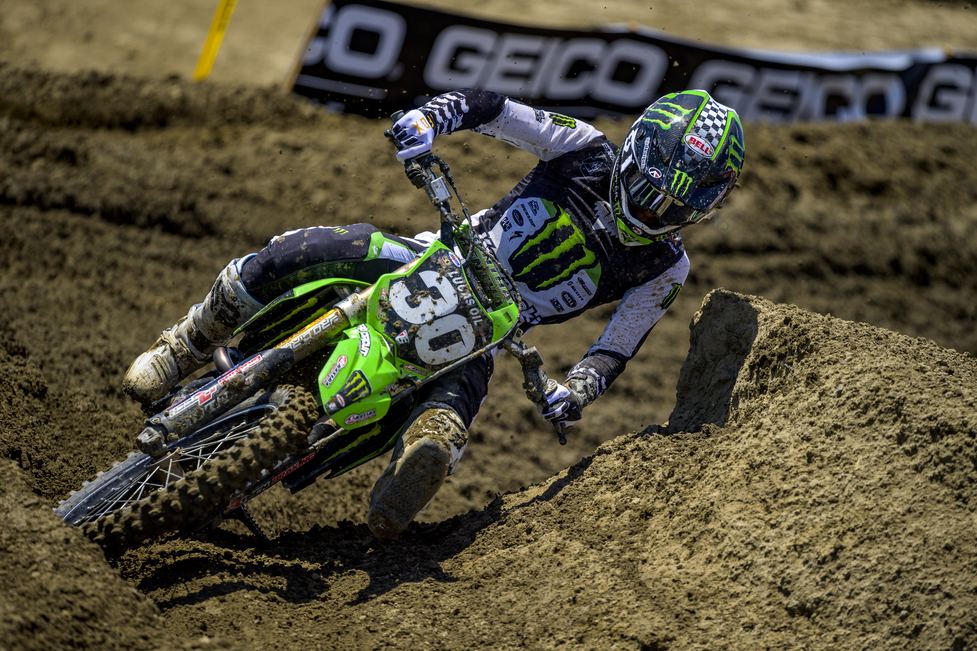 250 Moto 2
With some vengeance in mind after Moto 1, Shimoda leads off the start into the first turn, eventually coming out in 2nd (behind Cooper's holeshot). Shimoda moves onto Cooper quickly, with McAdoo right there in the mix. Hunter Lawrence gets out to a poor start (13th) in his battle with Shimoda for 2nd place overall in the 250 championship. With Cooper running up front, Shimoda in 2nd and McAdoo in 3rd, Ryder DiFrancesco grabs an early top five (5th) slot, with Hammaker in 7th. On Lap 2 Shimoda would close Cooper off on an outside-to-inside line, taking the lead – a lead he'd never relinquish though the checkers. As Shimoda continued to roll on the power, he'd extend his lead to five seconds over Cooper at the 16:01 mark – and some 25 seconds over Hunter Lawrence. As the race wound down, nearing the ten-minute mark, Jett Lawrence was moving up – and got past Cooper for 2nd. With 3:44 plus two laps remaining, Shimoda was 19.9 seconds up on Jett Lawrence, with Cooper staying well within striking distance of the 2nd place Australian racer. A couple younger Monster Energy-backed racers, rookie pros Haiden Deegan (Star Racing/Yamaha) and Chance Hymas (Honda), battled for 11th place, with Deegan aggressively taking measure of Hymas for the spot. With two laps to go, Shimoda was up by 24 seconds on 2nd place Jett Lawrence, making a statement regarding the questionable pass in Moto 1 by Hunter Lawrence. And, with his 5th moto win of the season, Shimoda wrapped up 2nd place overall in the championship. Cooper would hold on to 3rd, 1.5 seconds back of Jett Lawrence, placing 3rd overall on the day (3-3).
Said Shimoda: "I don't know about the (Moto 1) pass. I don't think you could call it a clean pass. He (Hunter Lawrence) put me over the berm and I hurt my shoulder a little bit. But that kind of pissed me off a little bit, you know? So in the second moto I just got a (good) start, charged to the end and won with a pretty big gap. Pretty pumped about that. Thank you to Monster Energy, Pro Circuit and Kawasaki. Thank you to the whole team, and my mom and dad. Hopefully we'll have a better result next year."
Added Cooper: "Yeah, it was a fun day. I tried to get out of here in one piece… we've got a big race coming up with Team USA (Motocross Des Nations) and hopefully we can bring it home for USA. I got a couple good starts today, and it was fun to race with Jett (Lawrence) in that second moto. Jo (Shimoda) was riding really good and kind of walked away from us. Really had nothing for him (Shimoda). It was a fun track, rough, and definitely tested us."
Overall 2022 Lucas Oil AMA Pro Motocross Championship, presented by Monster Energy, Points (Round 12 of 12)
450 class
1st – Tomac
2nd – Sexton
3rd – Anderson
5th – Craig
9th – Savatgy
250 class
2nd - Shimoda
4th – Cooper
7th – Hammaker
8th – Thrasher
10th - Kitchen