All NEWS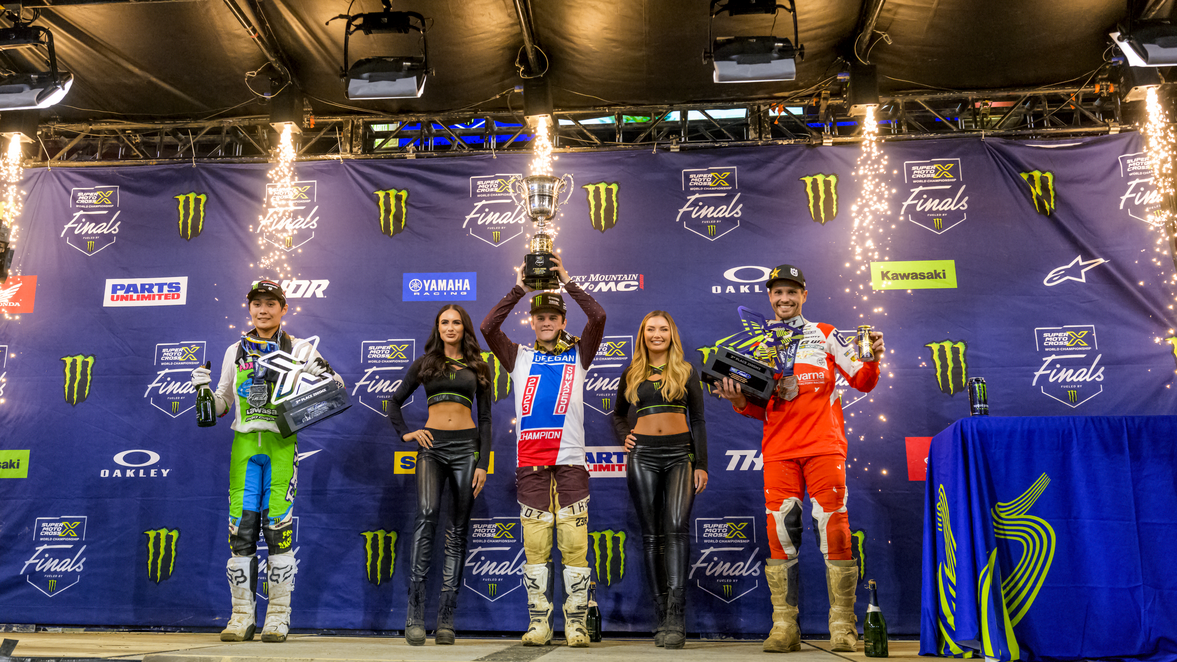 Haiden Deegan Wins Inaugural SuperMotocross 250 World Championship
In his very first year as a professional motocross racer, Monster Energy's Haiden Deegan (Star Racing/Yamaha) has laid claim to the title of World Champion.
On Saturday night at fabled LA Memorial Coliseum, home of the first-ever stadium motocross (aka "supercross") race in the United States, Deegan would parlay a 5-2 moto finish at the third and final round of the 2023 SuperMotocross World Championship, fueled by Monster Energy, into the top spot on the podium – and with it a bonus check for a cool half million dollars.
"My goal was to get a podium in an outdoor national my first season," said Deegan. "It went from there to being in a championship fight, having a red plate, and now winning my first championship in my rookie season. It's crazy. I've just got to keep building, getting stronger. I'm still young, so my body has got to fill in a little bit more and it's just up from here."
Joining Deegan on the 250 podium was Monster Energy's Jo Shimoda (Pro Circuit/Kawasaki), who went 4-4 to place 2nd, and finished 2nd overall to Deegan in the SMX 250 overall points chase. Added Shimoda on the inaugural SMX playoffs: "I always want to start a season on a good note, but we changed something on the bike and just honestly struggled with setup in the first half of the season. If you're struggling, four or five races in it's kind of over already. It was nice to have these SMX rounds. Everything started off fresh and I feel like I had a good first two rounds and had the opportunity to go for the championship on this round. I'm stoked on everyone's effort on the team and proud of myself too."
Monster Energy/Star Racing/Yamaha teammates Justin Cooper (7-3) and Levi Kitchen (10-1) rounded out the top five in 250 class scoring at LA, going 4th and 5th, respectively.
In 450 class action Monster Energy's Chase Sexton (Honda) entered the SMX finals with a couple point lead for the overall record $1 million 1st place SMX purse, and exited in 3rd place overall after a disappointing crash – while leading – and subsequent 20th place second moto finish (following a podium 3rd place finish in the opening moto). Monster Energy's Cooper Webb (Kawasaki) was able to make the LA Coliseum 450 podium with a solid 5-3 night, joined in the top five by teammate Adam Cianciarulo in 4th place (7-4).
LA Coliseum SMX Results
450 class results 250
3rd - Webb (Monster/Kawasaki) 1st - Deegan (Monster/Star/Yamaha)
4th - Cianciarulo (Monster/Kawasaki) 2nd - Shimoda (Monster/PC/Kawasaki)
10th - Sexton (Monster/Honda) 4th - Cooper (Monster/Star/Yamaha)
Final Overall Standings (3 of 3 rounds)
450 class 250
3rd - Sexton, 126 points 1st - Deegan, 157 points
4th - Webb, 120 points 2nd - Shimoda, 152 points
6th - Cianciarulo, 96 points 4th - Kitchen, 114 points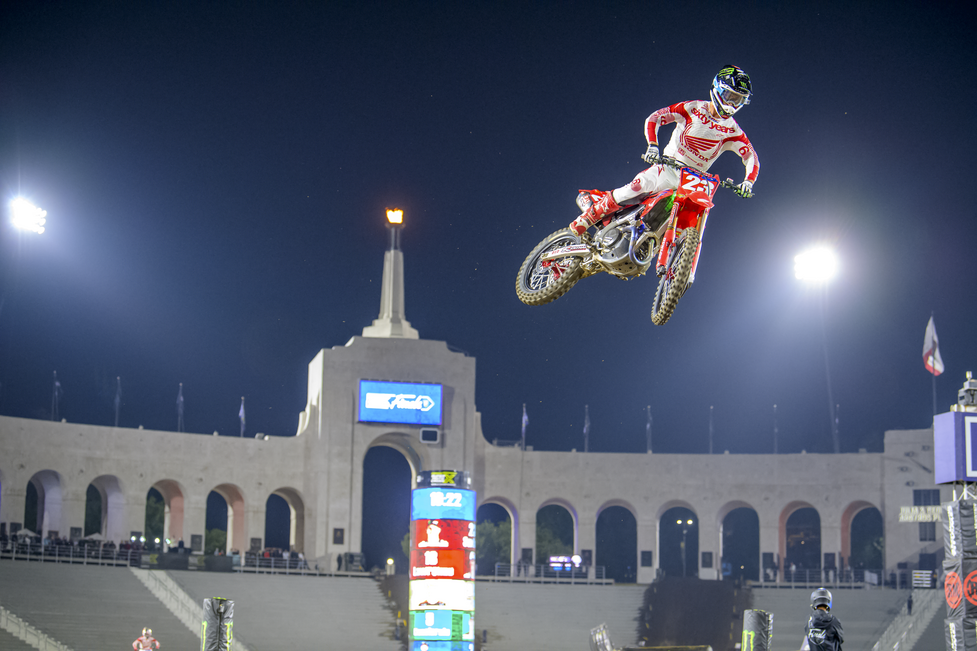 450
Moto 1
Cianciarulo would grab the opening 450 SMX moto holeshot, with Anderson capturing the lead soon after. … A massive get-off involving Justin Barcia (Gas Gas) would bring out the red flag, with Anderson being the lead bike on the single file restart. … Anderson would eventually give up the lead to Suzuki's Ken Roczen, who was then passed by Jett Lawrence (Honda) for the lead. … Sexton, who battled with Roczen and Lawrence early, wasn't able to answer late in the race and settled on 3rd place – which meant he'd have to beat Moto 1 winner Lawrence by two positions or better in Moto 2 in order to win the overall – and the million dollars that goes with it. … Anderson would finish 450 Moto 1 in 4th place, with Webb in 5th and Cianciarulo in 7th.
Moto 2
Sexton knew what needed to be done in the second moto, and stepped it up out of the start – grabbing the holeshot and the final 450 race lead. … Lawrence got out to a good start as well and, in 2nd place, was challenged early on by Roczen. … At this point of the contest a Sexton win and Lawrence 3rd place finish would have given the title to Sexton – but that was all mute as Sexton would miscalculate a landing on a jump and augured himself into the LA Coliseum soil, very hard. Fortunately up quickly and able to move out of harm's way under his own power, Sexton wouldn't be able to finish the contest – settling on an unfortunate 3rd place overall finish with a 3-20 result. … Anderson would also suffer the ill effects of a 450 Moto 2 crash and was also forced to exit the contest. … Webb would step it up late and ran to a 3rd place podium finish, giving him 3rd place overall on the night. Cianciarulo would place 4th in Moto 2 behind Webb.
250
Moto 1
Deegan got out to an excellent start and was running in 2nd place, while Shimoda was held back and came out in 11th. … Monster Energy's Jordan Smith (Star Racing/Yamaha) would pop into the picture and passed Deegan for 2nd place, setting his sites on 250 Moto 1 race leader Tom Vialle (KTM). … Smith took less than three laps to catch and pass the former World Champion, and put his Monster Energy-backed YZ250F into the lead. … During this time, and while Deegan, RJ Hampshire (Husqvarna) and Vialle were battling for 2nd and 3rd places, Shimoda had hustled back up to 5th place, then 4th with a hard pass on Deegan (which sent the rookie briefly off the track). … Nobody would catch Smith as he ran to the impressive/upset win to the checkers. Shimoda held strong in 4th place and Deegan wrapped up 250 Moto 1 in 5th. …
Moto 2
With $500,00K on the line Monster Energy's Levi Kitchen (Star Racing/Yamaha) shot out and nabbed 250 Moto 2 holeshot, while his teammate and 250 Moto 1 winner Smith went down in the second corner – ending his slim shot at the overall SMX 250 crown. … With Kitchen up front and teammates Deegan and Justin Cooper in tow, Shimoda moved up into the Monster Energy mix up front. … The three Monster Energy/Star Racing/Yamaha bikes up front presented a problem for Shimoda as, not only would he have to get past former MX/SX champ Cooper, but he'd also have to beat Deegan to the tape. And that wasn't happening tonight. … Kitchen would grab the victory, giving Monster Energy/Star Racing/Yamaha the LA Finals 250 class 1-1 moto sweep. Deegan grabbed 2nd, the overall SMX, and a check for $500 grand.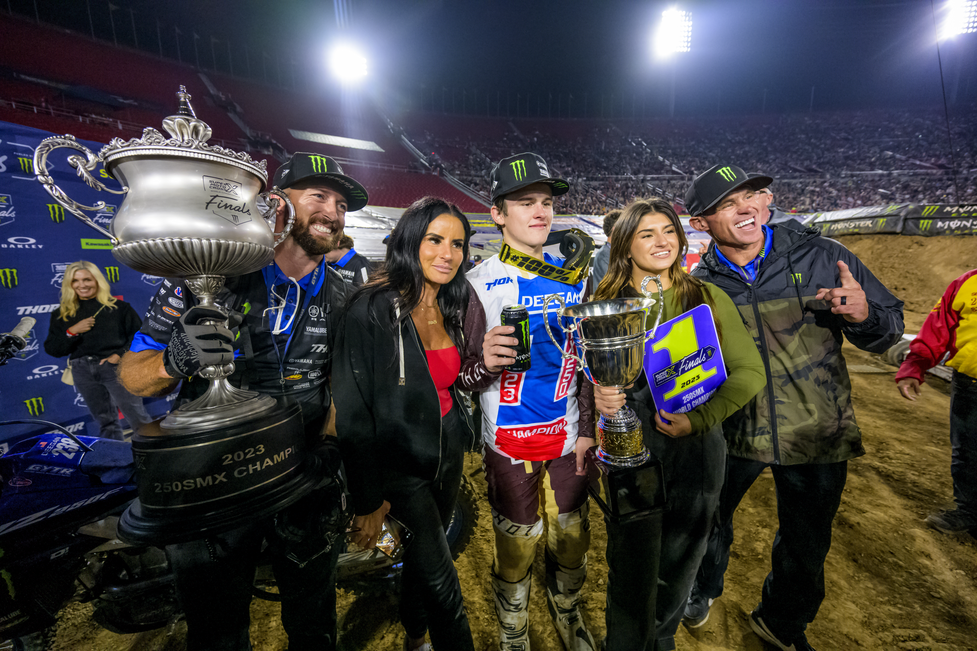 Notes & Quotes
"Five plus two equals 500 thousand," said NBC announcer Ricky Carmichael on Deegan's 250 class SMX victory.
Monster Energy's Drew Adams (Kawasaki) got things going to open the SMX Finals evening with a victory in the 250 World All-Stars main event, featuring the world's top 15 to 19-year old racers.
The SMX 450 class at LA was a bit cursed for Monster Energy racers as, in addition to Sexton, both Anderson and Dylan Ferrandis (Star Racing/Yamaha) suffered crashes and were unable to complete both motos.
Pretty cool seeing Haiden Deegan win at the Coliseum – the same place his father, Brian, 'unofficially' launched the Freestyle MX movement when he ghost rode his bike, in victory, over the 125cc finish line jump back in 1997.
With the SuperMotocross World Champions crowned and the full 2023 purse of $10 million dollars paid out, race fans look ahead toward 2024 racing as the 17-round Monster Energy AMA Supercross season and 11-round AMA Pro Motocross season schedules have been released.
Still pocketing a TON of money in the 250 class SMX Final were Kitchen and Smith, who finished in 4th and 5th places overall – each making $50K or more on the evening.
Monster Energy's Seth Hammaker (Pro Circuit/Kawasaki) suffered a rough get off in Friday's Free Practice session at the Coliseum. Nothing major, according to press reports, but Hammaker was forced to miss Saturday's main event.
Bright green 'Leader Lights,' which debuted at Anaheim 1, proved to be a big hit at the three SMX rounds, according to Feld Motorsports' Mike Muye. "We've gotten feedback from the fans from when we first debuted them in Anaheim. A lot of people were asking, 'What were the green lights?' Once they saw them on 80 percent of the bikes last week, (they were like) 'That's cool. That's something we needed.'"