/ /

Motor

All NEWS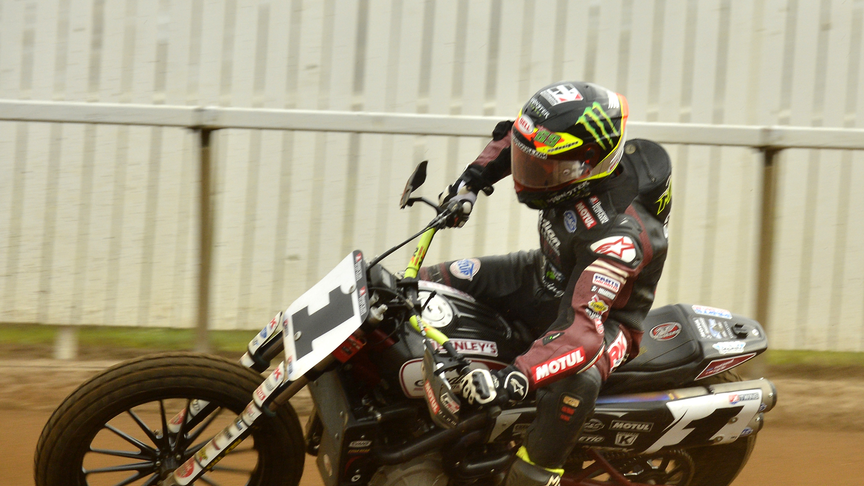 Jared Mees Crowned '22 AMA Grand National Champion
Jared Mees successfully defended his premier SuperTwins class championship, bringing his championship total to eight.
It's been said, half-jokingly, that the long-running AMA Flat Track series is the only motorcycle racing series that features a special section in the bleachers for those that walk with a limp.
Yeah, the sport's that badass. Though compared to other forms of motorcycle racing flat track's pretty straightforward: "Head out that way and turn left," says the AMA race starter, pointing the green flag off into the sunset. One other tip is that that left-hander needs to be thrown at 90-plus mph, which pitches the 300-plus pound V-twin powered bike (and rider) completely sideways to complete the far turn of the oval. Throttle pinned in excess of 120-130 mph down the back straight, they pitch the bike sideways again. Then again. Lap after lap, race after race, season after season. And they've been doing so pretty much longer than any form of motorcycle racing here in the States, since around 1935.
Uniquely U.S.A., flat track (aka "dirt track") parallels the incredibly popular FIM Speedway racing that regularly packs soccer stadiums throughout Europe, although those bikes weigh around a third of an AMA flat tracker and maybe hit 60-70 mph. And now standing very near the top of the greatest flat track racers of all-time, harking back to the "On Any Sunday" era of the 1960s, racing great Mert Lawwill - is Monster Energy's own Jared Mees.
Mees, who hails from Pennsylvania and now makes his home in Florida, recently secured his eighth AMA Grand National premier class SuperTwins title, pulling him to within one championship of the great Scotty Parker (nine) for the most AMA flat track championships in history. At age 36 Mees now competes against a field that includes guys in their teens. But as you'll read, sticking to an intense fitness program – the likes of which the sport of flat track and its traditional 'pin it to win it' attitude has never seen – has played into Mees' favor and allowed him to maintain unbelievable speed as he ages.
Monster Energy was able to catch up with Mees and get his views on the '22 season, where things stand and what we can expect for the upcoming competition year.
Speaking With 8 Time Champion Jared Mees
Jared! Congrats from everyone at Monster Energy on your recent title defense of the AMA Grand National Championship's (aka "flat track") premier SuperTwins class. Get us caught up on your season and how things went for the Indian Motorcycle Racing Wrecking Crew team.
Thank you. It was a tough season mentally. It seems like I could go through each one of my eight championship seasons and pick out certain things that made them special. Last year, it was an injury and this year it was that certain rules got applied to the Indian that seemed to try to penalize the talent of the riders and teams. So, in a way, it was harder to have fun doing something that you love to do. This effect was more in the middle of the season, and I was able to put it behind me and keep moving forward.
Since your first AMA Grand National Twins Championship in '09 to this – an impressive 8th title, including a run of an unbelievable four titles in the past six years, it appears there's no sign of you slowing down!
Haha, well, that is the goal. The nice thing about flat track is that it's not really too taxing on the body unless you are hitting the ground. I can see why the moto guys are retiring in their early 30s… moto is rougher on the body. So, I feel if I can stay in good shape mentally and physically and wake up wanting to be a champion… I'll do it.
It's well-known throughout the flat track paddock that you put an incredible amount of emphasis on fitness training. Historically, in this rough, 'pin-it-to-win-it' sport, that wasn't the case as much. Discuss, in part, your training regiment, and how that's been integral to continuing to win titles as you enter your mid-30s.
Yeah, 100%. I wrestled in high school, and everyone knows that is a dedicated sport. I'd say that sports have taught me more about life than anything. I've always enjoyed working out and being fit. I had some different people help me along the way of my career, and really just made my own adjustments. Back a few years ago, though, I linked up with Aldon Baker who is very well known in the moto world of trainers, and he is for sure the best. I have enjoyed working with him and, more than anything, learning from him. He makes sure that as I am getting older, my recovery is on point. Some days are very tough. I try to make training a little bit competitive which I think Aldon dislikes (LOL), but for me, it helps make it fun. I would rather get on the row machine and/or bicycle and flat floor it rather than Aldon telling me I need to stay in a Zone 3 heart rate. Aside from the training, the rest is pretty basic. Have a good and clean diet, get good and enough sleep, and stay consistent.
Solid plan. You turned pro in 2003 and have been competing now for 20 years. In the light of AMA flat track great names such as Parker, Springer, Carr, Shobert, Smith & Graham, how does it feel now that you're considered a veteran of the sport, and how that relates to holding off the next upcoming 'Jared Mees' in the races?
It's crazy. I felt like I woke up just recently one day and realized that like, I'm one of the older dudes, if not the oldest rider on the grid week in and out. It scares me to know that my racing years are dwindling down. So I am making each moment on the track count as much as I can whether it's a bad result or a good one. I've always been pretty good and study the competition and make taking back the number plate from whoever took it from me the year before priority. I try to make my strong races count the most that day and my weaker races be as strong as they possibly could be. It has seemed that over the years it has come down to just myself and one other rider for the championship, and each rider always has their strengths and weaknesses. Capitalizing on that over the time has been critical.
I think what might be cool to talk about how the sport of flat track/SuperTwins has changed considerably since you won your first title in 2009. Discuss the progress of what seems to be a fairly simple oval race on dirt for motorcycles, and how it's progressed in the last 20 years.
You know, honestly, I could write a book on how it has progressed. But I could write another book on how it's actually still stuck in the past and when I say that, I say it in a good way being that flat track is a pretty authentic sport. The progression is and has always been a little slower than other racing sports. I can take a bike that was built 20 years ago and probably still win a Grand National. I can't think another motorsport at its highest level that can do that, and it isn't because we aren't technically advanced, it's just the nature of the sport. For example, putting weight in your rear wheel is a benefit… Sounds stupid, but that is flat track. The biggest difference is that today we are looked at as a professional racing sport from the outside and I feel like 20 years ago it really fell off, but go back to 40 years ago and flat track was everything.
So this past year they (AMA officials) were said to have 'adjusted' the rules somewhat in an effort to handicap the highly successful Indian Motorcycle Racing program, which won its 6th-straight AMA Manufacturer's Championship with yours and teammate Brian Bauman's (2nd overall behind Mees) performance this past season. Understandably, talk in the pits is that Indian Motorcycle Racing is not all that happy with it, case-in-point being your regular season win total going from seven in 2021 to three in 2022. You've tested and raced with the classic American Indian brand and its revolutionary Scout FTR750 motorcycle since 2017. Are the plans for 2023 to continue with Indian Motorcycle Racing's Wrecking Crew team? Or might Indian Motorcycle Racing leave the sport altogether on account of the AMA rules restrictions with the brand?
Haha, you had to ask… This might be a little bit of a long-winded answer. In short, yes, the series put some heavy restrictions on the Indian motorcycle. Their reasoning for doing this is because Indian purpose-built an engine to compete in the sport of flat track, which from the outside looking in they took it serious. Because they are the only manufacturer to have done this in recent years, which leaves competing against other engines that come from a production street bike build a challenge due to the limitations of certain parts that are OEM. Their thinking was that because Indian built a purpose built engine that other manufactures would not get involved with flat track because they felt they wouldn't be competitive unless building a purpose built engine. Since, I believe, 2019 the Indian has always had to run a smaller throttle body and a smaller displacement engine than the rest. But in 2022 they made us remove all of our inertia (in other words rotating weight) which for flat track would bike pulling traction control off of a MotoGP bike. They also capped our RPMs. And then the real big one was that they put an actual restrictor blockage plate in our throttle bodies to hurt our air flow and significantly cut our power. Our throttle bodies are now 6 mm smaller than the other brands, and this has killed our horsepower by 15 horses. Because of the Indians' dominance over the last several years, the series put these rules in place to try to balance out competition. At the end of the day, Indian isn't happy to see all of their hard work and their investments get punished, especially with how the series has gone about it. The Indian has always, since day one, had the least amount of horsepower on the track. So making us have even less horsepower has really hurt us. As you mentioned, the amount of wins I've had has gone down, especially on the miles because I simply can't do much out there. I had to make all of the races count. At the end of the day, the series restricted the teams and the riders. If it was about balancing the competition, there could have been a lot more logical rule changes put in place. I can't speak for Indian Motorcycle on their future plans. I want to thank them for everything, they've been monumental in my success, and would love to keep the relationship. I plan to be on the grid in 2023 ready to win, no matter what.
Thanks for explaining that. Interesting stuff for sure. Sidetracking just a bit here, talk about growing up on motorcycles in Pennsylvania. Did you first start out on dirt bikes and motocross? Or was your path the flat track preordained with a father that was into flat track?
Yeah, like most kids, I started out on a PW50. I remember getting on the bike and holding the throttle wide open crashing into the curb and I went flipping. I didn't want a damn thing to do with motorcycles right then and there. Then, I saw this older kid riding behind my yard and everyone was watching him. I guess I wanted the same attention and decided to try it again. From there, we went racing every weekend in the northeast area and as I got older I started to travel. My dad never raced, but he is and was a motorcycle mechanic. My mom and dad got divorced when I was young. This was a great way for my dad and me to bond. I didn't know it at the time, but I think it really developed our close father and son relationship. My mom was a big supporter of mine, too. I was lucky to have great parents that wanted the best for me and they each got along with each other. There was none of this 'My weekend, his weekend' crap. It was, 'If you want to go to your dad's, go. If you want to go to your mom's, go.' But, for the most part, in the summer I was racing. Shout out to my parents, though. They really got me to where I am today and now that I am a dad myself I see it a lot more clearly.
That said, you still make time to ride some motocross down in Florida. Talk about how MX is fun for you, as well as how it helps your flat track racing.
It's difficult to train and ride flat track. You spend hours and hours trying to prep a track and by the time you get out there and ride it's dry and dusty within minutes. It's also just kinda boring riding by yourself on a track that's not prepped. Moto is more of a challenge, and it is a lot of fun. The risk factor is high, so you've got to pick and choose how risky you want to get out there. At the end of the day, the money is made in flat track, but it's not always the best thing to put ten flat track guys on a moto track (laughter). Other than being on a bike and using close to the same muscles and getting your heart rate up there isn't much that crosses over. There are some guys that I'll moto with who race flat track that are almost 5-8 seconds a lap off, but we will go to a flat track race that weekend, and I'll get smoked by them.
Do you follow, as a fan, any of the other forms of professional motorcycle racing more than the others?
I'm a big fan of supercross and motocross. I don't miss one SX ever. I follow Moto America just because I know a lot of them guys and like to support. Now that (Marc) Marquez is back in full-swing, I'll definitely pay more attention to MotoGP. Also, not that it's motorcycle racing, but I like football and pay more attention to football now than ever. I guess when Tom Brady retires, that might be the end for me.
That's funny on Brady. Another thing that'll be cool for MonsterEnergy.com readers is that you're an X Games Gold Medalist – twice! Talk a bit about the X Games experience and what it meant to American flat track racing.
That was one of the highlights of my career. Winning the gold medal to losing a gold medal on the last lap in 2015 and coming back the next year to win it was like a perfect story. I've still got a sour taste in my mouth about losing that damn medal. X-Games really helped my flat track a ton.
So in winning your eighth AMA Grand National Championship in October, you're now one title shy of tying Scotty Parker's record nine championships. What would that mean for you to be able to tie – and possibly top – the great Scotty Parker in flat track racing history?
I mean, let's be honest, that is the goal. If eight championships would have broken the record I would be leaning towards retiring, but even with that said… I really like winning, and I really like preparing to win. It's going to be a tall, tall order, especially with as mentioned above about the rules.
Awesome stuff, Jared. Great to have you on board with Monster Energy, and best of luck to you with the off-season training.
Thank you so much. I really enjoyed talking with you, and thank you very much for all the support over the years. It's great and humbling to be a part of the Monster team of athletes.