/ /

Motor

All NEWS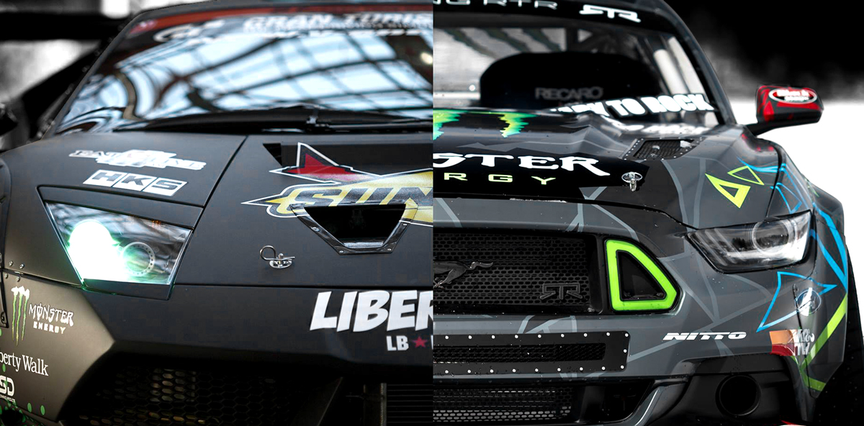 BATTLEDRIFT
Vaughn Gittin Jr. heads to Niigata, Japan in his 550 HP 5.0L V-8 Mustang RTR to take on Daigo Saito's 650 HP V-12 Drift Lamborghini. 
Detroit muscle in the form of a purpose-built, meticulously prepared Ford Mustang RTR. Italian style and heritage breathed upon by Godzilla and brought to life by a few creative and clever dudes out of Japan. A clash of cultures, engineering theories and fossil fuel ideals fought out upon deserted stretches of asphalt in an abandon Russian Village in Japan.
Man your battle stations and reach for your weapon of choice as you watch these two warring camps line up for #Battledrift, a war of the drifting worlds.
Where Was Battledrift
The war zone, an island lost in the stream of time, otherwise known as the Niigata Russian Village. Nestled away in a far corner of Japan, the Russian Village was once home to a vibrant amusement park, however, the concept never really took hold and the village ultimately became abandoned and a historical anachronism of what once was. The two belligerent combatants in this war, two of the world`s most renowned and idolized drifters, namely Vaughn Gittin Jr. and his globally recognized 2016 Ford Mustang RTR and Daigo Saito and his inimitable, one of a kind V12-motivated, rear-wheel-driven Drift Lamborghini Murcielago.
And so the two met, Formula Drift Series, World Drift Series, and D1gp World Champion Vaughn Gittin and multifold D1 Grand Prix Champion and Formula D champion Daigo Saito. With the first crack of the accelerator, the two wheelmen began pitching their cars sideways from lock to lock, and in a screaming wail of a few thousand horsepower, plumes of acrid blue tire smoke and spent high-octane gasoline fumes, the dynamic duo fought for supremacy, looking for an edge over one another, their cars often no more than a few millimeters apart. Equal parts beauty and brutality and high-speed brawl and ballet, the two drivers and their radically different machines put on a drifting show of the likes the world has never seen, and a show captured by the cameras and recorders put forth by Monster Energy.
Vaughn Gittin Jr.'s Thoughts On Making The Epic Film
"Running door to door with Daigo and his insane Lambo has been EPIC," exhaled Vaughn Gittin after climbing out of his hot, steamed-up Mustang. "I constantly found myself wanting to get closer just so that I could hear the incredible exhaust note of that Lambo of his over my Mustang RTR. We were both deep in the RPM range, and with the two of us together, it was like a symphony from hell. I just could not get enough! Daigo is one of the best drivers in the world and a driver I have always had huge respect for. Both of us actually have very similar all-out aggressive styles so it was a pretty perfect pairing for a project like this. The entire experience was epic!! Using the abandoned Russian village as a playground with Daigo was crazy - fun." "And you know what?" added Gittin. "Our two cars were actually a pretty perfect match in performance. I know on paper one would never guess the American icon that is the Ford Mustang could be in the same category and share a track with a hand-built exotic Italian "supercar", but when it comes to the weight, dimensions, and horsepower, these machines are pretty much dead even. Running up the mountain pass together with Daigo was unreal."
Daigo Saito's Thoughts On Making The Epic Film
"Like most Touge runs, this Touge had no run off which meant ZERO room for error and it was all simply insane and, to be honest, actually a bit scary! The road was super narrow and barely enough room for one car to be sideways across it let alone two, but we made it work and after the first few runs I just wanted to keep going and going!" Added Daigo Saito of his battle with Gittin and his Mustang, "Drifting with Vaughn like that was just fantastic. Our cars were often within inches of a collision, so it was all pretty dangerous. If we were off by 30cms or so, we could have had a big crash. But we didn`t. And that`s what was so cool about it!"
"Drifting through the unusual village and up the mountain pass was thrilling. It was really unique that an American drift car drove with a European drift car in Japan and the newest model Mustang that Vaughn drove was so hard and tough that it looked exactly like American muscle! It was the great time to join Vaughn and Monster Energy`s movie project for the first time here in Japan. The shooting was tough, but I enjoyed it a lot since I love driving any time that I can. I enjoyed being a part of the movie project and I hope everyone likes it!"