/ /

Action

All NEWS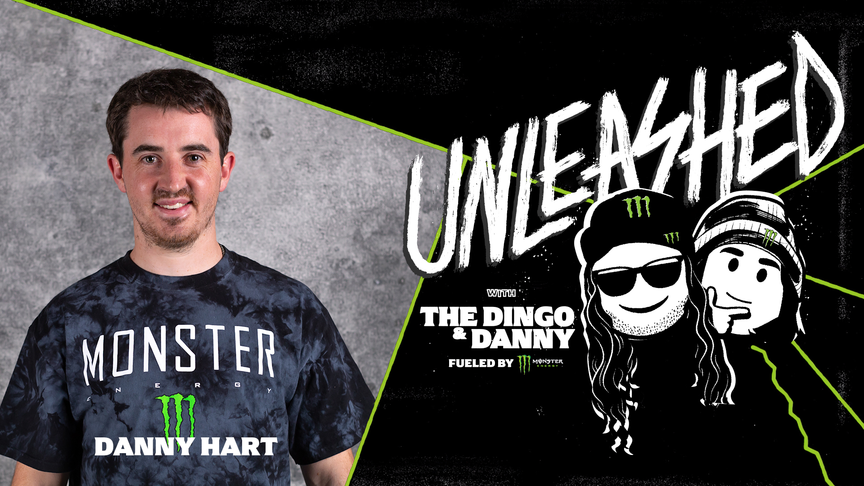 From the trails to the studio! The 31-year-old downhill mountain bike racing icon and two-time world champion Danny Hart from Redcar, United Kingdom, joins Episode 3 of Season 3 of the sports and pop culture podcast UNLEASHED with The Dingo and Danny.
"I still love riding, I'll be the first guy at the lift waiting for it to open and practice," said Hart on UNLEASHED. "I just want to get my gear on and go ride. Because I love it so much."
Also known as the 'Redcar Rocket', Danny Hart made history as one of the most successful downhill MTB racers the United Kingdom has ever produced. He barged onto the international scene by winning the highest honor of the sport, the UCI World Championship, in 2011 at a young age with a dominant lead of 11 seconds. Hart also became the British National Champion in 2015 and earned his second UCI world title in 2016. In his interview on UNLEASHED, the father of two girls details his training process and secret bike set-up that keep earning him podium spots at international race events.
Born and raised in Redcar, United Kingdom, Hart caught the mountain bike racing bug at a young age and soon showed exceptional talent. "As a kid, you learn to ride a bike and my dad raced anything with two or four wheels. As a kid, you think your dad is the best at anything. So, I was there in the background when he raced. And then my town got a skatepark and I started riding BMX and that got me into racing," said Hart.
Once he took his racing passion to mountain bikes, Hart found his calling. In 2007, he took first place in the Youth National Championship at Rheola, Wales and has been on a roll ever since. Hart competed in his first UCI World Cup race at just 16 and only one year later finished the season in eighth place. Speaking on the UK racing scene, he said: "It's a tight-knit scene. And we have to work hard for it. We don't have a ski lift where we can just ride all day. We don't take it for granted. Even when it rains and the weather is rubbish, we have to go out there and work hard for it."
His breakthrough arrived in 2011 when Hart barged onto the scene at the UCI World Championships in Champery, winning by 11 seconds under tough conditions. "I won the World Championships twice. We have a World Cup series which give you the eight races and that gives you an overall champion. And there's the World Championships that are a single race and that gives you the rainbow jersey and the champion title. So that's the pinnacle."
Asked about his nickname, Hart allowed that a graphic designer friend was working on a logo patch for his clothing sponsor. "That's what we came up with, Redcar Rocket. And it stuck!"
The secret to his rocket-like success? Perhaps video analytics: In the off-season, Hart practices alone and analyzes runs filmed on a helmet-mounted camera. In terms of equipment, Hart is known as one of the first riders to run a mixed wheel size set-up.
"We have a 29-inch wheel on the front and a 27-inch wheel on the back. Twenty-nine is big; that's like a road bike wheel. And I'm small, so riding both tires in 29 is big for me. But with a 27.5-inch in the back so that gives me more room. My team at the time was on it and got it turned around really quickly. And that's what everyone is doing now!"
What's next for Danny Hart? Going into the 2023 season, he said: "We just have to go and race as fast as we can and hope for the best. I want to be on the podium at the World Cup every weekend."