/ /

Gaming

All NEWS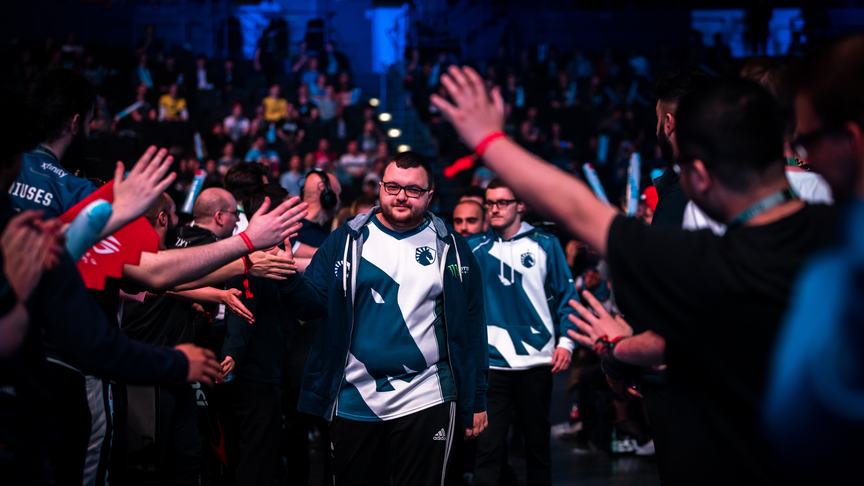 Team Liquid — Champions in Flux
With w33 in the midlane, can Team Liquid return to the throne?
Team Liquid. There is no organization more ubiquitous in esports. Team Liquid has been around nearly since the birth of esports with StarCraft: Brood War and they're still here now, almost 20 years later. Team Liquid's venture into esports began with the Starcraft games, but after the release of StarCraft 2 it didn't take long for them to pick up teams for other games. Nowadays, Team Liquid has top-tier teams in almost every esport. If a game is played competitively, then Team Liquid's roster is one of the best in that game. Dota 2 is no exception.
Liquid's beginnings in Dota 2 were rather humble. Their first Dota roster formed shortly after TI2, a full North American stack complete with veterans from the original Dota scene. The team was solid, but nothing special, often finishing in the upper half of tournaments but rarely taking home championships. The highlight of this team's time together was from TI3, when they took on Chinese giant LGD (a favorite to win the whole tournament) in the lower bracket. North American Dota was considered, well, bad at the time, meaning no one thought that Liquid would stand a chance in this match. Lo and behold, Liquid shocked the world and knocked LGD out of the tournament, making for the biggest upset Dota had ever seen. It was such an upset that Valve ended up making a short video about it:
Liquid would go on to lose to IG in the next round, but they had already won the hearts and minds of fans everywhere. People always want to believe that anything is possible, but Liquid made it a reality. Eventually though, reality catches up with you. The team split up after TI4 and Liquid went inactive in Dota 2. Not satisfied with their results thus far, Liquid chose to wait for the right team rather than picking up a roster that wouldn't live up to the Liquid name. Victor "Nazgul" Goossens, CEO of Liquid, said that Liquid would return to Dota 2 but only once they found a team worthy of the fans.
Over a year passed and Liquid finally returned. Signing the roster of 5Jungz, Liquid was now a European roster. It was a good roster, but nothing unheard of. After a middling performance at TI6, Liquid picked up Miracle- and Bulba. Miracle was the superstar player Liquid needed to push this team over the top. Still, it wasn't enough. For whatever reason, things just weren't clicking and Liquid struggled to even qualify for Major tournaments. After months of struggling, Liquid took a risk with a young Lebanese player, GH, to replace Bulba. This was it; Liquid had finally found a worthy roster. Matumbaman, Miracle-, MinD_ControL, GH, and Kuroky. They would go on to be one of the greatest teams of all time. Liquid went on a tear, taking first in their final three tournaments before TI7. This was Liquid's chance. They were the favorites going into the tournament, they looked unstoppable. And they were… until the playoff bracket. Liquid took a completely uncharacteristic loss to IG in the upper bracket then found themselves down 0-1 against Secret in the lower bracket. This was it. Elimination time. Do or die. This was the turning point.
Kuroky, one of the most soft-spoken people in Dota, gathered everyone backstage and started screaming. Not out of anger, but to break his team out of their funk, to shock their nerves out of them.
And it worked.
Kuroky and the boys would go on to roll through the entire lower bracket and into the finals, where they beat Newbee 3-0. The first sweep in TI finals history. To relive the hype, Valve's True Sight for the TI7 Finals is highly recommended.
The following season would be more of the same for Liquid, they extended their streak of top-4 finishes to almost a year and won the final Major of the season, the China Supermajor. The Dota community was experiencing Déjà vu. TI was on the horizon and Liquid were the best team in the world, the odds-on favorite. It looked like the best shot any team has ever had at a repeat-performance — something no one has ever done before. Could Liquid do the unthinkable and win TI twice in a row?
Sadly, it was not meant to be. Despite a strong showing in the group stage and the playoffs, Liquid went out in 4th place, knocked out by fellow Monster Energy squad, Evil Geniuses. It had been a long year for Liquid, they played in far too many tournaments and were burned out by the time TI had come to a finish. This led to more issues the following season and the slowest start we've ever seen for a top team, with them not even qualifying for the first Major following TI8. Liquid didn't kick into gear until the last two Majors of the season. They finished 2nd in both of those tournaments, securing their invite to TI, but learning something more important in the process.
Between these two tournaments, Matumbaman was released from the roster and replaced with w33. With Miracle- moving to the primary carry role, many wondered how Liquid would fare with this late-season change — a question that was quickly and emphatically answered with a 2nd place performance. w33 brings fresh ideas and a new playstyle to a team that hadn't made a change in over two years. Liquid look like they might be one of the best teams heading into TI, but enough of the intangibles. Let's look at some facts.
Team Liquid: Fast Facts
Player-stats only include players with 300+ games played.
- Since October 2015, when Team Liquid returned to Dota 2, Kuroky & Co. have the highest win rate of any team with 200+ games played at 64.80%.
- Miracle - has the highest average kills of any pro player at 9.17 kills per game.
- Kuroky is the only player in the history of Dota to have played a professional match on every hero prior to Mars' release.
- GH has the highest average assists of any pro player at 14.47 assists per game.
- Kuroky was the first professional player to reach 1000 career wins.
- Team Liquid hold the record for longest streak of top-4 performances, coming in at 342 days.
- Four of Liquid's players are in the top-10 for all-time win rate.
- Kuroky is the only player to come back and win a TI after having lost in a previous Grand Final.
After looking at these facts, it would be hard to say that Liquid aren't one of the best teams of all time. They're once again looking like strong contenders for the Aegis, but what has made them the most consistent powerhouse? What edge do they have on the other top teams?
What Sets Liquid Apart
Leadership Outside the Game
Kuroky is a true veteran of the War of the Ancients. Beginning his competitive gaming career with DotA in 2008, Kuroky has the experience to match any player in the world. His first years in Dota 2 were not what we expected from the now-legendary player, but that phase ended in 2013 when he was picked up by Na'Vi. Kuroky was at the top tier of Dota, where he belonged. He enjoyed playing with his long-time friend Clement "Puppey" Ivanov, so much so that the two eventually left Na'Vi to form their own team, Team Secret. And yet, even with this new team, something was missing. Kuroky knew what he wanted, to lead his own team. Unfortunately, that meant he would have to leave his old friend behind. Kuroky made the tough call and left Team Secret to form, and lead, his own team. That ended up being the best decision he had ever made.
Kuroky is one of the smartest players, and one of the best captains, to ever grace Dota 2. He takes a very cerebral approach to the game and everything surrounding it. And when I say cerebral, I don't mean that he ignores the emotional aspect of the game, but rather that he actively thinks about it and plans around it. He puts a greater focus on it than almost any other captain. You can see it clearly in the True Sight video linked earlier, Kuroky knows that it's his responsibility to manage his team emotionally. When he succeeds in doing that, you'll be hard-pressed to find a better team than Liquid. After all, this team was developed to do one thing: be, at their best, completely unstoppable. And it would be hard to argue that this hasn't been the case for the past two years. When Liquid were on point, games just didn't look fair. It was so ridiculous that the Major powerhouse Virtus.Pro often joked about how Liquid was the only team that could stop them. If a team won a match against Liquid then they celebrated like they won the Grand Finals, and for good reason.
Innumerable factors contribute to Liquid's performance on any given day, but thankfully Valve's True Sight gave us some insight into how Kuroky manages his team. During the lead up to the TI7 Grand Finals, Kuroky acts almost like a Sports Psychologist, telling his players to relax and take deep breaths, to stop focusing on winning or losing, but playing the game. Their nerves, their thoughts, their emotions. These things are important to every player, but when they run amok they can turn champions into chumps. Thankfully, Kuroky is the best in the world at managing them.
Confidence: Playing to Win
There's a concept thrown around often in Pro Dota, "If you're playing to 'not lose,' then you've already lost." It's something we see too often from too many teams. A strong team has done well all year but come TI they get in their own heads and worry about losing. They play ridiculously defensively or fail to push an advantage and they end up losing. It's the most common cause for huge upsets, such as OG's TI6 loss to TNC or Empire's TI7 win over Evil Geniuses. This has rarely been a problem for Liquid, though. As we discussed before, when they're at their best, no one can stop them. And they know it.
Liquid have the skill and confidence necessary to force their best strategies from the get-go. Many times, we've seen Liquid pick heroes like Broodmother or Huskar in the first phase of the draft. These are heroes that are normally considered "cheese" picks, heroes that are only drafted in the last phase when the opponents have left a weakness in their draft or forgotten about these heroes. Liquid, though? They don't care about these conventions at all. Liquid love to play and draft proactively, so they'll slam these picks in the first phase all day. It's important to note though, with w33 replacing Matu, that Liquid's hero options have changed as well. While Miracle can still play Huskar, Broodmother is off the table as we will likely see Meepo as w33's primary "cheese" hero. w33 also brings an element of unpredictability to these drafts as he has been known to play unconventional mids such as Skywrath Mage and (currently) Windranger.
Liquid's confident drafting was in full force during their TI7-winning run. In addition to first-phasing heroes like Broodmother, they also took full advantage of GH's hero pool. Liquid developed specific strategies around GH's Io and Keeper of the Light that were so strong, other teams were simply forced to ban both of those heroes in the first phase. This meant that Liquid got GH's Earthshaker — arguably one of the best players in the world on the hero at the time — and had complete control of the draft. Think of it this way, Liquid did this so well that IceFrog wound up adding another ban to the first phase of the draft so that teams didn't have this much control from the start of the pick/ban. There is no higher compliment one could receive from Dota's designer.
Once More Unto the Breach
Liquid head into their 4th TI in a row in a very unique position. In each of the past two years they went in as the favorites to win thanks to their outstanding performances throughout the season. This year, not so much. They spent most of the year unable to field their roster at full force and they've certainly played the least Major matches of all the top teams. They're also the only top team to make a late-season roster change. Liquid have never been such an unknown factor going into The International. While some would see this as a bane, it's actually a boon. Liquid can't be that team with a huge target on their back. There just aren't enough games for other teams to analyze yet. They've only played in a single tournament with their current roster. It will be impossible for other teams to prep for Liquid before TI9, so Liquid are going to come out swinging. Look forward to a Monster performance from Liquid at TI9!