All NEWS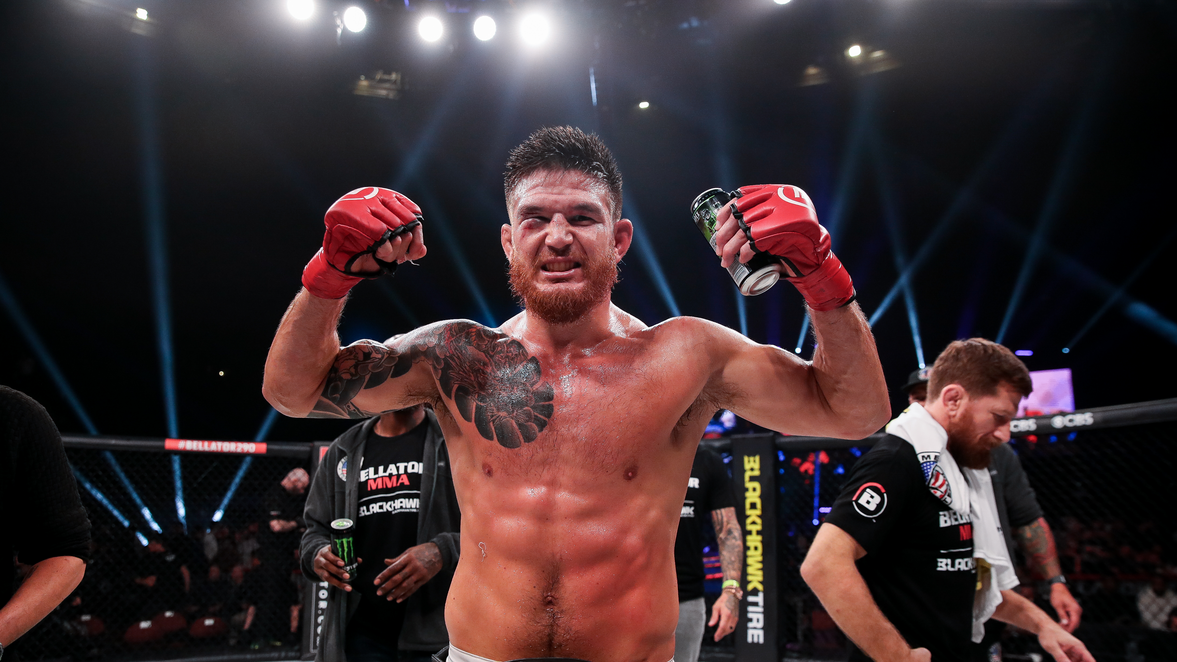 Johnny Eblen Retains Middleweight World Championship Title | Bellator 299
Reigning Champion Retains Middleweight Belt and Extends Unbeaten MMA Track Record to 14 Wins. Aaron Pico Earns a TKO Victory Against Pedro Carvalho.
What a night in Dublin! Monster Energy congratulates Johnny Eblen on defeating Fabian Edwards to retain the Bellator MMA Middleweight Championship title at Bellator 299 in Ireland. In the headline fight, the 31-year-old from Des Moines, Iowa, dealt his opponent a stunning third-round KO finish, extending his unbeaten professional MMA track record to 14 wins.
In Saturday night's co-main event, 27-year-old Aaron Pico from Whittier, California, dominated Pedro Carvalho to a first-round victory by TKO in their featherweight division fight.
Monster Energy's Eblen (14-0) came to Dublin as the reigning Bellator MMA Middleweight Champion. Undefeated in his professional MMA career, the American was riding a 13-fight victory streak. Eblen earned the belt in June 2022 by defeating Gegard Mousasi at Bellator 282.
Eblen's opponent, English fighter Fabian Edwards (12-3), had earned his title shot by winning his last three fights and most recently defeating Gegard Mousasi at Bellator 296 in May.
The pressure was on when Eblen and Edwards collided in the Octagon. Instead of prioritizing his notorious wrestling, Eblen mostly kept the fight on the feet, damaging Edwards with precise kicks and combos that stung.
Nevertheless, Edwards broke through with a few counter shots and even landed an elbow that opened a nasty cut on Eblen's forehead in Round 2. But instead of slowing the champion down, the gashing wound only seemed to fuel Eblen's aggression.
Then it was all over quickly. Early into Round 3, Eblen dropped Edwards to the ground with a thunderous right hook. The champion then pursued his opponent to the ground, knocking the challenger out with heavy punches and elbows for the win by KO at 0:21 minutes. It was the first stoppage loss of Edwards' career.
"Part of me was like, yeah, I don't know how bad this cut is, but it feels pretty bad. I just stuck to the game plan. I didn't change much. I can strike, I can grapple, I can do it all. I feel like I'm one of the best in the world, if not the best in the world," said Monster Energy's Eblen upon defending the Bellator MMA Middleweight Championship at Bellator 299.
Nicknamed 'The Human Cheat Code,' Eblen made his Bellator debut in 2019 at Bellator 218 with a victory against Chauncey Foxworth. Previously, he excelled as a collegiate wrestler at the University of Missouri before starting his successful MMA career in the Shamrock FC promotion. Eblen remains undefeated in 14 professional appearances.
Monster Energy's Pico (12-4) stepped into the Octagon looking to stay in the winner's circle after defeating James Gonzalez at Bellator 295 in April. His opponent, Portuguese MMA fighter Pedro Carvalho (13-8), needed a win after losing to Jeremy Kennedy at Bellator 295 in February.
Fighting on his birthday, Pico shut down Kennedy's dreams of victory right from the start. Pursuing his opponent with pressure, the American landed big shots followed by takedowns.
When Kennedy managed to return to his feet, Pico cut him with a nasty uppercut, followed by a barrage of shots and elbows from the guard until referee Blake Grice stopped the fight at 3:05 minutes of Round 1. Talk about a dominant performance!
"I feel really good. I came out healthy. I feel good about my performance, and the game plan my coaches had for me worked really, really well. And I thought the Irish fans took it easy on me," said Monster Energy's Pico upon winning his 145-pound division fight at Bellator 299.
Following the win, Pico called for a title shot in the Bellator MMA featherweight division. Stay tuned for more!