/ /

Music

All NEWS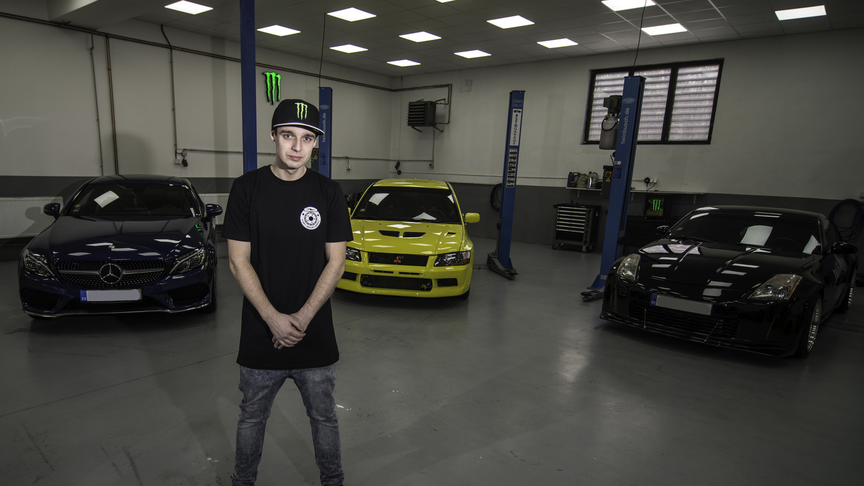 DJ Lucky Boy Talks His Passion for Cars and DJing
DJ Lucky Boy is one of the leading Czech DJs who can be seen supporting on tours of the biggest local hip hop stars as well as DJing parties at events such as MXGP, MotoGP, and many others. However, his greatest passion is currently drifting. We met with Lucky in his hometown Frenštát pod Radhoštěm, took a ride in his cars and talked about everything about music and cars.

Get To Know DJ Lucky Boy
Hello Lucky, how's it going?
Hi, everything is great! I really enjoy my job and the projects I work on, I have a beautiful girlfriend, a wonderful dog and I'm still in pursuit of the things I love.
I know you have a lot going on like projects, gaming, riding, and managing socials for other artists. What does your typical day look like?
Yeah... but the fact that I have a lot of work fulfills me and pushes me further. I'm a workaholic so I need it to live. I think it's great to know that you can create things and the others believe that you can accomplish them with success... and seeing the result is the best. The most indescribable feeling is when you walk down the street and see a person wearing a sweatshirt, snapback, or any other product you have invented and is genuinely happy about it. I work for a few of the top CZ/SK rappers, taking care of their merchandise; I create marketing campaigns on social media for big festivals that thousands of people attend. I manage social media of famous personalities and get involved in projects that are being watched by millions of people... But I don't care if everybody knows I'm doing it.
The biggest paradox is that if I were not into playing, I wouldn't have anything at all. Thanks to music I started to be interested in marketing on social networks, started to make my first "merch" and so on. In the 10 years I've been into this stuff, I learned a lot. There are still a lot of challenges in front of me, but I know the right time will come for them. My DJ career started to take off after 4-5 years of playing at parties, festivals and slowly learning how to do it. The experience is the most precious thing that you've got.
How did your DJing career start?
It all started 10 years ago. I was extremely hyperactive: I rode a bike, wakeboard, longboard, I was also doing street dance and cwalk as a part of TK Style crew. Therefore I listened to music every day and it helped me to overcome fear and perform new tricks. I enjoyed the ride and I perceived the music very deeply during the workouts. One weekend night I went to see a friend in a neighboring town. He was playing and hosting at local disco clubs. I have never been a party type because I do not drink alcohol and I don't need any other "uppers" either. So I got bored after a while at a disco and told my friend to show me how to "play"... I ended up "playing" tracks that very night.
A week after this first experience I moved huge loudspeakers into my tiny room. I was locked in the room very often since then, picking my favorite urban tracks and playing so loud I could hear cooking pots dancing in the kitchen. After I did my first DJ gigs my parents started to suggest that it bothers them because I was away for whole nights. They were giving me hell at the beginning, but I stood my ground. A few years after, they went to see this party where I was performing in front of 2000 people. I invited them on stage to enjoy the great feeling I was getting from the crowd. They understood everything that moment and the tide turned.
It is very important not to give up. I did a lot of gigs just to be on the poster or to get gas money. A lot of time promoters told me that they can't pay me because they ran out of money, but it never discouraged me from doing what I enjoy. If you mean serious business and give your personal best, the lucky break will eventually come!
Growing up during the 90s/early 00s, what music did you listen to as a teenager?
I will never forget the feeling getting my first Walkman and buying the biggest earphones I could find...
My main interest was rap/hip-hop and some guitar music as well, mostly when riding my bike. It was a great time. Copying tapes, having my Walkman buckled on my pants. Then the era of portable CD players came. Having a Discman with anti-shock was top!
My favorite artists were definitely Wu Tang, Cypress Hill, Kontrafakt, Chaozz, Divokej Západ, Bumfunk MC, Gorilazz, Fat boy Slim and later Joe Budden, Usher, 50 cent, Eminem, Fat Joe, Run DMC and others...
What equipment did you use at first?
I started with CD players I borrowed from my friend. I practiced with them during the week when he was not playing. We used to go to weekend gigs together, so I could borrow his stuff to play. He always lent them to me in case I went by myself. For that, I'm very grateful to him even now.
What motivated you to make your living as a DJ?
You know what the funniest thing is, I never expected to reach such a degree to be sponsored by big global brands such as Monster Energy, to perform at MotoGP and other world-scale events, or to go touring with the artists I listened to and knew their lyrics by memory. Actually, I didn't even care about my "nickname". Friends called me Lucky Luke so I decided to be DJ Lucky Boy because it suits me so well. According to me, the important thing was that I did not push too hard on anything. I let things go their own way and after a month, or a year, it paid off. Everything is as it should be…

Where would you like to see yourself as a DJ?
I would love to play abroad, especially at festivals and various events connected with extreme sports such as cars, motorbikes, skating, wake, and snowboarding...
In CZ/SK, I have played many times at a lot of these events, and I love the community that enjoys extreme sports. Rap is the closest style to me, and I would be very interested in finding out how everything works outside the borders of our countries.
What was your best experience as a DJ?
Every performance is a great experience...
DJ Lucky Boy On Car Culture
Your next and most recent passion is drifting and cars in general. Is it something that comes from your parents or did you find your own way?
I'm extremely hooked to the point that sometimes I actually worry about how serious it is. I wouldn't say the main impulse came from the parents. They tend to love motorcycles. I think the people I grew up with have the biggest share of it. Living in a small city also counts. As soon as I got hold of my first Jawa, we were instantly driving through the fields. We watched older guys tuning up their cars, installing racing mufflers and were grateful when they gave us a ride.
What was your first car?
My first car was a Golf 4 with a massive 1.4 engine. It was a rocket in my eyes and it swallowed all of my money as well. My father told me not to do it because it's a non-returnable investment, but I did it anyway. Later when I was selling it I understood what he meant. On the other hand, those moments, many kilometers, and experiences I went through with my patched-up Golf with "loaded music" will never be taken from me!
When did you fall in love with the steering wheel and decided that the car is more than just a means of transport?
I knew it as soon I was holding the keys to my first car. It was six months before I got my driving license and I already had a huge list of adjustments I wanted to do on the car.
What do you currently have in your garage?
As I said earlier, one of the many goals I have is to cooperate with a car brand. It eventually happened and I started to work with Mercedes-Benz dealer from Ostrava. Thanks to the fact that we have recently extended our contract, I have a Mercedes Benz C coupe with AMG packet in gorgeous blue color for daily use.
Mercedes Benz C Coupe
Type: C Coupe
Engine: 220D
kW: 125 kW / 400 N.m
Transmission: Automatic nine-gear
Color: Metallic paint - brilliant blue
Interior: Brown espresso/black leather
Average consumption: 5l /100km
Drive: Rear-wheel drive
Modifications: None
As I travel approximately 60k kilometers per year, it's extremely important to have a comfortable and economical car. Plus I love the great sound system and LED lighting.
Nissan 350Z
Because I had my daily car sorted out, I bought the NISSAN 350Z that I fell in love with.
Type: 350z
Engine: 3.5
kW: 206 kW / 358 n.M
Transmission: Manual
Color: Black
Interior: Leather seats
Average consumption: 12l /100km
Drive: Rear-wheel drive
I use it mainly for "hobby" drifting when I need to run away from it all...
Mitsubishi Lancer Evo 7
Because I live in the mountains, I like to spend the long winter nights driving around the hills with a bunch of friends. So I decided to find some AWD for "messing around". At first, it was supposed to be Subaru Justy, then Impreza, and finally, when I returned home one evening, I searched for my Lancer Evo 7 dream car while browsing the Internet. I discovered one piece in Poland for a very interesting price. I texted the owner and in two days I was on my way to check it out. The guy even agreed to a lower price, so I went for it! We took the car for a drive and I was so afraid to drive it. A friend of mine, who is an expert in such cars, drove it for me. In the end, I bought a car I didn't even try to drive because I was afraid. For me, it was good that it's the one!
Type: Lancer Evolution 7
Engine: 2.0
kW: 272kW / 512 n.M
Transmission: Manual
Color: Yellow
Interior: Recaro racing seats
Average consumption: 28l /100km
Drive: AWD
I know that you have done a lot of work on Z, but you spent most of your time on Evo. What did you do on them and what else is planned?
350Z is tuned mostly for drifting, so I was working primarily on functional things such as sport suspension, hydraulic hand brake, steering wheel, clutch, differential, direct suction, stabilizers, alu wheels, exhausts, splitters, additional oil cooler and in summer I'm going for the racing seats.
As for Evo, I was able to buy it already with a tuned engine and a lot of functional modifications such as sharp pockets, better pistons, valves, Evo 9 turbocharger, modified suction flap, direct suction, turbo timer, additional alarms, stronger silent-blocks engine, and chassis.
Well, the appearance of the Evolutions is not the first priority, so the car was quite battered. It also began to corrode and the coating was in poor condition so I decided to get it "slightly" together with the guys from STR garage. We only agreed to re-shine the coating at first... In the end, we rushed into it so much that only the bare bodywork remained. Therefore we went for a full renovation. All the unusable parts were exchanged for the new ones and the rest were renovated to look like new. After an eight-month-long run and hundreds of man-hours in the garage, the result is worth it!
Other modifications I made to the car include hydraulic hand brake, brakes, full coating, racing wheels, new chassis.
Thanks to the collaboration with Mercedes-Benz Ostrava you can try different types of their cars. Which one do you like the most?
Every AMG has its thing. I had the opportunity to try them out both on asphalt and ice ring thanks to the wonderful cooperation with Mercedes-Benz Ostrava. My favorites are definitely A45 AMG and E63 AMG. E63 gave me goosebumps even the day after the test.
What is your dream car?
I love lots of cars, but I would very much like to own Nissan Skyline R34 GTR. Yes, of course, R34 GTR is a universal idol, but its price rises every day. So if you wanted to buy it, you would have to hide it under a tarp and just look at it.
My problem is that I would like a lot of "dream cars", so let's just go over this question or I may start going through the ads again.
You are really passionate about drifting nowadays, do you plan to race?
I'd love to attend some drift events, but the problem is that the car needs to be especially adjusted for the races. Secondly, I play almost every weekend and therefore it is quite difficult for me to get to these shows even as a spectator. To bring me a little closer and to promote the development of local drift culture I came up with the project Furt Bokem! (Still sideways!). It's becoming more and more popular and allows us to push some of the drivers at least a bit further.
Anyway, in the future, I would very much like to own my own car and race, but right now the DJing is a priority and I love it!