/ /

Motor

All NEWS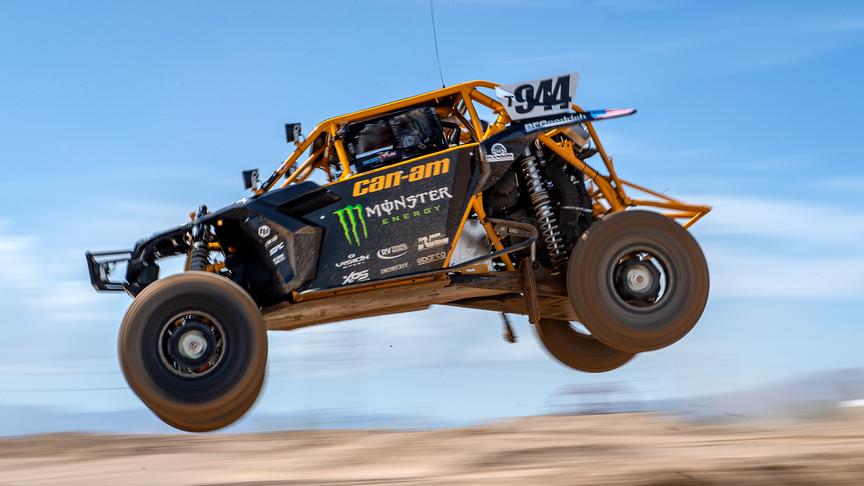 Phil Blurton Wins His First-Ever King of the Hammers
Though he wasn't looking for gold in California's Johnson Valley desert, Monster Energy off-roader Phil Blurton sure dug up the precious metal at last week's annual running of the legendary King of the Hammers.
"Champion" certainly has a nice ring to it. And for Blurton, who proudly builds what he races, victory in last week's UTV Pro Mod Rock Race was about as sweet as it gets – a victory that has alluded him after winning pretty much everything else the white-hot sport of off-road UTV racing has to offer.
From Best in the Desert (BITD) to SCORE/Baja racing, Burton has won it all. And won many events multiple times. But the ultimate test for man and machine, in his world, is the ULTRA4 Progressive King of the Hammers, powered by Optima Batteries. Horror stories abound on what that event can do to equipment. And Blurton, with his Loomis, Calif.-based No Limit Race Development, knows firsthand the torture induced on a UTV as soon as you leave the pits.
So to win this year's King of the Hammers in the fiercely contested UTV Pro Mod class was a testament to not only Blurton's renown driving skill, but also, he and his team's engineering skills. And with that, Monster Energy wanted to know what went into this year's victory at KOH – Blurton's first career win at off-road rock racing's premier proving ground.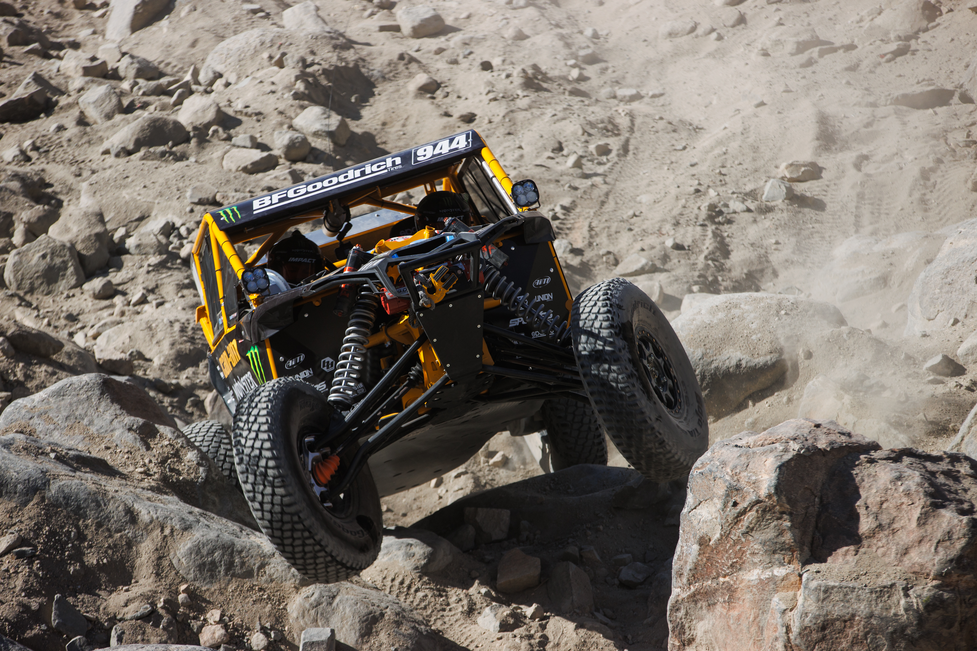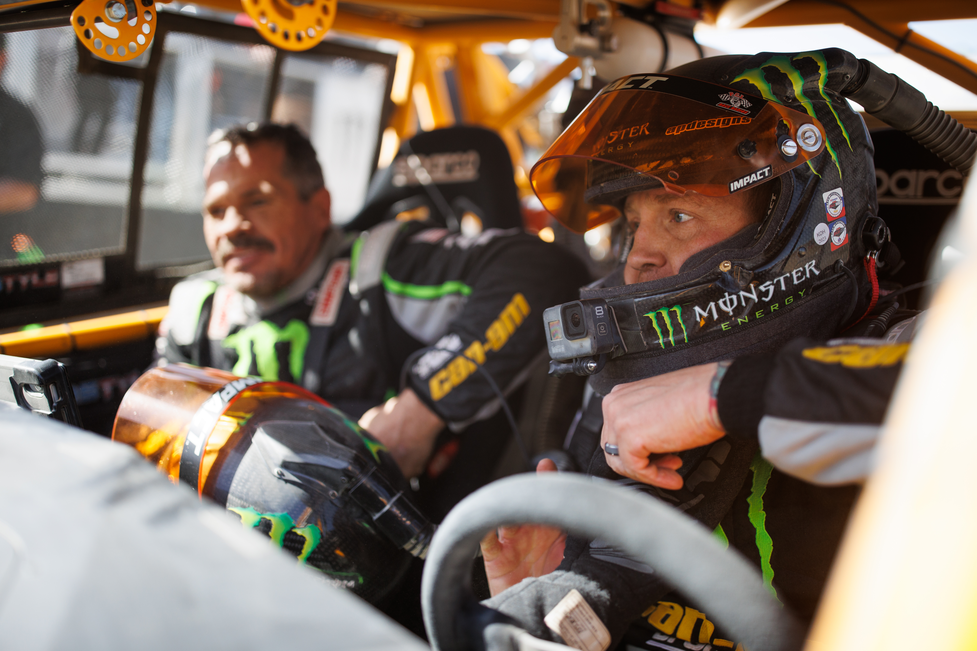 Yeah, Phil! Congrats, man, on KOH. Huge. You gotta be pumped. And heading into this year's KOH, what were yours and your team's goals and expectations?
Our goal is always to go for a win!
Well, you got that done, buddy. Talk a bit about the KOH. How many years have you been running it, how you've done in the past, and the overall vibe going in Hammertown at this year's event?
Hammers is the race everyone is always pumped about. And it's really the only race during the year that we get competitors from all the different series. I think this was my fifth KOH. In the past we've placed 8th, 3rd, 3rd, 8th – and now 1st in class. This was one of the few races we have never won before.
Outstanding. You've been so successful that it seems you've been involved since the inception of the UTV class, and seen it mature to the point where it's at now. Talk about UTVs at KOH, that classes exponential growth, and how that's effected the competition level.
I feel we actually got I into UTVs a little late, but also really when it started to get serious. The competition level is crazy, which is what makes it so fun. It is one of the few classes in the desert that you have people taking it so serious and actually being a full time job.
You were victorious in what's considered the premier UTV class at KOH – the 4900 Can-Am Pro Mod UTVs. What's it like to not only win that class, but celebrate your victory you're your sponsor (Can-Am) and amongst your fellow Monster Energy competitors in Hammertown? You got all kinds of bragging rights now!
The wins always feel good, especially when I have other Can-Am teammates with me. This is the race that Can-Am puts the most pressure and effort into for us, and it has really shown.
Was the 4900 Can-Am Pro rock course any different from last year's, meaning a different route? Was the outcome ever in question for your team? And what strategies did you employ that allowed you to take the win?
The course was tougher than ever this year, with more rock trails than normal – and harder ones that previously the UTVs would not run. The outcome is always in question at KOH because the pace is so fast that we have to push the equipment so hard that, at any time, you could have a day-ending moment. So our strategy this year was really to go for a win or broke. I didn't want to play it safe just for a podium spot.
You managed another podium (3rd) in the UTV Desert portion of KOH. Talk about that race, how it compares to the Rock race, and, ultimately, which race did you feel was more important for your team and sponsors to win?
I always want to win both but for sure, but the Rock Race is the main show. The Desert Race was going really well 'till it wasn't (laughter). Standard desert racing story. We ripped the first lap, then had a rear axle failure that dropped a lot of time. So I was stoked to even land on the podium. The nice part about the Desert Race is that same loop is our first lap for the rock race, so I was able to use that race as a pre-run for the Rock Race.
Good stuff. Explain a bit for us how the setup for your Pro Mod UTVs differs from Desert racing to Rock racing at KOH.
My Rock and Desert car have a lot of the same parts. All the suspension, seats, lights, and even the chassis are very similar. The main difference is we have a little smaller fuel cell for the Rock car and we 'Boat Side' the Rock car. Boat Siding is where we actually cut the chassis on the sides and angle it up to give more clearance in the rocks.
How's your relationship with Monster Energy UTV racer Dustin Jones? You guys seem to have a pretty cool rivalry going.
Dustin is a great guy. We have been down pre-running the rocks together the last couple of months. Dustin and I race almost every race against each other all year long, but always have a phone call after the race to see how each other's day went.
That's awesome. Dustin's victory interview ran earlier in the week on MonsterEnergy.com, and we asked him the same question – about you. Pretty much the same answer! … For those that were unable to attend KOH, how did Monster Energy's overall presence at the event look – with you and your team, other Monster-backed teams and racers – and Monster's 'official' energy drink status at KOH?
Monster makes KOH really fun. They have the concert stage and the semi-truck right on the short course, reps handing out drinks and giving a cool spot to spectate. It's also cool 'cause Monster has so many athletes racing in all different classes at KOH.
Right on. The powers-that-be will appreciate hearing that! Looking ahead, what's the rest of the season look like for your off-road team?
This year we are kind of jumping around and trying to hit all the big races. My main focus right now is the Mint 400. It is a race where we have two 2nd places finishes, but have never won. Then we will race some BITD races as well as the Baja 500 and 1k.
Good stuff, Phil. Best of luck to you and the No Limit RD team. We'll be keeping an eye on things and will check in throughout the season.
Thank you. And thanks to everyone at Monster Energy! Great having Monster on board and we're pumped we were able to deliver a victory at King of the Hammers this year.