/ /

Action

All NEWS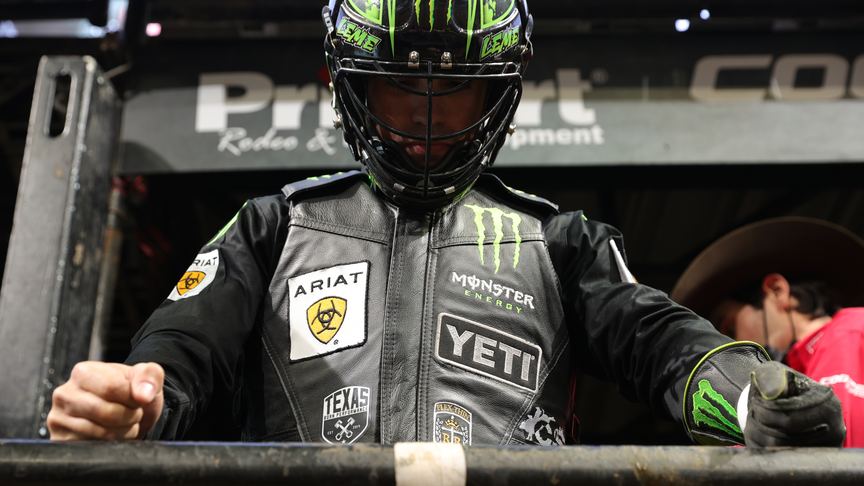 Jose Vitor Leme is Unstoppable
It's déjà vu all over again for a second time.
On the heels of what was arguably the greatest single season in the history of the PBR, two-time reigning World Champion Jose Vitor Leme is right back where he was a year ago, as he looks to close out the first month of the season with a three-day elite, televised event in Sacramento, California.
Leme missed the first three events of 2022 while recovering from groin and core muscles injuries sustained last fall and went into last weekend trailing the No. 1 bull rider by 323 points. In 2021, he was injured dismounting the first bull of the season, and had to miss three events. When he returned, Leme was trailing by 326.5 points.
Leme has a laundry list of records — some of which may never be broken — including 90-point rides in a single season with 24 round wins in a season, with 21 average score of 89.82 points, eight event wins and, of course, 98.75 points on Woopaa in the Championship Round of the World Finals.
Last weekend, in Duluth, Georgia, Leme was 2-for-3 with a pair of qualified rides on Cold Chill and Mike's Motive.
"I'm so happy to ride my first bull," said Leme, after being marked 88.5 points in the second round on Cold Chill. He continued, "I just want to ride the other ones."
And he did just that in spite of injuring the thumb on his free hand. In fact, he finished off Mike's Motive in dominating fashion — all balance and out over the front end — by giving everyone a thumb's up prior to the 8-second whistle sounding.
"I'm so happy to ride bulls without pain," said Leme, who finished the event third in the average and debuted at 16th in the PBR world standings as he looks to become the first PBR rider to ever claim three consecutive world titles.
"Just so happy to ride two bulls. Make two great rides. Just happy to be back."
In addition to Leme's third place finish in Duluth, fellow Monster Energy riders Derek Kolbaba and Marco Eguchi split sixth and seventh in the average while Cody Teel was 12th.
All four made it back to account for a third of the riders who competed in the Championship Round. Leme, 16; Kolbaba, 26; Chase Outlaw, 26; Teel, 32 and Eguchi, 43, will be competing again this coming weekend in Sacramento.
Outlaw was in the draw after missing the vast majority of the past two seasons following a series of shoulder injuries that required having both his left and right shoulders completely reconstructed twice each.
The Arkansas cowboy, who is bull riding healthy for the first time since 2017, is approaching 200 qualified rides at the elite level of competition. He currently has 179 and should surpass 200 by season's end.