/ /

Action

All NEWS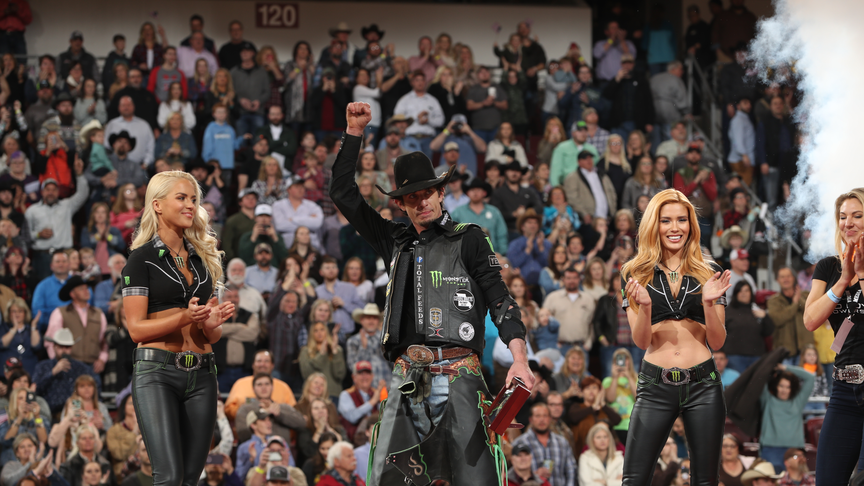 Mauney Claims Record-Tying Elite PBR Win With First In Two Years
J.B. Mauney has broken damn-near every bone in his body. He's torn, pulled and stretched just about every ligament, lacerated multiple vital organs and collapsed his lungs.
J.B. Mauney has broken damn-near every bone in his body. He's torn, pulled and stretched just about every ligament, lacerated multiple vital organs and collapsed his lungs.
And, at 32, he's still a professional bull rider.
"It's part of being a cowboy," he said. "When you crawl into the bucking chute nothing else matters. You tie your hand in and you don't quit until your head hits the ground."
After missing back-to-back events because of his latest injuries, he went 3-for-3 and won a record-tying 32 career PBR events at the elite televised level of competition.
It had been two years since his last win in 2017 and 12 years since his first in 2007.
And it could not have come at a better time.
"It's about time," Mauney said.
The two-time World Champion opened the weekend with an 88.25-point effort on Skyfall and followed up with 84.5 points on Stone Cold in Round 2.
His combined score of 172.75 points earned him the first pick in the Championship Round.
He selected Big Black.
Fellow Monster Energy rider Chase Outlaw selected the same bull for the event win in St. Louis, Missouri, and Ryan Dirteater took him a few weeks before that to win the event in Oklahoma City.
Mauney was looking for payback.
Big Black bucked him off earlier this year and cost him a chance at a previous event win. This time, however, he used his outside foot and got his free arm up over his shoulder, and—after a replay—judges awarded him 90.75 points.
The win ties him with another two-time World Champion, Justin McBride, for the most elite televised wins in the 26-year history of the PBR.
"I looked up to Justin McBride and I was able to," said Mauney, before recollecting his thoughts, "lucky enough to be in the locker room with him and I learned a lot from that guy, and, ah, I don't, it's about time."
Mauney, who was thrown head-first into the dirt right at 8-seconds, could barely stand and hobbled to the top of the shark cage for the customary awarding of the event buckle.
Though he's won more buckles than only McBride, Mauney looked at his latest trophy buckle as if it were his first, yet he's one of the most celebrated bull riders in the history of the sport.
Mauney is the richest western sports athlete with more than $7.2 million in career earnings.
In addition to his 32 event wins, he's one of only three riders in history to have earned more than 500 career qualified rides at the elite level of the PBR, but the only one of those rides on his mind Saturday night was the 8-seconds he spent on the backside of Big Black.
The bull felt good underneath him—Big Black is known for jumping in the air without breaking over, which gives him good timing—until it got wild and western as the 8-second horn blew.
After landing on his head, Mauney staggered to his feet with the help of a few people before being congratulated by Big Black's owner. Asked by sports medicine if he needed any more assistance, he waved them off and immediately began warming up his rope for what eventually was the winning ride.
"That's bull riding," Mauney said. "It you can't move on to the next one, you don't need to be riding."
The win vaulted Mauney from outside the Top 50 to ninth in the PBR world standings.
Mauney, his fellow Monster Energy teammates and the rest of the Top 35 riders in the world will be in Duluth, Georgia, this Saturday and Sunday.