/ /

Action

All NEWS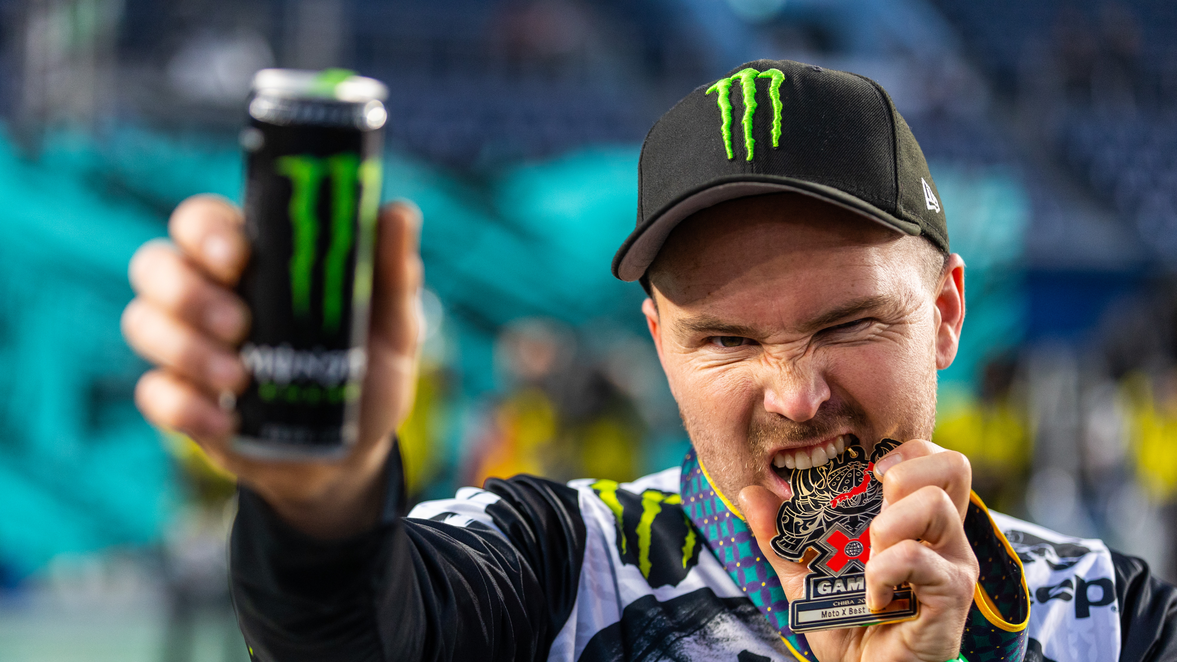 Day Two | X Games Chiba 2023
Ending the final day of X Games Japan with a bang! On Sunday at X Games Chiba 2023, the Monster Energy Team claimed seven medals: 2 gold, 4 silver, and 1 bronze.
The strong performance included gold medals in Skateboard Vert Best Trick for Elliot Sloan and Moto X Best Trick for Jackson Strong.
When all was said and done, Monster Energy athletes had claimed a total of 10 X Games medals (4 gold, 5 silver, 1 bronze) in the second edition of X Games Japan.
The roster of events for Sunday was stacked after all-day rain on Saturday saw several finals canceled. With a total of seven medal contests on the docket, there was no time to lose – and the Monster Energy team more than rose to the occasion.
Here's how it all went down on the final day of X Games Chiba 2023:

BMX Park Best Trick
SANDOVAL CLAIMS SILVER IN HEATED SESSION
DOUBLE DIPPING: Sandoval dropped into the BMX Park Best Trick session as this year's gold medal winner in BMX Park. Fully back in medal contention, the 28-year-old from Corona, California had not reached an X Games podium since bronze at X Games Minneapolis 2017. Let's just say he's back for more!
RISING ABOVE: Still battling the hyper-extended elbow sustained at the 2023 Monster Energy BMX Triple Challenge finals in Nashville, Sandoval knew it was time to put it all on the line. After some battles, Sandoval threw down a flair triple whip. Cementing his medal finish, he landed a massive flair double tailwhip to barspin in his fifth and final run for the hard-earned silver medal.
"For me, it was harder to do the double whip bar than the flair triple whip. But I'll take what I got; I'm stoked!" said Sandoval.
Sandoval now owns 6 X Games medals (2 gold, 1 silver, 3 bronze).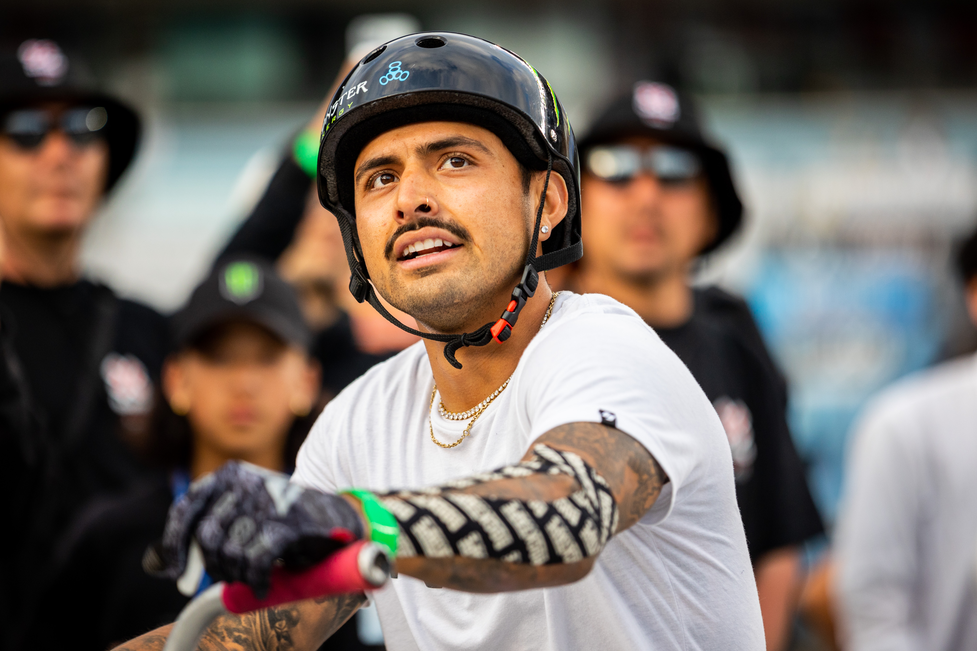 Men's Skateboard Street
KELVIN HOEFLER CLAIMS SILVER WITH SIGNATURE TECHNICAL PRECISION
ON A ROLL: It's safe to say that 30-year-old Kelvin Hoefler from São Paulo, Brazil has been on a roll recently. Two weeks before coming to Japan, the Olympic silver medalist wowed the crowd in the Windy City with a clutch win at SLS Chicago 2023. Could this be another X Games podium for Hoefler?
GRACE UNDER PRESSURE: Battling a stacked field featuring multiple X Games gold medalists and Olympic athletes – plus a new generation of young upstarts – Hoefler put his technical precision on full display in Japan.
Straight out the gate, Hoefler sealed his podium spot on his first run of the final. Putting together bluntslide fakie the rail into bank, Half Cab blunt 270 the flat rail, kickflip backside lipslide the flat rail, 360 kickflip the Euro Gap, frontside kickflip the quarterpipe, backside Smith grind the handrail, bigspin frontside boardslide fakie and switch frontside bluntslide the small rail, and Caballerial backside lipslide fakie the big rail for 83.66 points and the silver medal.
Hoefler now owns six X Games medals (2 gold, 2 silver, 2 bronze).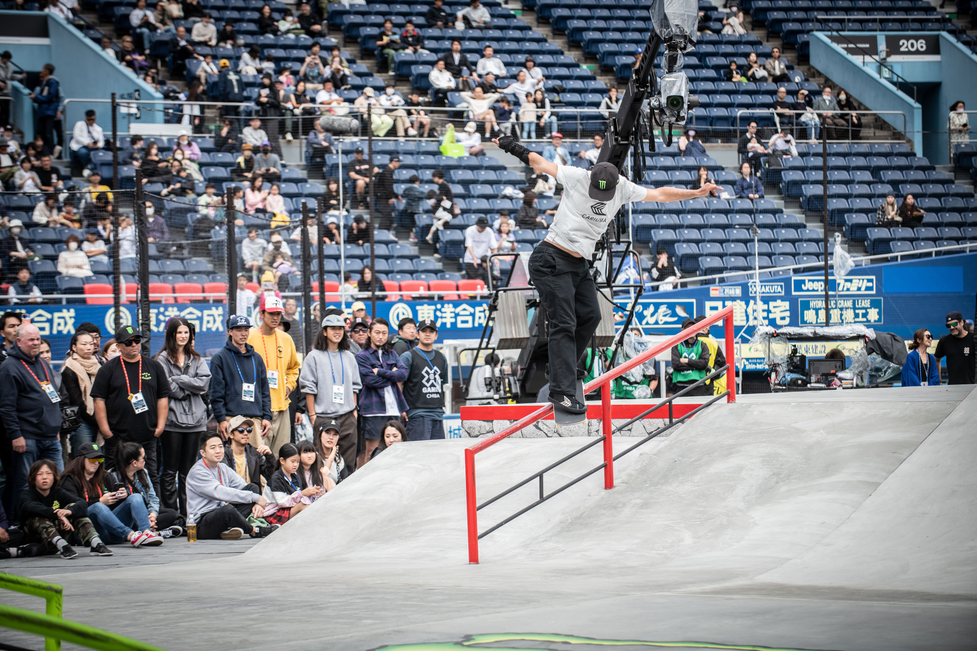 Skateboard Vert
TOM SCHAAR CLAIMS SILVER AS FIRST-EVER SKATE VERT MEDAL
BACK AT IT: The previous years have been difficult for 23-year-old Tom Schaar from Malibu, California. Several injuries had sidelined the vert wunderkind from competitions, and he was out for the entire 2022 season after a snowboarding injury. But after recently winning the Concrete Jam at Tampa Pro 2023, Schaar is back to crushing podiums!
A CAREER-FIRST ACHIEVEMENT: Schaar first broke onto the scene as a Mega Ramp phenomenon and later evolved into a Skate Park dominator. But in six previous starts in Skateboard Vert, the California native had never medaled in the discipline – until today!
PUTTING IT TOGETHER: On Run 3 of the final, Schaar strung together one of the most technical routines in event history. A huge alley-oop backside lipslide across the entire ramp, backside 540 melon, backside 540 tailgrab, heelflip Indy, backside tailslide, alley oop tailgrab tail smack, kickflip Indy fakie, fakie 5-0 grind, Cab disaster and kickflip McTwist before the buzzer earned him 86.00 points and the silver medal.
"Oh my gosh, I put down a run!" said Schaar after the silver-medal performance at X Games Chiba 2023.
Schaar now owns nine X Games medals (1 gold, 4 silver, 4 bronze). It's his first X Games medal since Big Air bronze at Minneapolis 2018. Welcome back!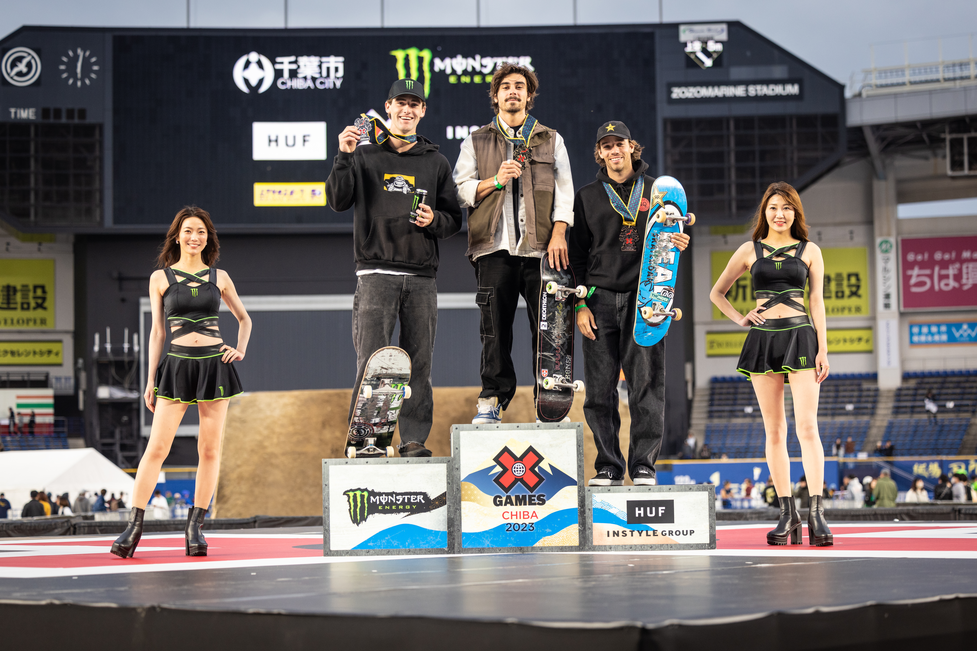 Skateboard Vert Best Trick
SLOAN TAKES VICTORY IN THE CLUTCH
RARIFIED AIR: The list of riders in Skateboard Vert Best Trick included bona fide legends of the sport. Proudly rocking the Monster Energy claw on his helmet, 55-year-old Tony Hawk proved that age is just a number by putting down technical tricks including Madonna switch crooked grind and Half Cab body varial to backside blunt. Legendary!
TOUGH DAY FOR SLOAN: As the defending gold medalist in Skateboard Vert Best Trick from X Games 2022, 34-year-old Elliot Sloan was having a tough day in Chiba. After missing attempt after attempt in the session, Sloan looked resigned to finishing off the podium with teammate Moto Shibata cemented in first place.
EMOTIONAL ROLLER COASTER: In a walk-off victory for the history for the ages, Sloan came through on his last attempt of the day. His fast-spinning Cab heelflip Indy 720 brought the house down and earned Sloan the gold medal. Boom!
"The roller coaster of emotions! I was so bummed because I thought that was it. And then I realized I had another run. So, there was a little bit of hope… I can't believe I made that one!" said Sloan upon winning Skateboard Vert Best Trick at X Games Chiba 2023.
Sloan now owns 16 X Games medals (7 gold, 7 silver, 2 bronze).
SHIBATA ROCKS HOMETOWN CROWD: Talk about setting the bar high. Cheered on by the hometown crowd, 27-year-old Japanese team rider Moto Shibata from Osaka put down a show to be remembered. Straight out the gate, Shibata's perfect kickflip McTwist wowed the judges and boosted right into first place.
IT AIN'T OVER TILL IT'S OVER: Looking like the unstoppable winner, Shibata commanded the top spot for the entire session. But then final runs rolled around, and Sloan pulled off the winning trick for a come-from-behind victory. Settling for silver, Shibata showed real sportsmanship and instantly congratulated Sloan on the historic feat. A real champ!
Shibata now owns 5 X Games medals (1 gold, 4 silver).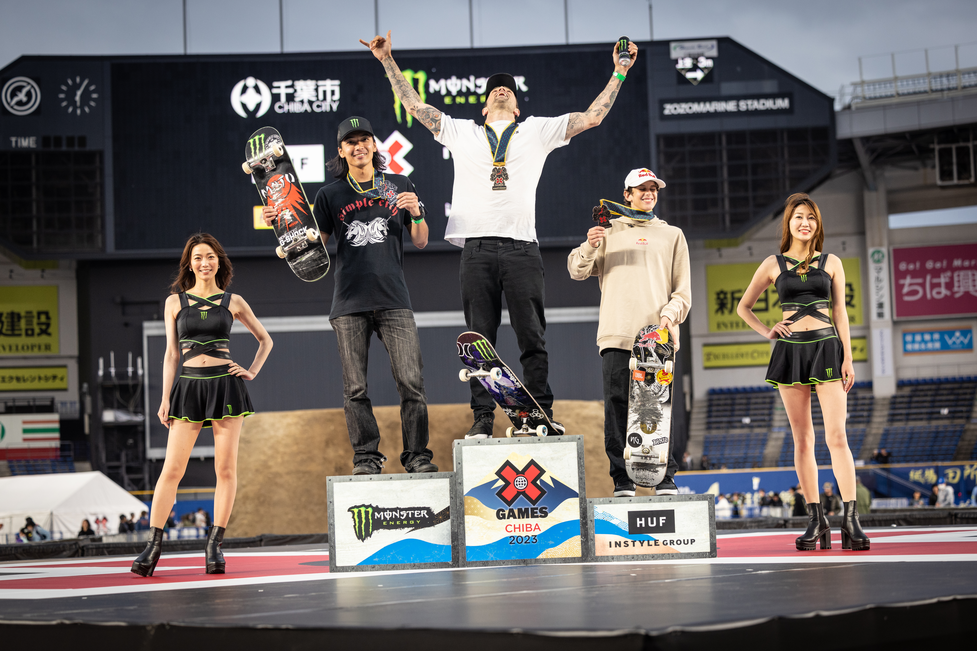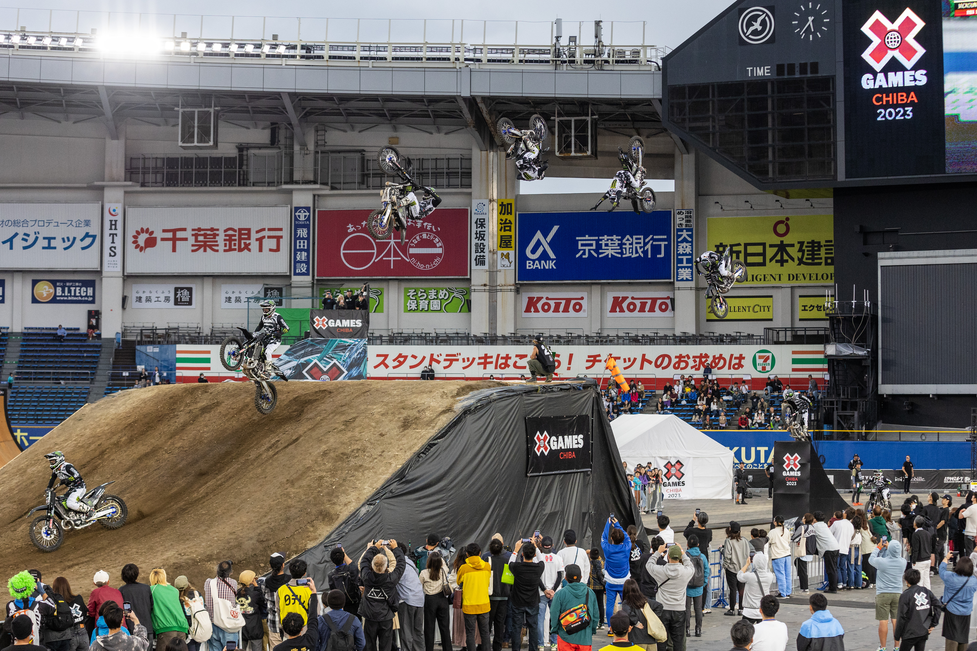 Moto X Best Trick
STRONG BECOMES MOST DOMINANT RIDER IN MOTO X BEST TRICK HISTORY
GO BIG OR GO HOME: With only two attempts to put down the highest-scoring trick in Moto X Best Trick, 31-year-old Jackson Strong from New South Wales, Australia, knew it was time to send it! Facing massive heat from fellow Australian Rob Adelberg, Strong put down a perfect untucked no hander frontflip – spinning forward through the air with hands entirely off the handlebar – on Run 2 for 96.33 points and the win.
"Everyone's been riding amazing tonight. I'm glad I was able to get the trick I've been practicing. Thanks to Japan for having us, it's been an amazing time and another X Games in the books," said Strong upon winning Moto X Best Trick at X Games Chiba 2023.
A NEW RECORD: With seven X Games gold medals in the discipline, Jacko is now the most successful Moto X Best Trick competitor in X Games history. He is also tied for most gold in a single Moto X discipline with Ronnie Renner and Travis Pastrana. Interesting trivia: Strong relied on frontflip variations to win all seven gold medals.
Strong now owns 14 X Games medals (7 gold, 4 silver, 3 bronze).
HARRY BINK POWERS INTO BRONZE FINISH: No stranger to high-pressure situations, 29-year-old Harry Bink from Canberra, Australia brought a stylish move to the contest. And he put it down when it counted: A technical double backflip nac one-hander look to the side earned Bink a solid 95.00 points and the bronze medal.
ALL AUSSIE PODIUM: With his bronze medal, Bink rounded out an all-Australian podium featuring Strong in first place, and Rob Adelberg in second. The last all-Aussie podium sweep happened at X Games Norway 2019.
Bink now owns 2 X Games bronze medals, both earned in Moto X Best Trick.