All NEWS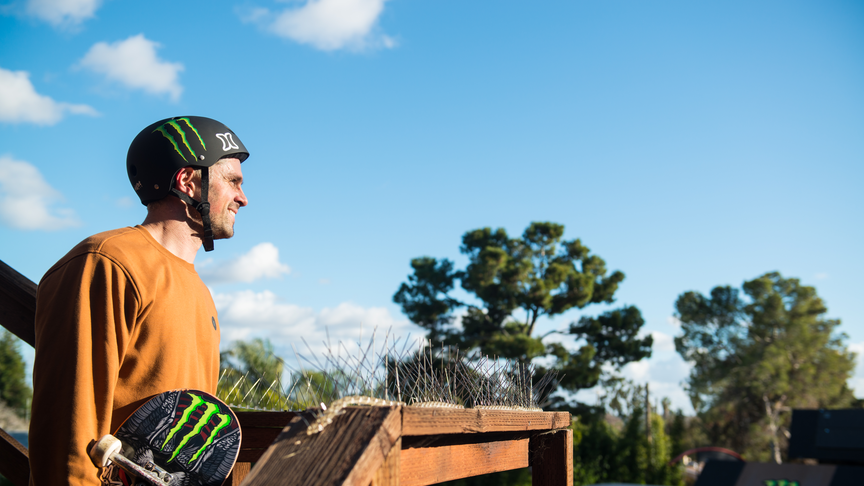 Elliot Sloan Talks SLOANYARD
In an exclusive interview, Elliot Sloan walks us through the evolution of Sloanyard, and how it became the one of the greatest skate compounds to date.
If you haven't heard of Elliot Sloan… then you've been living under a rock. He's a certified Monster badass who joined the roster in 2022. He holds 15 X Games Medals. He's a vert and Big Air skater, and specifically, he's known for his insane backyard skate compound, Sloanyard.
Sloanyard is a skateboarder's dream. To those who don't know – Sloanyard is a Mega Park which is home to the mini megaramp and a 100-foot-wide halfpipe with a 20-foot roll-in, a 35-foot-high roll-in to soar across a 34-foot gap into a 20-foot-tall quarter pipe. It has countless extra features such as vertical extensions, corners, launch ramps, as well as a channel and bank sections for creative transfers. helo
At first, you'd think that Elliot just thought of this sick compound and then had a bunch of dudes come build it in his backyard. But little did you know that this skate compound took years to create and involved some major skate players to make it happen, including Tony Hawk, PLG, and the inspiration behind it all: Bob Burnquist.
Let's break it down from start to finish:
Bob Burnquist is the Inspiration Behind the Compound
I'm from New York originally. The first time I ever came to California, we went and skated Bob's house and I was just blown away. I grew up in an apartment building and I didn't have a backyard. So, to come out here and see a setup like that. I was just blown away. From a very young age, I started to dream of something like that.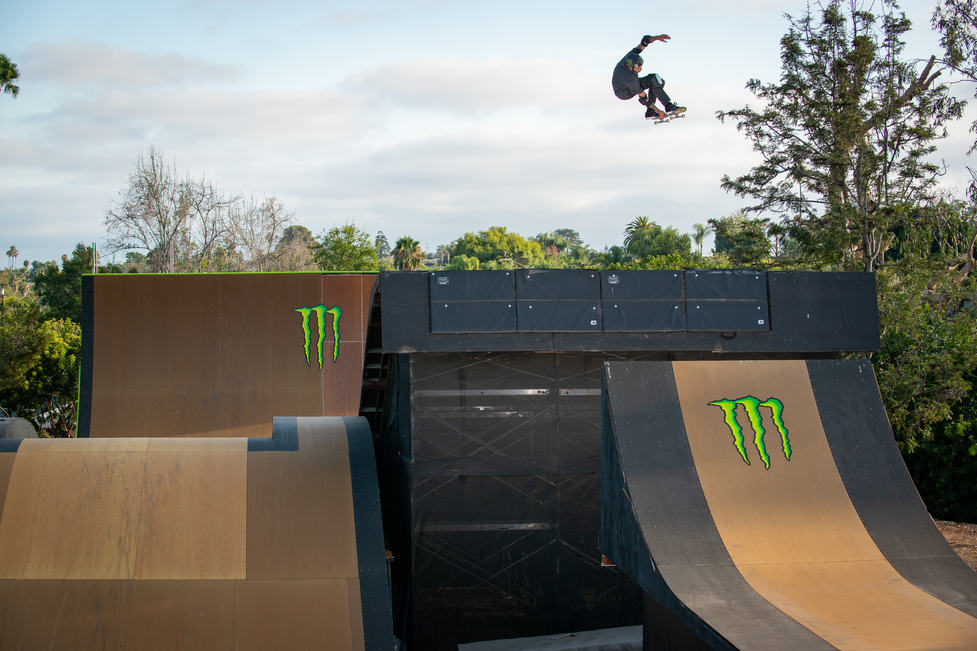 2006: Pierre Luc Gagnon Co-Signed His Loan
I moved out here in 2006 to pursue skating. PLG (Pierre Luc Gagnon) used to ride for Monster. We were looking for a piece of land to build a vert ramp that was the same size as the one at X Games, because the X Games ramp was bigger than all the other ramps around here. When we would always show up to X Games, it would take a day or two to adjust to the bigger size transitions.
And a friend that I grew up with skating with back east bought a house like two houses over from where my house is, and he kept bugging me to come see this place. When I saw the house, the property was big enough to put a ramp on and I was like, 'Oh, I can live here too.' And PLG actually co-signed for me to buy this place.
2013: The Vert Ramp Arrived
The vert ramp took about a little over three months and was pretty straightforward. Four months maybe – it wasn't too bad, but the whole like Mega Park section took way longer because let's see, it's kind of a long story…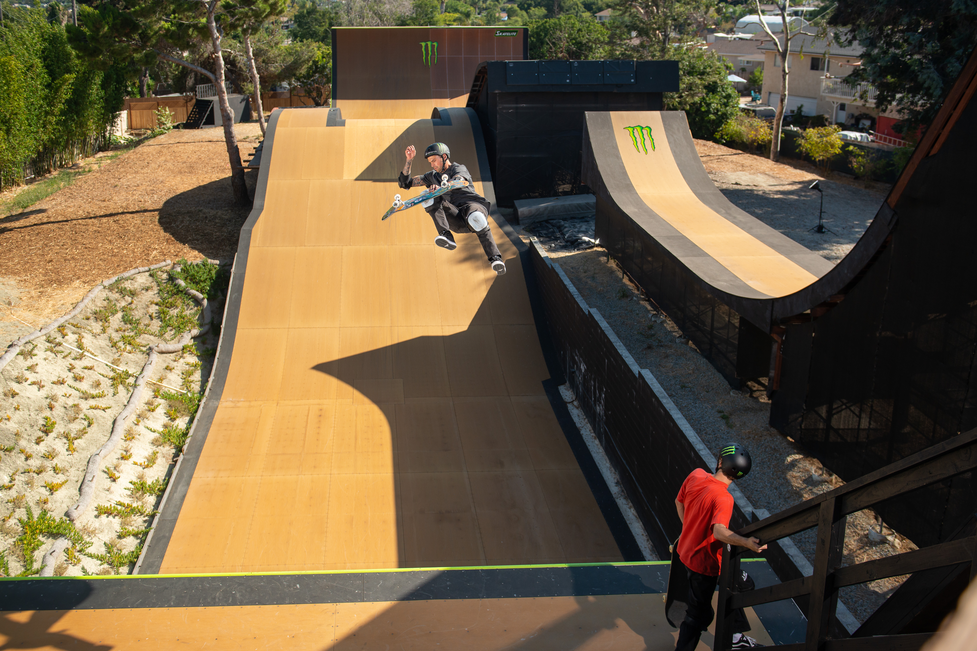 2014: Tony Hawk & the Boom Boom HuckJam
I guess it all kind of started with Tony Hawk. I knew he had these pieces from the Boom Boom HuckJam tour. He had this quarter pipe that was 20 feet and he had all the pieces that they used during that tour, and they were just sitting in his warehouse! I would go skate his vert ramp all the time and see all these pieces. I kept bugging him for a few years that we should set this up, and that I've got the space.
After a few years of bugging him [Tony Hawk], he told me 'We're trying to make space in the warehouse, if you want this stuff, come take all of it.' Oh my God.
I had all this stuff here for a few years and it took me a while to sift through all the parts and get rid of stuff that I didn't need. There was so many crates and containers. We first put it right in my backyard next to the house, and then slowly started bringing it all the way to the back.
Then it was, 'how do I set this up?' And then, 'I need money to set it up.' So, for a few years, I just talked to sponsors and tried to get people to get on board with building this thing.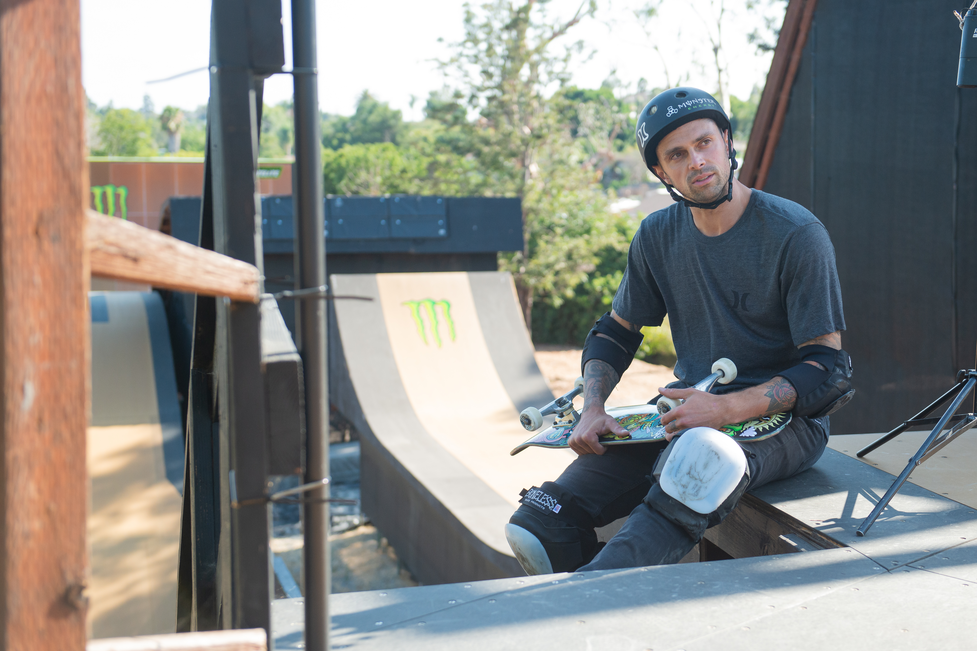 2017: The First Half Was Complete
Towards the end of 2017 is when we finished the first complete half: roll in jump landing quarter pipe. But, I always had this this idea of adding on a mega ramp or mini mega, whatever you want to call it. I was like alright, we got this first half done, now. Here we go, all over again.
March 2020: Sloanyard
We finished the ramp in March of 2020. Right before the world shut down. The timing of it was crazy.
May 2022: Sloanyard Goes Green
We put Skatelite on all the ramps. Monster really just dialed in everything, new surface everywhere. Those guys made it look as good as possible.
July 2022: Sloanyard Hosts X Games Day One
Skateboard Vert and Vert Best Trick, BMX Mega Park, Skateboard Mega Park
This all came about through Monster. I think just having the backyard alone was like a crazy dream, but I don't think I ever would have thought that I would have hosted an X Games in my backyard. I would love to host another; I'd love to do more events here. It's definitely beyond my wildest dreams, I never would have thought that all this could have happened.
2023: The Year of Elliot Sloan
You'll find him drinking Monster Tour Water, creating sick skate content, releasing some new parts, playing in his band, Night Fiends (listen here), and even planning some new additions to the Mega Park. Whatever Elliot Sloan's doing, we're in. Keep an eye out for this skater, because 2023 is going to be gnarly.