/ /

Action

All NEWS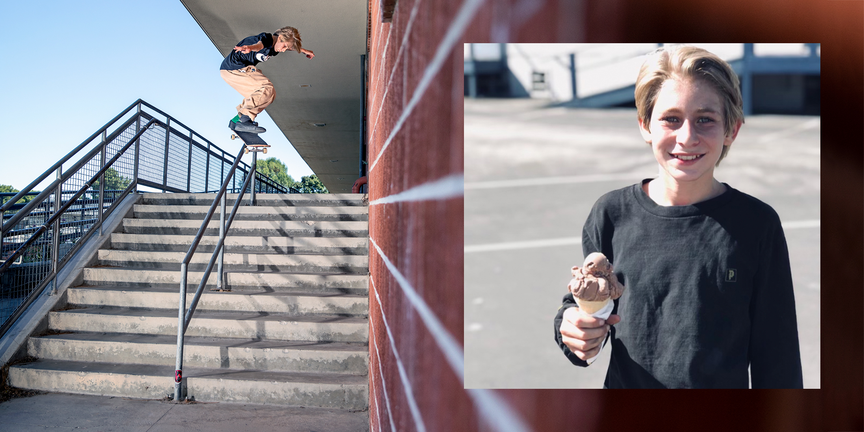 If you haven't heard of Filipe Mota, something's wrong with you. This kid is everywhere. Only 15 years old and dominating the skate game, Filipe Mota has officially jumped from the Monster Army Team to the official Monster Energy Skate Team. "Just knowing that I'm part of the main team with guys like Nyjah and Ishod is so crazy! I've only seen these guys on TV and today we're on the same team! I am looking forward to where that takes me," says Mota.
Today Filipe's first US skateboard part was released, with a voiceover by one of the best skateboarders in the world: Nyjah Huston. "Little Filipe is a beast. I see a lot of potential in him and his skating. I see a lot of dedication. I feel like he's really willing to put in the hard work, to take his skating to that next level, just like where I was when I was a kid."
In between sessions, we sat down with Filipe to talk about his jump from Monster Army to Monster Energy, and his first US part!
You and your dad moved from Brazil to pursue your skateboarding career. Can you tell us the story of how you came here?
I started skateboarding when I was six years old in Patos de Minas, a city with only 150,000 habitants! My first trick was the Ollie. After that, I learned heelflip. Me and my dad talked about coming to live in Los Angeles since I was 9 years old, because we knew that I would have more opportunities here. When I turned 12, we decided to leave everything behind and come here. It was the best decision for our lives.
You have one of the best skaters in the world, and a role model of yours, Nyjah Huston, narrating your part and saying things like "I think the kid has a very bright future ahead of him." How does it feel to achieve such a high status in the skate world in a short time?
I try not to think about it. I'm very young and I have a lot to learn in skateboarding! What I can guarantee is that I will continue to do my best, regardless of status or fame. I am my biggest competitor; I just want to do my best without worrying about other skaters.
Now that you're on the Monster Energy team, what competition are you looking forward to the most this year?
SLS and Tampa are my favorite contests. But I am looking forward to the SLS Super Crown in Brazil the most. I haven't been to Brazil since I moved to Los Angeles, it's going to be crazy to go back there 3 years later in one of the biggest skate championships in the world.
Who do you look up to most on the Monster Energy Skate Team?
My favorite skaters on the team are Nyjah Huston and Ishod Wair for sure
For your Monster Energy part, where was your favorite place to film?
I like to film in Los Angeles schools, my favorite place in this part was probably the 13 stairs rail where I did the trick that finished my part.
Where do you like to train and practice?
I like skating in different skateparks. Some days of the week I just have fun with my friends and try to learn new tricks. Other days, I really practice all my tricks. Lately, I've been skating more at Primitive Skatepark and El Sereno Skatepark.
If you could skate anywhere in the world, where would it be?
I really want to go to China to film on the streets.
What is your dream? What do you want to achieve in the future?
I've already realized one of my dreams, which is to be part of SLS. And this was only possible thanks to the Monster, who put me in the SLS qualifiers. My dream now is to travel the world skateboarding, film a video part, become a professional for Primitive, win my first SLS and be at the Paris Olympics in 2024. Thanks to the whole Monster family for the opportunity, especially Joey and Cody.