/ /

Action

All NEWS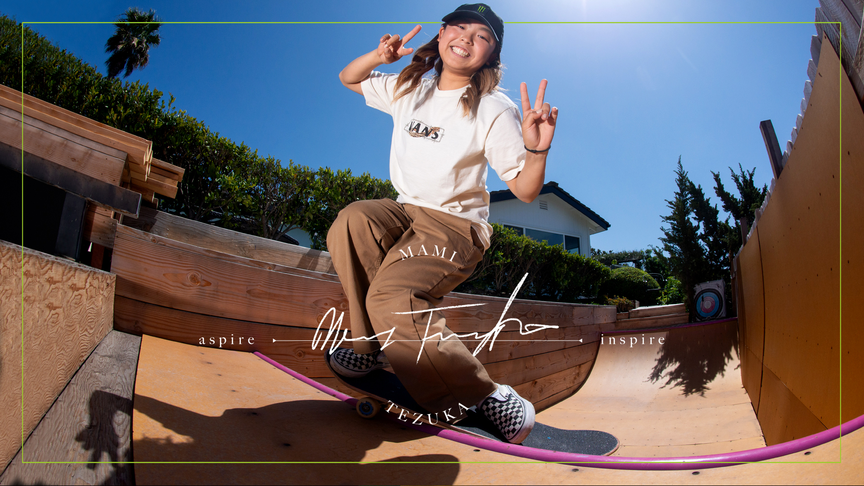 Mami Tezuka | 'Aspire – Inspire'
The popular 'Aspire – Inspire' video series of skateboard documentaries is back for Season 2! And kicking things off, the spotlight is on upcoming Japanese pool skater Mami Tezuka from Shiga, Japan.
In this special episode, we learn the backstory of the 20-year-old known for her outstanding style and skills when it comes to riding backyard pools. Fast, gnarly, and willing to take a slam, Tezuka raises the bar as part of a new generation of female bowl skaters. Plus, she already has two X Games medals to show for her efforts, but still remains as humble and down-to-earth as they come.
"I want to inspire all the girl skaters and young people. Do what you love and don't be scared to be yourself!" said Tezuka on 'Aspire – Inspire'.
YOUNG SKATER WITH AN OLD SOUL
Old school, new school, next level: Tezuka commands one of the most diverse trick selection and classic styles in the game right now. The secret? She was raised by a skateboarding dad, who let her ride his board at the early age of 3. A match made in heaven!
"Mami has been active and energetic since she was small. She was always laughing," said father, Manabu Tezuka. Tezuka began cultivating her unique riding style at a young age, inspired by watching her father and his peers. "There were always skateboards and skateboarders in front of her. It was Mami's fate."
RAISED ON ROUGH TERRAIN
In search of the right spots to hone her skills, Mami began localizing the many homemade DIY-spots in her hometown. Although less than perfect and often very difficult to ride, these rough transitions sharpened Mami into a mature rider that can adapt to any terrain in a heartbeat.
"I got into transition skating because my local skatepark has a lot of transitions. I don't think transition skating is big in Japan, but there's so much DIY stuff," said Tezuka on the episode.
When the world shut down during the pandemic, Mami kept moving and improving away from the spotlight.
"I remember she really stood out from all the other girls," said pro skateboarder and Monster Energy team rider Lizzie Armanto, adding: "I think over Covid you could see Mami's skating go from really good to next level!"
BREAKING INTO THE SPOTLIGHT
When global travel and international skateboard competitions came back online, Mami was ready to take her skating to the world stage. She shook up the competitive ranks by clinching silver in Women's Skateboard Park at X Games 2021. She then followed suit by earned her second X Games podium with bronze at X Games Chiba in 2022.
Asked whether she prefers big-ticket contests or filming progressive tricks, Mami offered: "Competition is kind of stressful for me. But filming a part is more fun for me. You can see the style and progress of the skating. I think that's really important!"
Just recently, Tezuka earned her first signature model on American label Blood Wizard Skateboards. 'Aspire – Inspire' shows Tezuka receiving her pro model surrounded by family and peers. "Getting the recognition and turning pro is such a great thing. I respect her. I'm happy for her," said her mother, Hiromi Tezuka.
Most importantly, Mami likes to bring the stoke to a session with her peers, which is very much her personality. "Mami was always surrounded by her friends. Just like she is now," said mother Hiromi Tezuka.
Her infectious energy and penchant for pushing the limits make her a favorite among her peers. "She tries really gnarly stuff and is just fun to be around. It's really inspiring. When I'm around her, I want to push myself to be better!" said Lizzie Armanto about Tezuka in the episode.