/ /

Action

All NEWS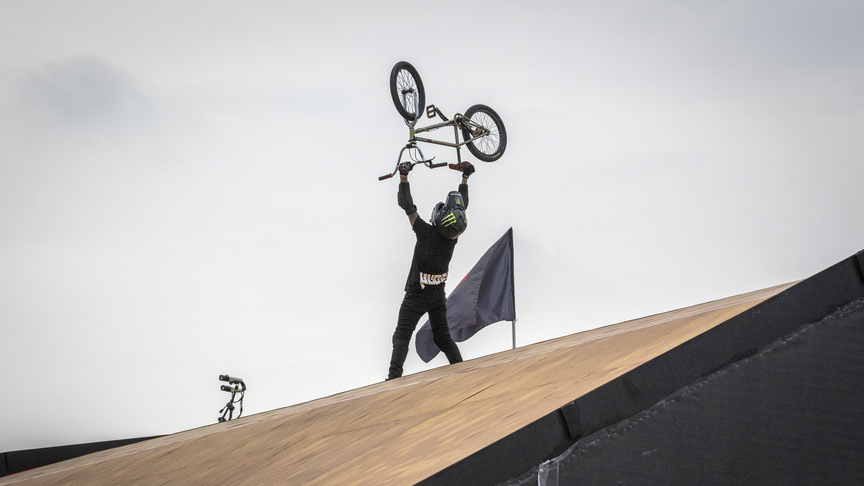 Monster Rules X Games Shanghai 2019
Monster Energy Congratulates Its Athletes on Strong Performance at The Inaugural X Games Shanghai 2019 in China, Four Medals in Two Days for the Monster Energy Team: 3 Gold and 1 Bronze / Trey Wood (Skateboard) Claims 1st Gold / Jackson Strong Wins Moto X Best Trick / Nyjah Huston (Skateboard) Defends Gold!
The inaugural X Games Shanghai is a wrap! Monster Energy congratulates its BMX, Freestyle Motocross, and Skateboarding athletes on a hugely successful weekend competing at X Games Shanghai 2019. The inaugural action sports festival in the vibrant Chinese metropolis featured seven competitions across Skateboarding, BMX, and Moto X disciplines. Monster's world-class team took home a total of four medals: three gold medals and one bronze medal.
X Games Shanghai drew massive crowds to the festival village in the Shanghai International Tourism and Resorts Zone. Visitors experienced an action-packed weekend of sports, youth culture, and musical performances by Kyotaro, Ayal Komod, and MC Hotdog in a festival atmosphere. Broadcast around the world by ESPN and international partners, the two-day spectacle featured a streamlined schedule of events to introduce Chinese audiences to the best in action sports.
The enthusiastic crowd in Shanghai celebrated spectacular performances by 74 athletes from twelve countries. The weekend's highlights included Monster Energy's Jackson Strong making an epic return from injury by winning gold in Moto X Best Trick. In Men's Skateboard Street, the world's most decorated street skater and Monster Energy team rider Nyjah Huston bested his own record by claiming his tenth career gold medal in a nail-biting final. What's more, Trey Wood caused an upset by taking his first gold medal with a never-seen-before trick in Skateboard Big Air.
Moto X Best Trick
The Monster Energy team's medal run started on Saturday with freestyle motocross team rider Jackson Strong claiming the gold medal in Moto X Best Trick. Strong had been battling a leg injury for the past year and was freshly back in the saddle in Shanghai. Nevertheless, the 27-year-old from Lockhart, Australia cemented his status as the most successful Moto X Best Trick competitor in X Games history by claiming his fifth X Games gold medal with a highly technical front flip no-hander over the 75-feet gap. Strong already made motocross history by landing the first in-competition front flip in 2011 at X Games XVII in Los Angeles and now holds eight total medals, including a bronze from Snowmobile Best Trick. Welcome back, Jacko!
BMX Big Air
The run for hardware continued when the action moved to the massive 73-feet Mega Ramp for BMX Big Air. Starting from a 59-feet roll-in, BMX riders sent their best aerials over the kicker gap in the structure's middle – optionally clearing a 50-feet or 63-feet gap – before finishing their runs with massive aerials on the 27-feet quarterpipe.
In a highly competitive finals session, Monster Energy team rider James Foster, who won BMX Big Air at X Games Minneapolis in 2017 and 2018, posted a perfect run on his third attempt: Starting from the top of the roll-in, Foster sent a huge no-handed backflip – taking his hands off the bike's handlebar in mid-air – over the big gap, followed by a massive, 17' 3"-high quadruple tailwhip on the 27-feet quarterpipe for 87.66 points and a strong bronze medal finish.
Men's Skateboard Street
The second day of X Games Shanghai was all about skateboarding with Monster Energy taking back-to-back gold medals. Men's Skateboard Street saw Nyjah Huston go blow-for-blow with an elite field of the world's best street skaters. After taking a heavy slam on his first run, it all came down to the third and final attempt for Huston, who thrives on high-pressure situations. Rising to the occasion, Huston put together a perfect routine on the final run of the contest, featuring technical highlights like overcrook the rainbow rail and nollie heelflip noseblunt slide the big rail for 94.00 points and the gold medal. The walk-off victory marked the tenth Skateboard Street gold medal for the 24-year old who has been competing at X Games since age 11, and is also the current Street League Skateboarding World Champion.
Skateboard Big Air
Closing out an eventful weekend in Shanghai, 18-year-old rookie pro Wood faced the world Skateboard Big Air elite on the Mega Ramp on Sunday evening. Mostly known for his Skateboard Park terrain talent, Wood had been putting in some Mega Ramp training sessions and came to Shanghai with a surprise move up his sleeve: On his very first run in the finals, Wood unveiled a massive backside body varial 720 over the big gap – a trick never seen before in competition – right into an 18-feet high varial Mc Twist on the huge quarterpipe for a 90.33-point score. The surprise victory marks the third X Games medal for Wood, who took back-to-back Big Air bronze at X Games Minneapolis and Sidney 2018.
Now that the first X Games Shanghai is a wrap, an inaugural X Games China winter event is already slated for late November to early December this year. Over in the United States, the action continues with X Games Minneapolis from July 31 – August 4, 2019 when Huston, Strong, and Wood defend their gold medals from Shanghai 2019. Make sure to tune in!