/ /

Action

All NEWS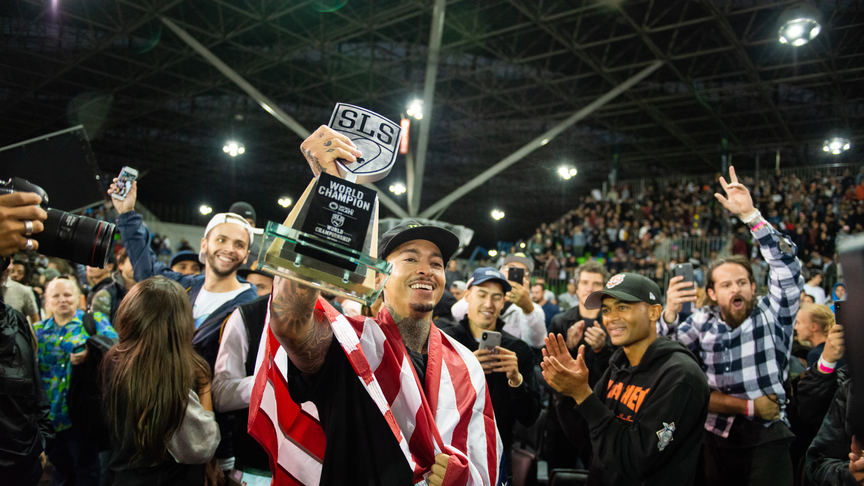 Nyjah Huston 2019 SLS World Champ
Monster Energy's Nyjah Huston Takes First Place at the 2019 SLS World Championship in São Paulo Claims Sixth Career and Third Consecutive World Championship Title in Men's Street Skateboarding/ 11-Year-Old Brazilian Skate Prodigy Rayssa Leal Claims Second Place in Women's World Championship.
Three times in a row! Monster Energy congratulates team rider Nyjah Huston on claiming his third back-to-back World Championship title in Men's Street Skateboarding in São Paulo, Brazil, today. In a down-to-the-wire final in front of a high-energy crowd at Anhembi Parque convention center, the 24-year-old from Laguna Beach, California, claimed his sixth career title in the world championship and Olympics qualifier event presented by World Skate and Street League Skateboarding.
Also taking a podium spot, Huston's Monster Energy teammate and 11-year-old Brazilian skateboarding prodigy Rayssa Leal claimed second place earlier today in the Women's World Championship final. Stepping up against the top eight female skateboarders in the world, the rising star from Imperatriz, Brazil, had the crowd on its feet with technical tricks and handrail moves far beyond her age class.
Huston Always Thrives Under Pressure
Presented by Monster Energy as the official drink sponsor, the Street League Skateboarding (SLS) series is now in its tenth year as the official world championship of street skateboarding. The 2019 season attracted more international riders than ever because SLS now serves as a direct qualifier for skateboarding's debut at the 2020 Tokyo Summer Olympics in partnership with the international governing body for roller sports, World Skate.
This weekend's World Championship in São Paulo featured the world's best male and female skateboarders from countries such as Australia, Canada, Brazil, Japan, Colombia, Netherlands, Belgium, France, Portugal, the UK, and the United States. As the perfect backdrop for World Championship-level performances, official ramp builders California Skateparks installed a demanding concrete course stacked with tall handrails, a twelve-stair set, several Hubba ledges, bump-to-ledge obstacles, and quarter pipes at Anhembi Parque.
Huston came to São Paulo as the defending back-to-back 2017 and 2018 SLS World Champion. But he was also still struggling with the aftermath of an ankle injury sustained in August. Although he emerged from Saturday's pressure cooker semifinal in fifth place, Huston was visibly limping at the end of the highly competitive eliminations round that took out podium favorites such as Carlos Ribeiro and Maurio McCoy.
But once it was time for the final eight to battle for the title today, Huston was back to his full competitive self. Straight out the gate, he cemented an early lead with two perfect runs. Huston's second run earned a Nine Club score and included technical moves such as frontside nosegrind and backside tailslide the ledge into bank, kickflip backside lipslide and bigspin frontside boardslide fakie the bump-to-flat-bar, Half Cab kickflip and 360 kickflip the bump-to-bump, kickflip up the Euro Gap and backside 180 nosegrind the Euro Gap ledge, overturned frontside 180 into backward nosegrind revert (frontside Suciu grind) on the tall gap-to-rail and frontside feeble the center section rail for 9.0 points and an early lead.
When the action moved into Best Trick attempts with Huston at the top of the leaderboard, the level of tricks shot through the roof.

The capacity crowd at Anhembi Parque arena celebrated a barrage of Nine Club-scoring moves in what SLS commentator Paul Zitzer labeled, "one of the best SLS finals of all time." With Portugal's Gustavo Ribeiro and Japan's Yuto Horigome taking turns holding down the top spot – Horigome posting an incredible four moves above the nine-point benchmark – the pressure was on Huston to send his best tricks.
Known to thrive under pressure, Huston dug deep into his bag of tricks and fired back with a nollie backside 180 nosegrind fakie on the tall gap-out rail (8.8 points) and a highly technical Caballerial kickflip backside lipslide fakie on the same obstacle for 9.7 points. With only two attempts left and Horigome commanding the lead with an impressive 36.6-point score, Huston managed to land another Nine Club banger right when he needed it: A nollie heelflip backside lipslide fakie on the tall gap-out rail earned Huston 9.3 points – and the third consecutive SLS World Championship win on the strength of his 36.9-point final score.
"Three years in a row means so much to me! The older I get, the more happy I am to be in the finals and out there with the young guys and still at a winning level," said Huston upon winning the 2019 World Championship in São Paulo today, adding: "The crowd has been keeping us all so hyped out here, big shout to them for that!"
No other skateboarder has dominated the SLS competition circuit like Huston. Today's first place in São Paulo marked the 23rd Street League Skateboarding victory for the official U.S. Skateboarding Olympics team member who is now a crucial step closer to representing the United States at the Tokyo games in 2020. The 2019 season has not been without challenges for Huston: After starting strong with a win at Stop One of the SLS World Tour in London in May, he missed the podium at SLS Los Angeles, but ended up claiming silver and gold medals in Skateboard Street and Best Trick at X Games Minneapolis, respectively. The only athlete in history to win X Games gold medals on five continents, Huston is currently working on a documentary feature about his Olympics journey with acclaimed skateboard video director Ty Evans.
Speaking of an Olympics journey, newly minted Monster Energy team rider Rayssa Leal also earned crucial qualifier points by claiming a sensational second-place finish in the Women's Street Skateboarding World Championship today. In what SLS commentator Andrew Cannon called "the highest level ever seen in a women's skateboarding competition," the Brazilian skate phenom showcased technical street skating at its finest in a highly contested final that came down to last attempts.
A clear crowd favorite this weekend, Leal posted the weekend's highest Run score on her second attempt by stringing together backside lipslide and crooked grind on the bump-to-rail, kickflip up the Euro Gap and backside 5-0 the Euro Gap ledge, feeble grind the big handrail and a perfectly poised backside Smith grind the tall Hubba ledge for 5.0 points.
In the Best Trick section, reigning world champion Aori Nishimura from Japan and Brazil's Pamela Rosa cranked up the heat, but Leal held her own by landing difficult tech tricks on the tallest obstacle on the course. The crowd erupted as Leal proceeded to send a crooked grind, backside lipslide, and backside Smith grind down the big twelve-stair rail and claimed the lead on her third attempt. But ultimately, Brazil's Rosa ended up taking the win on her fourth attempt with Leal following closely in second place as the worthy finish for an outstanding 2019 season.
Leal first turned heads in 2015 at the age of 6 by heelflipping down a set of stairs while wearing a fairy costume in a video that went viral across the globe. The skateboarding phenomenon has since proven a strong competitor at the highest international level: This summer, Leal claimed an upset victory at the SLS World Tour stop in Los Angeles, making her the youngest competitor in history to ever win an SLS tour stop. She also won the Far'n High competition in France in May and placed fourth in her X Games debut in Minneapolis in August. Today's second-place finish puts Rayssa Leal in number two position in the Women's Street Olympic World Skateboarding Ranking for the 2020 Tokyo Olympics maintained by World Skate.
Leal's Monster Energy teammate and fellow Brazilian skateboarder Kelvin Hoefler closely missed the podium in today's Men's final by a fraction of a point. Starting out strong in the Run section, the São Paulo local stoked the crowd with moves like Caballerial backside lipslide fakie the big rail, nollie crooked grind, nollie frontside boardslide and Caballerial frontside boardslide fakie the bump-to-rail, backside tailslide fakie the ledge into bank, and a kickflip backside lipslide the big rail as a finisher for 8.0 points. The 26-year-old, who won the SLS World Championship in 2015 as a rookie, also brought heavy artillery to Best Trick. Moves on the big rail such as bigspin frontside bluntslide fakie (8.8 points), Caballerial backside tailslide (8.8 points), kickflip frontside bluntslide fakie (9.1 points) and an incredibly rare Half Cab overcrook revert (9.3 points) earned Hoefler a whopping 36.00-point final score for fourth place in a highly contested final.
Also stoking the crowd this weekend, Monster Energy's Matt Berger from Canada put down a perfect run in Saturday's semifinal, including nollie frontside noseslide and frontside bigspin boardslide fakie the big rail, as well as kickflip frontside noseslide the Euro Gap ledge. But despite landing a flawless kickflip backside tailslide fakie the big rail and huge backside kickflip the twelve-stair gap, Berger missed the final eight by a few points.