/ /

Action

All NEWS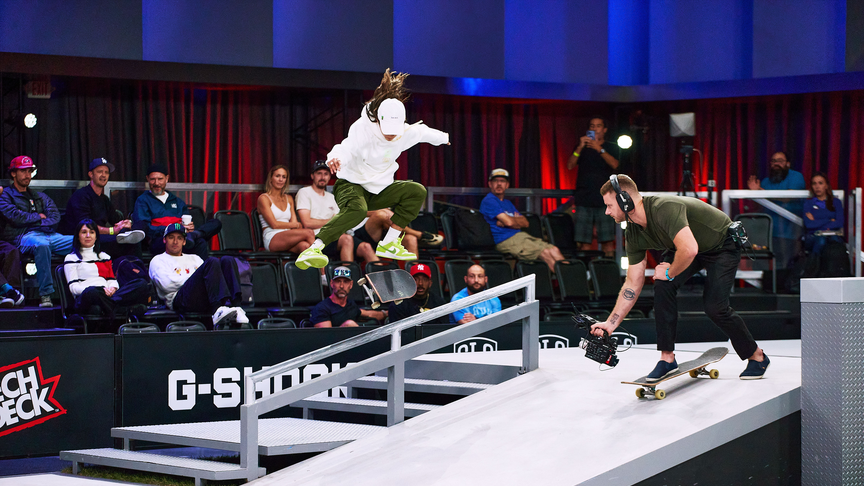 Rayssa Leal Takes the Win at SLS Vegas 2022
Leal claims victory in Women's Skateboard Street, and Braden Hoban takes third at Stop 3 of the 2022 SLS Championship Tour
Rayssa is unstoppable! Monster Energy congratulates team rider Rayssa Leal on her victory in the Women's Skateboard Street competition at SLS Las Vegas on Saturday. In the third stop of the 2022 Street League Skateboarding Championship Tour, the 14-year-old from Imperatriz, Brazil, took home the win in the elite skate competition at the UFC Apex facility. The Olympic silver medalist has thereby won every single stop on the 2022 SLS World Tour and leads the overall rankings.
In Saturday's Men's Street final, 21-year-old Monster Energy team rider Braden Hoban from Encinitas, California, earned his first podium finish at an SLS event by claiming third place. This year marks Hoban's first season competing in the Street League Skateboarding (SLS) Championship Tour, envisioned by pro skateboarder Rob Dyrdek as an authentic showcase for top street skateboarders.
From October 7-8, stop three of the 2022 SLS Championship Tour provided another chance to score important qualifier points for the upcoming SLS Super Crown World Championship in Brazil. For the contest location, SLS had worked with the Ultimate Fighting Championship (UFC) to turn the UFC Apex facility – home of legendary UFC Fight Nights – into a competition-grade skatepark for the weekend.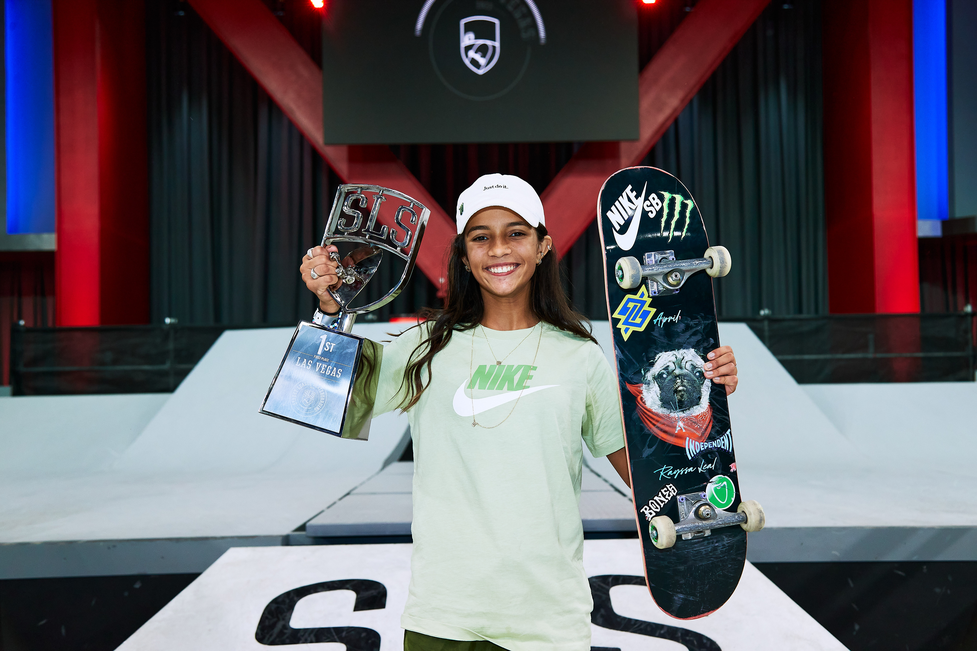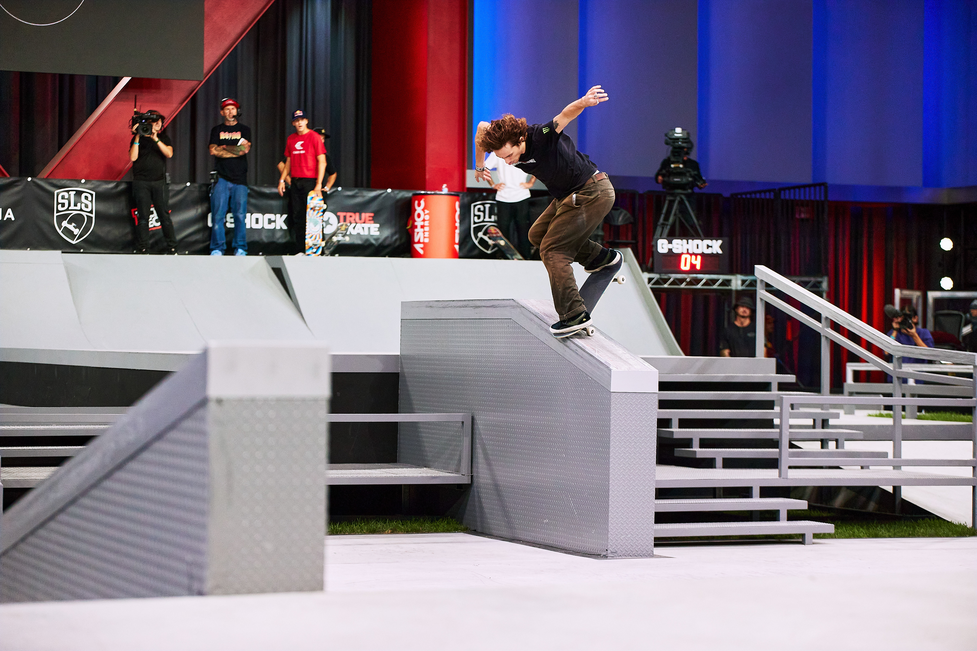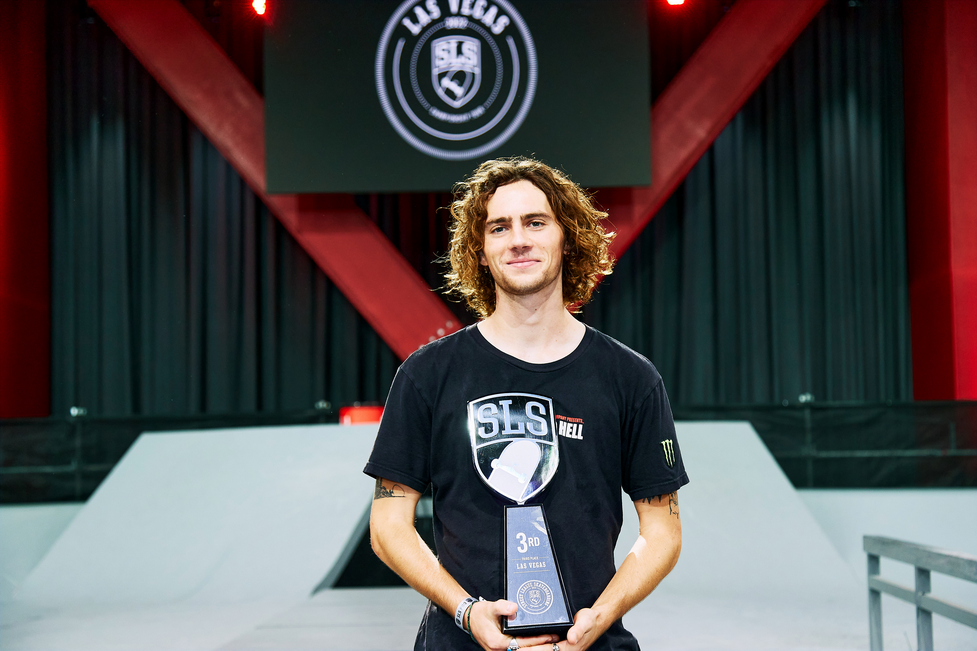 At SLS Las Vegas 2022, the California Skateparks-designed course featured a selection of rails and stair sets – including a long double kink rail and tall square rail with a large drop ­– alongside several Hubba ledges, kickers, and a bank hip for aerial transfers.
According to new SLS competition rules, overall scores are now computed by always factoring in one score from the Line section. This means: Skaters can no longer recover from a less-than-perfect Line performance on the strength of Best Trick scores alone, and need to land a solid run.
The high-energy crowd was treated to several solid runs in the Women's Skateboard Street Final on Saturday. Currently, in first place on 2022 SLS season leaderboards, Monster Energy's Rayssa Leal was a podium favorite among the eight finalists that hailed from Australia, Brazil, Japan, as well as the United States.
In her second of two 45-second runs, Leal popped a backside tailslide fakie on the tall flat ledge, kickflip frontside boardslide down the rail, ollie into bank, frontside nosegrind the flat rail, backside Smith grind the Hubba, and a backside 5-0 across the straight part and down the kink of the tall Hubba for 6.9 points.
Starting her Best Tricks on a strong note, Leal put down a perfect kickflip backside lipslide down the rail for 6.3 points. On her third Best Trick, she followed up by landing a huge gap out to backside lipslide on the kink rail for 6.1 points.
When the action advanced into the Super Final with two last attempts, Leal cemented her victory by finessing a perfect kickflip backside Smith grind for 6.9 points. With a total score of 20.1 points, Leal took the victory at SLS Las Vegas and qualified into the SLS Super Crown World Championships in first place on the leaderboards with 300 points after remaining unbeaten all season. What an achievement!
In Saturday's Men's Skateboard Street contest, Monster Energy rider Braden Hoban from Encinitas, California, achieved a personal milestone by claiming his first top-three finish at an SLS event. After finishing the previous contest, SLS Seattle, in fifth place, the 21-year-old newcomer was ready to rise to the podium.
In his second run, Hoban put down a gap out frontside feeble on the kink rail, backside tailslide the flat rail, kickflip frontside boardslide the bump rail, massive gap out to 50-50 on the tall rail's end section, frontside tailslide the flat ledge, kickflip frontside 50-50 the Hubba, frontside boardslide the rail, and gap to backside noseblunt slide down the big Hubba for an 8.8-point Run score.
On his first Best Trick attempt, Hoban continued sending it big with a gap-out kickflip crooked grind down the big Hubba for 8.6 points. On his third Best Trick attempt, he stoked the crowd with a gap-out kickflip frontside nosegrind grind down the big Hubba for 8.8 points. Although Hoban did not post another score on remaining attempts, his overall score of 26.2 points held all the way until the end to secure a third-place finish. That's a sure sign of trick quality over quantity!
Also putting on a strong performance this weekend, 29-year-old Kelvin Hoefler from São Paulo, Brazil, rose all the way to the Super Final and finished in fourth place. In his highest-scoring Run, Hoefler opened with a technical gap out backside noseblunt the kink rail, followed by highlights such as frontside 50-50 the Hubba, switch tailslide 270 the ledge, kickflip backside tailslide fakie the rail, and half Cab noseslide 270 down the tall Hubba for 8.4 points.
The Olympic silver medalist from Brazil also landed Best Tricks including kickflip crooked across the entire tall kink Hubba (7.8 points) and Half Cab noseslide to backside tailslide (8.7 points) down the same obstacle for a strong fourth-place finish with 24.9 points.
Next on the 2022 SLS Championship Tour, it's time to crown the new SLS World Champions: Don't miss the action in the SLS Super Crown World Championship in Rio de Janeiro, Brazil on November 5-6.