/ /

Action

All NEWS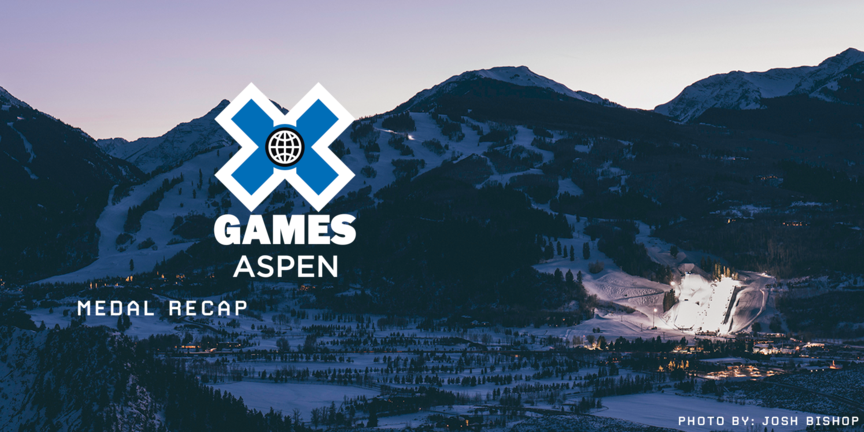 Medal Recap | Winter X Games 2023
X Games Aspen 2023 is in the books! During the three-day event, the world-class team claimed a total of 18 X Games medals: 7 gold, 3 silver, and 8 bronze and wrote action sports history with unprecedented performances.
Here's how the Monster Energy team stoked fans at X Games Aspen 2023:
The Monster Energy team's medal run started in the Jeep Women's Snowboard Slopestyle final with all eyes on defending gold medalist Zoi Sadowski-Synnott from Wanaka, New Zealand. Facing heavy competition and adverse weather conditions, the 21-year-old had difficulty putting a winning run together. Until she landed a perfect run on her last attempt for a walk-off victory! Monster Energy athletes swept the entire podium, with 22-year-old Tess Coady taking silver as the first Australian woman to earn a Women's Snowboard Slopestyle medal and 18-year-old Kokomo Murase from Gifu, Japan, taking home bronze.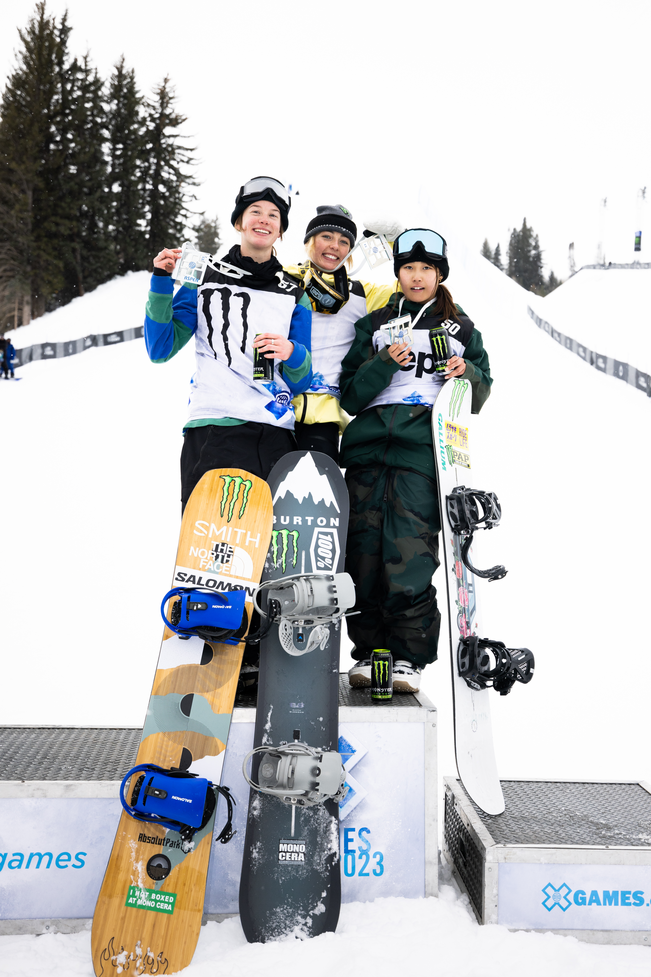 The kind of history-making moment only witnessed at X Games unfolded in the first event: The Women's Ski Big Air final saw Megan Oldham from Newmarket, Canada, go down in history by landing the first triple cork – a perfect leftside triple cork 1440 mute – ever performed in a women's ski or snowboard contest. The historic move earned the 21-year-old a perfect score of 50 points and a gold medal.
The crowd went into full party mode for the innovative Ski Knuckle Huck contest. The 30-minute jam session revolved around riders 'hucking' their most advanced freestyle moves off the Big Air ramp's roll-over. And huck it – they did: The elite field, including Olympic gold medalist Alex Hall and freeski icon Henrik Harlaut pushed the boundaries of freeski progression. When the dust settled, Colby Stevenson claimed the bronze medal to boost his overall record to three medals after winning Knuckle Huck in his rookie debut at X Games Aspen 2020. And he was far from finished.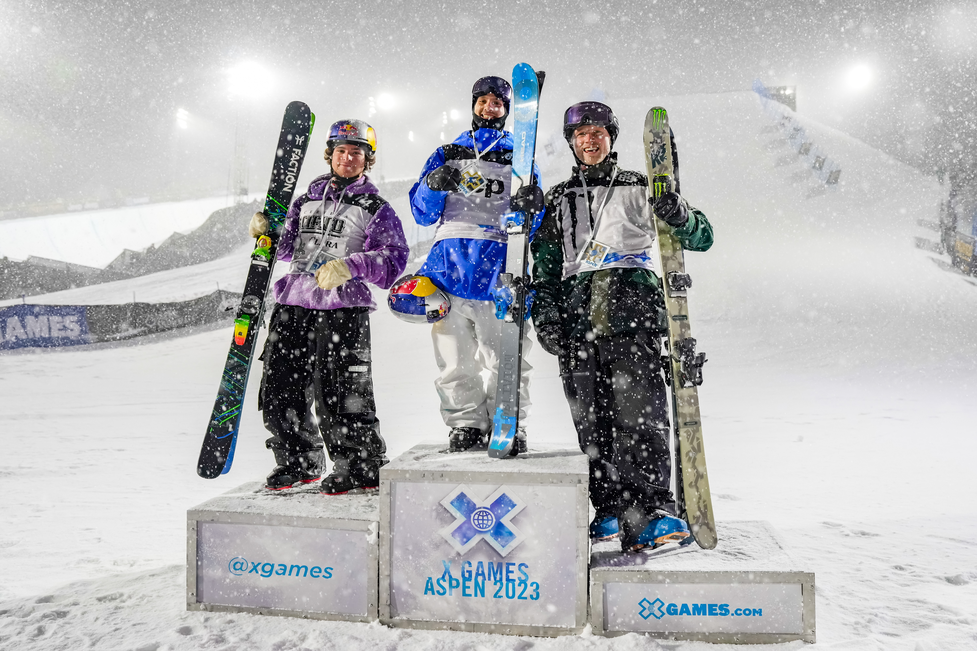 Colby Stevenson ushered in the second day of X Games Aspen 2023 by rising all the way to the top in the Men's Ski Slopestyle final. Facing heavy snowfall and poor visibility, the Team USA athlete showed grit and strategy by landing two perfect runs for an early lead that netted him the second gold medal in the discipline. Stevenson now owns four X Games medals (three gold and one bronze). Also taking a podium spot, 24-year-old Ferdinand Dahl from Oppegaard, Norway, landed two flawless runs and spun in all four directions on jumps and rails for the bronze medal.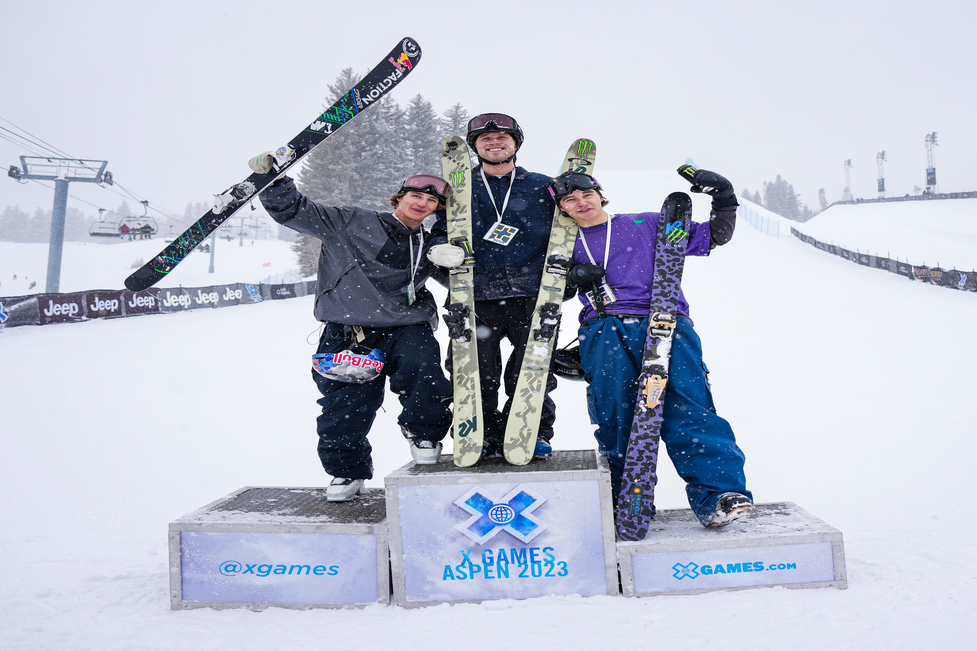 The youngest rider at X Games 2023 stole the spotlight and took gold in Monster Energy Women's Snowboard SuperPipe: 14-year-old Gaon Choi from Seoul, South Korea, dominated the Superpipe like a veteran (she also trains with snowboard icon Chloe Kim). Highly advanced tricks like switch 900 and regular 900s both ways earned Choi gold and a spot in the history books. Choi is the youngest Women's Snowboard Superpipe gold medalist at age 14 years, two months, and also the first athlete from South Korea to claim gold at an X Games event. The future has landed!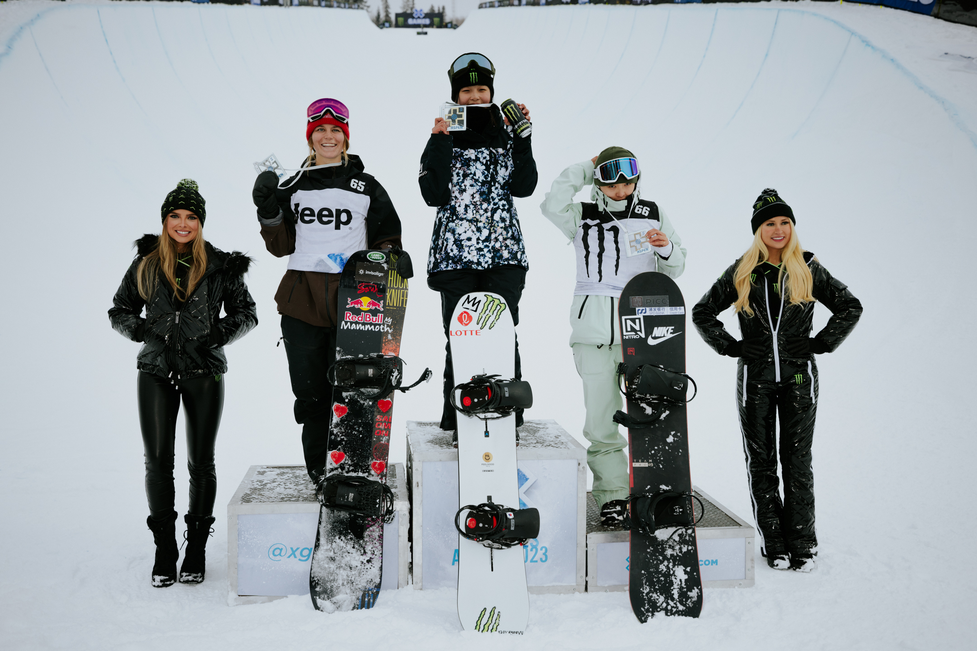 A big night at X Games Aspen 2023 started with the Monster Energy Women's Ski SuperPipe final. In a session overshadowed by relentless snowfall, 20-year-old Svea Irving from Winter Park, Colorado, caused an upset by clinching the bronze medal on her final run. Raised in the Monster Army athlete support program, Irving strung together highlights such as alley-oop flatspin 540 Japan, left 900 safety, and left alley-oop 360 safety for third place.
The high-energy crowd was in for a unique aerial show in the Pacifico Women's Snowboard Big Air final. In a highly contested session, defending Big Air gold medalist, Zoi Sadowski-Synnott unveiled a never-been-done trick for the history books: a perfect switch backside 1260. Further expanding her score by landing a fast-spinning backside 1260 melon grab, Sadowski-Synnott ended her night only a single point behind the top spot. She walked away with a strong silver medal as her ninth X Games medal (five gold, three silver, and one bronze).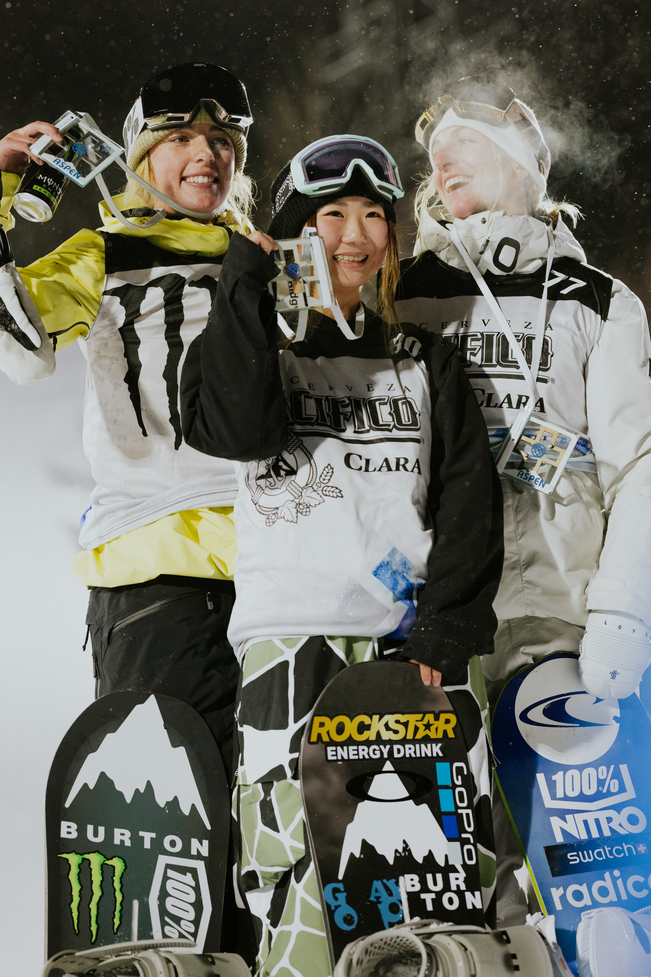 Saving the biggest show for last, the Pacifico Men's Snowboard Big Air final saw the long-overdue X Games debut of 18-year-old Chinese rookie Su Yiming from Jilin City. Initially slated to compete at Aspen 2022, Yiming was sidelined by Covid-19 lockdown but made up for lost time by sending two next-level tricks over the gap on Saturday night: a frontside 1800 and quad cork 1980. When all was said and done, Yiming claimed the bronze medal, adding the hardware to his Big Air gold from the 2022 Beijing Winter Games.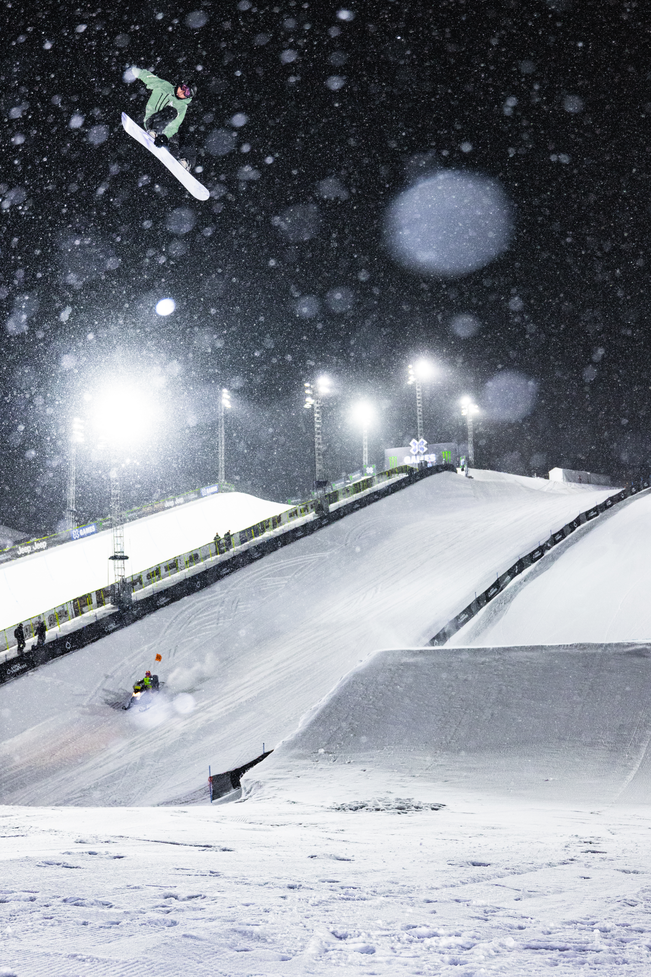 On Sunday, the last day of X Games Aspen 2023 kicked off with another gold medal performance for Team Monster Energy: In the Jeep Women's Ski Slopestyle final under bluebird skies, Canada's Megan Oldham claimed her second gold medal at X Games Aspen 2023 by soaring above the competition. Hitting the course with impeccable rail game and double cork rotations in the jumps, the winner of Friday's Big Air gold became the second woman skier in history to win two gold medals at the same X Games and now owns seven X Games medals.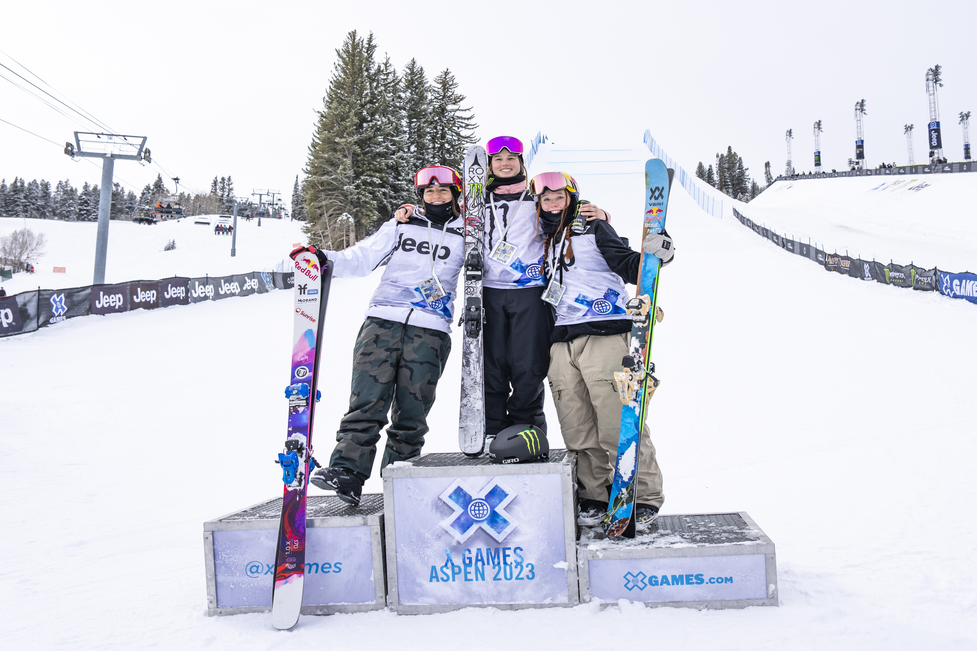 Snowboard trick innovation was the name of the game in the Chipotle Snowboard Knuckle Huck contest, and 32-year-old style icon Halldor Helgason from Iceland proved his timeless style by claiming the silver medal in an eclectic field. Joining the legend on the podium was a young gun: 19-year-old Dusty Henricksen from Mammoth Lakes, California, buttered and backflipped off the knuckle with the best of them to claim bronze as his fourth X Games medal (two gold and two bronze).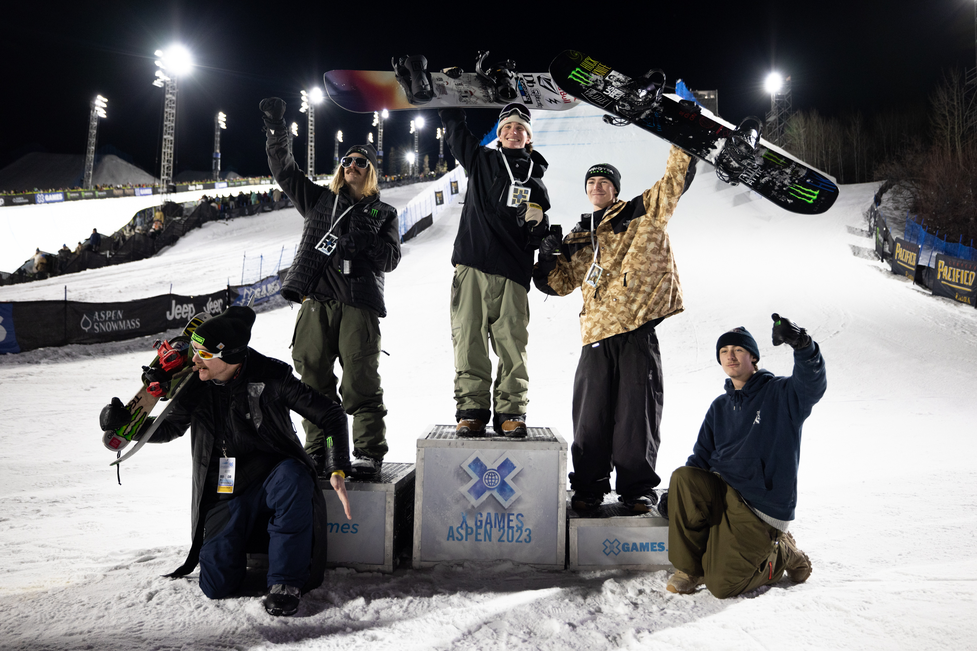 The nighttime action came to a full boil in the Men's Ski Big Air showcasing boundary-pushing tricks celebrated by the festival crowd on Buttermilk Mountain. Dropping into the session as the reigning Olympic gold medalist in the discipline, 22-year-old Birk Ruud from Oslo, Norway, unveiled a brand-new switch triple 2160 on his last attempt. But the fact that Ruud 'only' netted the bronze medal after this history-making performance is a testament to the highest level of competition ever seen in a Big Air final at the X Games.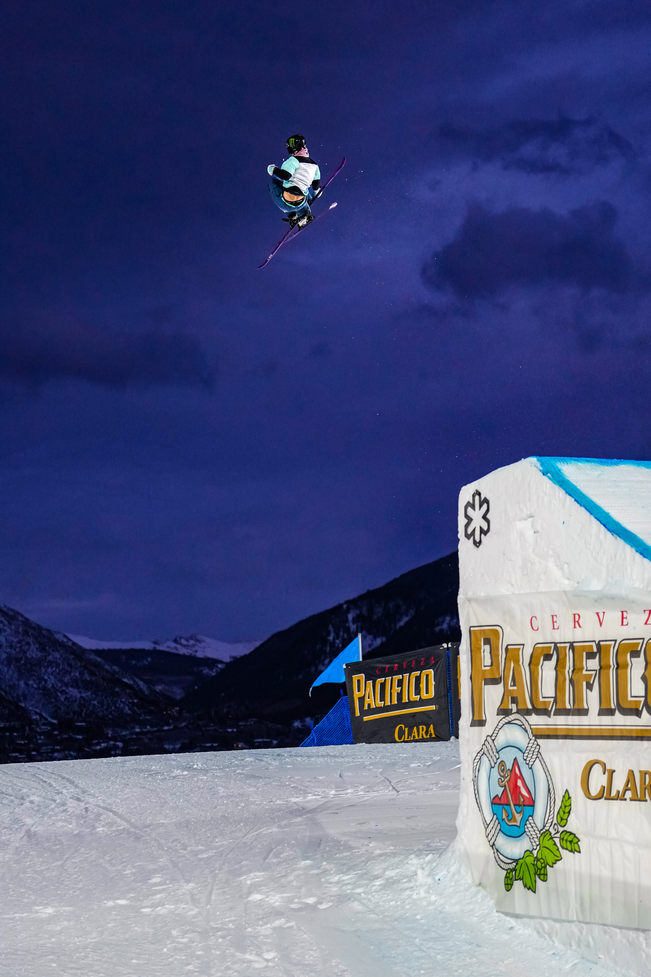 As the last event of X Games Aspen 2023, the Monster Energy Men's Ski SuperPipe final marked the return of a freeski icon: Two-time Olympic gold medalist David Wise from Reno, Nevada, may have entered the contest as the oldest competitor. But he showed the young bucks how to string together a perfect run replete with double cork aerials spun in all four directions and back-to-back 1260s to take home the gold medal. And like that, the 32-year-old claimed his fifth X Games gold in SuperPipe and boosted his overall count to eight X Games medals (five gold, two silver, and one bronze). Only at X Games!
And that's a wrap! Thanks to all athletes, everyone who attended, and all who watched X Games Aspen 2023. Also, thanks to the crew at ESPN and Buttermilk Mountain for putting on a world-class action sports showcase.