/ /

Action

All NEWS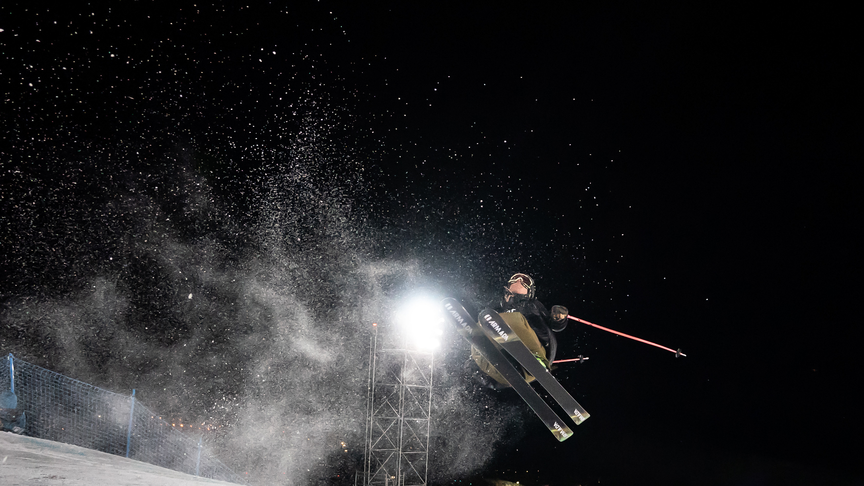 X Games 2021- Ready to Bring the Stoke to Buttermilk Mountain
It's good to be back! The biggest spectacle in action sports returns to Buttermilk Mountain in Aspen Snowmass, Colorado only a few days from now. Monster Energy, the official energy drink partner of X Games, is proud to bring some of the world's biggest names in competitive freeski and snowboarding to X Games Aspen 2021. Broadcast live to audiences across the globe, the winter edition of X Games will return to the heart of the Rocky Mountains for the 20th-consecutive year from January 29-31.
In response to the ongoing COVID-19 pandemic, X Games Aspen 2021 will be closed to the public without the usual spectators and musical performances on site. Nevertheless, the latest progression and evolution of winter action sports will be on full display. Nearly 100 of the world's best skiers and snowboarders will compete in 14 disciplines at this year's X Games Aspen, produced with comprehensive COVID-19 risk mitigation protocols in place for participants and staff.
With motorized competitions such as snowmobile and snow bike placed on hold this year, X Games Aspen 2021 will feature men's and women's ski and snowboard competitions in the disciplines of SuperPipe, Slopestyle, Big Air, plus the progressive Men's Knuckle Huck across ski and snowboard disciplines.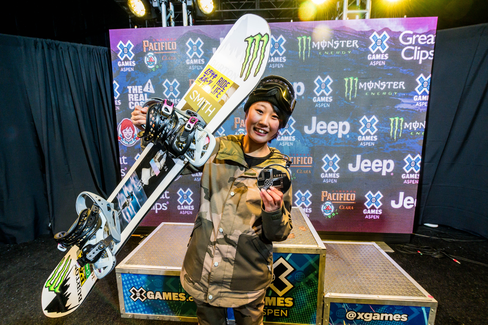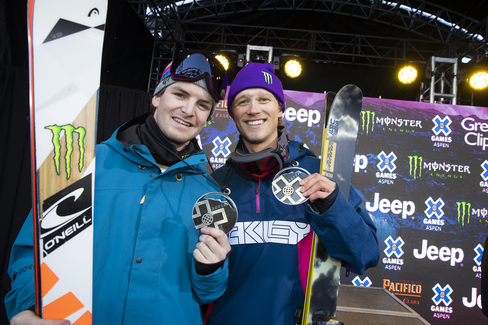 Snowboarding Preview fo Events
As always, X Games is the pinnacle of winter sports competitions, so the invite-only event is reserved for multiple-time X Games medalists and highly competitive newcomers to keep the level of riding world-class. As the official drink sponsor of X Games Aspen 2021, Monster Energy is looking forward to raising the bar with a heavy-hitting team of athletes and defending gold medalists.

Going into X Games Aspen 2021, watch out for the following key Monster Energy athletes and competitions:
Kicking off the action on Buttermilk Mountain on Friday, Women's Snowboard Slopestyle will see Monster Energy's Jamie Anderson defend her gold medal from X Games Aspen 2020 against a new generation of rookies. As the most decorated woman in X Games history, Anderson owns 17 medals total (6 Gold, 7 Silver, 4 Bronze) and the most gold in Snowboard Slopestyle. One of her biggest rivals is Monster teammate Zoi Sadowski-Synnott from New Zealand: The young kiwi ripper claimed Slopestyle gold at X Games Norway 2020 and was named 'Rookie of the Year' in the 2020 Snowboarder Magazine Awards. And let's not count out Japanese snowboard wunderkind Kokomo Murase, owner of five X Games medals at only 16 years of age and yet another podium threat in this ultra-stacked field.
Also, on Friday, look forward to the innovative Snowboard Knuckle Huck event, where riders 'huck' technical and stylish moves off the Big Air ramp's roll-over, also called the 'knuckle'. Team Monster Energy is bringing the heat with Japanese upstart Ryo Aizawa, who made a memorable impression at last year's Knuckle Huck with unpredictable moves. For spontaneous tricks with flair and finesse, look no further than Rene Rinnekangas, winner of 2020's X Games Real Snow video competition. Belgian shredder Sebbe De Buck is always ready to get wild over the knuckle. Also keep an eye on young upstart Dusty Henricksen, who sent a shock to the system with his Slopestyle win at the 2020 U.S. Grand Prix at Mammoth Mountain and can huck tricks with the best of them.
The snowboard action will continue on Saturday with Men's Snowboard Slopestyle, where Monster Energy's Max Parrot is the man to beat after clinching the gold medal at X Games Norway 2020. But it won't be easy, as the Canadian faces heavy competition from the likes of teammate Sven Thorgren from Sweden, who already owns a Slopestyle gold medal and six X Games medals (1 gold, 1 silver, 4 bronze) total. Also looking for precious metal in Aspen, Norwegian style icon Ståle Sandbech wants to improve on his Slopestyle bronze from Norway 2020. What's more, don't rule out the unpredictable contest skills of Finland's Rene Rinnekangas, who clinched a surprise silver medal at Aspen 2019, as well as upstart Dusty Henricksen, coming in hot off a Slopestyle win at the 2020 U.S. Grand Prix at Mammoth Mountain.
Prepare for more heavy tricks in Saturday's Women's Snowboard Big Air event, where Kokomo Murase is a podium favorite after claiming silver at Aspen 2020 and making history as the first girl to land a 1260 double cork in competition X Games Norway 2018. Murase will be going head-to-head against Monster teammate Zoi Sadowski-Synnott, who just kicked off her 2021 season with Big Air gold at the Kreischberg FIS World Cup. Plus, snowboard innovator Jamie Anderson will be digging into her unique bag of tricks in what promises to be an epic air show.
Speaking of epic airs, the Women's Snowboard SuperPipe will close out Saturday night with the return to competition of no other than Monster Energy's Chloe Kim. After a year-long hiatus to focus on her college education, the 20-year-old snowboard phenom is looking to continue her dominance right where she left off with back-to-back SuperPipe gold medals at X Games Aspen 2018 and 2019. But the competition hasn't been sleeping, so the Olympic gold medalist and seven-time X Games medal winner is in for a challenge.
The final day at X Games Aspen 2021 will kick off with the Men's Snowboard SuperPipe event, where an epic showdown is in the cards: Snowboard icon Shaun White, who has not competed at X Games since 2017, will return to battle a field of next-generation rippers including Monster Energy's Yuto Totsuka. The Japanese rookie already owns two X Games silver medals and made his breakthrough in 2020 by winning the U.S. Open Snowboarding Championships. Will this be the year for Totsuka to claim his first X Games gold?
As the final chance to claim snowboard medals, Sunday's Men's Snowboard Big Air competition will see Monster Energy's Max Parrot defending his Big Air gold from X Games Aspen 2020 against the best riders on the circuit. Parrot now holds the most medals in the history of X Games Snowboard Big Air at nine medals (6 gold, 3 silver), but will be facing heat from Monster Energy teammate Sven Thorgren, who took home bronze at Aspen 2020 and now owns six medals (1 gold, 1 silver, 4 bronze). For a wild card, pay attention to their teammate Rene Rinnekangas, who missed the Big Air podium by only one place at Aspen 2020. On that note, Rinnekangas is one of a select few snowboarders to compete in all three disciplines, alongside his teammate, American rookie Dusty Henricksen also looking for a Big Air medal in Aspen.
Preview the Skiing Events
Let's look at the upcoming freeski action at X Games Aspen 2021: In the Women's Ski Big Air on Friday, Monster Energy's Sarah Hoefflin is ready to flex her aerial skills to upgrade her bronze medal from Aspen 2020. Some of her most intense competitors are actually Monster teammates, including U.S. freeski prodigy Maggie Voisin, who claimed Big Air silver at X Games Norway 2020 and dropped a heavy video part last year. Then again, let's keep in mind Giulia Tanno from Lenzerheide, Switzerland, who just started her 2021 run with a first-place finish at the Kreischberg Austria World Cup in early January.
In the Women's Ski SuperPipe event, all eyes will be on Canadian team rider Cassie Sharpe, who claimed gold in the discipline at Aspen 2019 but had to settle for bronze in 2020. Known for her near-perfect record, Sharpe is the reigning Olympic champion and has reached the podium at eleven of thirteen halfpipe events and owns four X Games medals (2 gold, 2 bronze). Will she strike gold for the third time at Aspen 2021? Expect some heavy competition from her Monster teammate, Olympic silver medalist Devin Logan from Vermont, who already owns two X Games medals. Also taking on the giant snow halfpipe on Buttermilk Mountain, Olympic bronze medalist and All-American athlete Brita Sigourney wants to add to her impressive four X Games medals.
Rounding out the action on Friday night, the Men's Ski SuperPipe will feature a mix of seasoned veterans versus next-generation rookies. Watch two-time Olympic gold and four-time X Games gold medalist David Wise battle for the top spot against five-time X Games medalist and all-terrain rider Gus Kenworthy. Also mining for precious metal, New Zealand ripper Beau-James Wells will put his deep bag of halfpipe tricks on display in the epic night session on Buttermilk Mountain.
The freeski action will continue on Saturday in Women's Ski Slopestyle, where the smart money is on Monster Energy's Maggie Voisin after bringing home Slopestyle gold at X Games Norway 2020 and making history as the first American woman to win Ski Slopestyle gold at Aspen 2018. She will be facing heat from Giulia Tanno, who claimed bronze in the discipline at X Games Norway 2020 and wants to add to her four X Games medals (2 silver, 2 bronze). And let's not forget Sarah Hoefflin! With a record including silver at X Games Aspen 2020 and a slopestyle win at the last U.S. Grand Prix at Mammoth Mountain, the Swiss shredder who holds a neurosciences degree comes into this event as a top competitor.
Next, Saturday night on Buttermilk Mountain will be a celebration of radical aerials in the Men's Ski Big Air. Stepping to the massive jump as a podium favorite, Monster Energy's Henrik Harlaut will be defending his gold medal from Aspen 2020 with a chance to expand his legacy as the most decorated ski athlete in X Games history with twelve medals to his name (7 gold, 5 silver). Ready to shake things up on the leaderboards, newly minted Monster team rider Birk Ruud is fresh off a win at the FIS World Cup season opener at Kreischberg, Austria. Also putting on their Big Air boots will be Canadian team rider Evan McEachran, American rookie Quinn Wolferman, and Great Britain's most popular freeskier and five-time X Games medalist James Woods in a not-to-be-missed showdown.
The freeski tricks will keep popping off on Sunday in the highly anticipated Men's Ski Slopestyle contest. As a reminder, this is the discipline in which Monster Energy's Colby Stevenson made history at X Games Aspen 2020 by becoming the first rookie to win a gold medal in his X Games debut. Let's also remember that Evan McEachran earned his first X Games medal, silver, in Aspen last year. Will history repeat itself? Not if freeski pioneer Henrik Harlaut, who won Slopestyle gold at Aspen 2018, and Birk Ruud have a word in the matter! Also bringing the heat, Norwegian upstart Ferdinand Dahl already earned Slopestyle bronze at Aspen 2019 and steps to the plate with some brand-new tricks up his sleeve.
For the grand finale of the weekend's ski action, be prepared to watch the most gifted riders on the planet bring their most creative tricks to the epic Ski Knuckle Huck. Once again, Colby Stevenson is the name to watch after taking home gold in the event's debut at Aspen last year. But anything can happen with freeski innovator Henrik Harlaut in the mix, so brace yourself for unbound creativity and never-been-done tricks sent over the knuckle in Aspen. Speaking of creativity, New Zealand's very own Jossi Wells is one of the most versatile freeskiers on the planet with five X Games medals and an impeccable trick selection. Also watch out for Monster team rider Quinn Wolferman, who buttered and flipped into third place at last year's Ski Knuckle Huck and well-rounded Scandinavian shredder Ferdinand Dahl in what promises to be an epic session for the history books.
Over the course of three action-packed days, 13.5 hours of competitions will be broadcast live on ESPN, ESPN2 and ABC, supplemented by live coverage and behind-the-scenes content across digital X Games properties. Also catch the action on ESPN's online streaming services, with select disciplines available on X Games YouTube, Facebook, TikTok, and Twitter, as well as the ESPN App. In addition to all of the content on ESPN's U.S.-based media platforms, X Games Aspen 2021 will be televised globally in 192 countries and territories to more than 500 million homes. For the first time, the world's premier action sports event will feature a virtual experience, bringing the excitement of X Games Aspen to fans at home for a chance to win prizes, play games, and interact with X Games content.
With that said, look forward to the world's most spectacular snow sports performances and don't miss any of the action at X Games Aspen 2021!
Get into the X Games spirit with two hours of preview content: The 2021 BEING Series showcases freeskier and Monster athlete Colby Stevenson who stormed out of nowhere to win two gold medals in his X Games debut. Watch the BEING Series 2021: Aspen Edition on January 17 at 10 p.m. ET on ESPN2. Also catch the official X Games Aspen 2021 Preview Show hosted by Jack Mitrani and Brandon Graham on January 24 at 2 p.m. ET on ABC.