/ /

Motor

All NEWS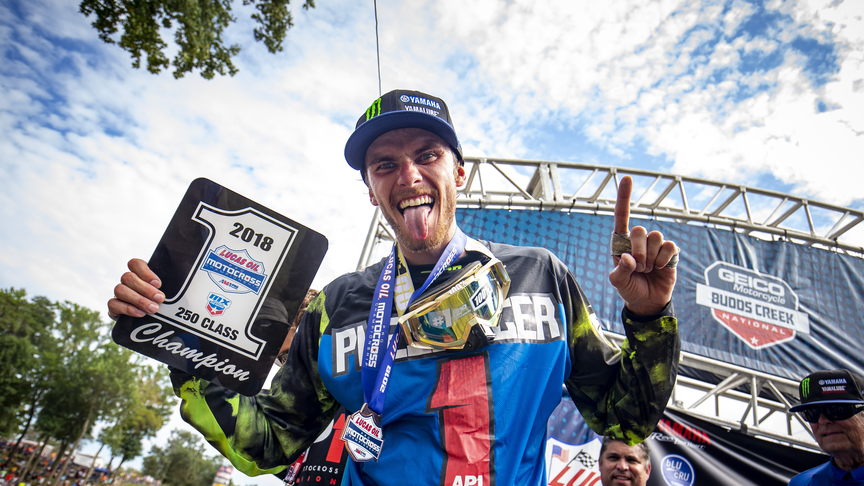 Aaron Plessinger: That Championship Season
Ever since Aaron Plessinger began his professional journey in the AMA Arenacross Series' Road to Supercross back in 2014, it appeared as though he was destined for success.
Ever since Aaron Plessinger began his professional journey in the AMA Arenacross Series' Road to Supercross back in 2014, it appeared as though he was destined for success. As a relative unknown, Plessinger made history in the fledgling development program by becoming the first Road to Supercross participant to win a premier class main event, doing so in just his second start.
A year later, Plessinger made his official transition into the professional ranks as a member of the Monster Energy/Yamalube/Star/Yamaha effort in Monster Energy Supercross. He showed flashes of potential in the 250SX West Region, including his first career podium result. When the season transitioned to the Lucas Oil Pro Motocross Championship, the second-generation racer started to hit his stride. He got increasingly comfortable on the bike and racing alongside the incredible depths of talent in the 250 Class. When he was able to land on the overall podium for the first time that summer at Washougal, it provided a boost to his confidence that ultimately led to the breakthrough moment of his young career – a win at the season-ending Ironman National, which serves as the Hamilton, Ohio native's proverbial home race.
It was at this moment when Plessinger's path to superstardom became a reality. With his tall, lengthy frame and years of experience racing alongside his father, Scott, in Grand National Cross Country events, Aaron possesses an uncanny ability to navigate the bike through any conditions by using his height to his advantage. It's a truly unique skill set that proved to serve him well the more experience he gained on the racetrack.
Aaron Plessinger Living Up to Expectations
With Rookie of the Year honors under his belt, Plessinger continued to progress throughout the 2016 season. He proved he has the talent to succeed both indoors and out by capturing his first Monster Energy Supercross win at, where else but his home race in Indianapolis. While he was kept off the top step of the podium outdoors, he made strides in his consistency and was poised to become a persistent threat for victory in 2017.
The 2017 season carried some hopes that Plessinger would be a title contender, and he largely stepped up to the plate in both supercross and motocross. He earned six podium finishes, highlighted by one win, in the 250SX West Region, and then endured through some heartbreak that summer to earn one win and three podium results. With three full seasons under his belt, the 2018 season became make or break for Plessinger's untapped potential.
Despite the occasional bumps in the road on the racetrack, the one thing that has always remained consistent for Plessinger throughout his career has been his attitude. He's one of the most mild-mannered, good-natured riders the sport has ever seen. A fun-loving kid who simply loves riding a dirt bike and doesn't get caught up in the drama or stress of racing for championships. Rarely is there a moment where you don't see a smile on Plessinger's face, and it's this mental approach that ultimately led him to the breakthrough season he's enjoyed in 2018.
As one of the most experienced riders in all of the 250 Class, there were no more excuses for Plessinger when the 2018 Monster Energy Supercross season rolled around. Starts had traditionally been one of his biggest hang-ups, but a concerted effort in the offseason enhanced his technique out of the gate and helped put him in a position to challenge for wins more often than not. In this era of the sport, starts are arguably more important than they've ever been before, and Plessinger transformed into a much better starter, which in turn made him a much better finisher.
For the first time in his career, Plessinger captured multiple wins in the 250SX West Region, taking the checkered flag four times en route to his first professional title. He finished inside the top 10 in every race for the first time ever and amassed an unparalleled level of consistency that helped him control the championship for the majority of the season. Plessinger had developed into a mature racer that reduced the mistakes and kept the big picture in mind, particularly on his bad nights.
As the Lucas Oil Pro Motocross Championship loomed in May, many wondered if Plessinger would be able to carry the momentum from supercross into the grueling outdoor season where the field was twice as big, and the level talent was twice as deep. With the likes of former champions like Zach Osborne and Jeremy Martin standing in his way, it was going to be a season-long battle of willpower for Plessinger if he had any hope of doing the coveted championship double.
It didn't take long for Plessinger to throw his name into the championship mix. At the second round at Glen Helen, he enjoyed his most impressive National performance to date, posting the first 1-1 effort of his career. He did it again just two rounds later, and then a couple more times just past the halfway point of the season. After eight rounds Plessinger had already amassed a career-high four wins, and most importantly, made the most out of the races where he wasn't at his best. Soon enough, he was the only rider in the 250 Class to earn a top-10 finish in every moto. That consistency, combined with the best starting average in the class and injuries to both Osborne and Martin, ultimately gave Plessinger a commanding lead in the championship standings.
After capturing a fifth win, Plessinger entered last weekend's annual visit to Budds Creek with a chance to clinch the most prestigious title in 250cc racing. Rather than tiptoe his way to the Gary Jones Cup, Plessinger seized the moment and effectively dominated the opening moto. The win was enough to wrap up his first AMA National Championship and put the finishing touch on what can only be described as a dream season.
While there's still one round remaining this summer, Plessinger has already taken care of business and emerged as the sport's next big star. He'll have the opportunity to savor a return to the site of where this journey all began three seasons ago at Ironman Raceway, and will then have the chance to make an already memorable year even more incredible with his debut at the FIM Motocross of Nations at RedBud in October. Given everything he's accomplished this season, his carefree mindset, and his development into one of the most consistent riders in the sport, there's plenty of reason to think that Plessinger will continue to shine as a member of Team USA and will play a pivotal role in bringing the Chamberlain Trophy back to U.S. soil.
If he does succeed at RedBud, Plessinger will add yet another achievement to his own page of the history books as the only rider in the history of dirt bike racing to accomplish each of the following:
· Complete the Road to Supercross
· Win a AMA Arenacross Lites Main Event
· Win a AMA Arenacross Main Event
· Win a Monster Energy Supercross 250SX Main Event
· Win a Lucas Oil Pro Motocross 250 Class Overall
· Win a Monster Energy Supercross 250SX Championship
· Win a Lucas Oil Pro Motocross 250 Class Championship