All NEWS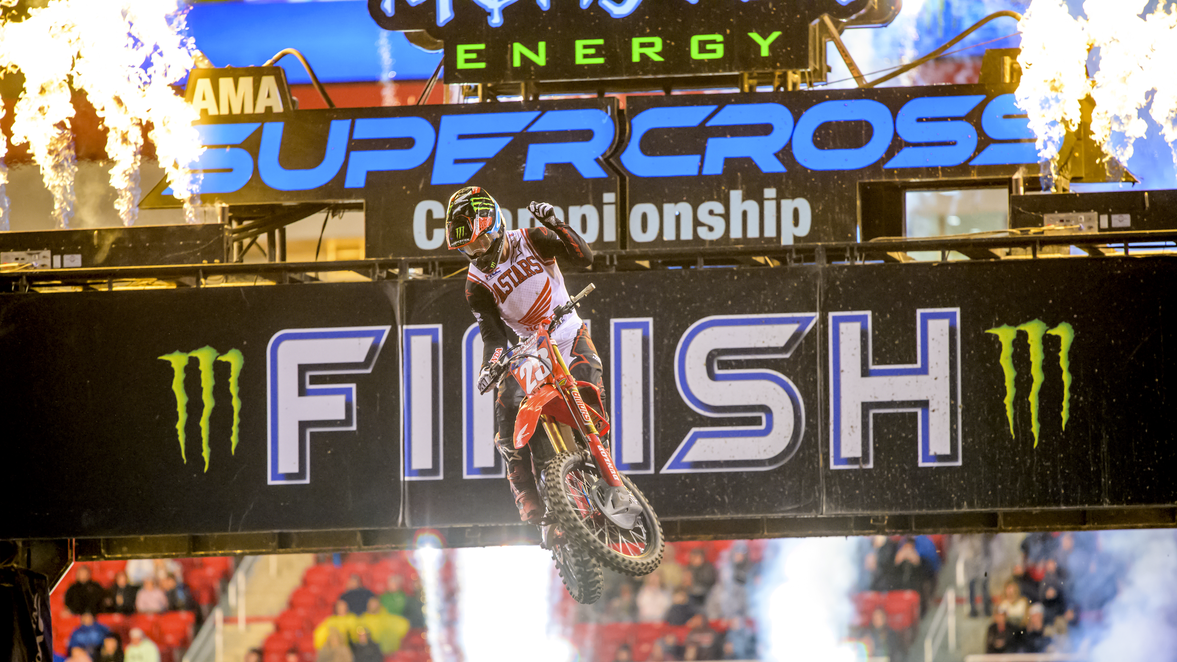 Chase Sexton Crowned the '23 Monster Supercross Championship
Justin Hill joins Sexton on SLC 450 podium, Levi Kitchen takes 3rd in 250 SX Showdown, and Haiden Deegan wins AMA SX Rookie of the Year.
Even though you knew who won, the Monster Energy AMA Supercross finale at the sold-out Rice-Eccles Stadium in Salt Lake City was anything but anti-climactic. Monster Energy's own Chase Sexton (Honda), basically crowned premier 450 class champion the previous week, put an exclamation point on his first-ever Monster Energy AMA Supercross title, winning the SLC main event in an 18+ second beat down over 2nd place Aaron Plessinger (KTM).
"Unbelievable," said Sexton beneath the shadow of his massive Monster Energy AMA Supercross championship trophy at the postrace press conference. "To win tonight, in those circumstances, it was probably one of the better main events I've had. And it's super special to be sitting here as the supercross champion. Obviously, I've had Lites championships, but nothing even comes close to 450 supercross."
Placing 2nd to Sexton in the overall 450 class season standings, having been injured (Achilles tear) at the penultimate round in Denver – and unable to finish that race, nor contest the SLC finals – was Monster Energy's Eli Tomac (Star Racing/Yamaha). "I'm basically at a loss for words with what happened and how it happened," said Tomac earlier in the week, who had a commanding lead over Sexton heading into Denver. "In my mind, it was just a freak deal and a racing situation."
Added NBC announcer and former multi-time Monster Energy AMA Supercross champion, Ricky Carmichael, on Sexton's victory: "This guy worked hard and is very deserving of this championship. And I'll tell you, there's nothing sweeter than doing something for the first time, especially when it comes to a 450 AMA supercross championship."
Dominating the qualifying in front of Suzuki's Ken Roczen and Monster Energy's Justin Hill (Team Tedder), Sexton holeshot the main event and led every lap – en route to a 'statement' victory on his Honda CRF450R. Joining Sexton on the 450 podium, for the first time this season (as well as his career on a 450), was Justin Hill aboard the Team Tedder/Monster Energy/KTM. And rounding out the top ten for Monster Energy were Adam Cianciarulo (Monster Energy/Kawasaki) in 4th and Hill's brother, Josh Hill (Team Tedder/Monster Energy/KTM), with a season-best 6th place finish.
In the support 250 SX East/West Showdown, Monster Energy would be led by Levi Kitchen (Star Racing/Yamaha) with a podium 3rd place finish, which pitted the best racers from each of the two regions in the States. Jo Shimoda (Monster Energy/Pro Circuit/Kawasaki) in 4th, Jordon Smith (Monster Energy/Star Racing/Yamaha) in 5th, Haiden Deegan (Monster Energy/Star Racing/Yamaha) in 8th and Carson Mumford (Monster Energy/Pro Circuit/Kawasaki) in 10th would give Monster Energy five racers in the top ten of the world's premier 250 class main event.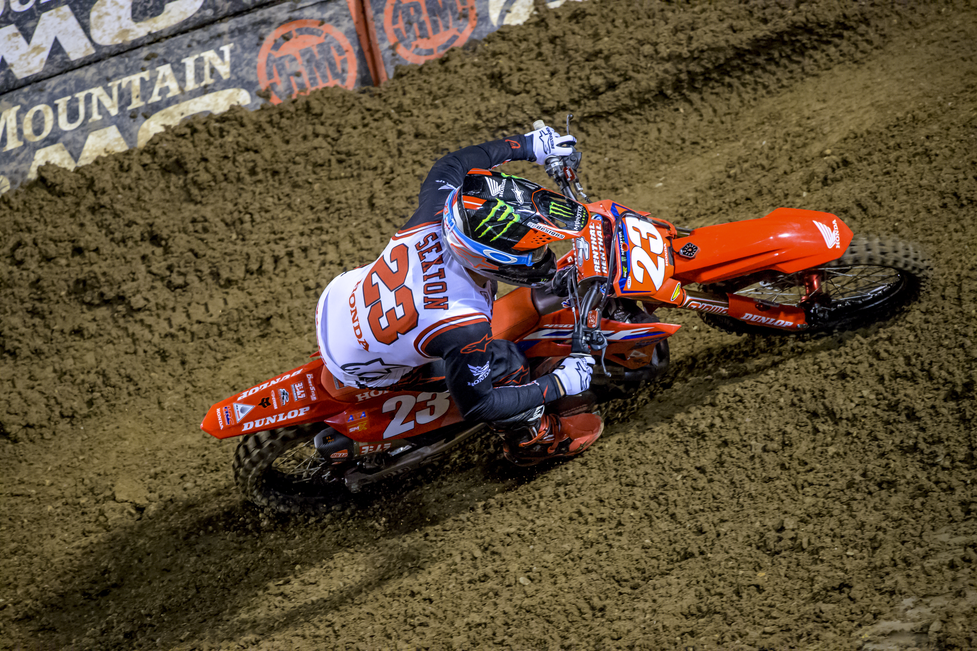 | SLC SX | 450 class results | 250 SX East/West Showdown class results |
| --- | --- | --- |
| | 1st - Sexton (Monster/Honda) | 3rd - Kitchen (Monster/Star/Yamaha) |
| | 3rd - Justin Hill (Monster/Tedder) | 4th - Shimoda (Monster/PC/Kawasaki) |
| | 4th - Cianciarulo (Monster/Kawasaki) | 5th - Jordon Smith (Monster/Star/Yamaha |
| Overall Standings (17 of 17 rounds) | 450 class (Final) | 250 ESX & WSX classes (Final) |
| --- | --- | --- |
| | 1st - Sexton, 372 points | 2nd - Deegan, 168 points (ESX) |
| | 2nd - Tomac, 339 points | 4th - Smith, 141 points (ESX) |
| | 6th - Anderson, 242 points | 4th - Kitchen, 135 points (WSX) |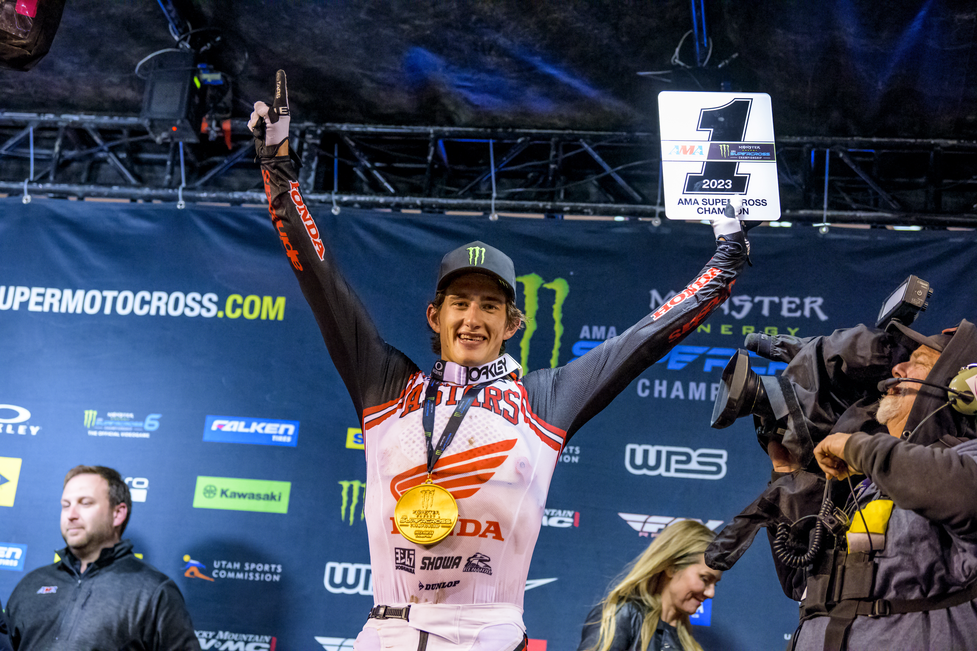 450
Top time in qualifying went to Sexton, with Roczen in 2nd and Justin Hill in 3rd. … In the 450 main event Sexton parlayed the No. 1 gate pick into the holeshot, race lead, and subsequent unchallenged victory. … Cianciarulo nailed one of his better starts of the season on his KX450, coming out in 2nd behind Sexton, while Justin Hill ripped up to 6th place at the close of the opening lap. … With a number of racers out with injury, Tomac and Monster Energy's Jason Anderson (Kawasaki), who was 6th overall in the points and had a couple podium finishes this season, there was no one to challenge Sexton up front, including Roczen, who was injured early on and excited the SLC 450 main (DNF). … Cianciarulo would run fast early, but he too was still in injury recovery mode, having missed a couple recent rounds. Unable to crack the 50-second lap mark, Cianciarulo's times would drop later in the race, allowing Plessinger and, eventually, Justin Hill to catch him for the two podium spots after Sexton. … Cianciarulo did hold strong late in the contest, bringing 'er home in a respectable 4th place. … Josh Hill would average respectable 52.5-second lap times and finished well within the top ten (6th).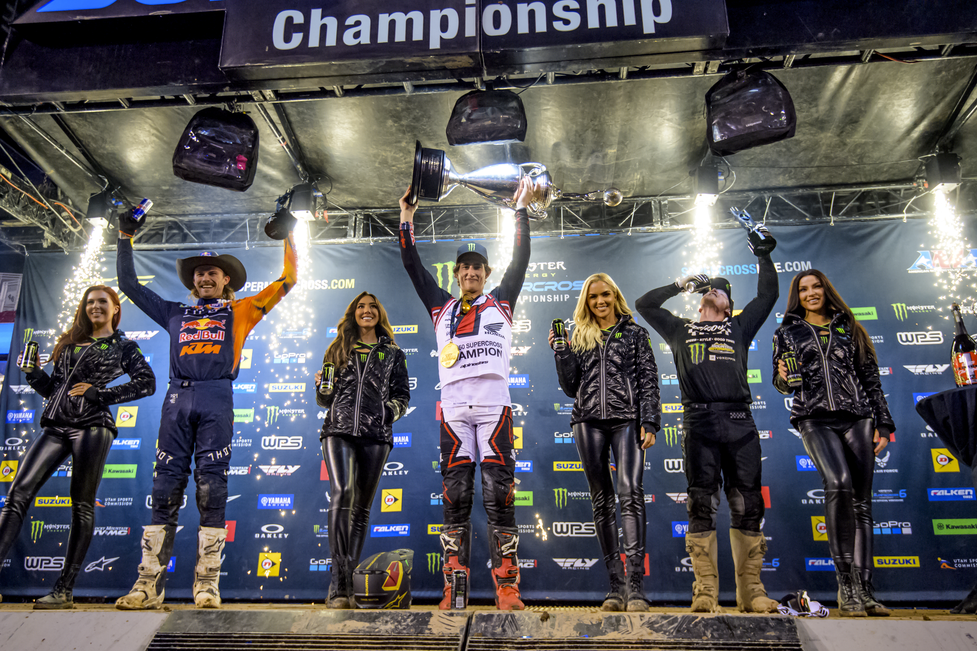 250 SX East/West Showdown
With no Monster Energy racer qualifying in the top three at SLC, Deegan did manage to win his heat race (No. 1) to send a message to the rest of the 250 main event field. Kitchen would then power on to the Heat 2 race victory… The skies would open up prior to the start of the 250 main, making for some tricky conditions off the start and opening lap. … Kitchen would be the top Monster Energy guy out of the start, finding enough traction to circle in 3rd place after the opening lap, with Shimoda in tow in 4th. … The lead riders, RJ Hampshire (Husqvarna) and Jett Lawrence (Honda), would separate, with Lawrence taking the lead on Lap 8 of the 18-lap contest. But from there the East/West Showdown featured a slew of Monster Energy-backed racers vying for the final podium spot, top five and top ten positions amongst the greatest field of 250 SX racers in the world. … Deegan, who had a rough go on the opening lap (13th), would battle back into the top ten, but wasn't able to gain any position past 8th. Shimoda (4th), Smith (5th) and Mumford (8th) would join podium placer Kitchen (3rd) in the top ten at the final 250 race of the '23 Monster Energy AMA Supercross season.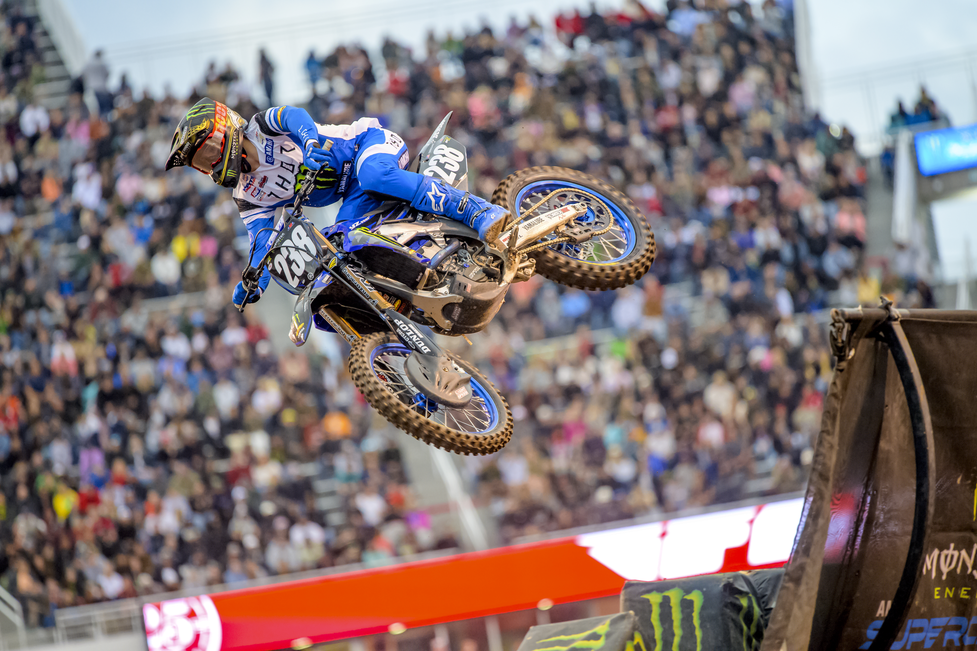 Notes & Quotes
"It takes a team. And throughout this year, through the ups and downs, we had some frustrating moments. But we persevered through those, I never gave up and it definitely paid off," said Sexton of his championship.
"My goal coming in to today was to win," added Sexton. "Just put a stamp on the season, really."
"Yeah, it's kind of crazy," said an elated Justin Hill at the postrace press conference. "A lot of life has happened in the last two years. I've got two kids, was doing all this other stuff, and not riding at all. Having a lot of fun, but got the itch back (to race supercross) last summer."
"Quite honestly, I kind of took more time off during the week than I ever have in my career," admitted Justin Hill on his training practices this season. "Dakota (Tedder) kind of spearheaded that. Lot of rest and just left the bike alone."
Hill finished 5th at Nashville and 4th at Denver before nailing the first 450 podium finish of his career at SLC.
For Cianciarulo (4th) it was nine laps of podium speed at SLC, nearly earning him his second-straight podium following a 3rd at Denver the previous week.
Kitchen's 3rd place finish in the SLC East/West SX Showdown gave the 250 WSX division the 1-2-3 podium sweep (Jett Lawrence winning, RJ Hampshire 2nd).
Shimoda would be the top placer out of the 250 ESX division with a 4th place effort. Shimoda, who was injured prior to the start of the season, earned three top five finishes in the four races he contested this year.
The veteran Smith, who placed 5th in the SLC East/West Showdown, was one of the more consistent Monster Energy 250 class racers, recording seven top five finishes in nine rounds this season.
"It's been an incredible season. The fans were awesome and I'm just enjoying it. Definitely surprised myself a bit this season, but I'm going to continue to progress and have some fun," said Monster Energy's Haiden Deegan (Star Racing/Yamaha) on his 2023 AMA SX Rookie of the Year award.
Deegan finished 2nd overall in the 250 ESX standings with 168 points, scoring three 3rd place podium finishes on the season and six top five finishes.