/ /

Motor

All NEWS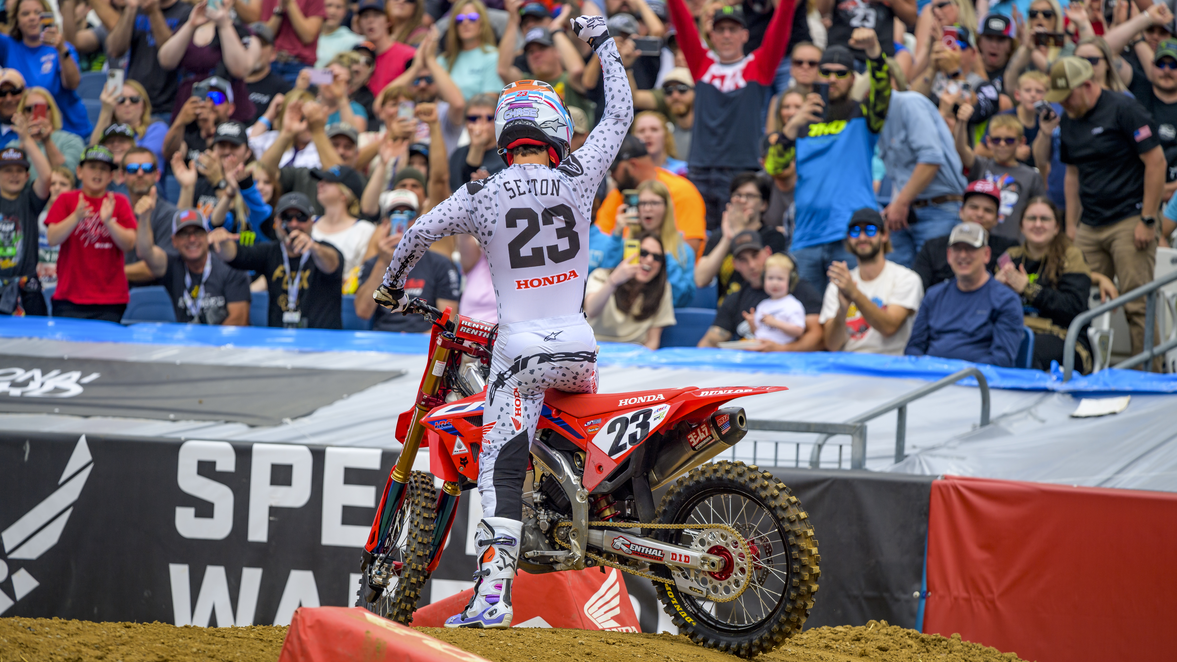 Chase Sexton Wins Nashville SX 2023
The Chase Sexton win, coupled with a Cooper Webb DNS, moves Sexton to 2nd place in the overall 450 class standings with 2 races to go
Massive turn of events in the Monster Energy AMA Supercross championship series' overall 450 points chase on Saturday as Monster Energy's Chase Sexton (Honda) raced to victory, ahead of overall point leader Eli Tomac (Monster Energy/Star Racing/Yamaha), to give Monster Energy the 1-2 main event finish at Nashville's (Tenn.) Nissan Stadium.
And in pursuit of overall point leader Tomac the past several races, KTM's Cooper Webb (2nd place overall heading into Nashville) suffered a rough get off in his heat race and was unable to answer the bell for the 450 main event – allowing race winner Sexton to take over sole possession of 2nd place in the series, 18 points back of Tomac (338-320) with two races remaining on the '23 Monster Energy AMA Supercross series schedule.
For Tomac, a possible victory next week at his home track in Denver would give him a 21-point lead (should Sexton place 2nd in Denver), and afford him a 17th place (or better) finish cushion at the Salt Lake City finals to secure the '23 Monster Energy AMA Supercross premier 450 class championship (with a Sexton win at SLC). The veteran Tomac, though, says the plan is to play it safe.
"I'll do what I can to manage it, and not take any unnecessary risks," said the two-time Monster Energy AMA Supercross champion Tomac. "I guess at this point my goal would be podiums."
Added Sexton: "Obviously, he's (Tomac) got a big points lead. (I) Just want to go out there and put my best foot forward, try to win these last two races. We'll see what happens."
Rounding out the 450 class top ten scoring for Monster Energy was Justin Hill (Team Tedder), scoring a season-best 5th place finish. Monster Energy/Kawasaki's Jason Anderson would bring 'er home right behind Hill in 6th, with teammate Adam Cianciarulo, who rallied back from an injury that had him on the sidelines for a couple races, placing a strong 8th. And in 10th place was Hill's brother, Josh Hill (Team Tedder), who helped make history again – following up a similar finish by the Brothers Hill earlier in the season that marked the first time in Monster Energy AMA Supercross racing history that brothers had made the top ten in a main event.
In 250 Eastern Supercross (ESX) racing, Monster Energy enjoyed a big night with two racers on the podium – Josh Shimoda (Pro Circuit/Kawasaki) in 2nd and Jordon Smith (Star Racing/Yamaha) in 3rd – along with Haiden Deegan (Star Racing/Yamaha) right behind in 4th place to secure 2nd overall in the ESX championship point chase in his rookie year.
Nashville SX
450 class results 250 ESX class results
1st - Sexton (Monster/Honda) 2nd - Shimoda (Monster/PC/Kawasaki)
2nd - Tomac (Monster/Star/Yamaha) 3rd - Smith (Monster/Star/Yamaha)
5th - Justin Hill (Monster/Tedder) 4th - Deegan (Monster/Star/Yamaha)
Overall Standings (15 of 17 rounds)
450 class 250 ESX class (Final)
1st - Tomac, 338 points 2nd - Deegan, 168 points
3rd - Sexton, 320 points 4th - Smith, 141 points
6th - Anderson, 242 points 7th - Nate Thrasher, (Monster/Star/Yamaha), 120 pts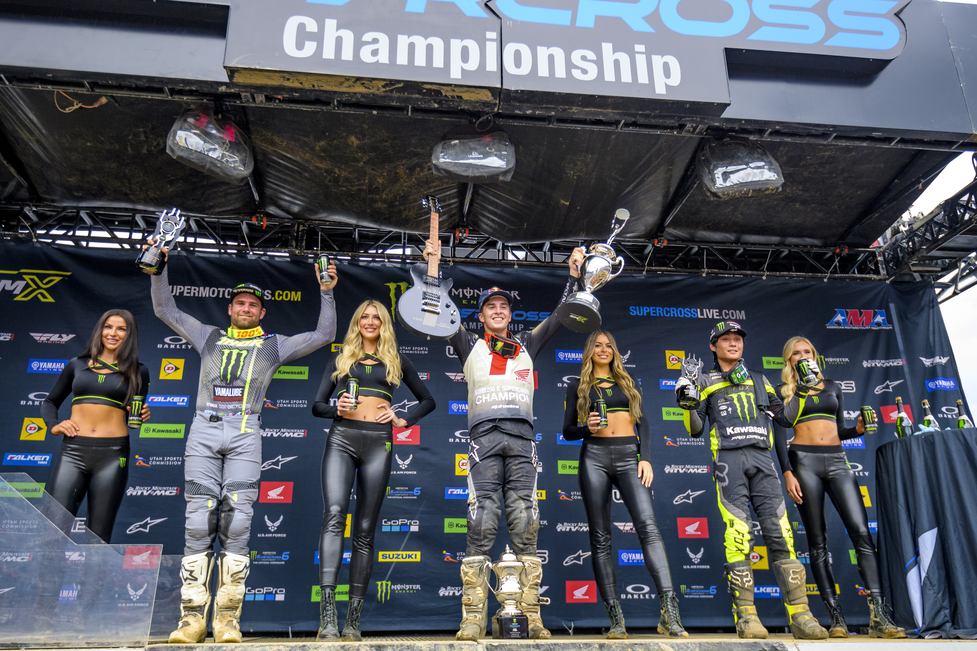 450
Anderson would have the most rugged road to the 450 main event, cross-rutting and flying off the track onto his shoulder on the Nissan Stadium floor concrete in his heat race, then rallying back to win the LCQ to transfer to the main. … In the main, Tomac pulled a rocket ship start to lead the field into, and out of, the first corner for the holeshot. … Out in 2nd place behind Tomac early on in the race, then into 3rd behind Sexton, was Justin Hill. Hill held tight to that 3rd position for several laps before a lapper forced him off the track while battling with Ken Roczen (Suzuki). Hill was able to re-enter the track, but not before losing a couple positions, ultimately costing him a shot at the podium. … Tomac would have a scare near the 5 minute mark of the race when he nearly went over the bars on his YZ250F, but reeled it back in and re-gained his momentum and lead – though Sexton would make up a bunch of time on Tomac at this point. … On Lap 12 (of 23) Sexton would catch – and pass – Tomac for the lead. Monster Energy's Honda rider would put the hammer down from there, winning by 14 seconds over Tomac (and 29 seconds over 3rd place Roczen). … Tomac, as announcer Ricky Carmichael said, would put it in "championship mode" and ride home in a solid 2nd place. … Justin Hill would race to a season-best 5th place finish, moving him into 8th place in the overall standings – the top non-factory supported racer in the 450 standings. … Anderson would battle back from his heat race crash to place a respectable 6th, with teammate Cianciarulo in 8th and Josh Hill in 10th.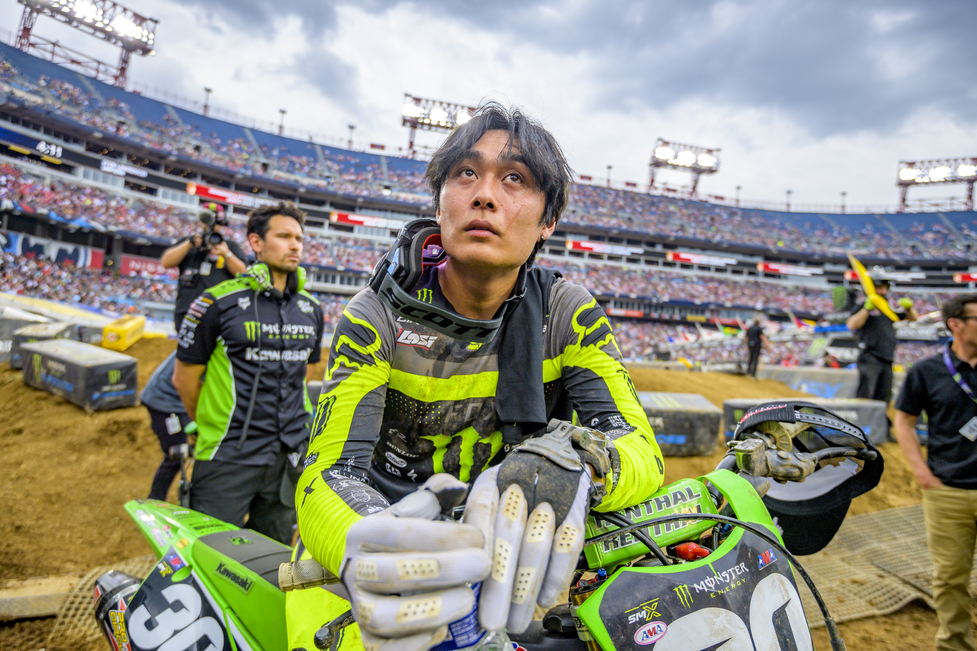 250 ESX
Smith, who won his heat race earlier in the day, got out in 2nd place behind holeshot winner Hunter Lawrence (Honda), then blasted past the 250 ESX points leader and into the lead on the second turn. … As Smith and Lawrence battled up front, Shimoda would make a pass on Jeremy Martin (Yamaha) on Lap 2 for 3rd. … On Lap 4 Lawrence would get past Smith when Smith made a mistake and left the track momentarily. … At the halfway point Shimoda was putting up the race's top lap times, trailing Lawrence by 1.9 seconds, with Smith 3.7 seconds back in 3rd. … Deegan would square up former 250 champion Martin on Lap 9, taking over 4th place and giving Monster Energy three of the top four racers in the Nashville 250 ESX main. … Deegan would put the hammer down in order to hold onto 2nd place in the overall standings, having a slim 1-point lead heading into Nashville over 3rd place Max Anstie (Honda). … With 3.5 minutes remaining Shimoda and Smith would lock into battle, with Deegan putting up the second half of the race's fastest lap times in pursuit of the two Monster Energy-backed racers. … At the checkers it'd be Lawrence, with Shimoda, who was injured for much of the year, scoring his first ESX podium of the season. … Deegan's lap times would drop (from 54 to 56 seconds) late in the race, and he'd have to settle on 4th behind 3rd place Smith – but gained a point on Anstie (168-166) to secure 2nd place in the overall ESX point chase in just his first year racing pro supercross.
Notes & Quotes
"It was just a racing incident," said NBC announcer James Stewart on Cianciarulo being unable to avoid the fallen Webb, clipping him with his bike and knocking Webb out of the heat race and, subsequently, the main event. Cianciarulo would apologize to Webb later in the day.
"Look at that form. Seems like he's locked in and at one with the motorcycle," commented NBC announcer Ricky Carmichael on Tomac's picture-perfect holeshot in the 450 main event, the Yamaha racer's sixth holeshot victory of the season.
Said Sexton following the race: "That was a tough track, but I felt super smooth, really locked in and I feel like I'm making big strides."
For the ever-consistent Tomac, Nashville's 2nd place podium finish was his fifth podium in the past six rounds – coming on strong towards the end of the season when it really counts.
"I had a bobble in the whoops and that's when I started to take it easy," said Tomac of his near crash at the five minute mark, which allowed Sexton to catch up and eventually pass Tomac for the lead.
As mentioned earlier, Anderson had a rough afternoon in Nashville. In addition to slamming in his heat (#2) race, Anderson went down in qualifying and banged up is shoulder. Not ideal to have to make the main via the LCQ, but the ever-tough Anderson gutted it out and won it (LCQ).
Shimoda shined in the 250 ESX main event at Nashville with his first podium finish of the season after being injured in practice prior to the start of the season. "The last couple of months was a lot of couch sitting, and it wasn't fun," he said. "Just to be out here is awesome to me. We'll just keep pushing and doing this thing."
Smith, who handed the race lead to Lawrence on Lap 6 when he briefly lost control of his bike and left the track, was pleased with his battle for the race win with Lawrence. "That's where I want to be, battling for the win. I just have to eliminate those mistakes," he said.
Deegan's 4th place finish – his sixth top five finish of his rookie season – was enough to secure 2nd place overall ahead of Anstie in the final ESX points standings.
Said Deegan's father, Brian, on the history of he and Haiden racing dirt bikes in Tennessee. "I've been here once a year every year to race Loretta's (The Monster Energy AMA Amateur National Championships held at the late Loretta Lynn's Ranch in Hurricane Mills, Tenn.)," said Brian Deegan. "Loretta's was the most important race of the year during Haiden's amateur careers. Now he's graduated to professional racing, supercross, and man, it's been a great season."