/ /

Motor

All NEWS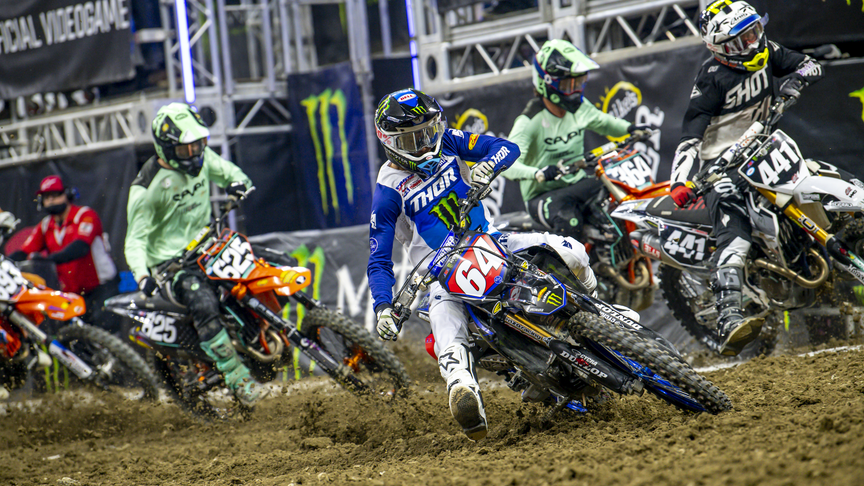 Colt Nichols: Ready for the Moment
For Monster Energy/Star/Yamaha Racing's Colt Nichols, his unique journey to the forefront of this year's 250SX Eastern Regional Championship is arguably the most divergent we've ever seen.
For the most talented supercross riders the path to success is often streamlined - sign with a factory effort as an amateur and follow their guided progression to the professional ranks. It's a template the vast number of the sport's most successful names followed, and it's a proven formula that all young racers aspire to be a part of. However, like any other sport, there's always an opportunity for an outlier to shake up the status quo and find the way to the top in his own way. For Monster Energy/Star/Yamaha Racing's Colt Nichols, his unique journey to the forefront of this year's 250SX Eastern Regional Championship is arguably the most divergent we've ever seen.
Like countless others, Nichols was part of the coveted group of elite amateurs in his youth. He was a fixture for Monster Energy Kawasaki Team Green, but when the time came to make the transition into the pros in 2013, the Oklahoman missed out on a spot on Mitch Payton's coveted Monster Energy/Pro Circuit/Kawasaki team.
At that point, Nichols assessed his options and stuck with Kawasaki support by making the move to AMA Arenacross to race for the dominant Team Babbitt's Monster Energy Kawasaki squad, which was a mixed bag. Nichols then followed guaranteed money for a summer racing in Costa Rica, riding another Monster Energy sponsored Kawasaki. That ultimately led to a return to Loretta Lynn's Ranch with Team Green, where he finished second to 2014 AMA Horizon Award Winner and fellow veteran racer RJ Hampshire.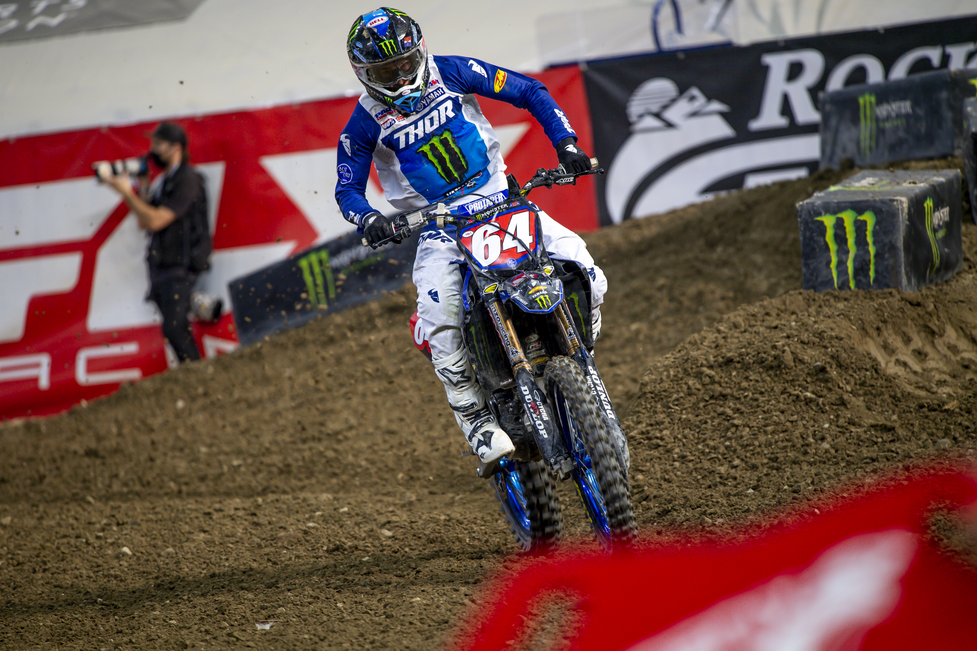 Nichols Creating His Own Opportunity
The talent and work ethic was there, but what Nichols was missing was an opportunity. He made his Monster Energy Supercross debut in 2015 with Crossland Honda and became a mainstay in Main Events before suffering a torn ACL. On the mend and once again in search of a ride, Nichols joined the beloved underdog squad at Rock River Yamaha for the 2016 season. It proved to be arguably the most pivotal decision of his career.
Modestly funded with small scale support from Yamaha, Rock River was known as a team capable of punching above its weight, and Nichols proved as much. He never finished outside the top 10 and managed to break through with a memorable runner-up performance in Oakland, which caught the eye of Star Racing owner Bobby Regan.
Regan decided to give Nichols his first factory-backed ride for the 2017 season. Despite the unconventional approach to his pro career up to that point, Nichols proved that results are what matter most, and his persistence was rewarded.
"It wasn't the traditional journey, to even get to a factory-supported team. To be honest, that was just the goal for the while. Once you get there the goals tend to elevate and you continue from there. In the 2013 and 2014 era, it was a little tough for me because I didn't know what I was going to do. I wanted to race at a really high level but I just didn't have any options. Everyone's journey is different, mine just happened to be a little more different. But, it was a situation meant for me. It worked out just the way it was supposed to and I needed that different kind of perspective on life and racing at the time. It helped me grow a lot. It helped me mature as a man, as a person, and as a racer too, to be thankful for what I have. Definitely wasn't conventional and what I wanted at the time, but looking back it's the best thing that could have happened to me. It really makes me appreciate the position I'm in now."


Support Through Injuries
With the opportunity of a lifetime ahead of him, Nichols' first two seasons with Star Racing were marred by serious injuries, with a broken leg suffered prior to the start of the 2017 season and a broken arm derailing his 2018 campaign. Although he made just six supercross starts during that span, the results were proof of the promise that got him to the team in the first place, with podium finishes in half of those races.
"It's tough [when you're injured]. When you get put in those positions and you're at rock bottom, all you do is sit there and think. All you have is time to just ask why did that go wrong? You're trying to find an answer and a lot of times there's not really an answer for it. Things happen and a lot of the time they're out of your control, but I always knew if I was just healthy and I could ride to my ability then I would be able to do something like [I'm doing this season]."
Despite all the heartbreak, he was fortunate to have the unwavering support of Regan and the Star squad. Nichols received contract renewals while on the path to recovery, which was a true testament to the belief Regan had in his rider's potential. That vote of confidence from the team in his darkest moments helped stoke Nichols' fire and gave him, even more, resolve to accomplish what both he and the team knew he was capable of. That determination has been amplified by the support of the team manager and friend Wil Hahn.
Hahn, a former 250SX titleholder, is keenly aware of the ups and downs Nichols endured in his career. Hahn himself took a less conventional path to success, but in the end, his patience and persistence paid off as well. If anyone knew that Nichols would have the ability to come back stronger and put himself in the position he currently sits in, it was Hahn.
"Wil is awesome, honestly. When he came on board to be team manager of this team I had just signed another two years. That was really cool to know that we were going to get to work together. I looked up to Wil when I was younger. He was coming out of Kansas and I was from Oklahoma, I just knew him really well as midwest boys. To have him in my corner, with the championship experience that took him a little bit to find, we just have the same kind of perspective. When you have that, it's just easier to understand each other. He gets where I'm coming from. We're never really off or on different pages. We're usually just kind of thinking of the same kind of things. That's pretty huge when you're racing for a championship. I've had him to lean on because he's been there and done that. It's always good to have someone like Wil by your side to give you that reassurance."
Overwhelmingly grateful for the commitment and support of his team, Nichols was determined to show his gratitude by getting the job done on the racetrack. The 2019 season proved to be a breakthrough and brought Nichols his first win and first healthy supercross season with Star, with a third-place finish in the championship. While injury once again forced a setback during the upended 2020 season, Nichols was still a perennial contender.
With the fifth season at Star Racing upon him, Nichols began preparations for the 2021 season with a focus on getting more out of himself. He took a different approach to his fitness with trainer Gareth Swanepoel, avoided adversity while testing, and entered the opening round more prepared than ever before to chase the championship. Nichols was ready, and he had a new teammate in Christian Craig that was sure to push him. Now, with the 250SX East Region gearing up for its stretch run, it's a two-rider race for the championship between Nichols and Craig.
"Now, being able to race at this level, is really the dream. Much less to be winning races and doing so consistently as I have. It's something I wanted to do the whole time. That's kind of what kept me going during those times [early in my career and when I was injured]. It was the idea that maybe I could be doing stuff like this someday, win races and be a championship contender. To be where I am and the struggles it took to get here, was just part of it and I wouldn't have it any other way. I'm happy to be where I'm at and the journey it took to get here."
Nichols has been a dominant force thus far, taking full advantage of the lessons learned during all those years of uncertainty and grinding to keep hope alive. He's fully aware that this is his moment, and he knows he wouldn't be in this position had he not made those decisions early in his career. His growth as a person and maturity as a rider is a direct result of those experiences, and it's why this moment isn't too big for him. He's been through tougher challenges than this. He's simply making the most of the opportunity that lies before him.
"As far as the pressure goes, I think of this as pretty small and relative in terms of what I want. I'm taking it race by race and, to me, you're only a success when you perform a successful act. As soon as that's over everyone's forgotten about it and that's done, you're looking on to the next race. Just having that mindset has helped me take it day by day, race by race, and trying to understand that we're far from finished. That's keeping me motivated and helps me make sure my head is down to the ground, focused on the end goal."