/ /

Motor

All NEWS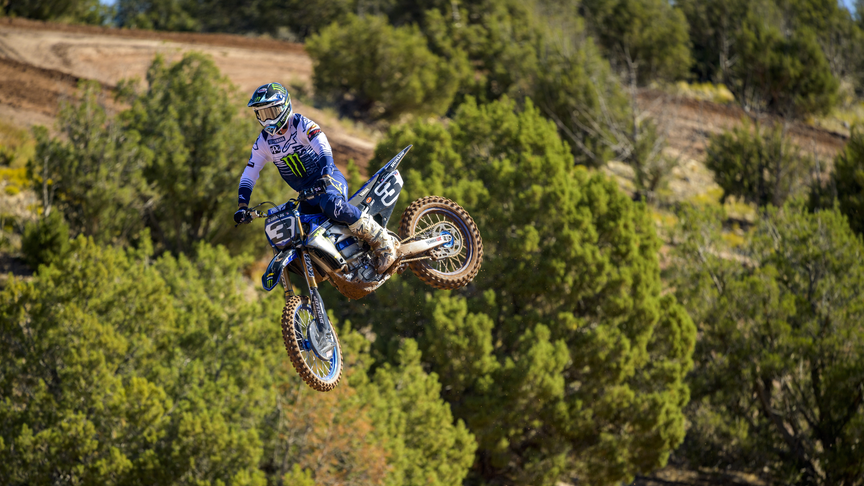 The First Ride | Eli Tomac Moves to ME Star Racing Yamaha
Eli Tomac moves to Monster Energy Star Yamaha 450 Team from Monster Energy Kawasaki.
On Tuesday, October 5, 2021 two significant items transpired in the world of Monster Energy Supercross. First, tickets went on sale for the Angel Stadium round of the 2022 Monster Energy Supercross Series. Set for Saturday night, January 8, 2022, supercross and motocross fans the world over already have their sites firmly affixed on Angel Stadium in Anaheim, California. Second, Eli Tomac, a three-time AMA Pro Motocross 450MX champion and the 2020 Monster Energy Supercross Series champion, made a totally unexpected move in shuffling away from longtime employer Monster Energy Kawasaki and right on over to the Monster Energy Star Yamaha 450 Team. For a racer who first entered the professional ranks all the way back in 2010, the move is profound. Currently the most decorated and successful rider in American motocross and Supercross, the fact that veteran Tomac has taken such a major swing in changing up his racing program so late in his career has created a huge buzz within the sport and sent more than a few hardcore fans to the Supercrosslive.com and Ticketmaster websites in search of tickets dated January 8, 2022.
"I still have the itch for chasing green flags and checkered flags and being on the start line," Tomac told the racing world this week. "I still like to do it, so that's it: I still like to do it. I still enjoy trying to win races and trying to be the best guy. So, that's why I'm still around."
And so with all of that, we tracked Eli Tomac down on Tuesday, October 5, 2022 and found him stationed at 6,191-feet altitude in Cortez, Colorado. What was he doing there? He and 10 members of his new team were present for the very first day of testing the Monster Energy Star Yamaha YZ450F race bike.
"The wheels are off the bike," pointed out Tomac when asked if he had time for a quick interview for Monster Energy. "Let's go ahead and do it. Let's bust it out."
So today truly is your first day with the Monster Energy Star Yamaha Team?
Yeah, we're on day one with the Star Yamaha Team and we're just breaking it down. We're starting on motocross testing right now. We're trying to get a good base and that gives you a little more leeway for figuring out where we want to go in starting out on a motocross track. We're not totally thrown into the fire. We started with some moto and then maybe at the end of the day tomorrow, I think we're going to be on a Supercross track, so so far, so good. We're liking what we are doing right now as a whole, and yeah, we're just getting into it. it's very cool and it's refreshing as a racer. It's not the reason I made the switch. Either way you look at it, it is refreshing and it's a good young group of guys I'm working with and we're all super-motivated.
Sometimes change can be good, huh?
It can. The new change definitely makes it easier to get up in the morning and to get to work. It's something that I've been looking forward to. I think they can give me, as a racer, a really competitive package in both supercross and motocross. Dylan Ferrandis had really good success in motocross this year, so I look at that and it gives me confidence for what we have coming in the future.
After racing Kawasaki works bikes for over a decade, do you have a good feeling about the Yamaha YZ450F?
I do. From what was first delivered to me, I think that we are going to be in good shape for being where we want to be.
You're now a part of team that's entirely new to you as well as in possession of a race bike created by a manufacturer you've never raced for, it's not going to be just you out there riding, but the entire might of Yamaha Motor Co. Ltd.
Yes. And it's a full team effort and it's a big crew. It's really similar to what you just said. It's at least eight guys that come to a race weekend and then there are even a couple more guys working back at the shop too. There are a lot of people riding with you out there. Not only the whole company is riding with you, but there are a lot of crew guys that are hands-on and all behind the effort.
And when that gate drops it's just you out there, isn't it? It's all on you. You're out there representing one serious racing effort.
Yeah (laughter). It's cool though, and it makes the success that much sweeter because you have days like this even today, you know? We've been out here today and been at it and fine tuning and finding the good stuff and it's just satisfying when you can go get them the results. It's really cool to have that feeling.
Being a world class Supercross racer is certainly a tough way to make a living. It is nothing but your 10 fingers and 10 toes keeping you on the motorcycle. Then you're required to leap off jumps the size of small office towers, all of this while your heart is trying to pound its way out of your chest and sweat is pouring in your eyes. Then, you have to land in a 10-inch rut. And all of this while 19 other guys on 450cc motocross bikes want nothing more than to beat you and take what is yours. You gotta be precise.
Yep, and it's a precision sport, you know? It's precision in a different way. Road racing uses a lot of the same lines, and that is really gnarly precision as well. For motocross, you have to train your brain for timing. Same thing for supercross. You have to train your brain for timing there as well. You have to time everything as far as how far you need to jump and how much throttle you need to give the bike. Your depth perception also has to be on the absolute best that it can be. Like you said, if you miss a jump by a foot you know there are serious consequences for crashing.
And if you get tired out there and can't really hang on like you want to, tough luck?
Yep (laughter). Yeah, you have to keep going and like you said, we have no cage either. That's what makes supercross so gnarly. If you make the mistake, you're hitting the ground. It's definitely grueling out there for those 20 or 30 minutes. But you know what? It's a lot of fun. It's just a rush. I still haven't found anything that's really that close to the adrenalin rush of being on a dirt bike and flying through the air, so it's something that you just fall in love with.
I came across a few of your quotes in the motocross media this week centering upon the fact that you still love to race and chase checkered flags and striving to be the best racer in the world. That all hasn't worn out for you?
That's why I'm still doing it. That's why I'm still doing it and it is kind of like what I just mentioned. I haven't found anything that gives me that kick. I can't scratch that itch with anything else. I'm also so competitive and that's why I keep doing this supercross and motocross thing. It's something that is hard to get away from once you fall in love with it.
In recent months you have talked about the fact that you've become older and wiser and more mature about racing and your approach to it.
That's what happens, You get older and you kid of process things differently. I mean when I am on the starting line it's kind of more of a calm feeling now. You're ready to go and you're chasing the checkered flag, but it's a different calm and just think that's age. As the years go by, you kind of figure out what works for you and what doesn't work for you, so I think that is part of the calming too. I don't know if there is a direct line that you can refer to in our sport, but yeah, I'm getting a little bit older and I feel like I can totally be competitive until I'm 30 in this sport. I turn 28 in November. We're going to give her next season, for sure.
The 2022 season opening Angel Stadium Supercross is now basically three months away. Not a terrific amount of time. What's the plan of attack for you and the team for October, November and December?
The plan of attack is starting here in Colorado and then we actually go to Florida and spend some time there because this team is basically based just north of Tallahassee, Florida and right there with Ricky Carmichael's old farm. That's our new home base, so a lot of testing will be done down in Florida. In December we will be riding in California. We are a little bit all over the place, which is good for testing and riding and being on different tracks. Like I said, we're going to be a little bit of everywhere right now.
It'll be awesome to have everyone back at Angel Stadium come that second Saturday in January, won't it?
I'm looking forward to it. I mean we missed the Anaheim opener last year. Anaheim is kind of like the Daytona 500 for us, you know? You kind of get that feeling at Anaheim I and Anaheim definitely creates that buzz and I can't wait for Anaheim I.
Can you win the 2022 Monster Energy Supercross Series Championship?
Yeah, we can. It's absolutely doable. I wouldn't have signed a new contract if I didn't think I could do it and we can do it as a team. That's the only thing we're shooting winning and that's winning.