/ /

Motor

All NEWS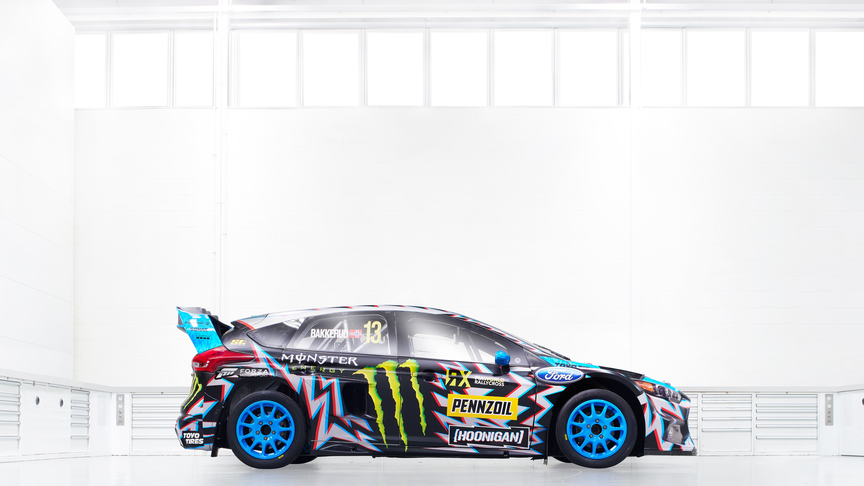 Hoonigan Racing 2017 World RX Livery Breaks Cover
Incorporating Hoonigan's infamous "Kill All Tires," and "Ain't Care," slogans, the new liveries on Ken Block and Andreas Bakkerud's Ford Focus RSRX racecars harness the look of intense energy
With the season opening round of the 2017 FIA World Rallycross Championship just around the corner, Monster Energy is pleased to share Ford Performance, Hoonigan Racing Division and Ken Block's announcement of their freshly designed race livery in collaboration with U.K. artist David Gwyther—aka Death Spray Custom.
Incorporating Hoonigan's infamous "Kill All Tires," and "Ain't Care," slogans, the new liveries on Ken Block and Andreas Bakkerud's Ford Focus RSRX racecars harness the look of intense energy (with lightning bolts!) while combining a 3D element to the pattern.
"Every year, we here at Hoonigan Racing and Hoonigan Industries try and make the best racecar liveries in the world of motorsports," said Block. "We've been able to keep it moving forward with what we do and we're always trying to align our liveries with amazing graphics and artists so that it translates in a dope way to become a visually appealing and unique looking racecar on the track—and therefore will make fresh apparel with Hoonigan, and other awesome products with our partners."
Block continued, "I've been a fan of David's [Death Spray Custom] work for some time and I'm stoked that we were able to work together on this year's livery. It's great to have him be a part of our collective history as a race team."
Bakkerud added: "Our new 2017 Hoonigan Racing liveries are definitely very unique and cool this year, I really like how they've turned out! I think it's something the fans will remember for sure - and this is exactly the type of livery I expected from Ken and Hoonigan Racing Division. Every season there's a new and awesome design and they've done it again. Now I just need to get that design out onto the track this weekend!"
"I misspent my youth by being crammed in the back of an early Ford Escort, chasing rally stages all over the UK," explained Death Spray Custom. "In 2017 it seemed fitting to misspend my time with Ken Block and the Hoonigan team."
Catch the new Hoonigan Racing liveries in the metal along with Block and Bakkerud going wheel-to-wheel with the competition in Barcelona this weekend (April 1/2). Can't make it out to Spain? Check out the exclusive livestream here.