/ /

Motor

All NEWS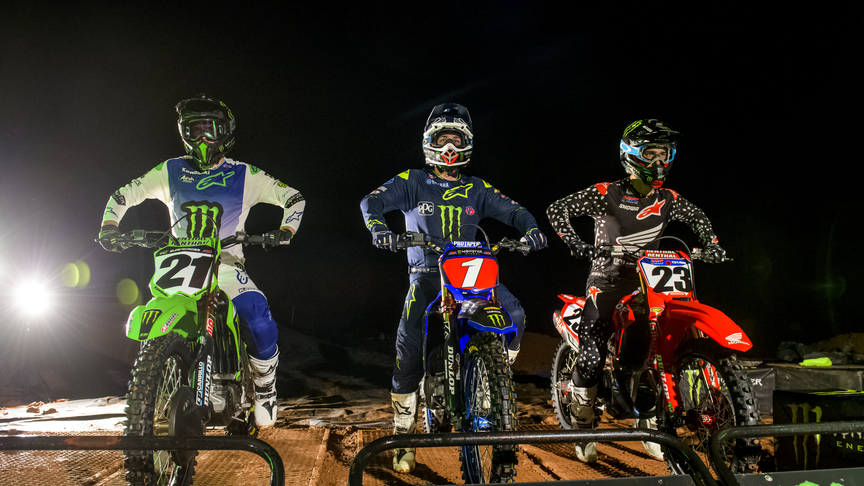 The 2023 Supercross Season Begins
Coming off a banner year that saw Monster Energy-backed racers collect 22 wins on the Monster Energy AMA Supercross series tour (15 out of a possible 17 in 450 class racing and seven wins in the 250 class). It all begins with an iconic return to action this weekend at the series opener in Anaheim, California with a single goal in mind – Championships!
Defending 450 class series champion Eli Tomac (Monster Energy/Star Racing/Yamaha) heads up another all-star team running the Monster Energy-sponsored Yamaha marque, which includes Dylan Ferrandis (injured during '22 SX) and 450 class rookie Justin Cooper, up from the 250 class for '23. And hot on Tomac's rear fender in the chase for the overall 450 crown will be another familiar racer emblazoned with the M-claw logo, Monster Energy/Kawasaki's Jason Anderson – the '22 Monster Energy AMA Supercross 450 class runner-up. Teamed with Anderson on the Kawasakis will again be the blazing fast Adam Cianciarulo, who was injured for much of the 2022 season and no doubt eager to rally back. And following a super sophomore season in supercross, backed up by an unbelievable season outdoors (runner-up to Tomac) is Monster Energy-backed Chase Sexton with Team Honda. And rounding out the 450 class for Monster Energy will be the interesting brother combo of Josh and Justin Hill with Team Tedder/Monster Energy/Mountain Motorsports/KTM Racing.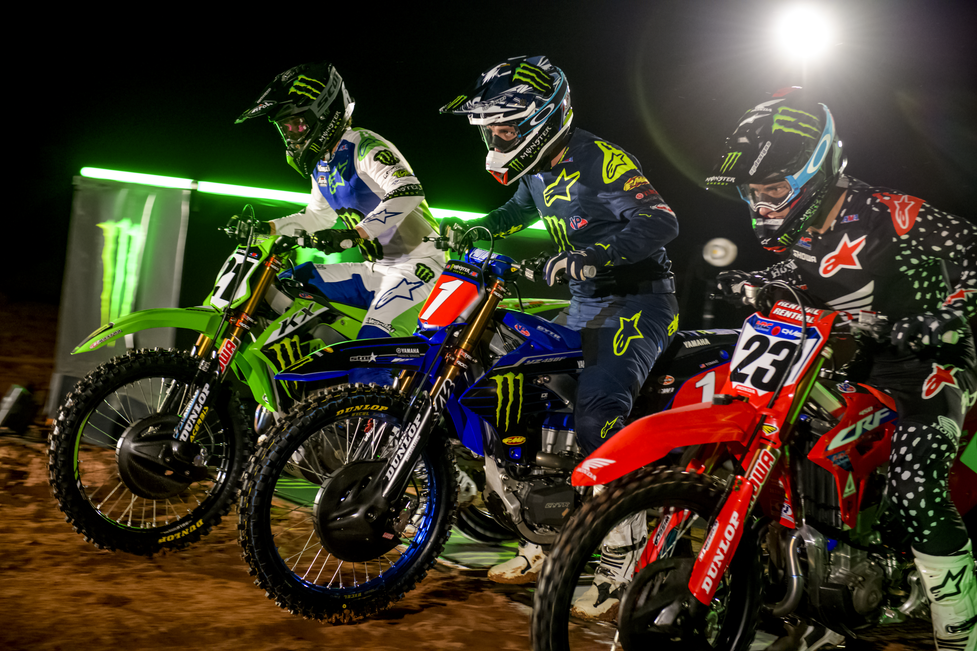 Monster Energy 450 class SX roster
· Eli Tomac (Monster Energy/Star Racing/Yamaha)
· Dylan Ferrandis (Monster Energy/Star Racing/Yamaha)
· Justin Cooper (Monster Energy/Star Racing/Yamaha
· Jason Anderson (Monster Energy/Kawasaki)
· Adam Cianciarulo (Monster Energy/Kawasaki)
· Josh Hill (Team Tedder/Monster Energy)
· Justin Hill (Team Tedder/Monster Energy)
In the support 250 class Monster Energy will again boast impressive numbers across the board with the powerful Monster Energy/Pro Circuit Kawasaki and Monster Energy/Star Racing/Yamaha programs.
Beginning with the Monster Energy/Pro Circuit/Kawasaki squad, all five racers that competed last year for Mitch Payton's program return for the 2023 Monster Energy AMA Supercross season. Opening the show for the team at this weekend's opening Anaheim 1 250SX West Region round will be Cameron McAdoo and Austin Forkner, both of whom placed in the top ten in 250 ESX last year, but had their season cut short by injury. So those guys definitely have something to prove. Payton will then go with Jo Shimoda and Seth Hammaker on the 250SX East Region rounds. Shimoda, who's coming off a highly successful outdoor motocross season (2nd 250 class), placed 4th overall in 250 WSX last season – Monster Energy/Pro Circuit/Kawasaki's highest placer. Hammaker, who crashed – extremely hard – while practicing for Round 3 of '22 Monster Energy AMA Supercross in San Diego, is also looking for consistent SX numbers in '23. Other Monster Energy/Pro Circuit/Kawasaki racers on the 2023 team roster include Ryder DiFrancesco and Jett Reynolds, who may see some limited 250 SX action at some point in the season.
On the Yamahas team manager Jensen Hendler's Monster Energy/Star Racing team has a couple new faces who will look to bolster the already stacked lineup for '23. Stilez Robertson, who won practically everything on a dirt bike as a kid, comes over from the Rockstar/Husqvarna program to Monster Energy/Star Racing/Yamaha, along with Jordon Smith, a former 250 ESX runner-up ('18) who finished a strong 6th last year aboard a Honda in 250 ESX. Robertson and Smith join the already solid team nucleus of veteran Nate Thrasher and second-year pro racers Levi Kitchen and Nick Romano. Third-year racer Thrasher leads the team following an impressive 250SX East/West Showdown victory in Utah last season, highlighting a top five (5th) overall 250 ESX finish. Kitchen is looking to rebound from crash/injury that kept him out of supercross after only one round last season, while Romano will be competing in his first-ever supercross season following an exciting outdoor season in '22.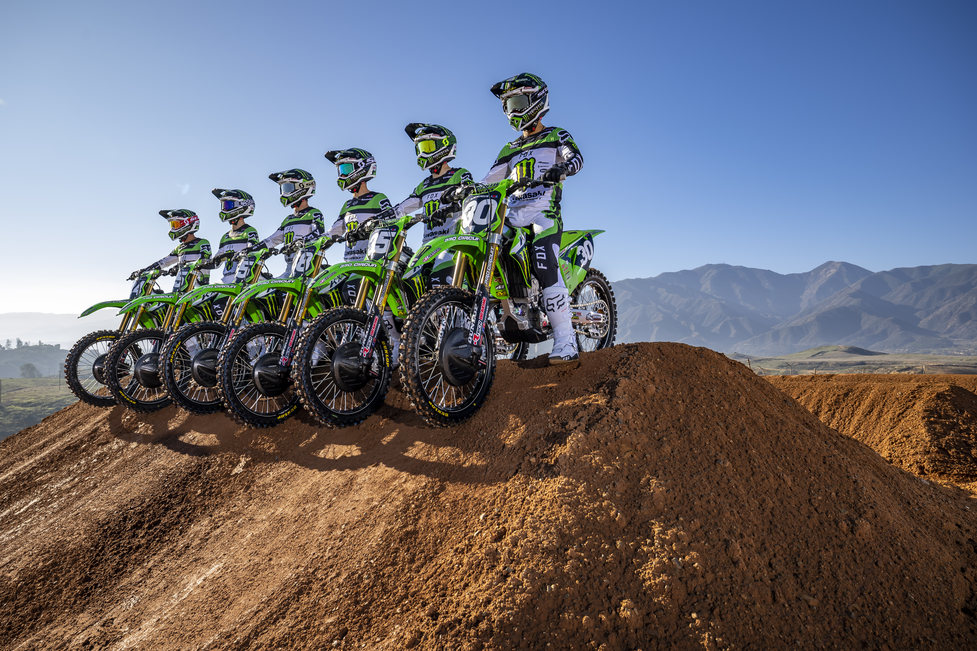 Monster Energy 250 SX class roster
· Cameron McAdoo (Monster Energy/Pro Circuit/Kawasaki)
· Austin Forkner (Monster Energy/Pro Circuit/Kawasaki)
· Jo Shimoda (Monster Energy/Pro Circuit/Kawasaki)
· Seth Hammaker (Monster Energy/Pro Circuit/Kawasaki)
· Nate Thrasher (Monster Energy/Star Racing/Yamaha)
· Levi Kitchen (Monster Energy/Star Racing/Yamaha)
· Nick Romano (Monster Energy/Star Racing/Yamaha)
· Stilez Robertson (Monster Energy/Star Racing/Yamaha)
· Jordon Smith (Monster Energy/Star Racing/Yamaha)
Monster Energy-backed racers' 2022 Monster Energy AMA Supercross results – By the numbers
Race wins: 15 (450 class), 7 (250 class)
Combined wins: 22
Podium finishes: 30 (450 class), 21 (250 class)
Combined podium finishes: 51
THE BIG LEAGUES: TOMAC, ANDERSON, SEXTON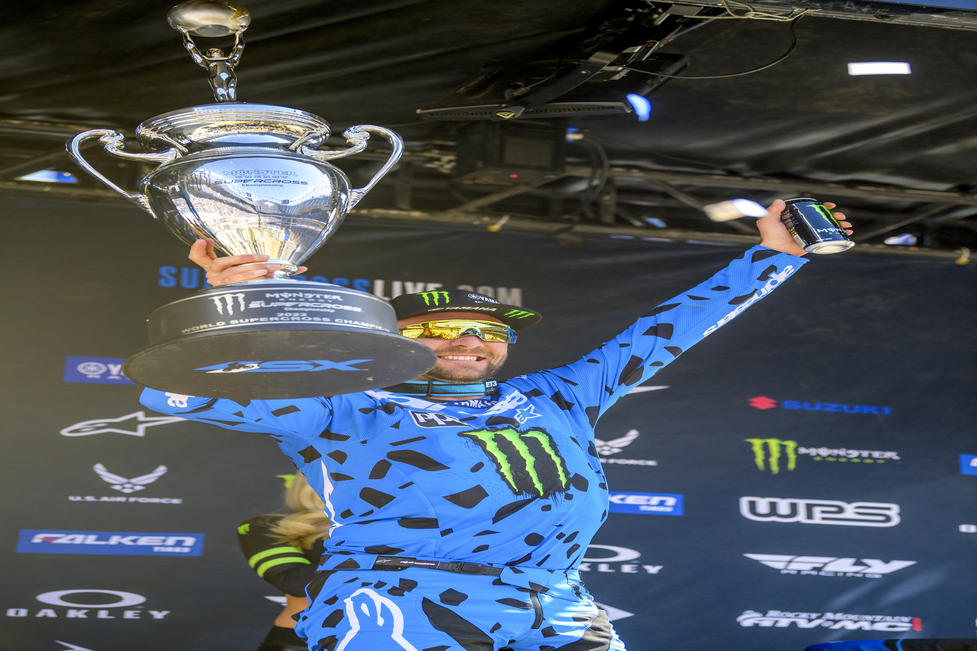 The Reigning Champion: Eli Tomac
Born from Grade-A competitive racing stock and professionally guided through the amateur ranks, longtime Monster Energy-backed Eli Tomac stands tall as a testament to the greatness of American motocross. Fast forward to the current and Tomac put down what will be remembered as one of the greatest years in professional motocross racing history when he won the Monster Energy AMA Supercross Series championship, followed that up by winning the Lucas Oil AMA Championship Motocross Series (in an epic, down-to-the-wire battle with Monster Energy's Chase Sexton), helped Team USA to the Motocross Des National title and, for good measure, dominated the opening round of the inaugural FIM World Supercross Championship.
Tomac's career began on two wheels, spun from the DNA of his professional bicycle racing legend father, John Tomac. Committed to dirt bikes over mountain bikes at an early age, the Colorado-based Tomacs hit the amateur MX scene. From California to Vegas, stops in Texas and Missouri, Florida – all culminating with the Monster Energy Amateur National Championships at Loretta Lynn's Ranch in Hurricane Mills, Tenn. Under the competition-keen eye of his father, Eli graduated from 50cc Cobra bikes through 65s and 85s, eventually arriving at, once he turned 16, the bikes he's still racing on today.
Eli's race career didn't quite start out like other Monster Energy-backed greats, including Ricky Carmichael and James Stewart. At Loretta's, it took him five years before he won his first title… his very first race being a 29th place in the 51cc 4-6 AMA Class 1 division, hardly showing up on this industry's 'Who's Next?' radar in 1999. But the Tomacs would persist, and by the time Eli was an 8th grader, the commitment was made that he would pursue a career racing dirt bikes.
The amateur racing floodgates would burst open for Tomac in 2004, when he captured his first Loretta's title aboard a Suzuki RM65 – winning the 65cc 10-11 Stock class. From there Tomac would add four more titles at Loretta's, his last two coming aboard Hondas in 2009 (250 B Modified & Schoolboy 2). And it'd be Honda that would stick with the young racer out of Cortez, Colo., signing him in 2010 to their Geico Honda 250 program.
As a newly-turned pro racer for Honda Tomac would, in turn, make history for both him and the famous Japanese marque as he became the first – and only – professional motocross racer to win his very first race, doing so at the 2010 Hangtown MX National aboard the Geico Honda 250.
Tomac's 250 class career continued to flourish as he finished as the runner-up in the 2011 Monster Energy Supercross SX West Championship, backed up the following season ('12) by capturing his first-ever SX title. That season Tomac nailed seven 250 class podiums – including five victories. Allowed to defend his 2021 250 SX title, Tomac would wind up taking second, but rallied back in a big way when he won the Lucas Oil Pro Motocross Championship series' 250 class title with seven victories and going 12-for-12 in podium finishes in the 12-round U.S.-based summer series.
It'd be at this point that Tomac would make the move to supercross and motocross' premier class, racing the 450cc bikes. And though he met with great success early, the big bore class proved to be a challenge. Multiple injuries and just plain bad luck would keep Tomac from challenging for titles as he placed 2nd in the Monster Energy Supercross 450 class ('15), and was on a tear in the outdoor MX season before being sidelined with an injury.
Tomac had his 'monstrous' moment in 2016 when he captured his first Monster Energy Cup title, and the six-figure prize, topping a field of the world's top supercross racers at Las Vegas' Sam Boyd Stadium. Two years later Tomac would be only the third rider in the MEC history to sweep all three event motos (1st/1st/1st), becoming the only racer to win the event twice, and pocketed a cool million dollars for his efforts – the richest single event purse in the sport's history.
Beginning in 2017 Tomac would go on a straight-up competition beat down outdoors, winning three-straight AMA Pro Motocross championships ('17, '18 & '19) while continuing to run well in Monster Energy Supercross with runner-up 450 class championship finishes in 2017 & '19.
A Monster Energy Supercross title, his first in the premier class, would come in 2020, followed in 2022 by one of the greatest years ever for a professional dirt bike racer as Tomac combined SX & MX titles, a prestigious Motocross Des Nations title with an ESPN "ESPY" for the Best Male Action Sports Athlete. Wha-BAM!
When he's not banging out laps on dirt bikes, Tomac satisfies his speed jones on mountain bikes, jet skis and sports cars – only slowing, and that includes one of the more grueling CrossFit training programs in the business, to spend quality time with his wife and two young children.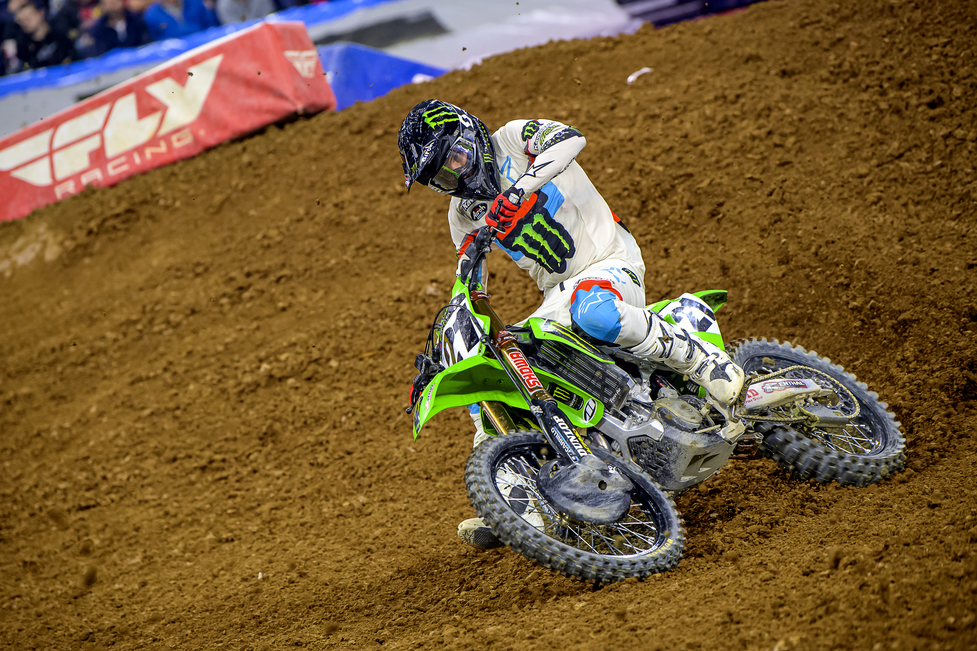 El Hombre: Jason Anderson
"El Hombre" they call him. The fastest clutch lever in the West. Wild as a mustang before famed MX trainer Aldon Baker caught up with him—and helped the shooting dirt bike star channel that unbridled speed and aggression into two Monster Energy AMA Supercross titles. Running the M-claw logo for the factory Monster Energy/Kawasaki team these days, Anderson's affable and spirited personality reins in a sizable cheering section from Budds Creek/Maryland to Hangtown/California. They like the fact he doesn't sugar coat his racing, forging healthy rivalries with top racers in the bowl corners of supercross and deep-rutted berms of the Lucas Oil AMA Pro Motocross Championship. Aggressive, with a slight hint of warrior-based vindictiveness (arising when he's wronged on the track), Anderson rides with a purposeful speed that easily separates him from much of the field. Those that choose to do battle with him are no doubt wary of his laser focus on holding his line – and carrying through to the checkers with victory/podium always in mind – especially when forced to charge from the back of the pack.
As a youth Anderson was marked for great success in American motocross. First plopped down in a starting gate at age seven, Anderson went on an absolute tear prior to turning pro, scoring 72 amateur motocross victories and five coveted Monster Energy AMA Amateur National Championship titles at country singer Loretta Lynn's Ranch in Hurricane Mills, Tenn. The New Mexico native's effort, halfway across the country at Loretta's, was trumpeted loudly with in his final amateur race, when he won the prestigious 450A class championship. With this came the 2010 AMA Horizon Award, followed by factory ride offers rolling in.
"El Hombre" had arrived.
The climb into MX's upper tier of professional racers is never easy. Only a select few, names such as Monster Energy's Ricky Carmichael, have ever made an immediate impact in their freshman on the overall AMA pro racing podium landscape. And Anderson was no different as he went from top amateur to some very pedestrian results in his inaugural year racing pro MX and SX on 250s with the factory Suzuki program. Fast-forward a couple of years, and now under the watchful eye of Baker, Anderson would capture his first 250 WSX title in 2014, then followed that up with a 450 SX ('18) crown – solidifying a chapter in the history of supercross.
Anderson's married to TikTok & Instagram star Kenzie (Meads) Anderson, they are expecting their first child in 2023. Anderson's own escapades can be followed on his YouTube vlog, "Team Fried."
Chase Sexton
Keir Sexton, Chase's dad, knew he had a dirt bike racer from early on. A big-time dirt bike enthusiast, though not much of a racer, Kier brought a 100cc mini bike home for Chase's mom (Kelly) and had it out in the garage at their home in Illinois. And before he could say "Future Loretta Lynn's champ and factory Honda racer," the diapered-clad/one-year old Chase had escaped from his crib, climbed up on the minibike and was trying to start it.
The Sextons had a champion right there.
But amateur national titles, particularly those at Loretta Lynn's (Monster Energy AMA Amateur National Championships) wouldn't come quickly for the young Chase, nor in bundles. In fact, Sexton would be a bit of a late bloomer in terms of amateur national titles, winning his first Loretta's national championship in the 85cc (9-11) Stock class aboard a Yamaha in 2011. And it wouldn't be until 2016 that he'd capture his second and final Loretta's title when he captured the prestigious Open Pro Sport class on a Honda. It was at that point Sexton had arrived, aboard the powerhouse Factory Connection/Honda team's CRF250R, and doubling up with the '16 AMA Nicky Hayden Amateur Horizon Award and the AMA Pro Motocross 250 Rookie of the Year.
Known as much for his impeccable riding style as he was for his stopwatch double take speed, Sexton would parlay those two highly sought-after attributes into Monster Energy AMA Supercross 250 ESX titles in 2019 & '20. Then, with style and speed in check, Sexton's sizable frame – 5'-11", 168 lbs. – allowed him to transition brilliantly into the premier 450 class both outdoors and indoors.
2022 would put Sexton on the map both nationally and internationally in the 450 class as he won his first 450 supercross main event (San Diego), then faced off with Monster Energy-backed racing legend Eli Tomac in what would become the most talked about Outdoor National MX title race the past 30 years. Sexton and Tomac brought it down to the last contest of the race season where Tomac stepped it up and won the title, but in doing so said straight up: "He's (Sexton) the next 450 guy, hands down." The two Monster Energy racers then teamed with a third M-claw racer, Justin Cooper, to form Team USA and win the 2022 Moto Des Nations at RedBud (Mich.) in the fall of '22.
When he's not training, practicing or racing, the Florida-based Sexton, as seen on his Monster Energy-backed "Chase Sexton" YouTube channel, enjoys the outdoors – including surfing, golf and cycling.